Modern Family Remodel – The Den and Mudroom
I hope you had a chance to see the first installment of this fun colorful family home remodel I just completed this year. All about the Kitchen. If you haven't here is the link to that post.
Wow! What wonderful responses we are getting about the kitchen reveal I just made especially about the floor and stove. My clients intend for this to be their forever home, which is why such items like the flooring were decided on. When you are going to live in a home for quite a while making those bolder statements you want and enjoy!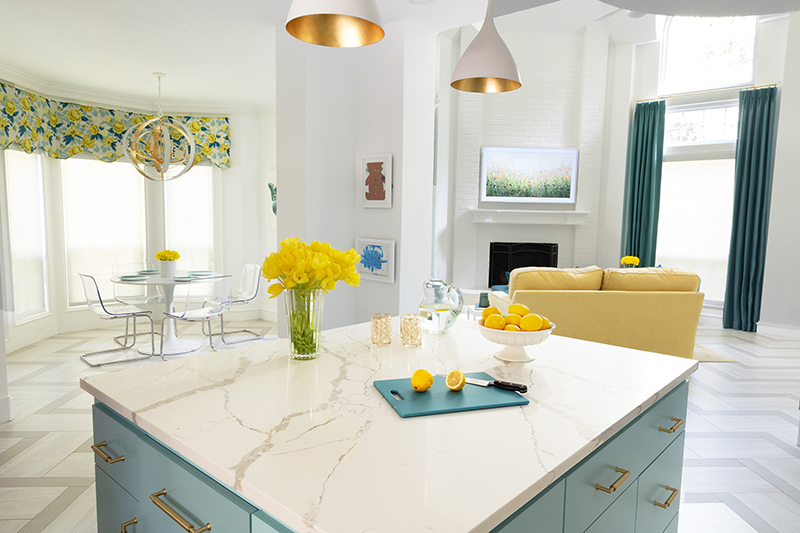 We are now moving to the two areas that were designed with Mom and Dad's two small kids in mind very functional spaces with a big bold style.
The Den
The Den is a very small odd-shaped space. This room is intended for the kids so Dad and Mom can keep an eye on them while cooking. Smaller swivel chairs added to watch TV when wanted and with a small sofa to accommodate more guests. A nested table set is also included in the design that can be tucked away with it being a small space.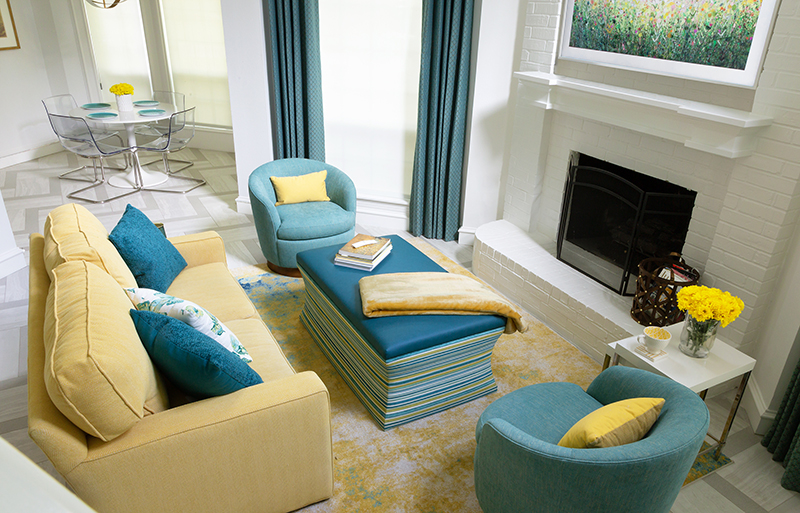 I opted to put long stationary drapery panels to give color to the room to balance the awkward layout.
The TV is a Samsung and has an art gallery screen option. Love this so the TV doesn't become a part of the design, instead can become artwork.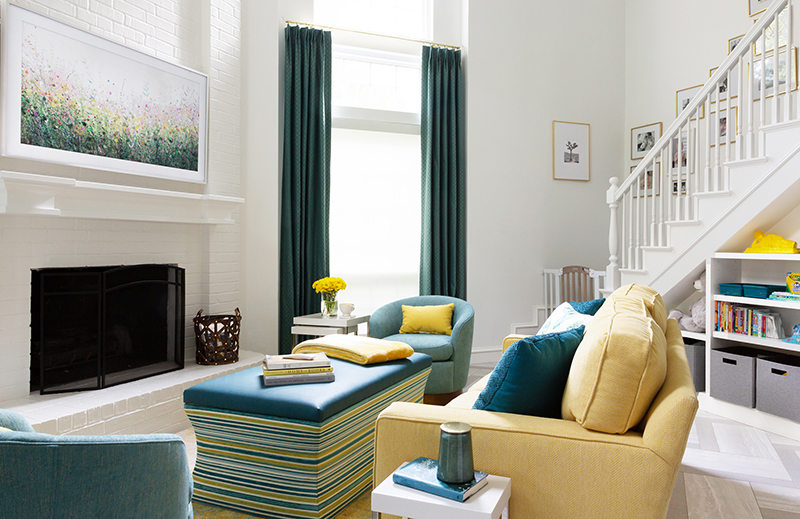 The ottoman I designed is made with storage to house more toys. With girl's play area being upstairs this was built for some toys to be store down. The bookcase was expanded under the stairs with the intention of the girl's little hands being able to reach. I feel keeping bins on the bottom and books a little higher is best when they are really little. Decorative pieces store up high where they can't reach since we are in the toddler phase.
Blue and Yellow colors were brought over from the kitchen. My client's daughter's favorite butterflies were added in for a real personal touch with a pillow.
We started a family photo wall gallery up the stairs that they will add on to over time.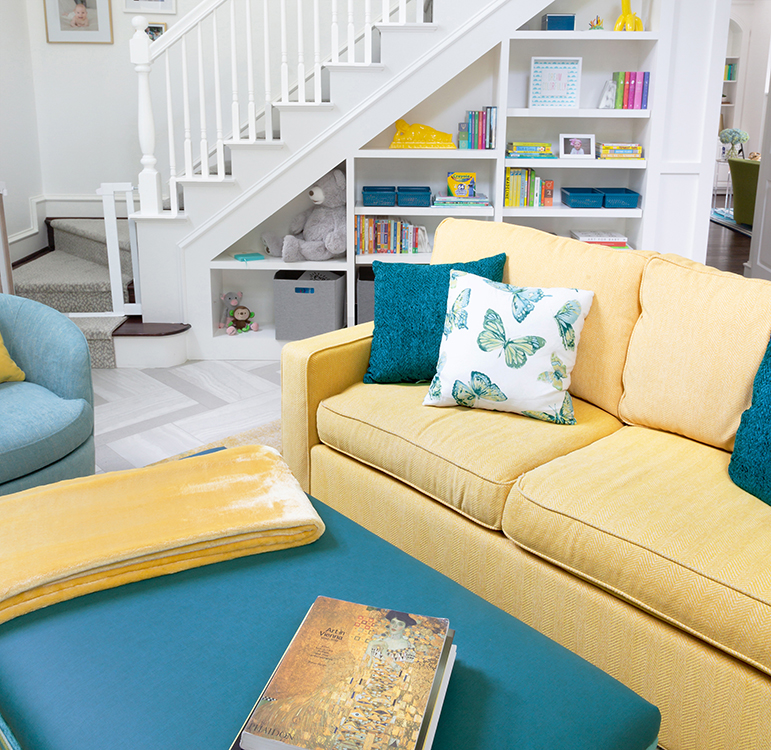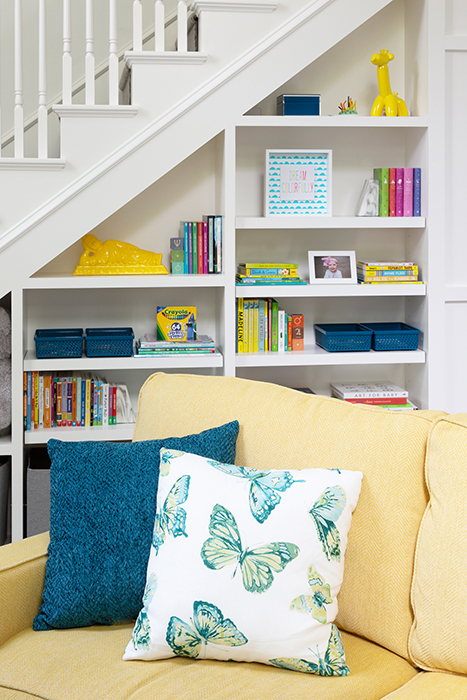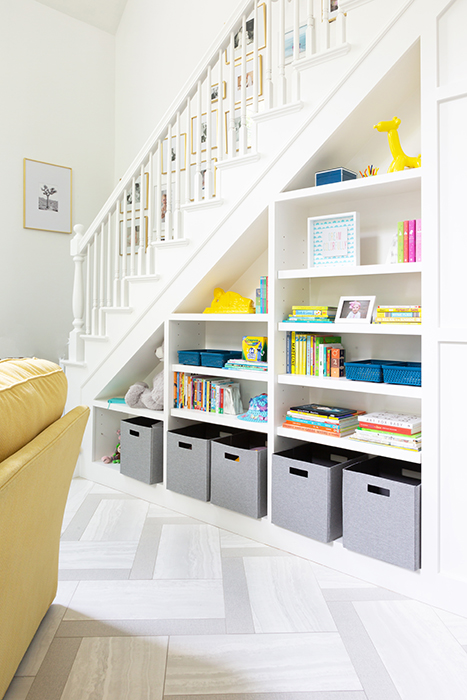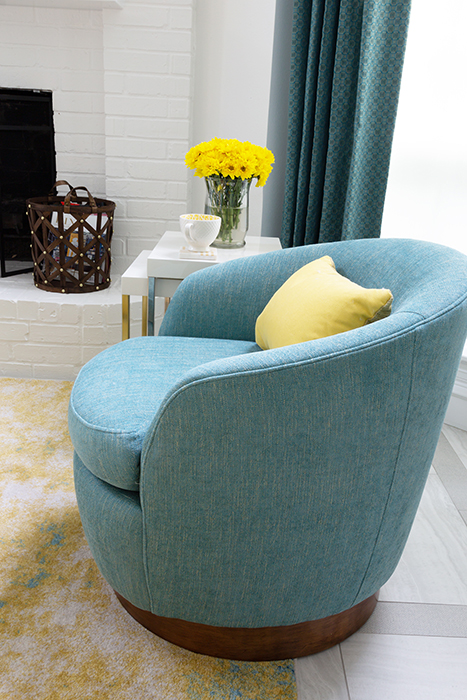 The Mudroom and Laundry
Before the mudroom area was a desk area.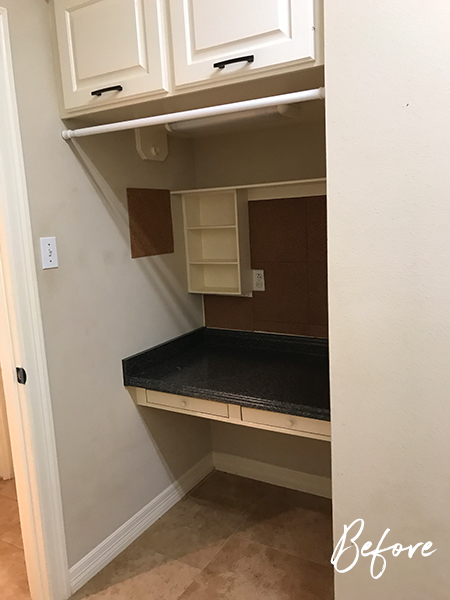 With the Mudroom/Laundry, we opted to open the sidewall and fitted it out with a nice bench and storage to create a mudroom area.
They wanted a bold wallpaper and a highlighted color in the Mudroom section. This fun nature-themed navy and gold from Cole and Son was the perfect find for my clients. I found a vinyl fabric that had the navy blue and green. So we painted the inside of the mud area in the green (SW Shagreen 6422) to give them the desired highlight.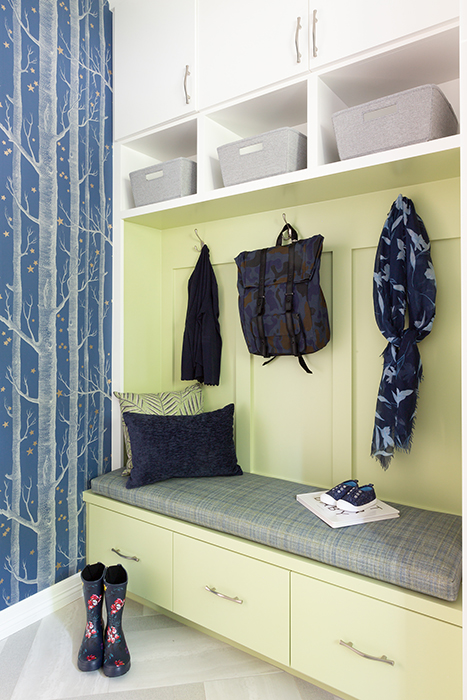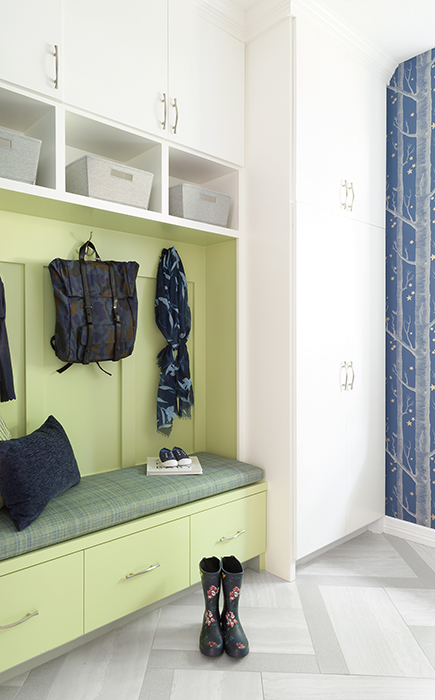 In the Laundry area, we opted to reface the cabinetry and counters to update the space.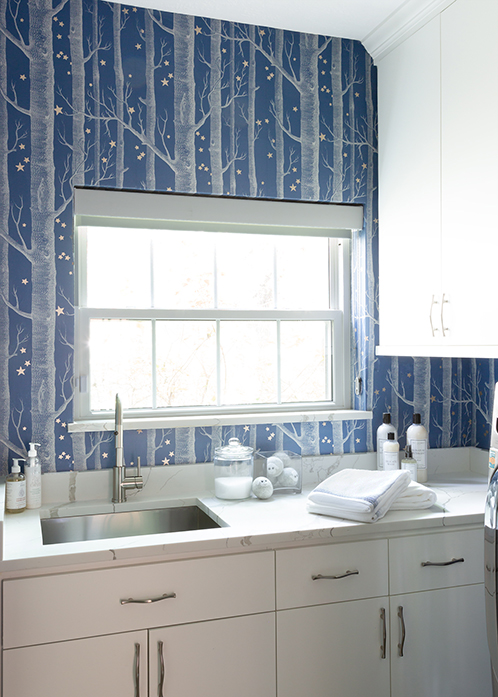 This was a wonderful project with great clients. The design was so much fun to work with such bold patterns and colors. I like to create a home that really is authentic to each client, to me this was them a true Modern Family Home. These spaces were designed with their kids in mind.
Here all the post for this Remodel
Happy Decorating! Karen
Kind words from my client:
Karen assisted us with a full-home remodel. Her process and attention to detail ensured our project was on time. She worked with our chaotic personal schedules for meetings and her enthusiasm made the process a joy. Karen was able to marry our modern style with durable furnishings that will stand up to children and pets. She accommodated our existing pieces as well as our love of quirk and whimsy. Our floor plans are practical, allow for storage, and flow well for entertaining guests of all ages. Karen helped us design a beautiful, family-friendly home we absolutely love.
Sarah and Duane – The Woodlands, TX
………………………………………………………………………………………………………
Have you signed up for our free download
"The Ultimate Family-Friendly Decorating Starter Kit?
To get your Free Kit click here!
If you need help with creating a family home you absolutely love, check out our services. We offer both in-home services here in Houston and virtual services for out of area clients.
…………………………………………………………………………………………………………….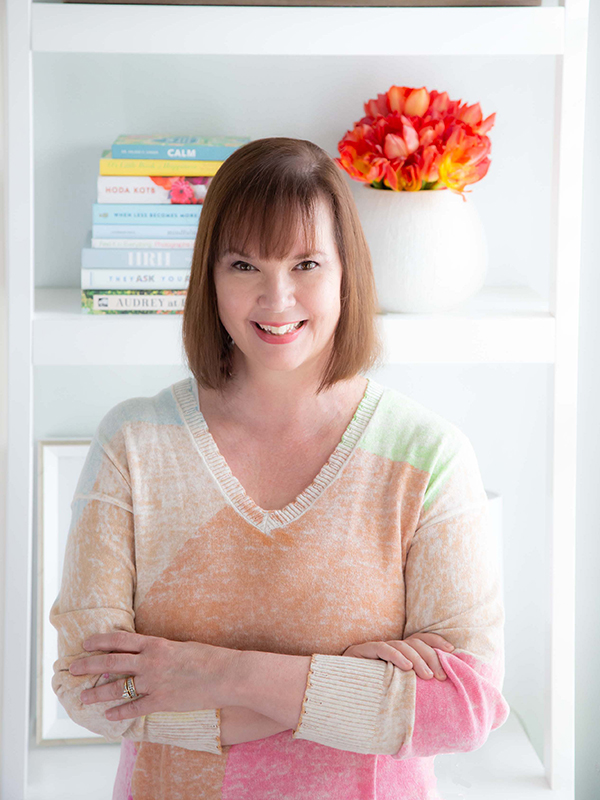 Imagine walking into your living room to find your two-year-old covered in marker along with your beautiful ottoman! I learned that lesson the hard way and redesigned our home around the family's lifestyle. I am committed to bringing you the very best of what I'm living and learning, as well as making it fun.
Our interior design services cater to your family's real-life living.
Make Your Mark University
Are you an Interior Designer ready to "Make Your Mark" in your business? With 15 years of experience running my own firm, I will teach you how to grow a standout business that attracts ideal clients!