Modern Family Remodel – The Kitchen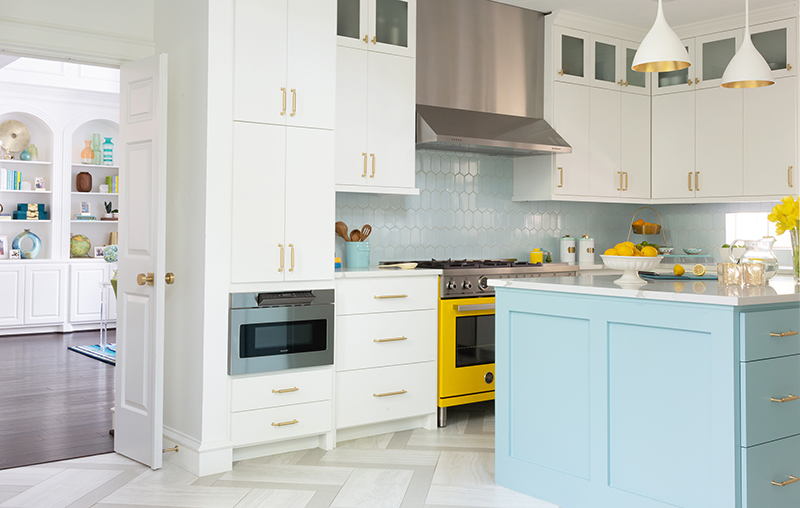 I just completed a wonderful remodel for a family moving from Dallas to The Woodlands, Houston area. They wanted to find a home in the area that they could remodel to their more modern style. She is a lawyer and he is a stay at home Dad. A true Modern Family. They have two daughters now under 3 years. The youngest was born during the remodel. It was completed this Summer. This home is intended to be there forever home so more bolder choices were made.
Over the next 4 weeks, I will be sharing with you all the details about this very colorful, fun Modern Family Remodel.
The Kitchen
Before the Kitchen was builder grade with cabinets low and quite traditional along with counters. There was a wall to one side of cabinets with a pass-thru and L shaped with a small island. The sidewall was load-bearing so we made a simple column to keep it opened as much as we could.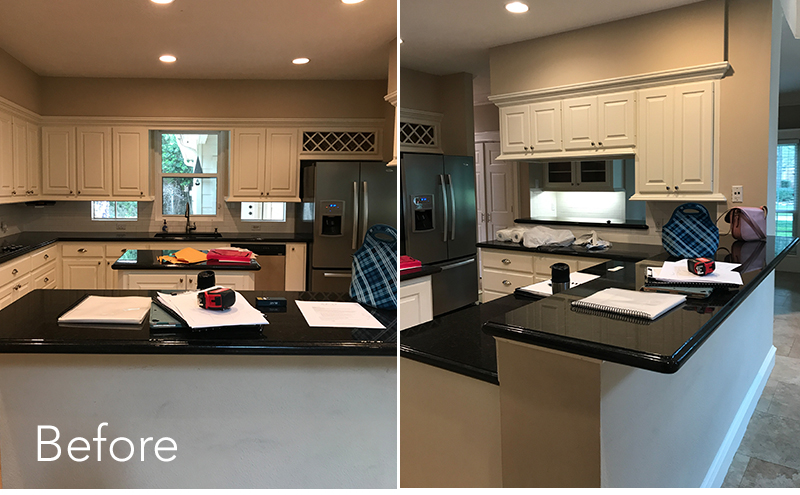 They wanted the Kitchen to be opened and the one thing they had to have was the Bertazzoni stove in Yellow, for which the Kitchen was designed around. They wanted a fun custom-designed floor that would hold up to their family including 2 dogs. I chose to mix grey-white tile with a grey border tile. This is so it wouldn't show dirt and made with durable porcelain tile. I custom designed it to give it a playful look. Since this is their forever home the floor was designed with them in mind.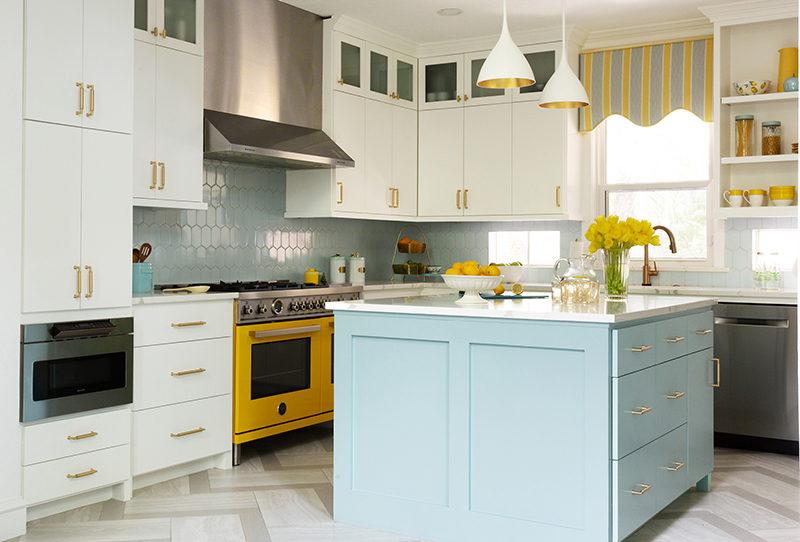 She wanted to have the cabinets to the ceiling, so we designed ones that have opaque storage. The right side was just a single cabinet so it was left as an opened cabinet by the fridge for display. A wine fridge was able to be converted from a previous small closet across by the door to the Living Room.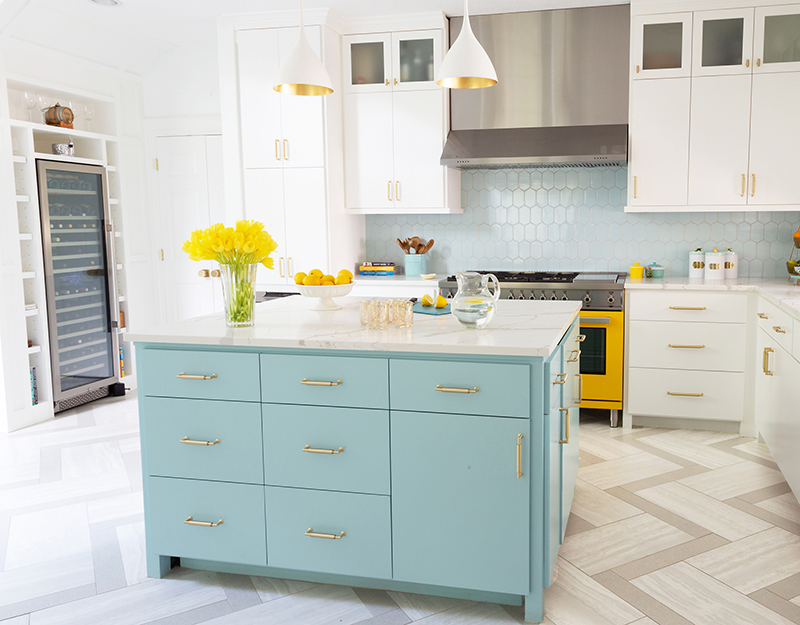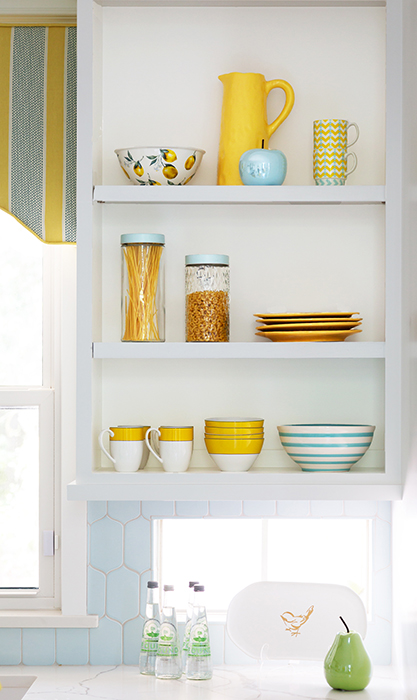 The island is in a soft blue (SW Raindrop 6485 ) taking the color from the Walker Zanger backsplash tile. The island was custom made to function for them. They requested lots of storage and preferred drawers for storing their kitchen items. Counters are quartz from Color Quartz. I love using Quartz for a more durable option over a marble which is not as family-friendly.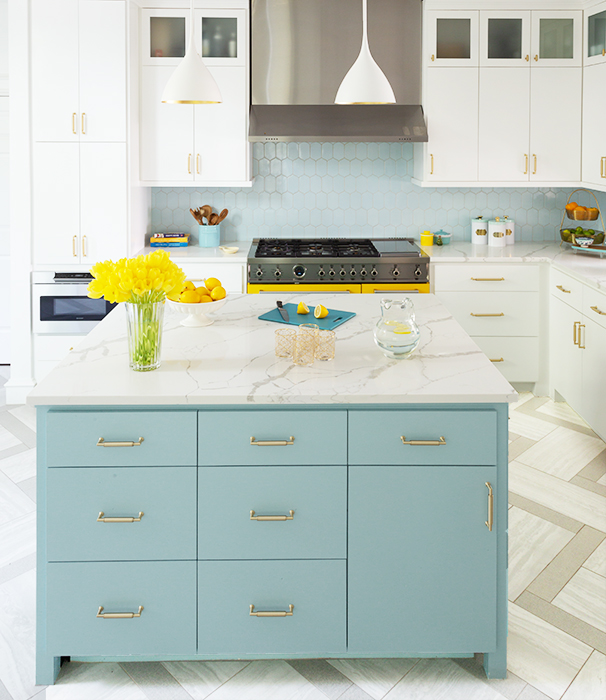 They love gold so fixtures, hardware, and lighting are all in gold brass. They wanted just a simple white (SW Highly Reflective White 7757) for the walls and cabinetry, so their love of bold colors can be highlighted throughout the house. A custom fabric cornice in striped yellow and blue to pull the colors together.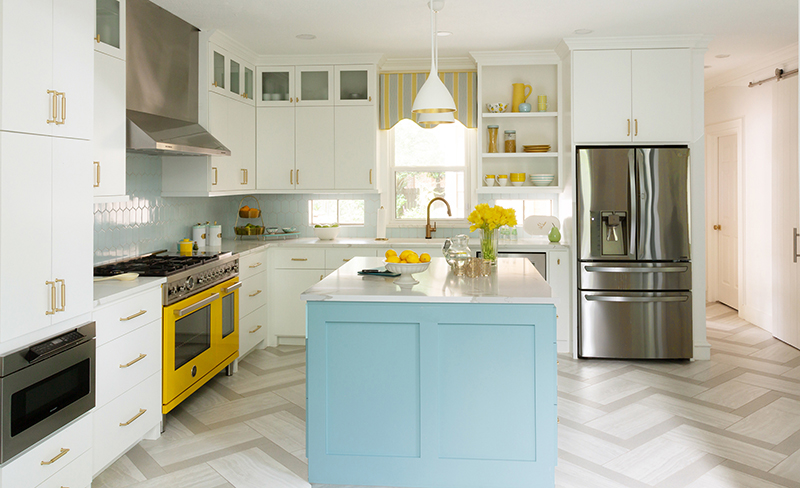 The Breakfast Room
The Breakfast Room is adjacent to the kitchen. Using her table and chairs we added a beautiful gold white modern fixture to dress up along with a custom upholstered cornice I had made which pulled the blues and yellows in from the kitchen. I added a butterfly canvas art that had the right colors and was chosen since she and her daughter love butterflies.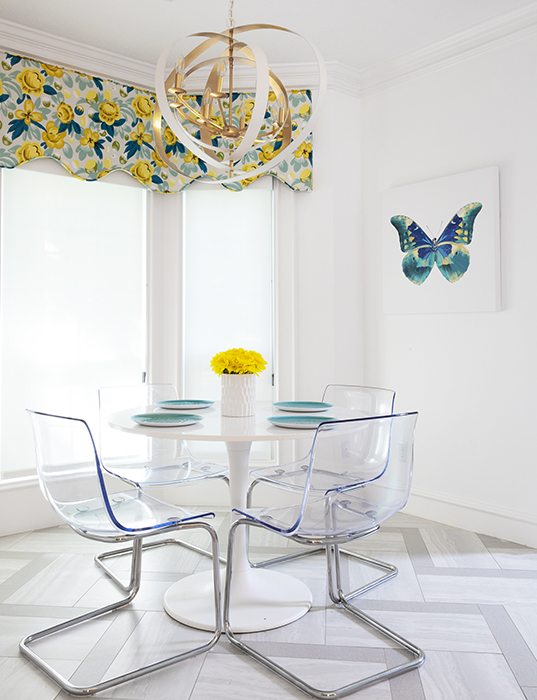 The column is for hanging their kid's art. They have just started since their oldest is just a bit over two now and will add more to it later.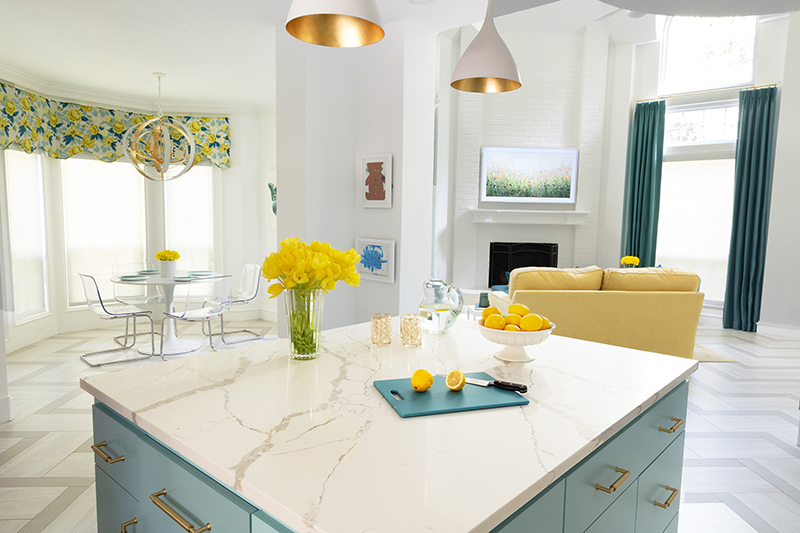 The backside of the column I love what her preschool did with a custom nameplate. A great way to really keep this space family-friendly.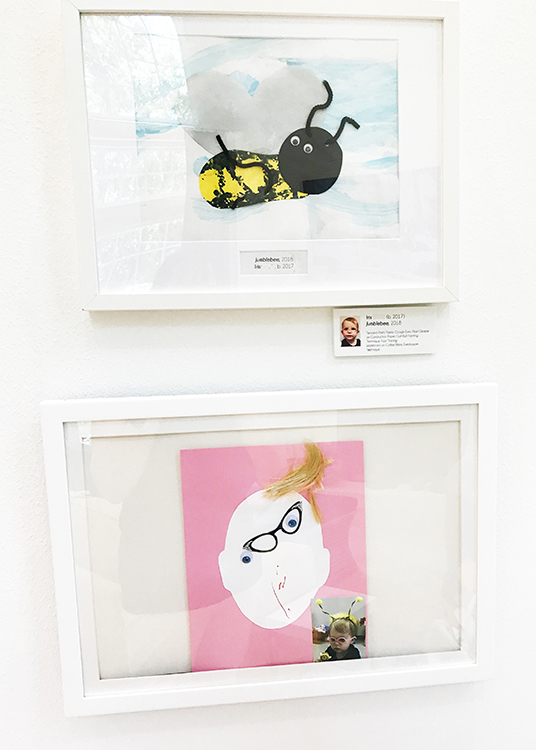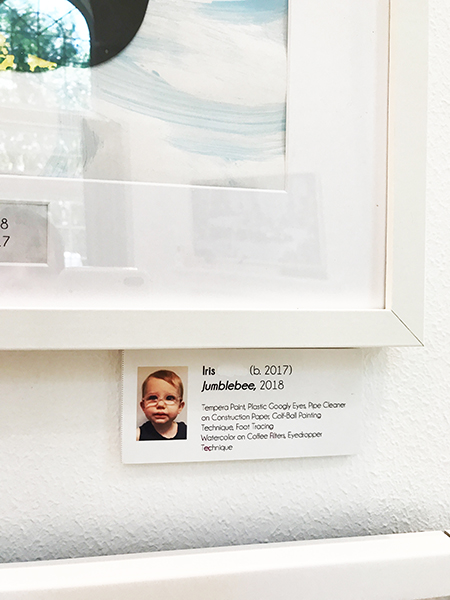 This was a wonderful project with great clients. The design was so much fun with pattern and color. I like to create a home that really is authentic to each client, to me this was them a true Modern Family Home.
Here are all the posts for this beautiful remodel!
Happy Decorating! Karen
Kind words from my client:
Karen assisted us with a full-home remodel. Her process and attention to detail ensured our project was on time. She worked with our chaotic personal schedules for meetings and her enthusiasm made the process a joy. Karen was able to marry our modern style with durable furnishings that will stand up to children and pets. She accommodated our existing pieces as well as our love of quirk and whimsy. Our floor plans are practical, allow for storage, and flow well for entertaining guests of all ages. Karen helped us design a beautiful, family-friendly home we absolutely love.
Sarah and Duane – The Woodlands, TX
………………………………………………………………………………………………………
Have you signed up for our free download
"The Ultimate Family-Friendly Decorating Starter Kit?
To get your Free Kit click here!
If you need help with creating a family home you absolutely love, check out our services. We offer both in-home services here in Houston and virtual services for out of area clients.
…………………………………………………………………………………………………………….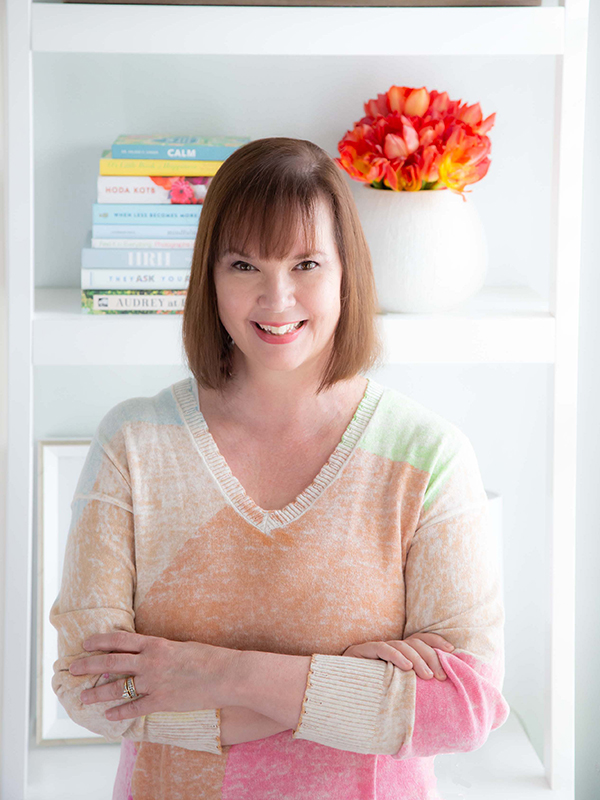 Imagine walking into your living room to find your two-year-old covered in marker along with your beautiful ottoman! I learned that lesson the hard way and redesigned our home around the family's lifestyle. I am committed to bringing you the very best of what I'm living and learning, as well as making it fun.
Our interior design services cater to your family's real-life living.
Make Your Mark University
Are you an Interior Designer ready to "Make Your Mark" in your business? With 15 years of experience running my own firm, I will teach you how to grow a standout business that attracts ideal clients!