My Mom's Retreat – The Master Bedroom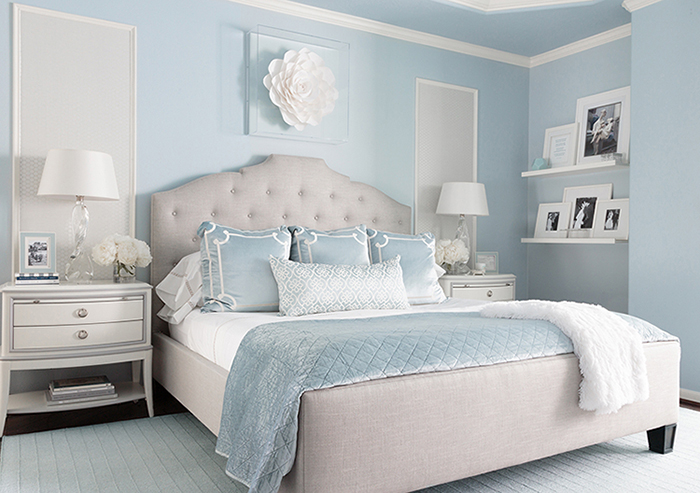 I am now featuring the last room of my downstairs, which happens to be "my retreat" that is my Master Bedroom retreat. This room is about us as a couple. I highly recommend to anyone who is decorating their Master Bedroom to just have items that represent you as a couple no kid's pictures or their things allowed in this space.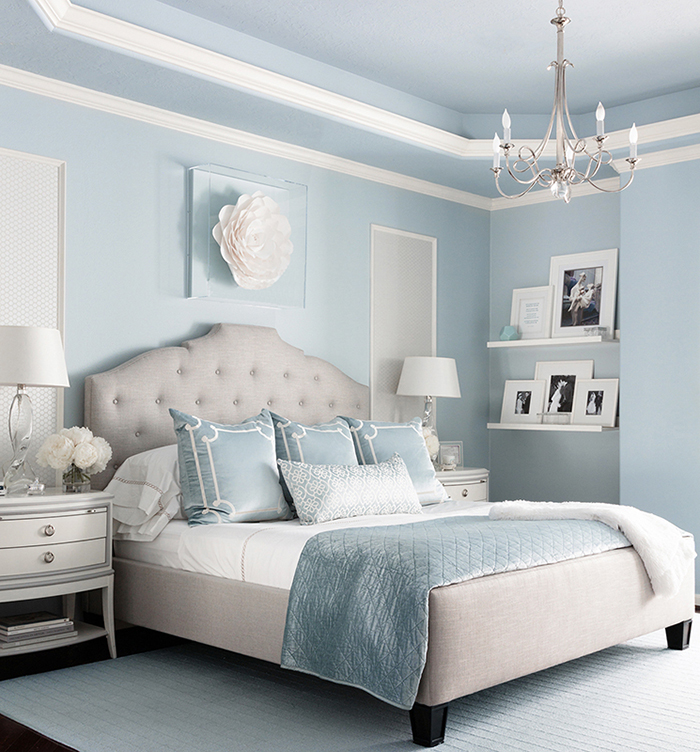 I designed this with all customized pieces, starting with the upholstered bed I designed from a variety of beds I liked but just weren't the right style for what I wanted. I worked with my custom upholstered to design it so it fit my specialty mattress. I opted to paint the walls and ceiling in a soft relaxing wonderful blue from Benjamin Moore, Brittany Blue and I found a carpet that matched and I had the carpet bound and custom sized to fit the space. The bedding is a washable velvet from Lili Alessandra and accented with a custom pillow I had made to mixed it up a bit.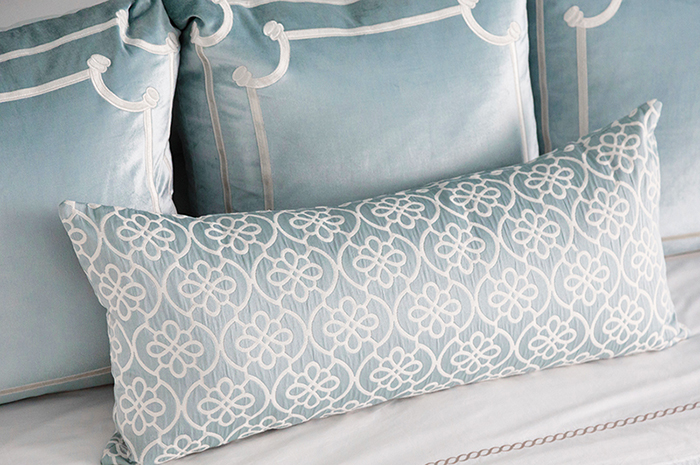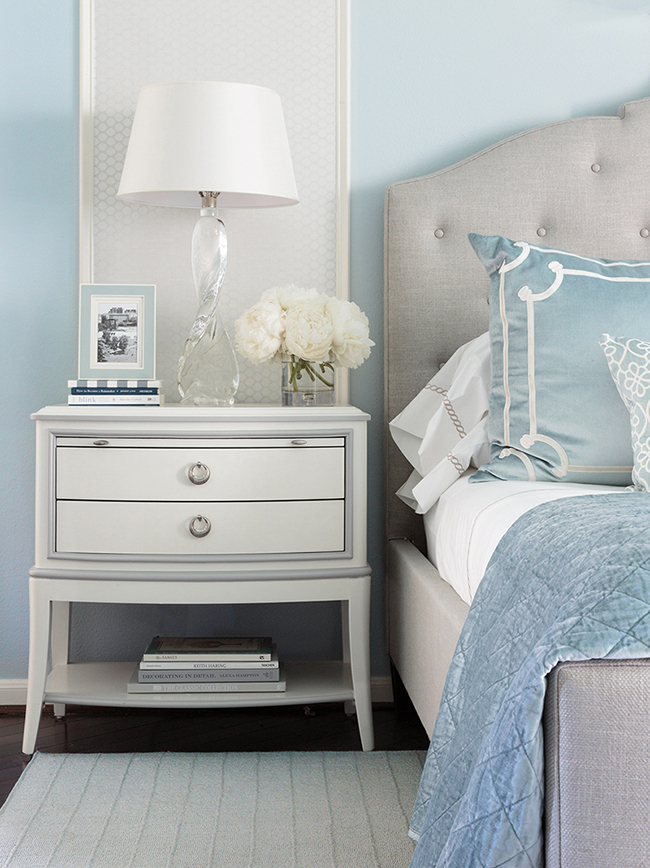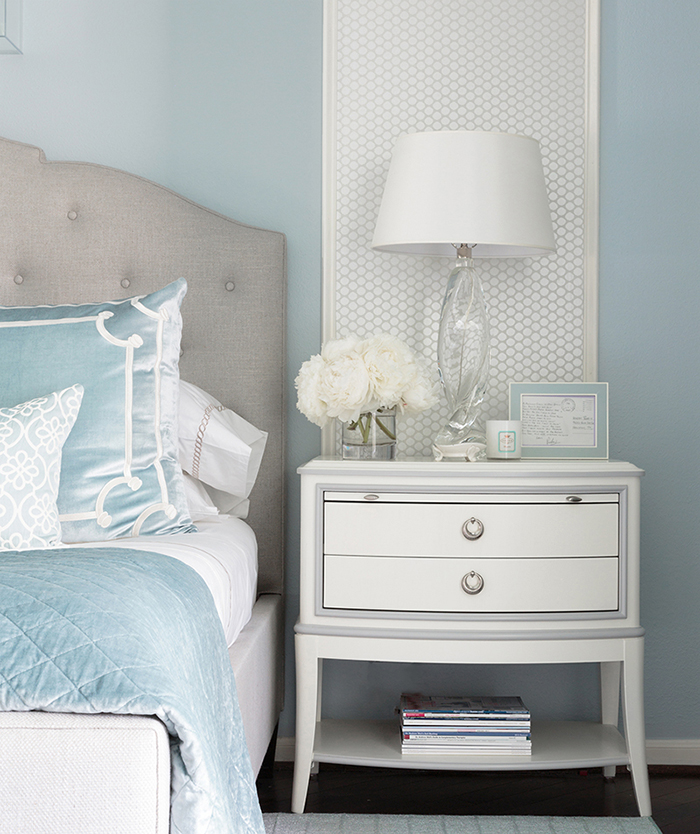 The nightstands were ones I had from a while ago. I liked the shape and the drawers so I opted to have them custom painted to go with the color scheme of the room. My lamps are from Circa Lighting – I fell in love with them as soon as I saw them along with the chandelier, love the shapes.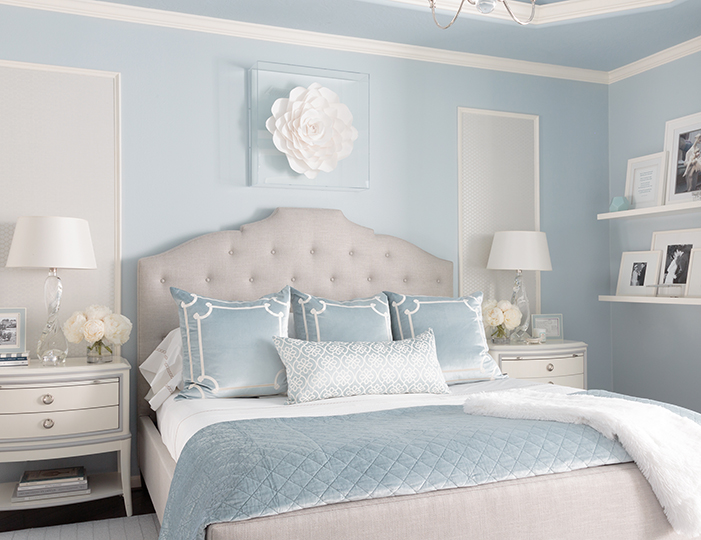 The flower above the bed is from a crafter I found on Etsy (she is no longer offering this service now). I had been seeing paper flowers a lot lately and wanted a peony, one of my favorite flowers, to give it something different for above my bed. I had it framed in a plexi shadow box frame with a fabric backing that matched the wall color to hide the hooks. I wanted to break up the long narrow bedroom so I opted for picture moldings flanked on each side of the bed and papered it within the molding to give a more elegant touch. I used a dotted wallcovering that has a metallic finish.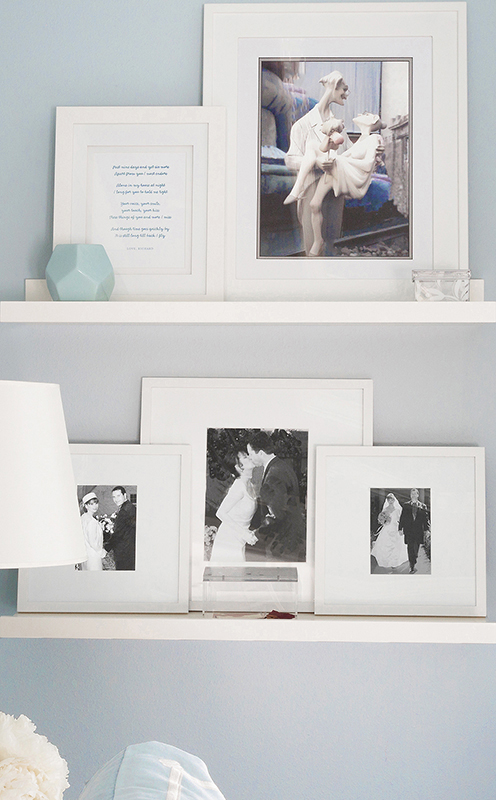 The shelved wall was this odd recessed area that needed more than just a flat piece of art. I wanted a place to tell the story of us so I refinished Pottery Barn wall shelves and had them custom matched to the rest of the white in the space. I will be sharing more about the art and accessories next week. Here is the link to our original "Forever Young" picture above on the shelf.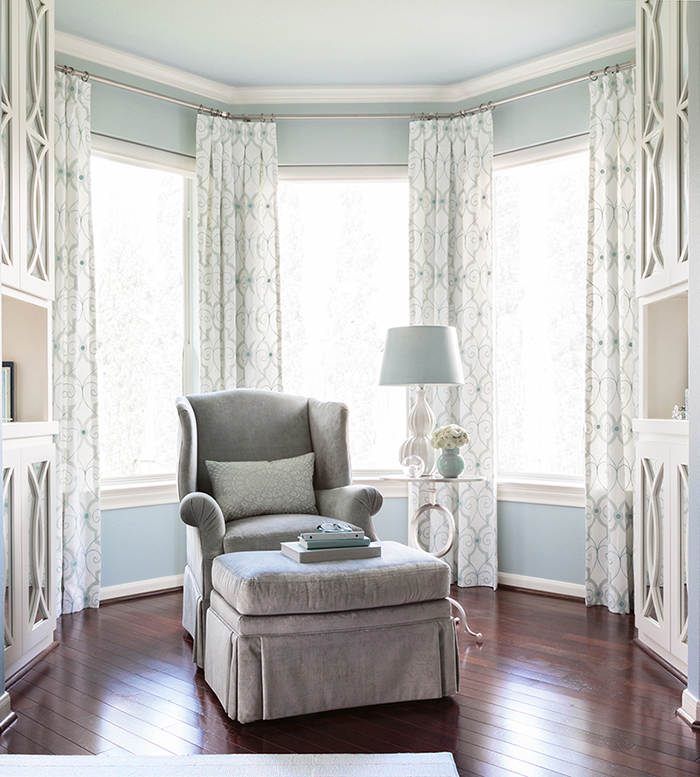 Right past the shelved wall there is my sitting area. Since I have a home office in my home. I wanted a place that is for after-work: no kids, no phone just a place to read or watch TV. I found this great chair at a trade source and recovered it in the only non-kid-friendly fabric I have in my home, a velvet, so only I am allowed to sit in it.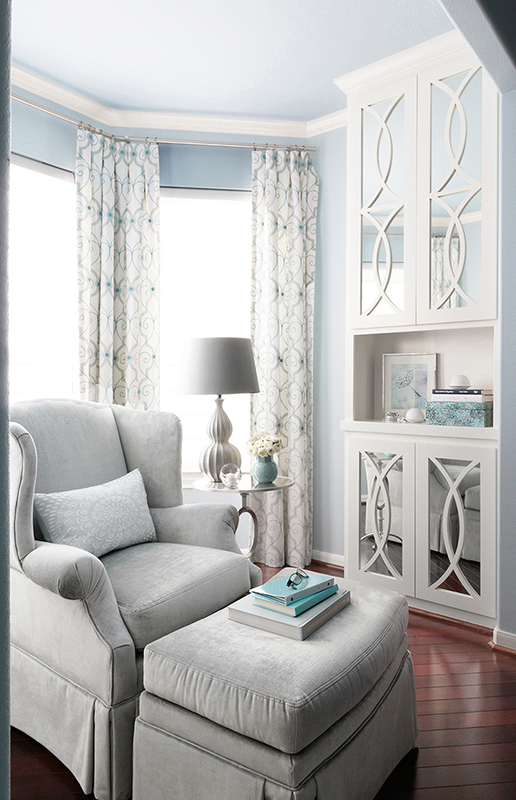 The cabinets were custom designed by me. I opted for mirrored panels to make the small area feel more open and pull more light in. The drapery is a simple playful pattern that I felt tied in all of the colors and shapes in the space.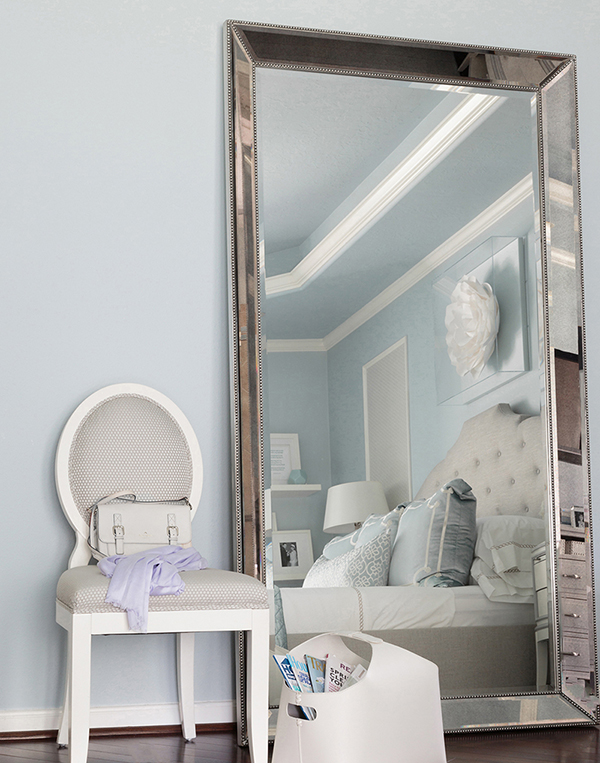 There is a floor mirror with a chair next to it on the other side of the room. This was the only thing my husband requested – a place where he could sit to untie his shoes. So, I redid a simple chair I had for a while with a fun dotted fabric that went with the wallcovering and custom painted the frame to match the white in the room.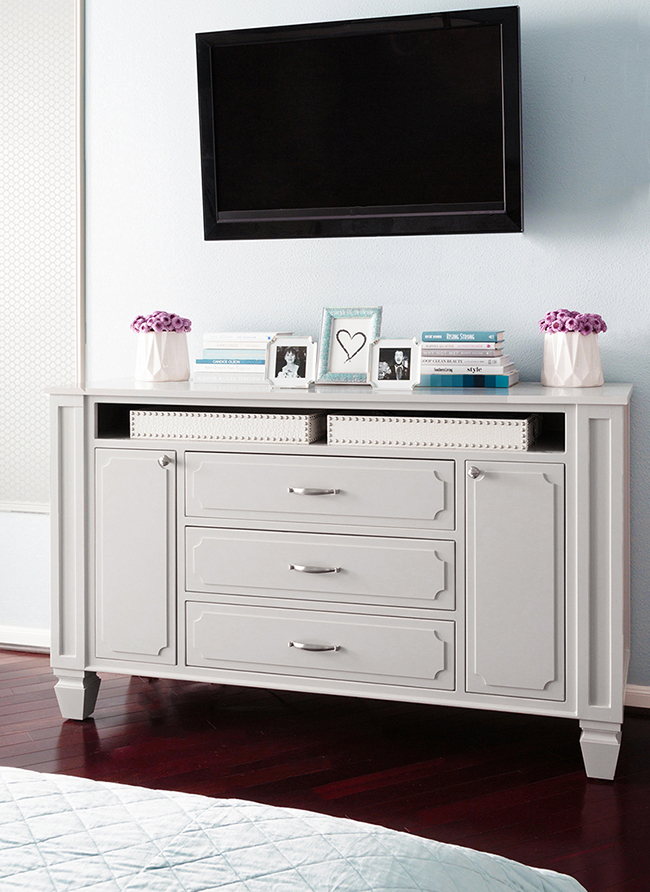 The TV cabinet is right across from the bed. I custom designed it as well to store bedding and media in the trays. Flanking on either side are panels to mirror the bedside ones. I decorated the top with books that I love along with two photos of us with a fun little graphic heart print to say what this room means to us.
Click here for part 2 of this master bedroom retreat makeover
Happy Everything! Karen
Here are the details from the room:
Wall Color – Benjamin Moore Brittany Blue 1633
Drapery – Custom | Chair Custom | Side Table – Worlds Away (disc.)
Mirror | Flower – Etsy (the vendor no longer makes them) Size was 26″ diameter
| Side Chair (disc.)| Shelving – Pottery Barn | Lamps and Chandelier – Circa Lighting
Bed Custom | Bedding – Lili Alessandra (disc)  | Pillow custom made – Fabricut Margie
Wallpaper Panels  – Thibaut  | Rug Custom Made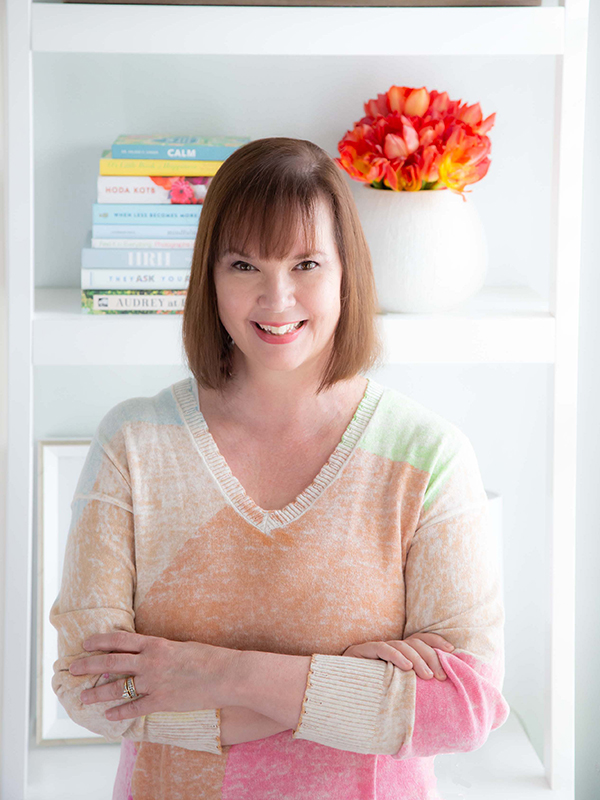 Imagine walking into your living room to find your two-year-old covered in marker along with your beautiful ottoman! I learned that lesson the hard way and redesigned our home around the family's lifestyle. I am committed to bringing you the very best of what I'm living and learning, as well as making it fun.
Our interior design services cater to your family's real-life living.
Get your guide to decorating a family-friendly home!
Karen shares with you her best design advice on how she creates beautiful family-friendly spaces with her clients.