My Master Bedroom Retreat Pt 2 – Create Your Story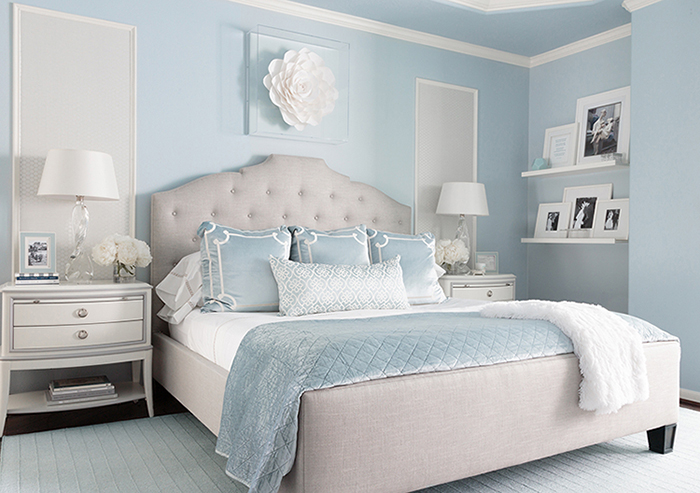 Here is part two of my Master Bedroom retreat story. Check out more room details from my previous post.
I highly recommend to anyone who is decorating their Master Bedroom to just have items that represent you as a couple; no kid's pictures or their things allowed in this space. Here is how I created mine.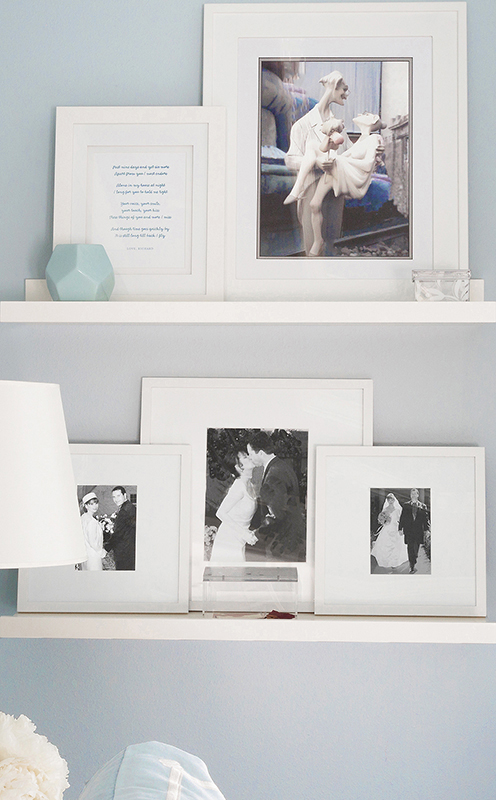 Wall Shelves
The shelves tells the story of our courtship and weddings. Check out the Marker Girl Print Shop where you can buy our fine art photo "Forever Young"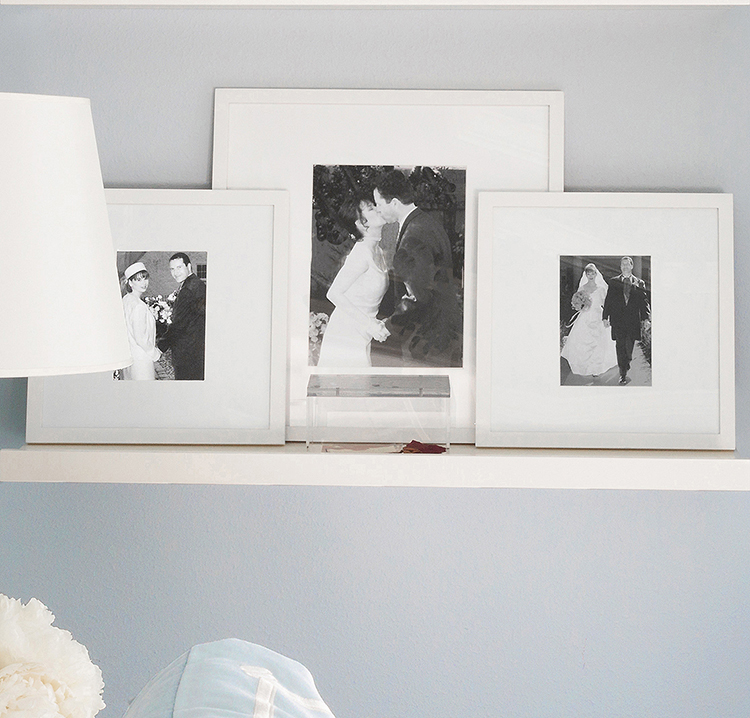 Bottom Shelf
The three photos are of my husband and me. We actually had three weddings in one year. You see, when he married me we had to move to Paris so quickly that I didn't have time plan the wedding we wanted. So,in the backyard of my parents home in New Orleans, without his family there. We came back later that year to have another ceremony to celebrate with all of my family and his parents. Then one month later went to England and had a blessing of our marriage with his family. To me they all have special meaning and deserve a place on the shelf.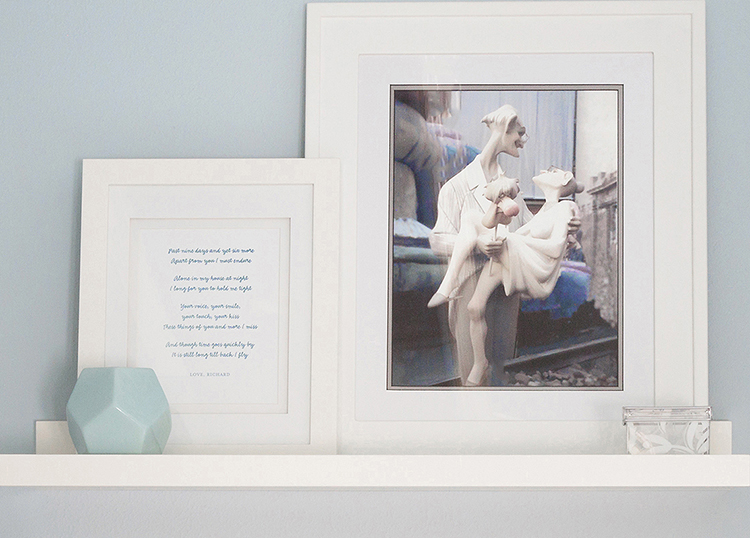 Top Shelf
There is a love letter that Richard sent to me in the box below with dried single rose that was sent with it. I had it done in letterpressed print from Minted and framed it. The photo is one from our belated honeymoon in Valencia, Spain. It is part of a fun celebration called Las Fallas (the fires) – celebrating the final days of winter. These large papier-mâché figures are on display, then at the end of the day are set a-fire for the arrival of spring. This is one of those great things I have been able to see in my life. This statue is how I want to grow old… gracefully and still be as happy as I am today.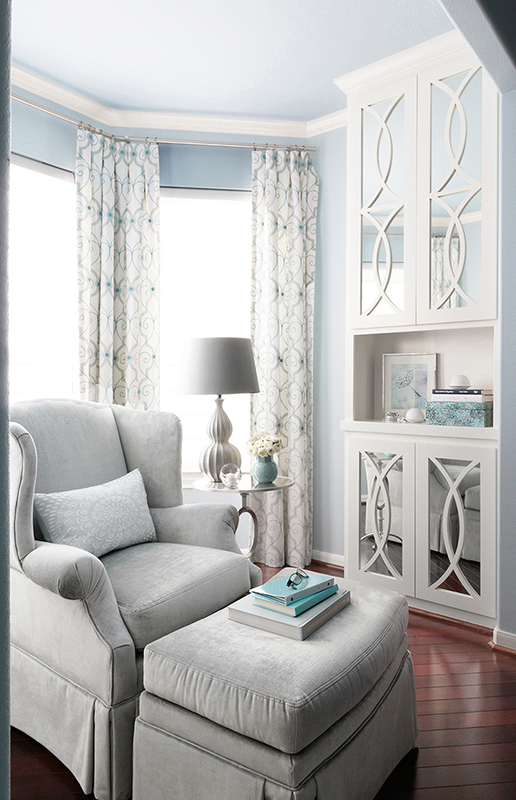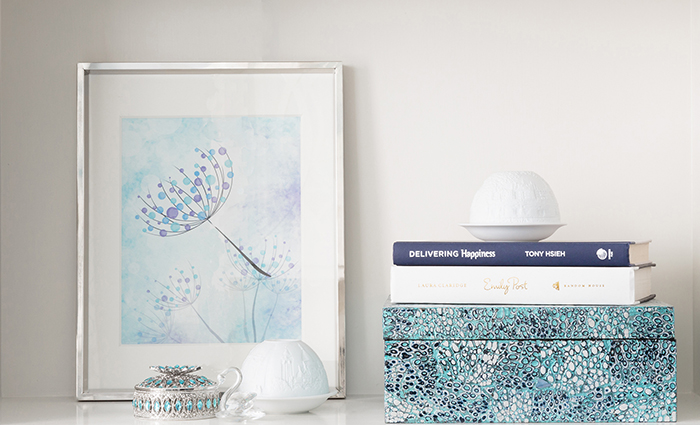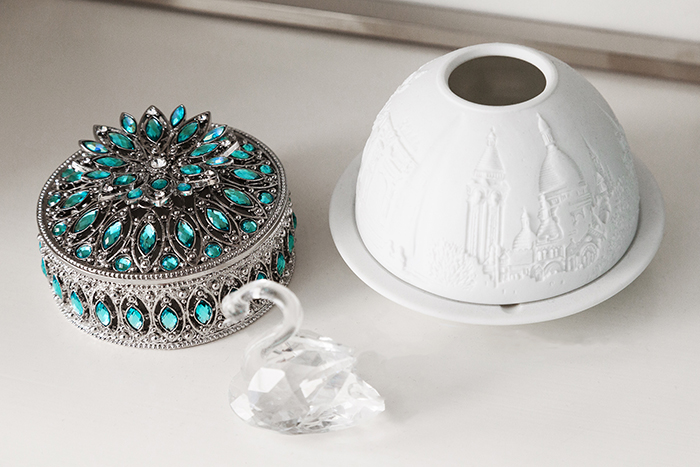 Sitting (Reading) Area
I found prints on Etsy to just add a simple colorful touch to the open bookcase area. On it are a few collectables that have meaning. The Bernardaud Votivelight Candles have Paris and London landscapes and were one of my first purchases when we moved to Paris. There is also a glass figurine that my late Mother-in-law gave me as a gift when I first married her son.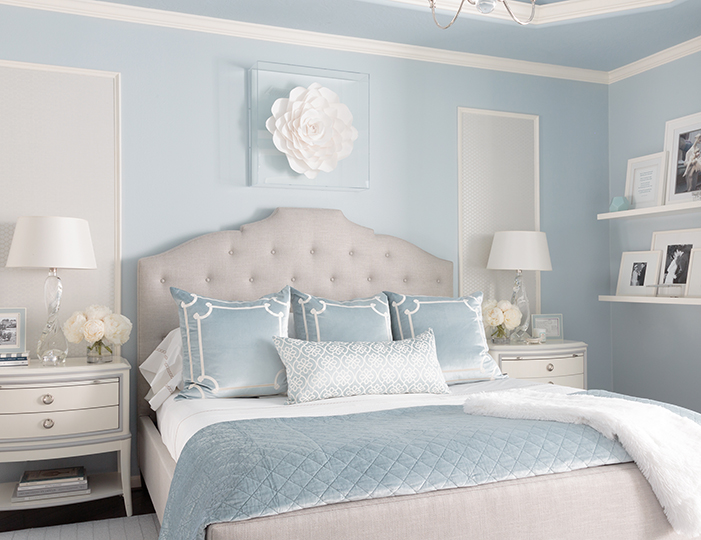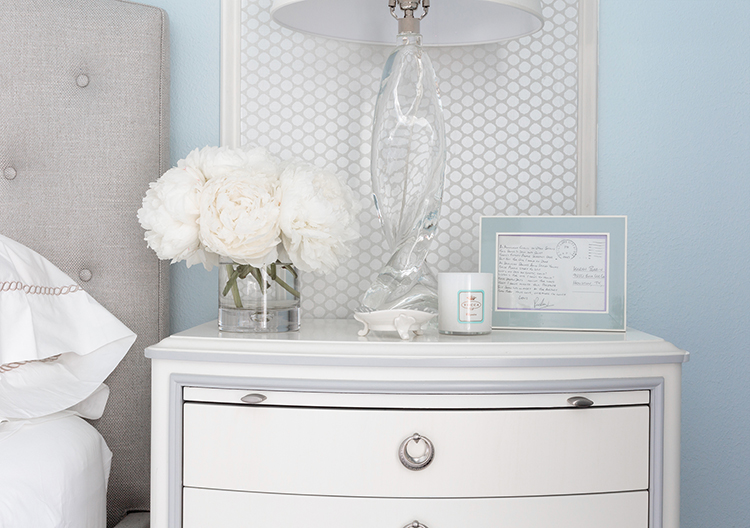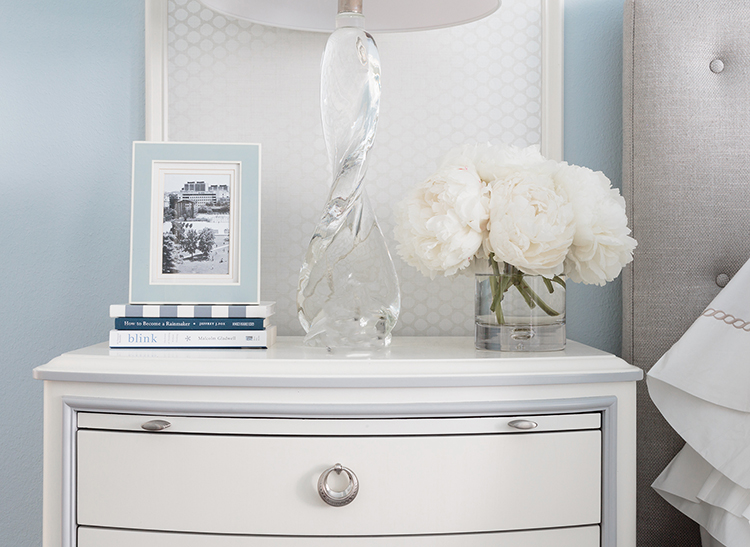 Nightstands
My nightstands have two different stories. On my side, I have another love letter my husband sent me on a postcard when he was traveling before we got married. The other side is a black and white photo my husband took of Parc Andrea Citroen. That park was right behind our apartment in Paris. Where we first lived as a couple.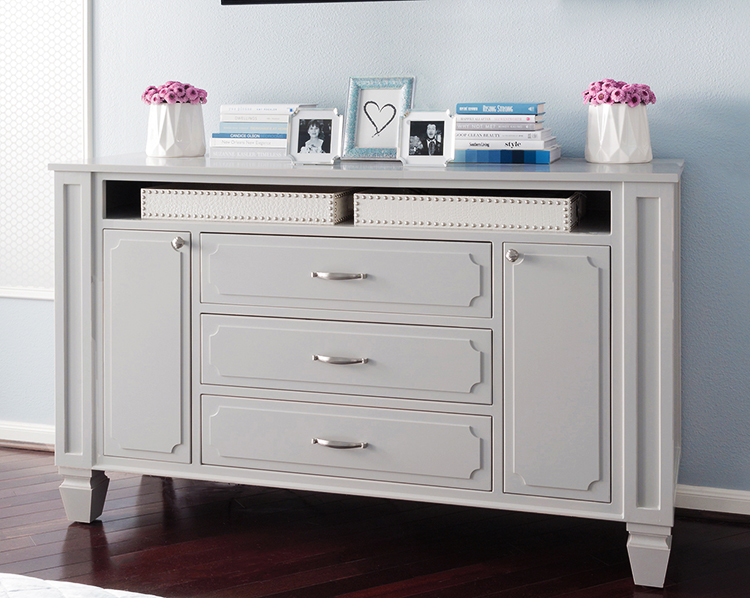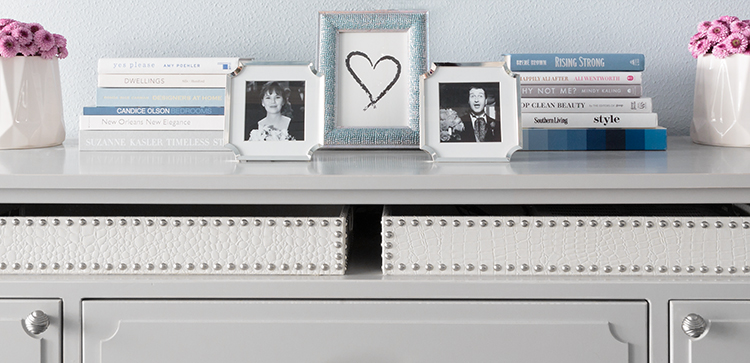 Media Cabinet
On the media cabinet, I decided to have a little fun with playful titles of some favorite books that coordinate with the color story of the room, along with two photos of us that capture a few moments from past weddings and a fun little graphic heart print to say what this room means to us.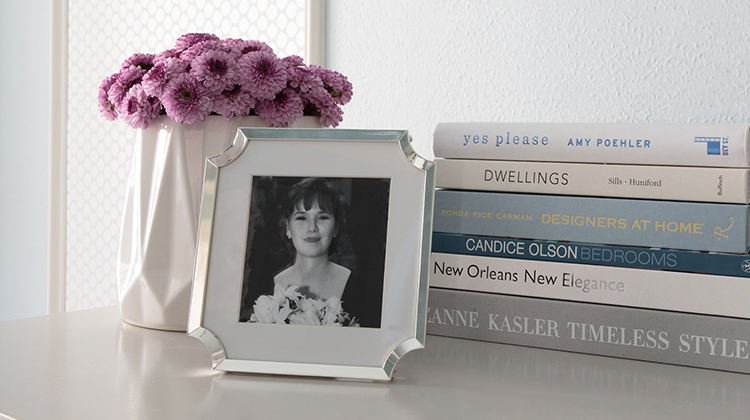 Our retreat is a space that makes us feel joy and truly tells our story as a couple in a beautiful setting.
Happy Everything! Karen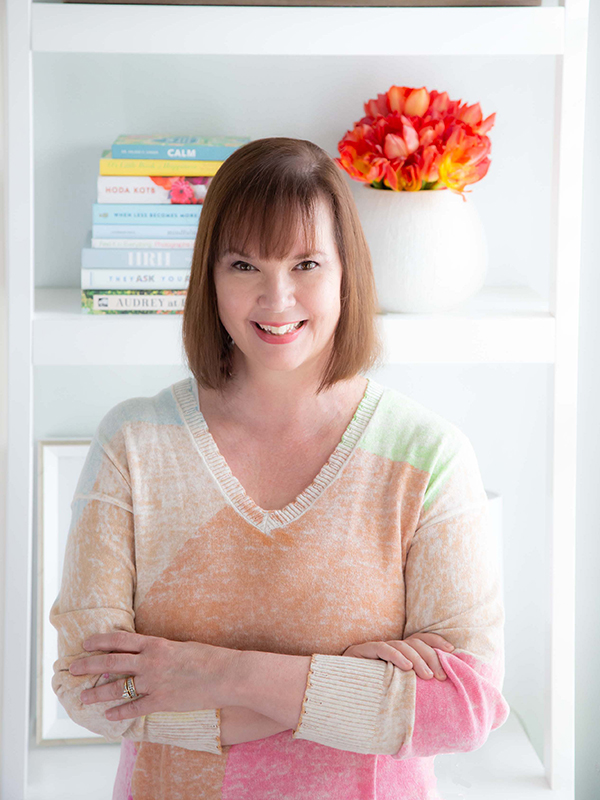 Imagine walking into your living room to find your two-year-old covered in marker along with your beautiful ottoman! I learned that lesson the hard way and redesigned our home around the family's lifestyle. I am committed to bringing you the very best of what I'm living and learning, as well as making it fun.
Our interior design services cater to your family's real-life living.
Make Your Mark University
Are you an Interior Designer ready to "Make Your Mark" in your business? With 15 years of experience running my own firm, I will teach you how to grow a standout business that attracts ideal clients!