Family Room – My Marker Girl Makeover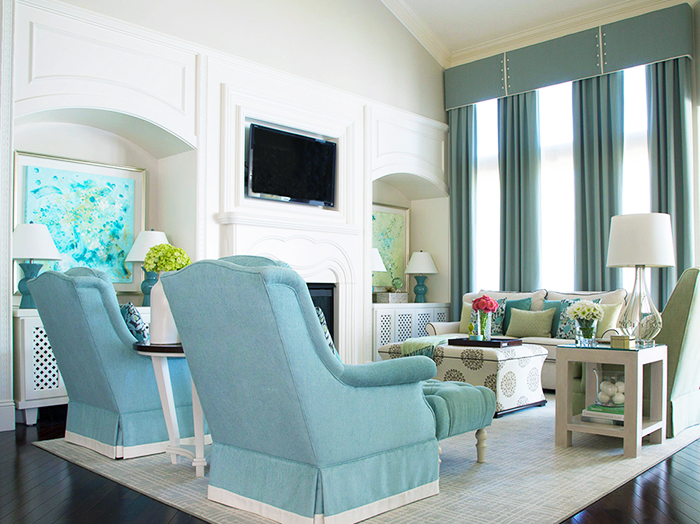 My Family Room Makeover – It is all about the Family in my home. This week I am showing you my own makeover of the Family Room that has special meaning for us and is decorated very "Family Friendly"!
My Family Room is an open space that you see as soon as you walk in the front door. The space is used for multiple functions. We watch TV mainly when we are cooking and then it is used more as a sitting room to visit with friends and family. It is so important to understand the function of a room before laying out the floor plan.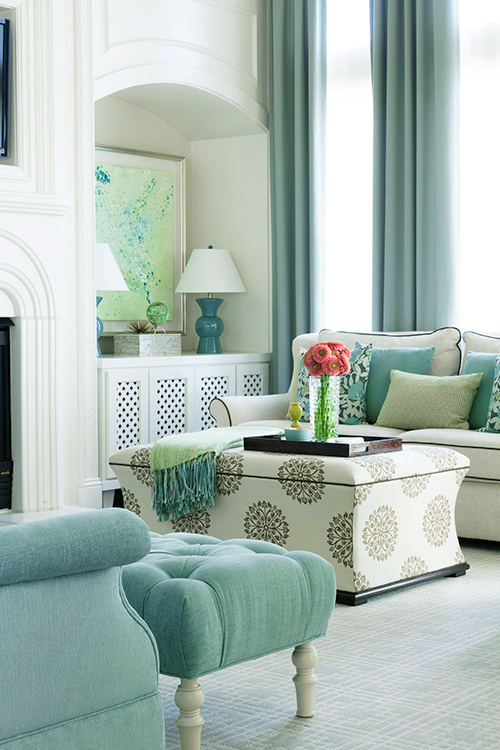 The room is very long and narrow and I knew I wanted multiple seats that didn't make everyone sit so close together. So I had to choose which side would get one chair and which side would get two. My sofa wouldn't work in front of the TV due to the narrow width of the room so I opted to place it in front of the window instead.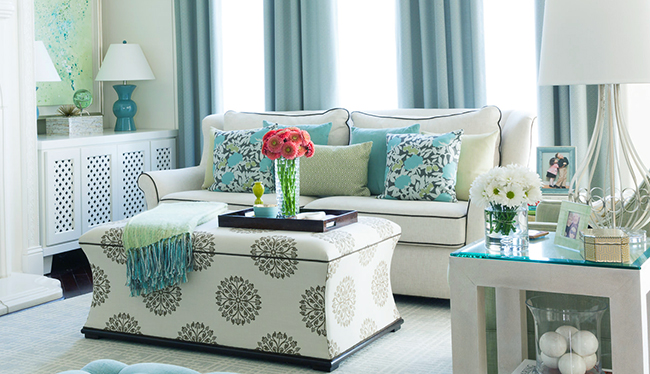 I fell in love with my sofa from CR Laine as soon as I saw it. I love the shape of it and wanted to add a contrasting welt to accent the curved details. I went with a very durable woven cotton linen fabric that was treated to keep it clean. Then I found a beautiful outdoor medallion print fabric for my ottoman that I custom designed myself and had made by my upholsterer.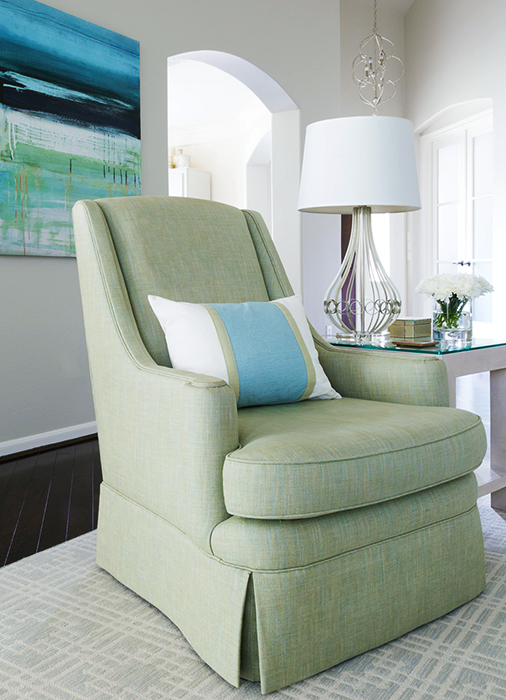 Next was supposed to be my chair, but it is a family favorite that now everyone loves to sit in it – with the high back and curved arms in a great green woven fabric. I had a custom shagreen table made by my upholsterer to accompany the chair.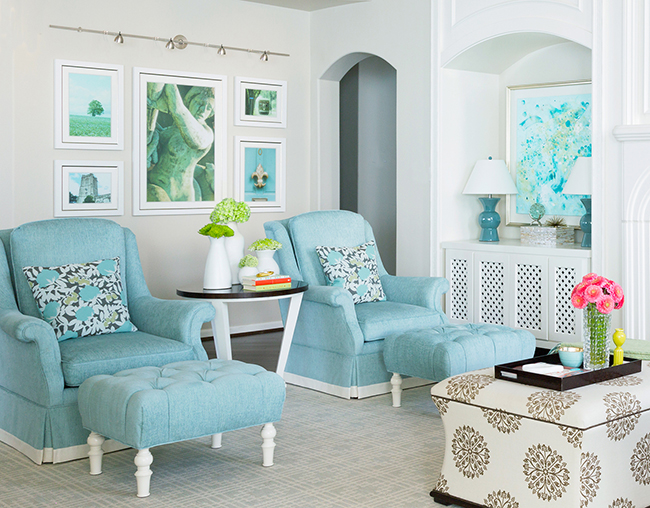 My other furniture purchase was two chairs that are made to sit back and just relax in along with your feet propped up on fun, pretty, tufted ottomans from Thibaut. They are covered in my favorite kid/family friendly fabric, Crypton. I added the contrast of a white fabric to the chair skirts for a more decorative detail. The custom made table has a dark top to pull in the wood floor and other brown accents in the room with the bottom painted the same color as the ottoman legs.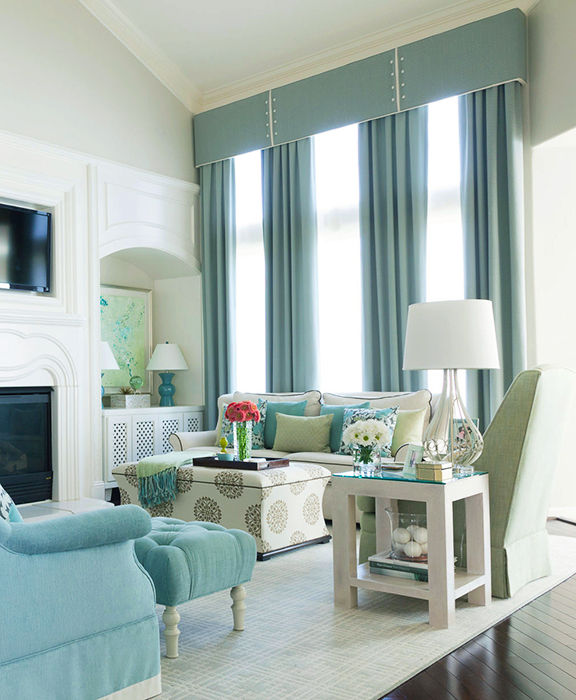 My rug is from the Charlotte Moss Broadloom Collection from Stark with a stain treatment. The long panels of my drapery soften the room. I designed a cornice board on top in a nice soft blue drapery fabric that has a few tailored details to help it stand out, since it is so high up.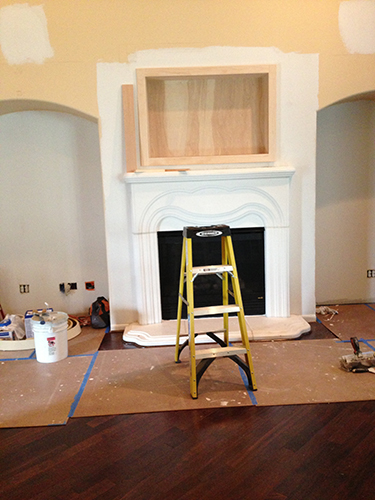 TV area – This was not my favorite feature from the builder in my house…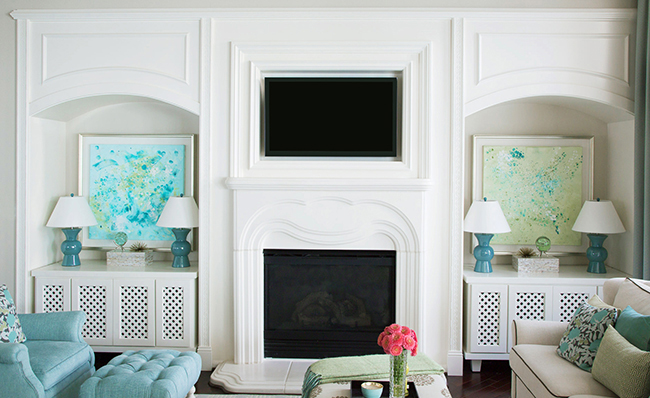 So, I later created a more customized wall that didn't look so built-in. I am not a real collector of accessories – we have bookcases in a few rooms where we use the books – so I opted to design and have built storage cabinets for the lower part of the recesses leaving the upper part open for art. I had my cabinet guy then create a more decorative detail to the wall with decorative molding finishing it off. I really loved the way it made the room feel a bit more grown up, something I really wanted the space to be.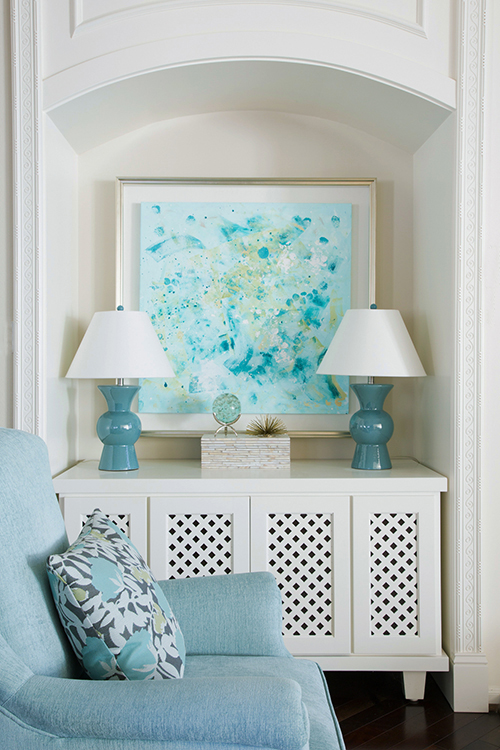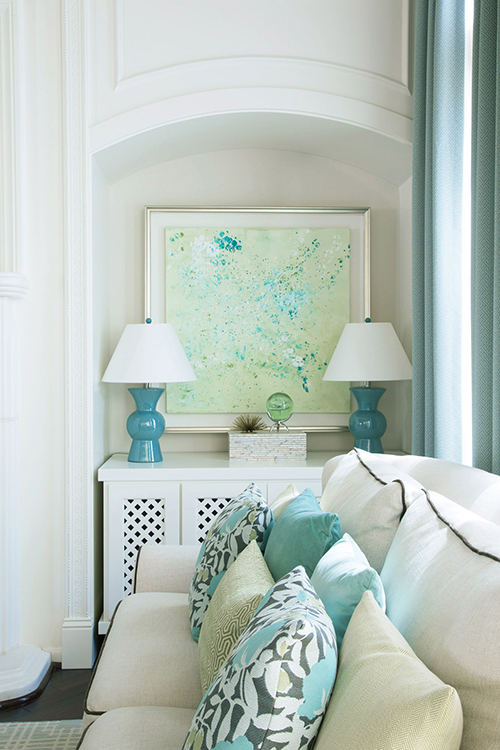 Artwork – The abstract artwork was done by both of my children and myself a few years ago. I framed them as they should be shown off as masterpieces. Mom proud! I am going to share with you the whole story behind the artwork in another post next week.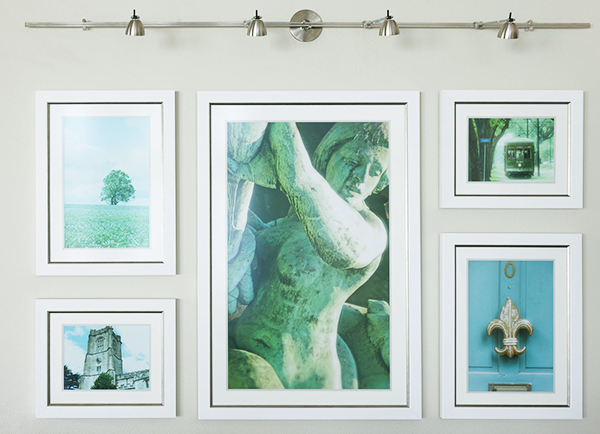 The photos represent where we are from and lived before Houston. Photos of England, New Orleans and Paris each have great meaning to us. The walls are Natural Cream OC-14 from Benjamin Moore to keep the space neutral and let the fabrics and art be the color story.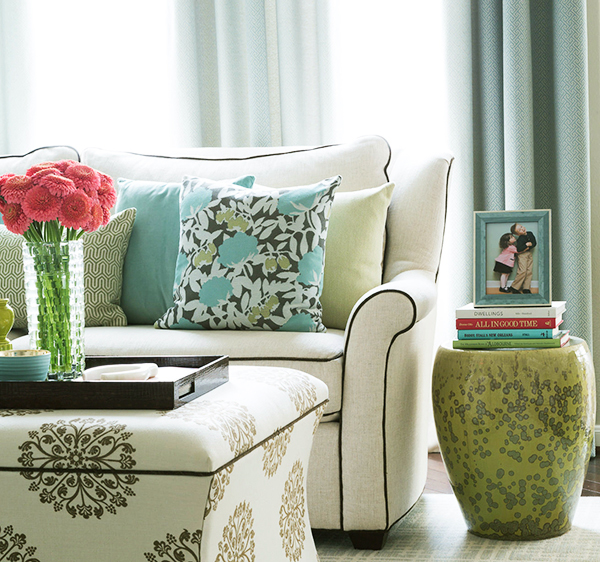 Accessories – I wanted this room tell the story of our family and add playful patterns. The pillows are in a fabric from Duralee, they really tie it all together and the throw is from Wayfair to add a little a punch of green along with garden stool I got a local home and garden designer store. I then, only added few items like books that do have meaning for us, along with a few finds that I really like from local stores to give the room those finishing touches.
We now have a very personalized space we all gather in and it truly has created for us a Happy Home!
Check out more of my portfolio here… Marker Girl Interior Design Portfolio
Happy Everything!
Karen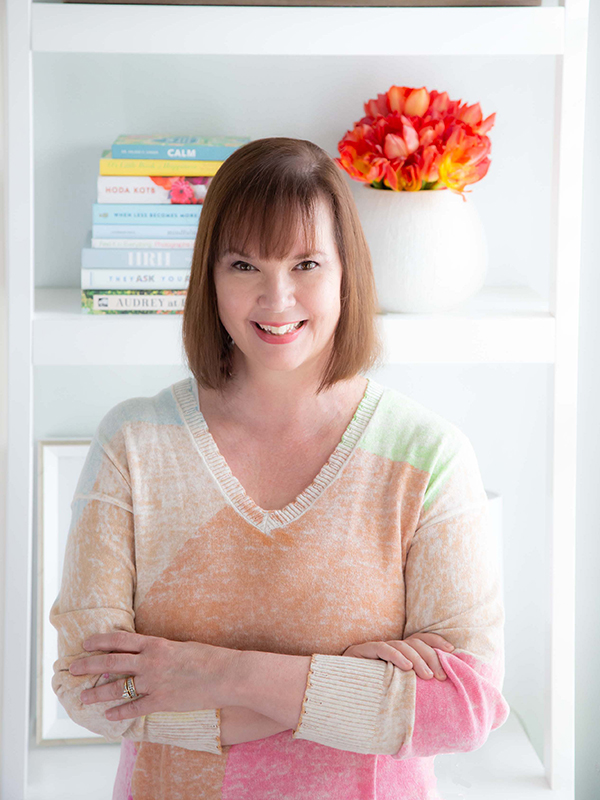 Imagine walking into your living room to find your two-year-old covered in marker along with your beautiful ottoman! I learned that lesson the hard way and redesigned our home around the family's lifestyle. I am committed to bringing you the very best of what I'm living and learning, as well as making it fun.
Our interior design services cater to your family's real-life living.
Make Your Mark University
Are you an Interior Designer ready to "Make Your Mark" in your business? With 15 years of experience running my own firm, I will teach you how to grow a standout business that attracts ideal clients!