Oak Forest New Build Reveal Part 1 – Family Room, Dining and Kitchen
Our Oak Forest New Build Reveal was designed for a family with 2 younger children and their dogs. This home was designed to work around the family's busy lifestyle. We created an overall minimal style that added natural elements with a few splashes of color and pattern to give it a warmer feeling. All topped off with a few personal accessories as finishing touches to create an inviting, Family-Friendly home.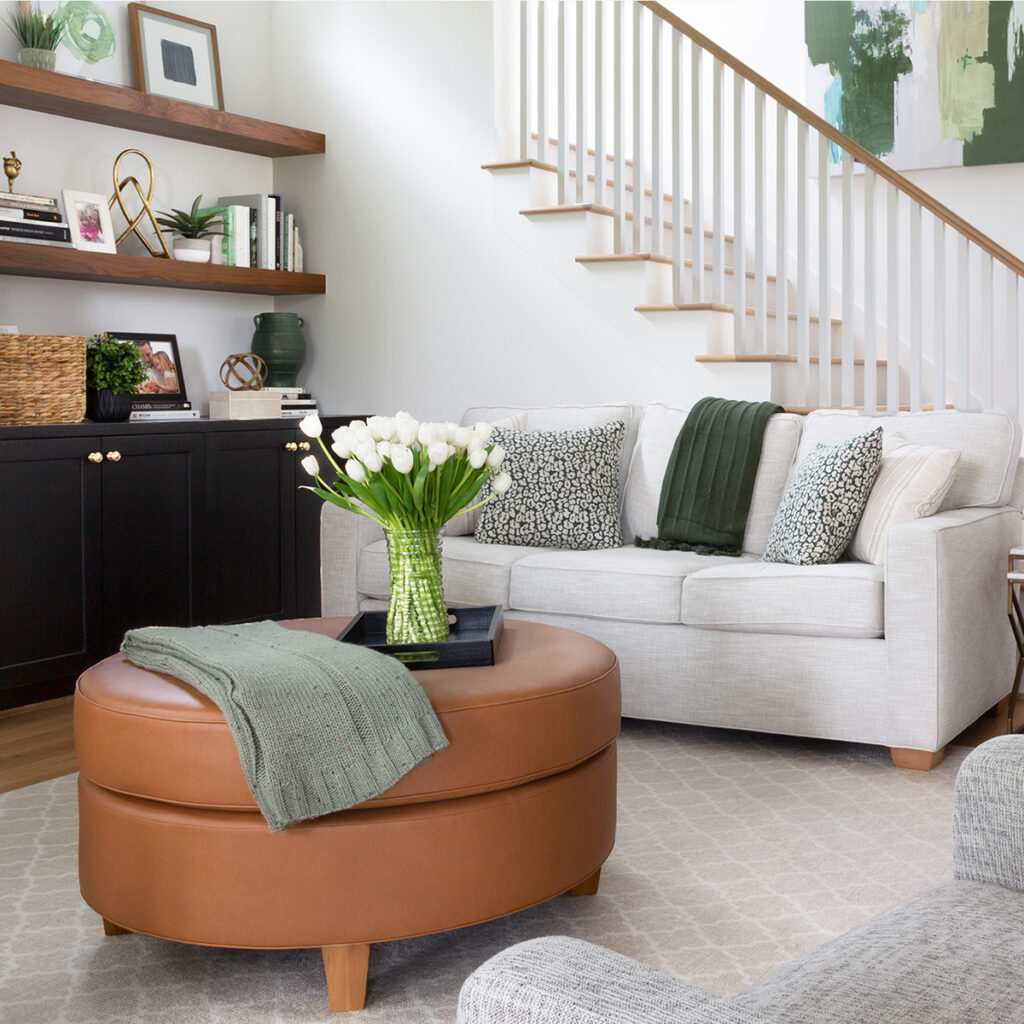 Family Room
The Family was designed for TV and to have friends gather when visiting. The client wanted a contrast to the cabinets we chose Sherwin Willams Tricorn Black with warm stained wood shelves. To break up the white walls. The shelves were added so she could personalize the space with family photos and favorite books.
The furniture (CR Laine custom collection) was upholstered in performance fabrics, and the green leopard print swivel chair was added for color and fun. The sofa was put along the stairs, and my clients prefer to sit in chairs when watching TV and a faux leather ottoman to put their feet up.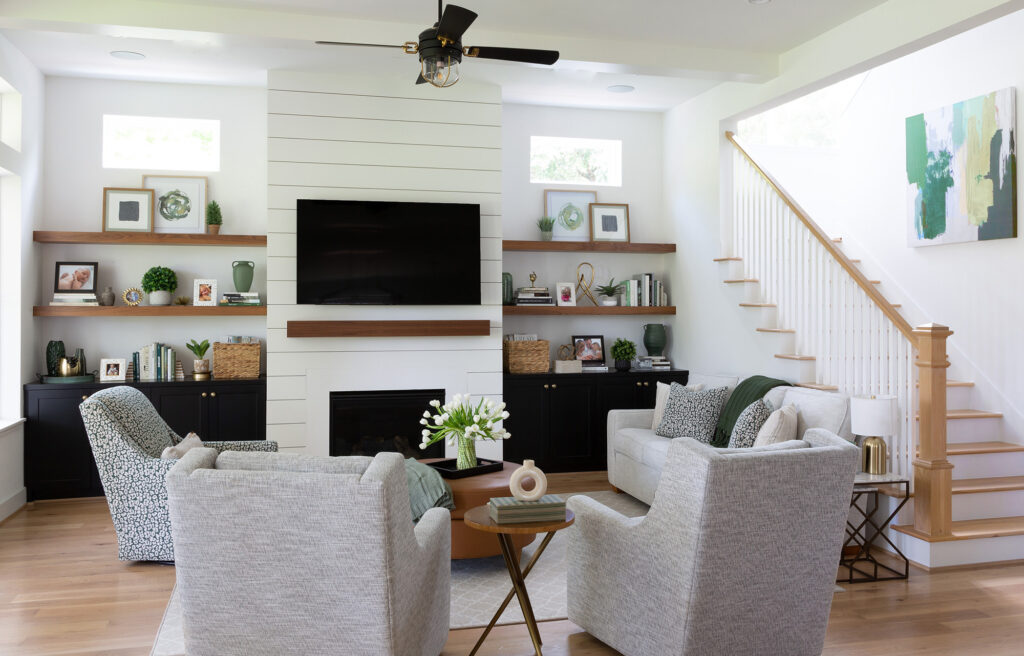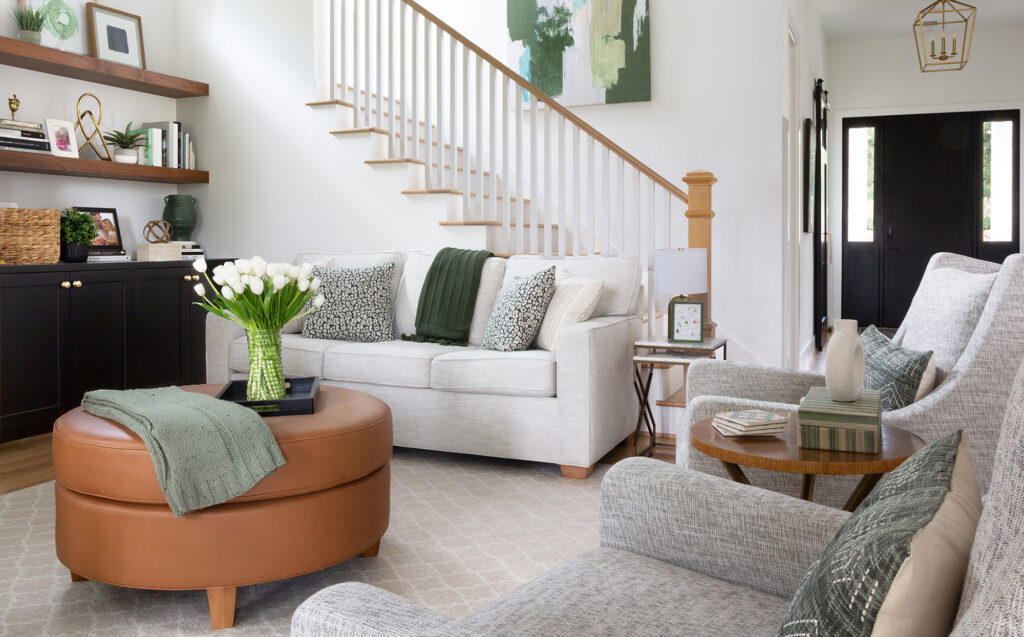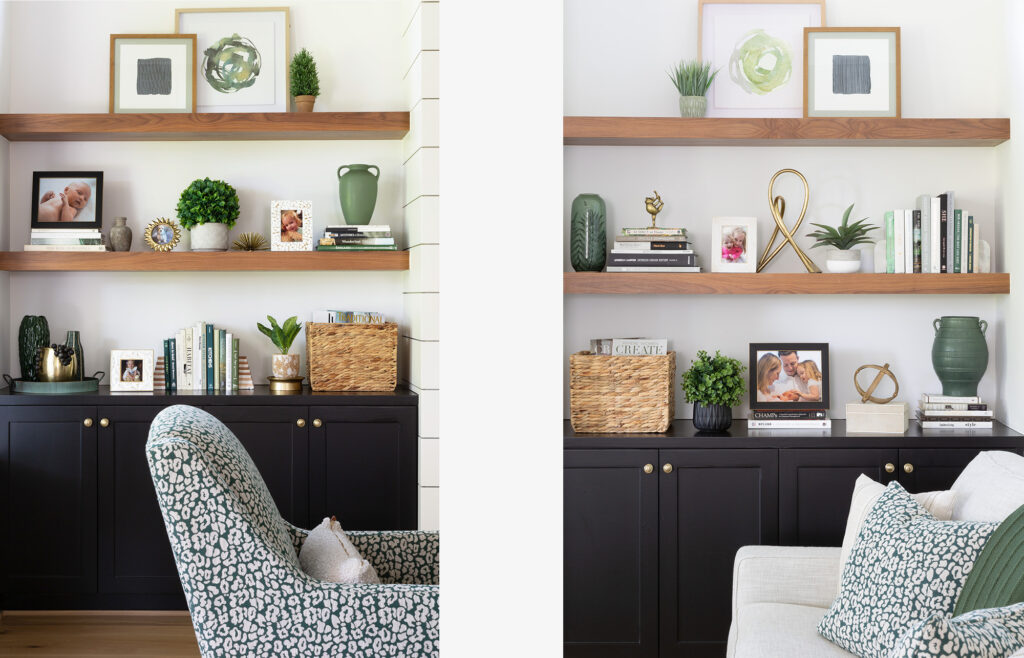 Dining Area
This house was built with a very open floor plan. The Dining Area divides the Kitchen and Family Room. My clients wanted to keep their old table and chairs, so we recovered them to coordinate with the family room. A custom china cabinet was built and painted in black with a warm wood top to tie into the downstairs.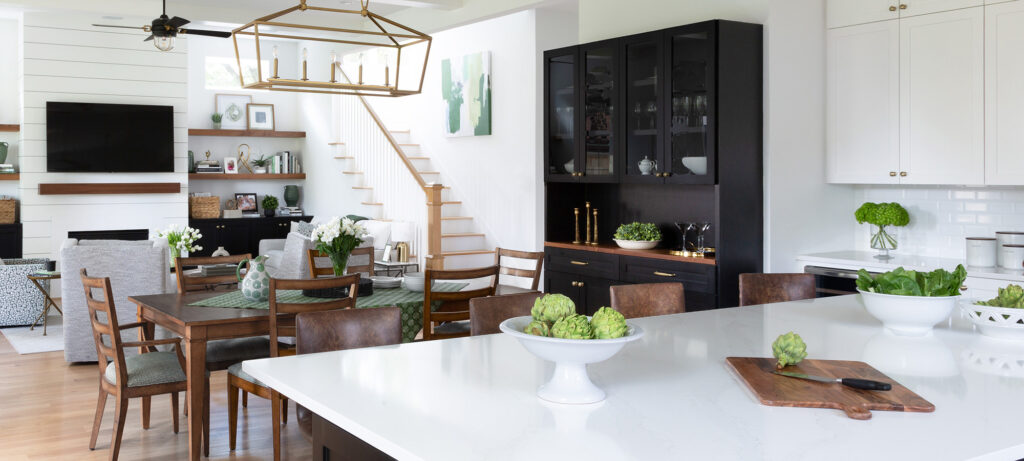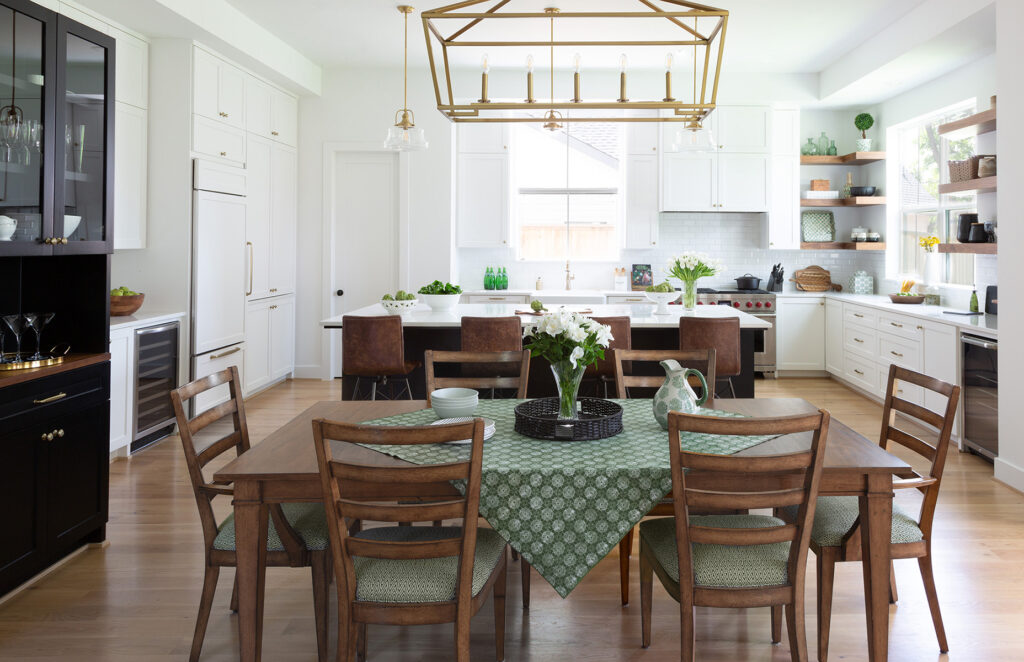 Kitchen
This area was custom designed for them. They wanted a minimal look with white cabinetry but a few wood shelves to warm up the space and allow to display of a few decorative items. We decided to paint the island black to create a balance of color. All the lighting fixtures have gold and black details as well to it. Then we repeated the warm brown tone with the Four Hands counter stools.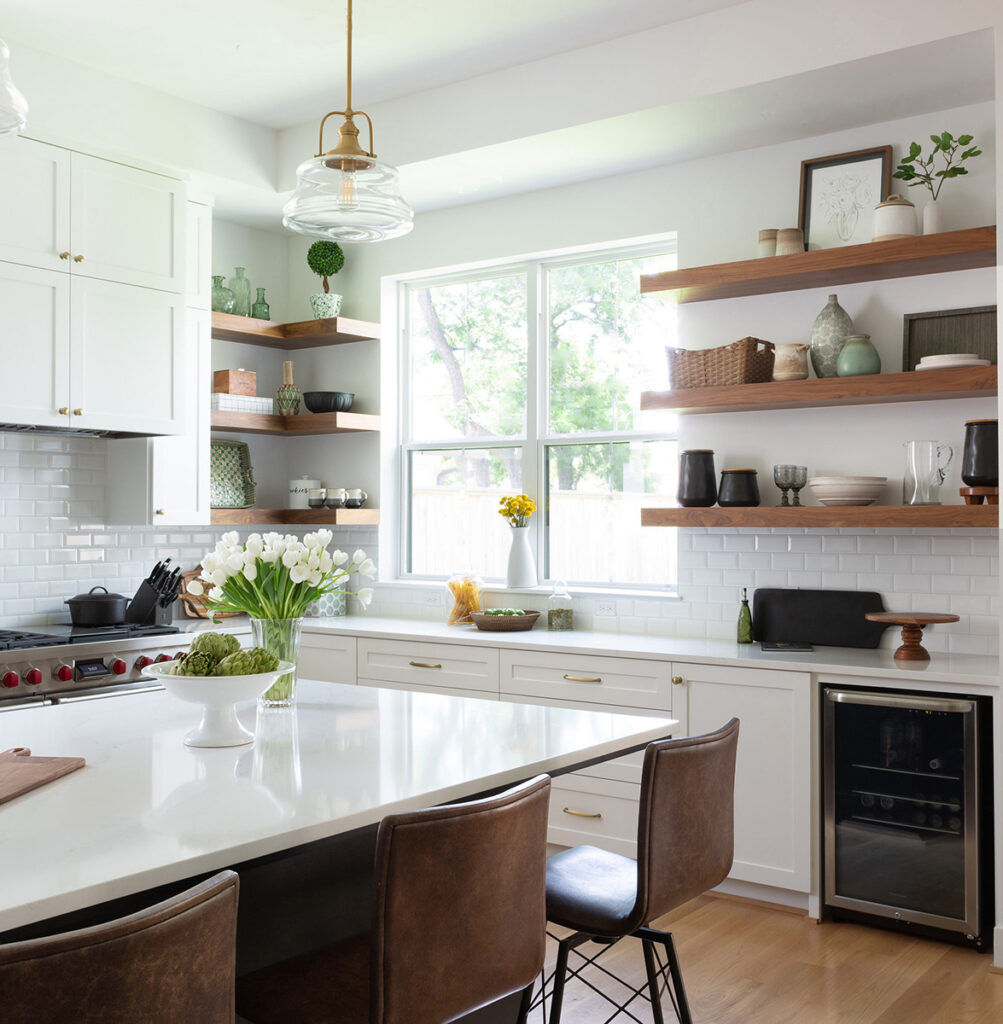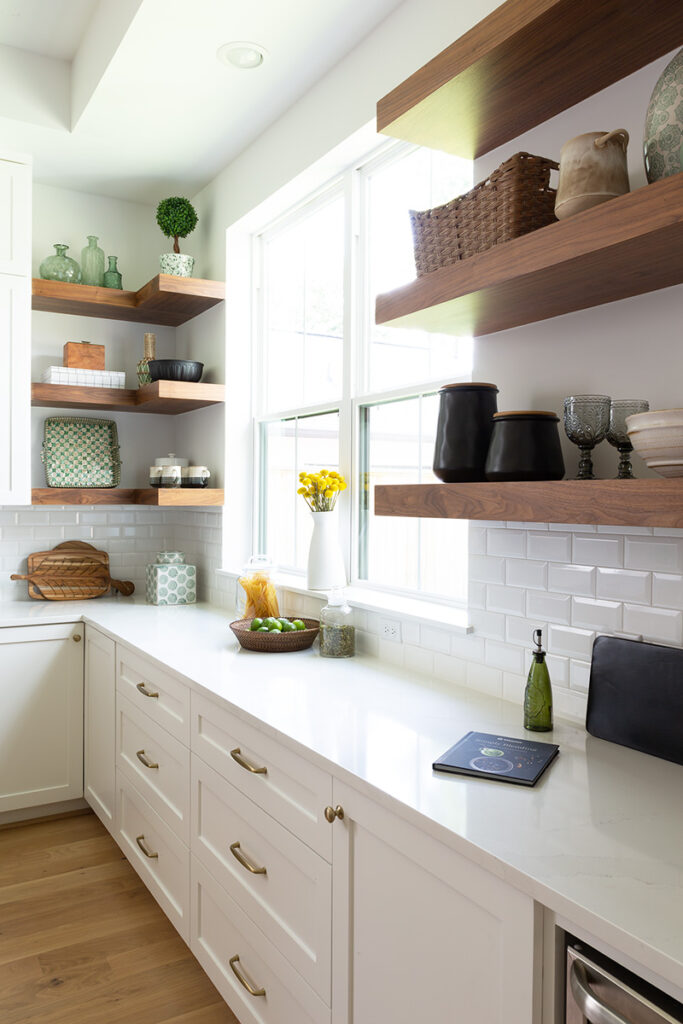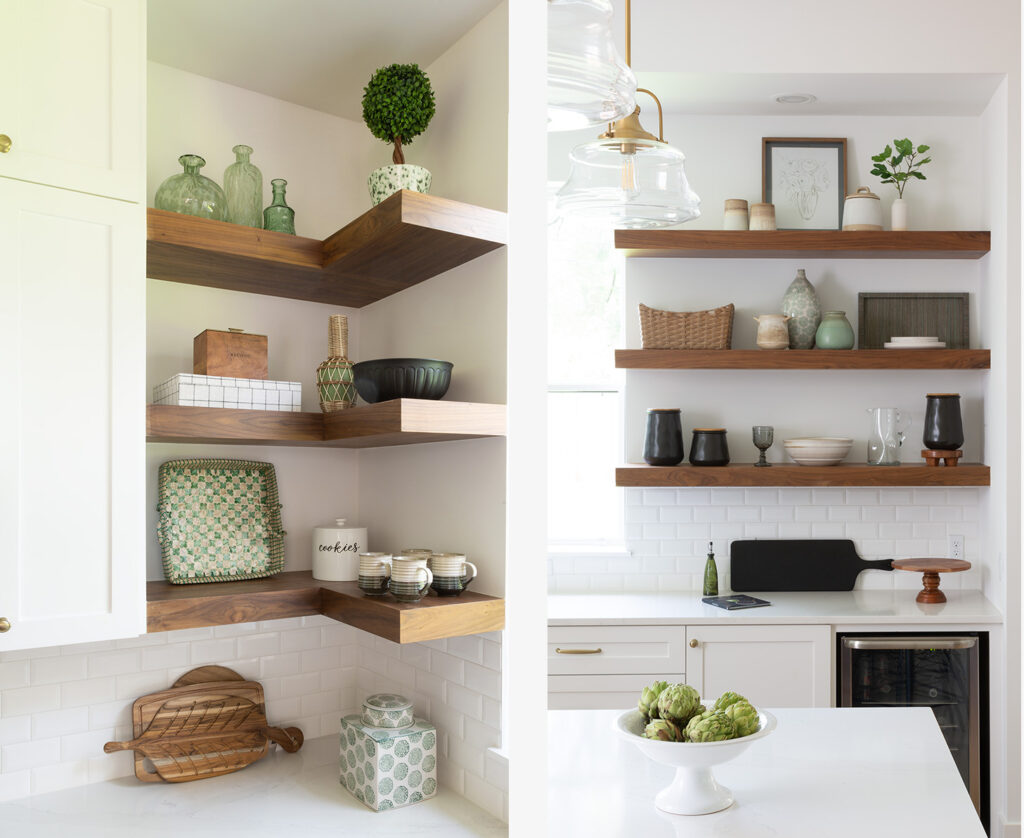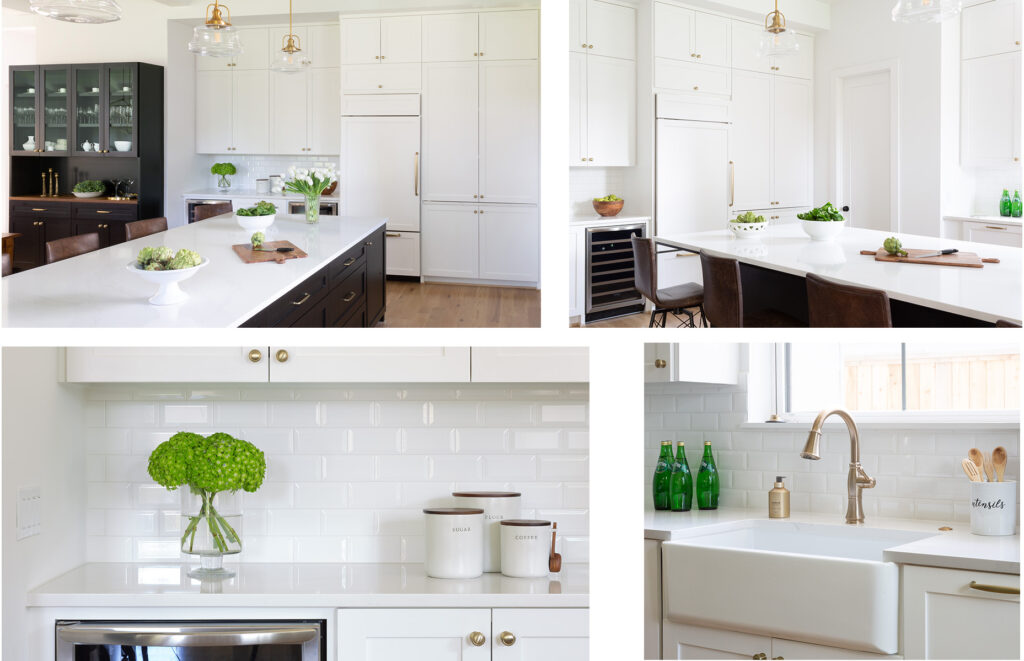 Please see Part 2 Exterior, Entry, Mudroom, Bathroom here…
My client hired a wonderful organizer to help with the move Charming Spaces a big shout to her and the custom builder On Point Custom Homes, who helped make this design process a wonderful experience for us.
What my client had to say…
Thank you for all your help pulling together the selections for our new home. You were on top of things throughout the process, and we appreciated the detailed checklists and recaps that were given to us with your service. Now that the furniture has been installed, I couldn't be happier with how everything looks! Milena and Jonah – Houston, TX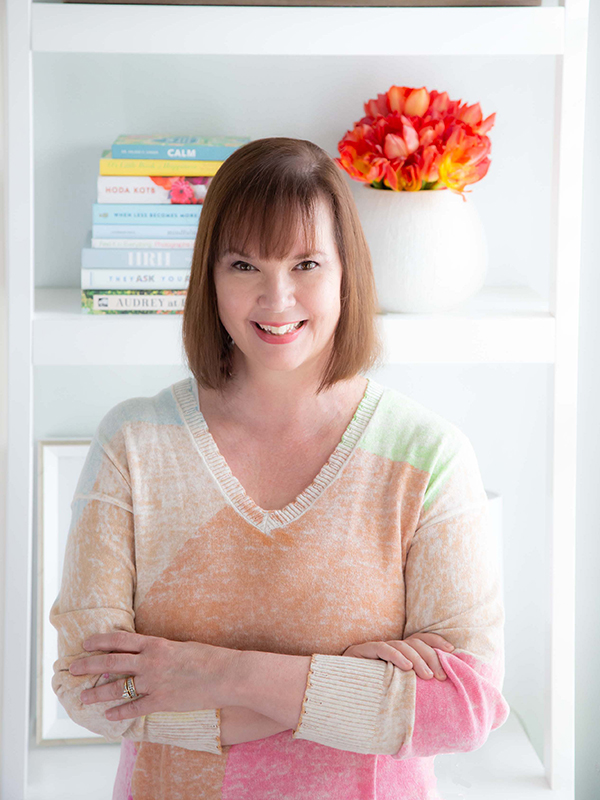 Imagine walking into your living room to find your two-year-old covered in marker along with your beautiful ottoman! I learned that lesson the hard way and redesigned our home around the family's lifestyle. I am committed to bringing you the very best of what I'm living and learning, as well as making it fun.
Our interior design services cater to your family's real-life living.
Get your guide to decorating a family-friendly home!
Karen shares with you her best design advice on how she creates beautiful family-friendly spaces with her clients.