A New Home – Modern Farmhouse and Traditional Remix
Sharing with you a client's home I completed this year. I worked with this client a few years back, now she is now transitioning to a newer empty nest home. This was a newly built spec home she and her husband purchased. Her request was a softer color palette than before to be able to use a few pieces from the previous design. Then wanted a mix a "Modern Farmhouse" look with "New Traditional" pieces.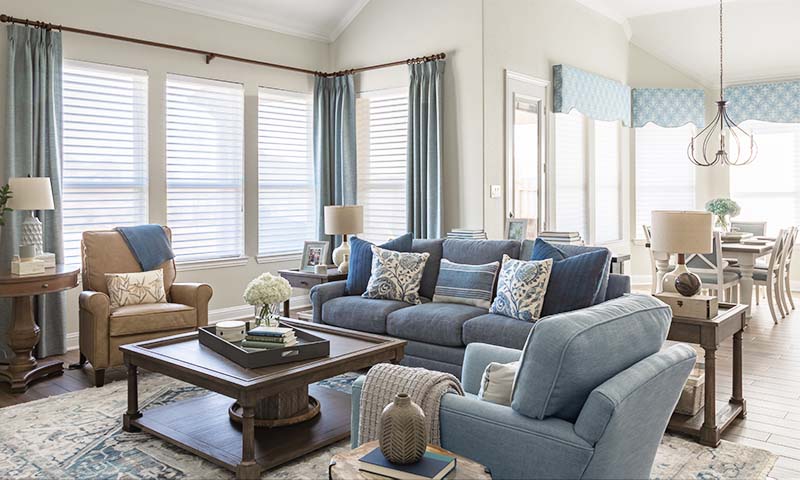 Family Room
The Family Room needed seating for 4 so she, her husband, and their young adult kids could sit and watch TV. He wanted a leather recliner. She wanted soft, comfortable, and durable seating.  We bought custom pieces that have performance fabrics that hold up to her family pets too.
She likes wood pieces. We reused her old sofa table and side table from the other home and then added traditional style wood end tables along with a coffee table that pulls in the flooring color. She wanted blue accents, so we went with a custom credenza to house the TV in a farmhouse blue color. I opted to break up with wood with a stone top-side table.
Other blue elements brought in were her drapery and pillows. The artwork was chosen to give that farmhouse style and tie in the colors of the room. The space is grounded by a traditional rug that brings all of the colors in the room together. She loves accessories, so I added a lot to give the room a more personal touch with books, photos of the family, and some accessories that she has collected over time, and brought a few new ones in for the finishing touches.  Paint Color Benjamin Moore OC-50 November Rain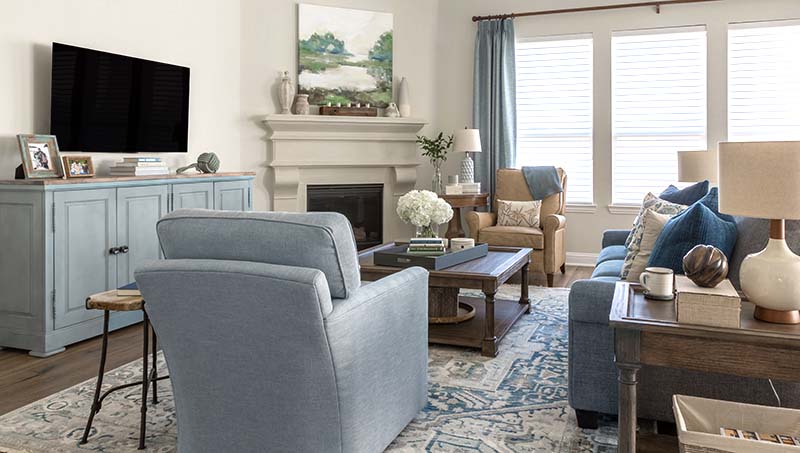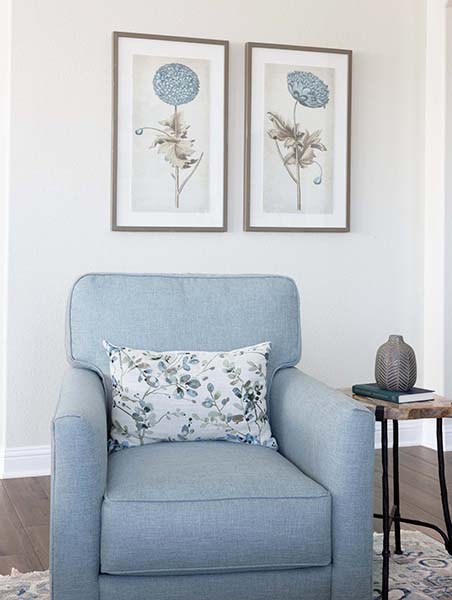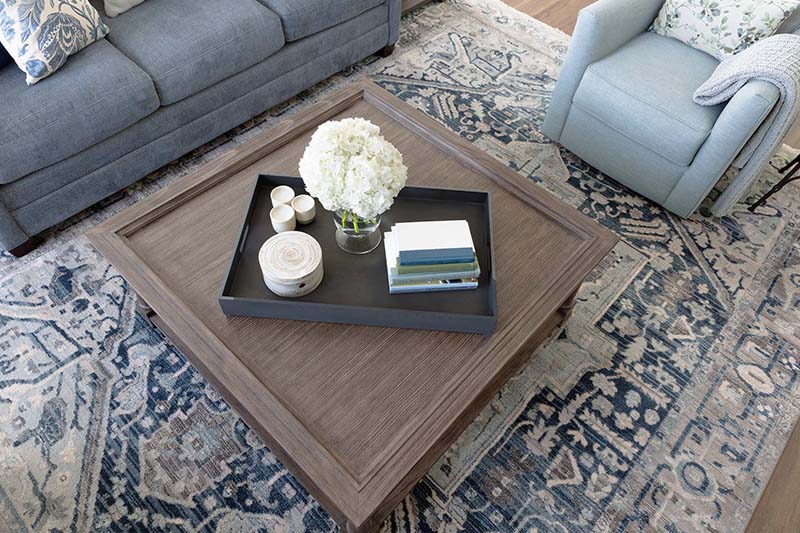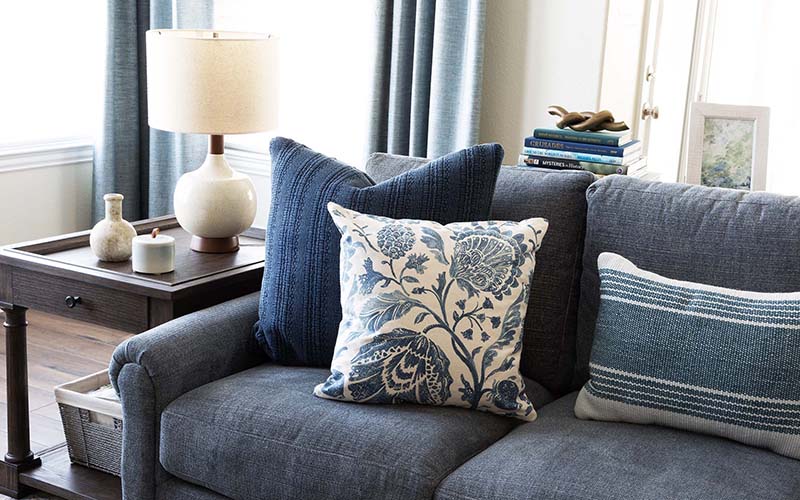 Breakfast Room
The Breakfast room is open to the other side. A custom farmhouse table with chairs was chosen to tie them into the kitchen and family room. We found a fun-shaped chandelier and added upholstered valances over each set of windows since the walls were at odd angles. All of these elements give the space a more personalized style.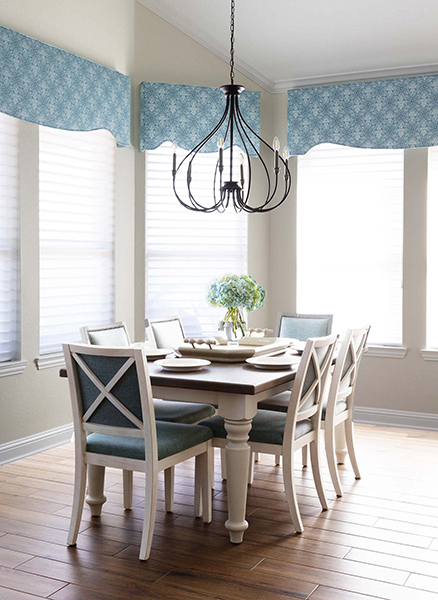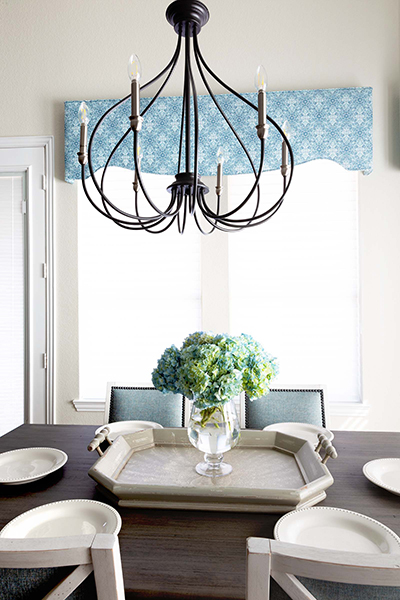 Master Bedroom
A nice upholster headboard with simple bedding was the starting point in their Master Bedroom. I added in traditional wood nightstands and a dresser in keeping with her style. Then added in a custom bench to place at the foot of the bed with a simple pattern. The bench would pull in the blues and greens that reflect the colors in the artwork. Drapery was also added to soften the space, along with pillows on the window seat. Paint Color Benjamin Moore Aloe 1562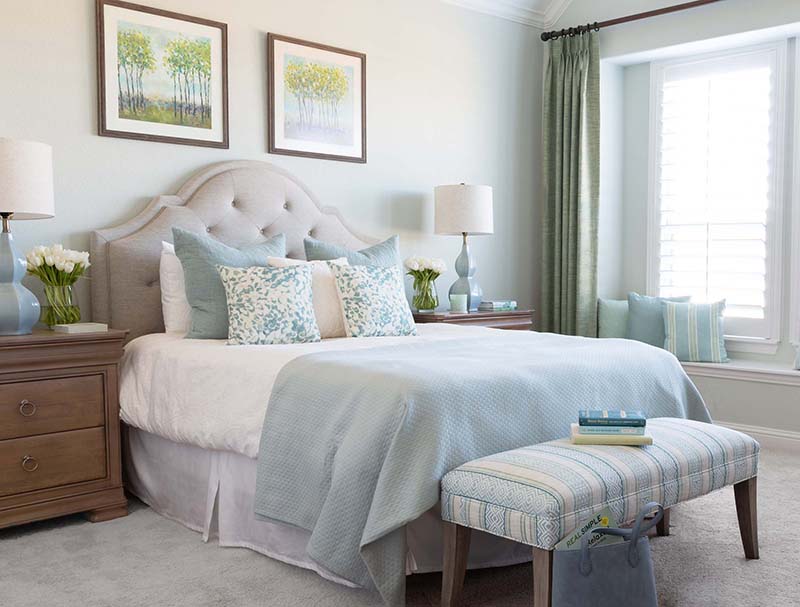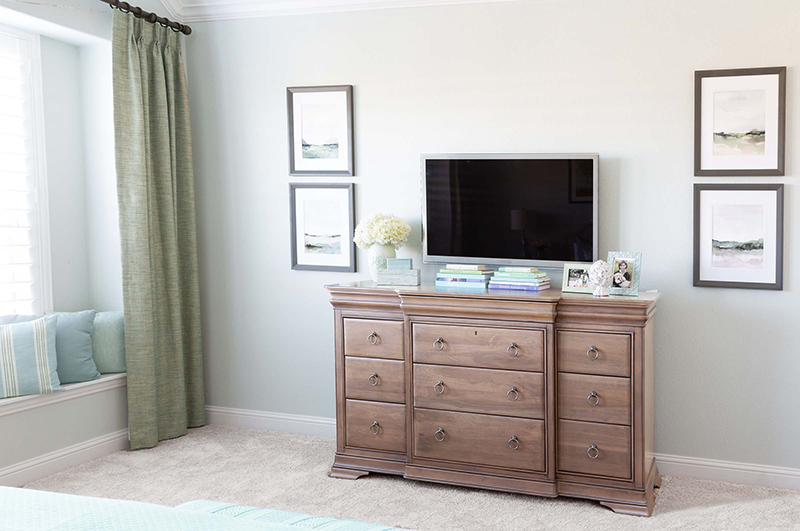 Entryway
The final remix was for the long entryway. I used her old console from the other house and added art and accessories to create a personal touch. A bench with throw pillows and art above was added by the front door to be both functional and decorative.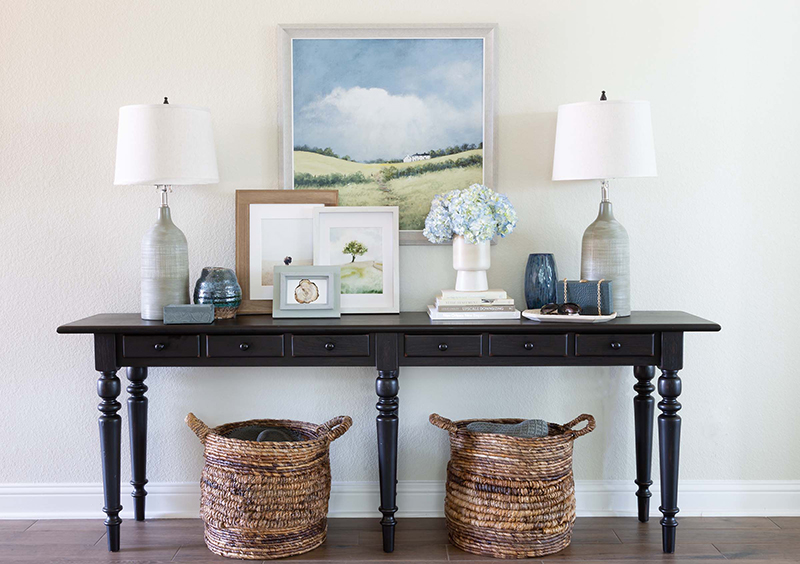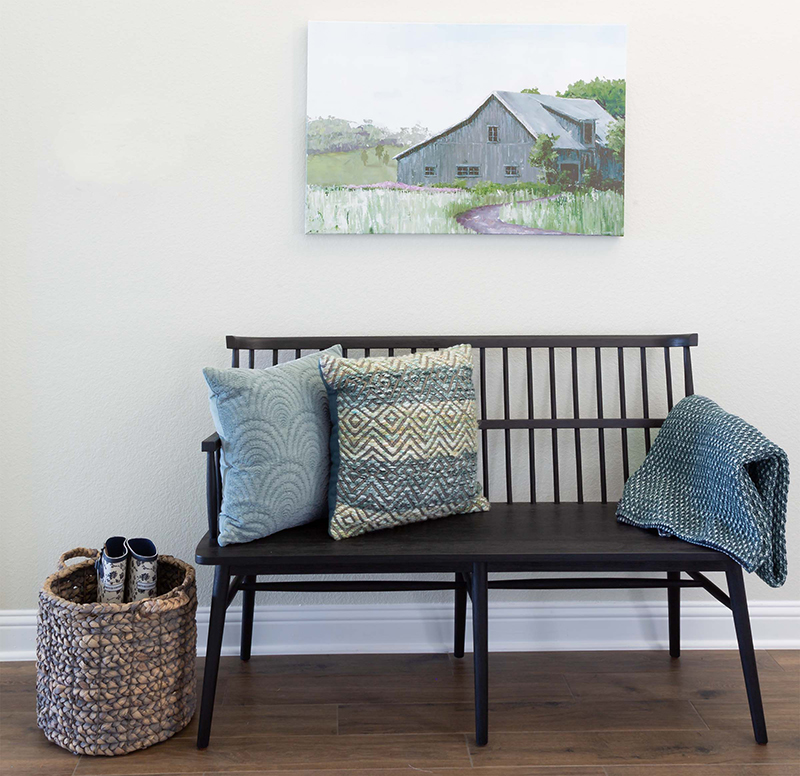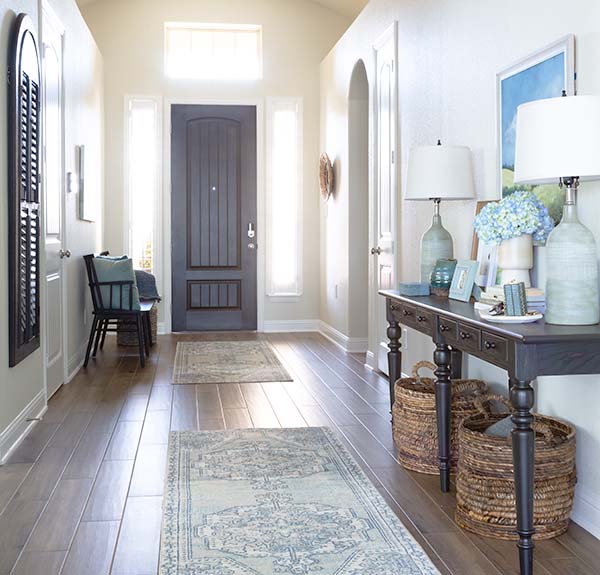 Her new home is now personalized, mixing old and new – all ready to have new memories in.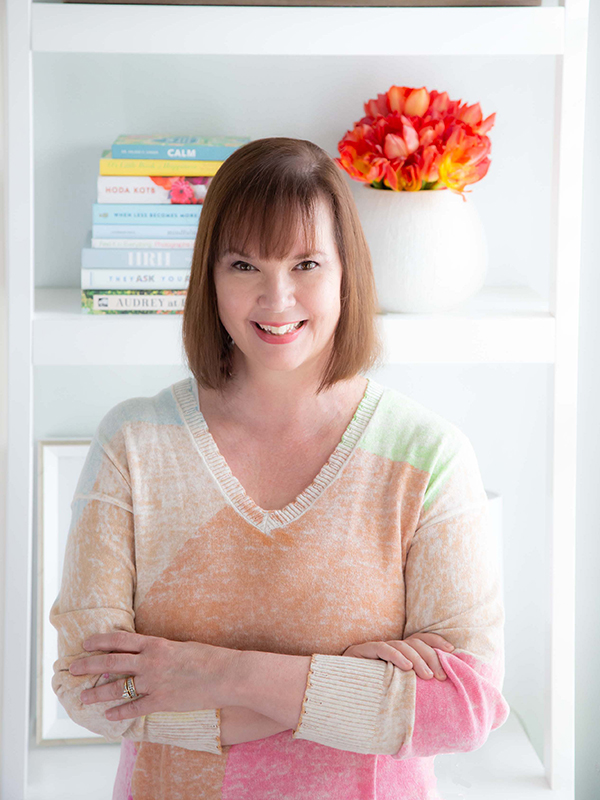 Imagine walking into your living room to find your two-year-old covered in marker along with your beautiful ottoman! I learned that lesson the hard way and redesigned our home around the family's lifestyle. I am committed to bringing you the very best of what I'm living and learning, as well as making it fun.
Our interior design services cater to your family's real-life living.
Get your guide to decorating a family-friendly home!
Karen shares with you her best design advice on how she creates beautiful family-friendly spaces with her clients.