What do you want to learn more about?
Make Room For Mom – Living Room Makeover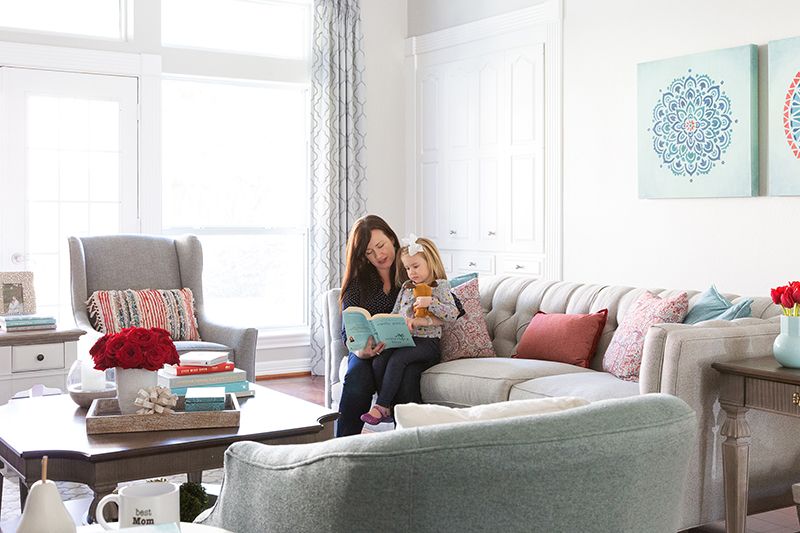 The last 6 weeks were all about back to school. This week is all about Mom. Sharing with you today a Living Room Makeover I designed for a Mom of 6. It is very Family-Friendly and designed for Mom to enjoy.  She hired me to create a space for her and friends to sit and just hang out. Her kids have an upstairs space and family room in the back of the house. She wanted a space that was more grown-up and really reflected her style. It needed to be kid and pet-friendly too. Her requests were lots of seating, kid-friendly furnishings, an up to date style with a traditional feel and loves the colors​ blue, red, and gray.
It's All About The Before and After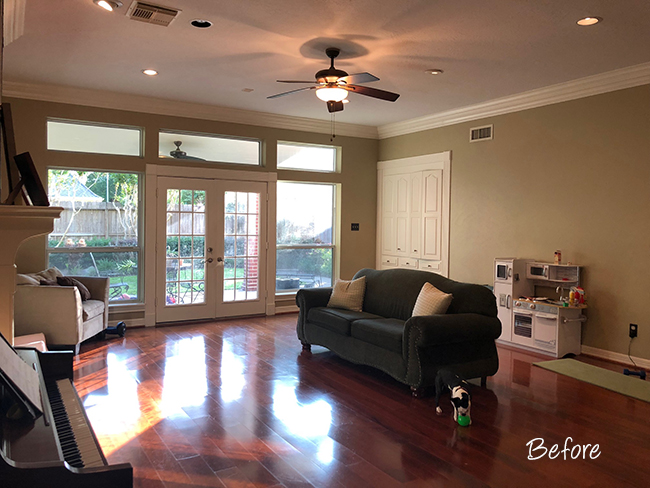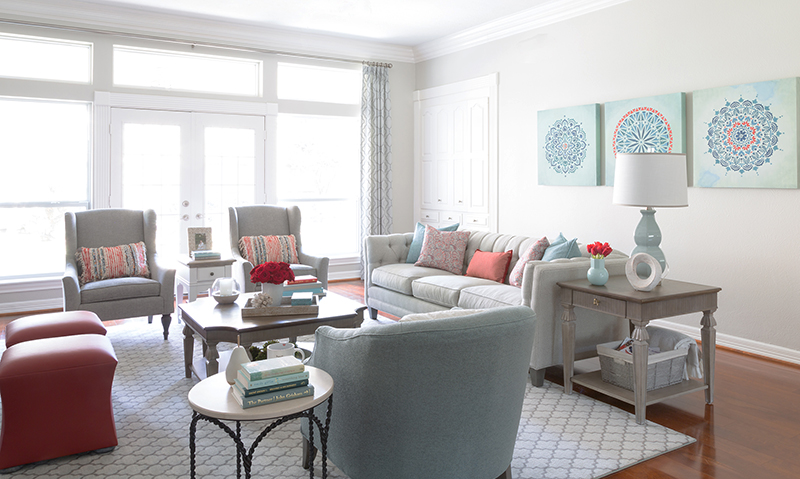 All The Details
With most homes, we tend to have to work around colors in the room like flooring and her in case the slate fireplace. That is why I chose a more blue-green, and poppy red to really complement those features and I went light and neutral with the paint color Agreeable Gray (Sherwin Williams) all to create a more relaxing feel.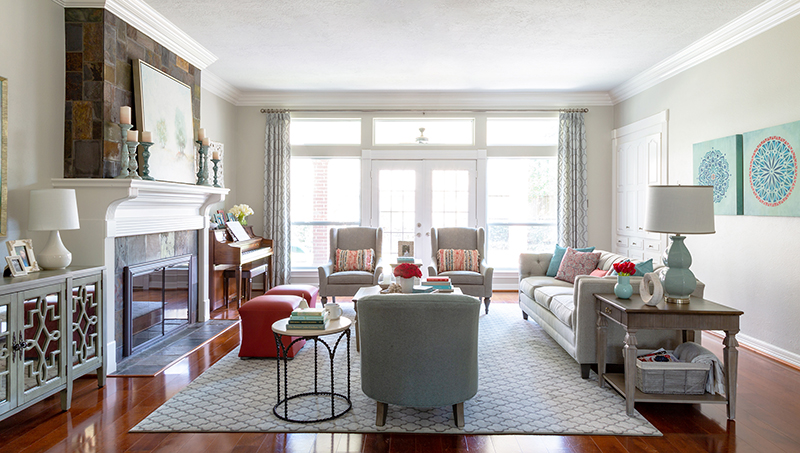 Starting with furniture we went with a chesterfield sofa in a grey performance fabric. Then blue-grey chairs that face the entry. With a small accent deeper blue-green chair facing into the room. All the upholstery is very durable performance fabrics and custom made.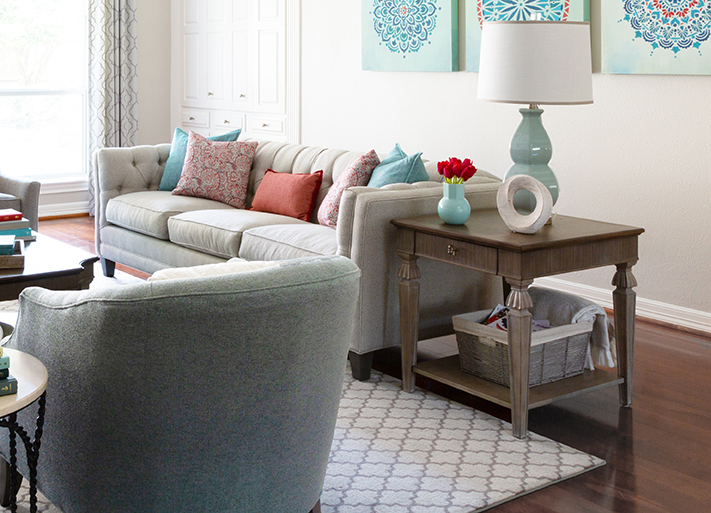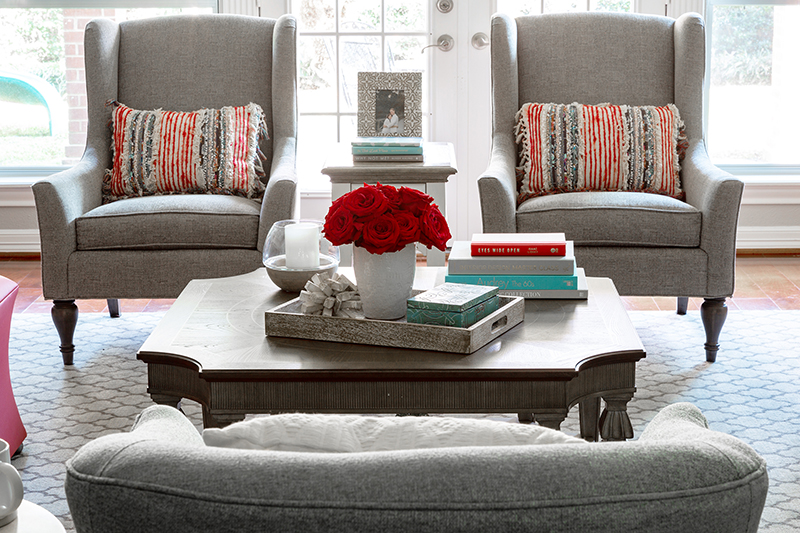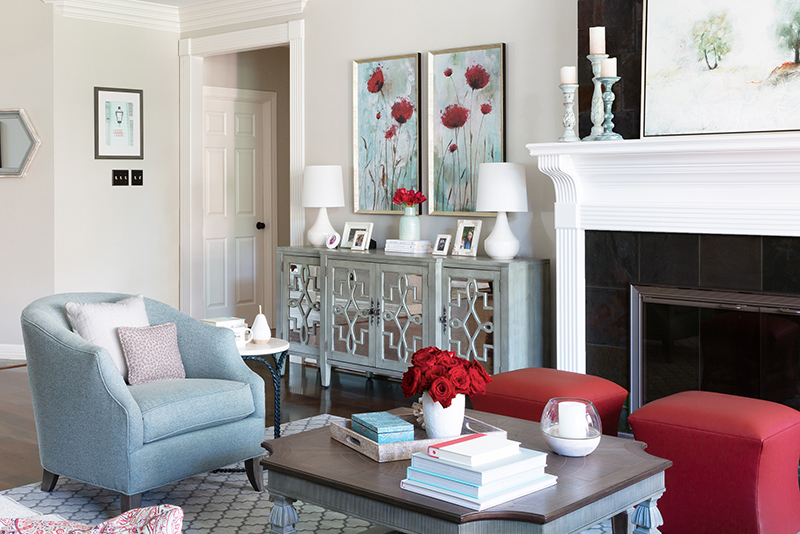 Tables all have durable tops with antique finishes or stone. A console for storage was put on one side of the fireplace with her piano that had to be kept in the room on the other. Tucked away but still able to be used by the family.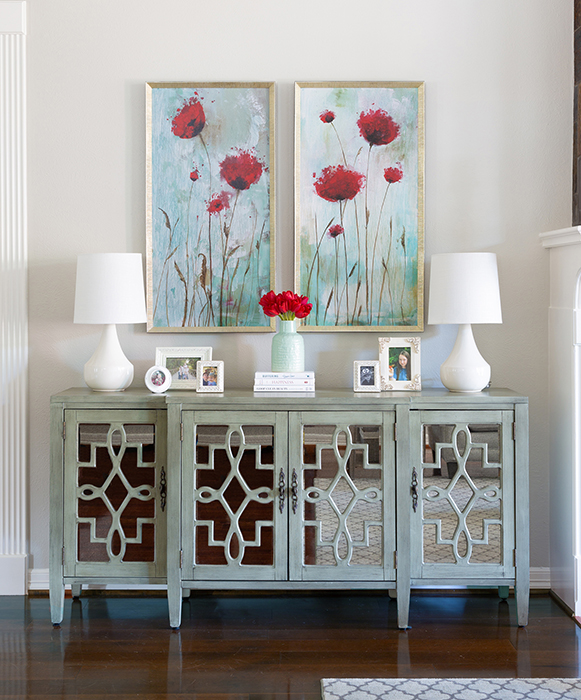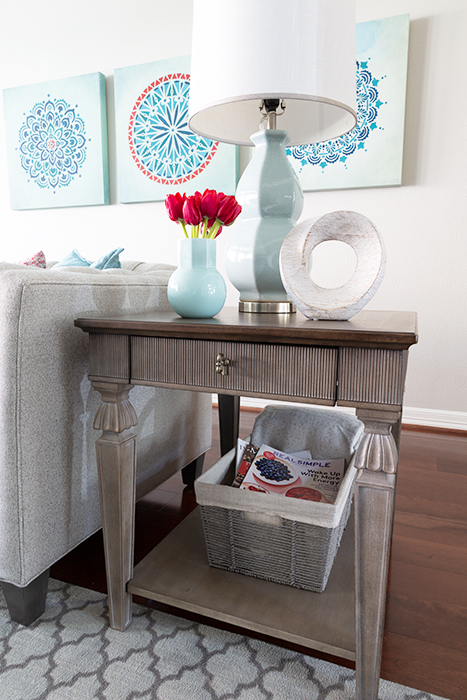 The rug was a custom bound carpet in blue and grey that is stain resistant. Two red ottomans to add that a touch of red she wanted. They are upholstered in red vinyl to hold up with the dog and kiddos. They also can be used to put your feet up after a long day.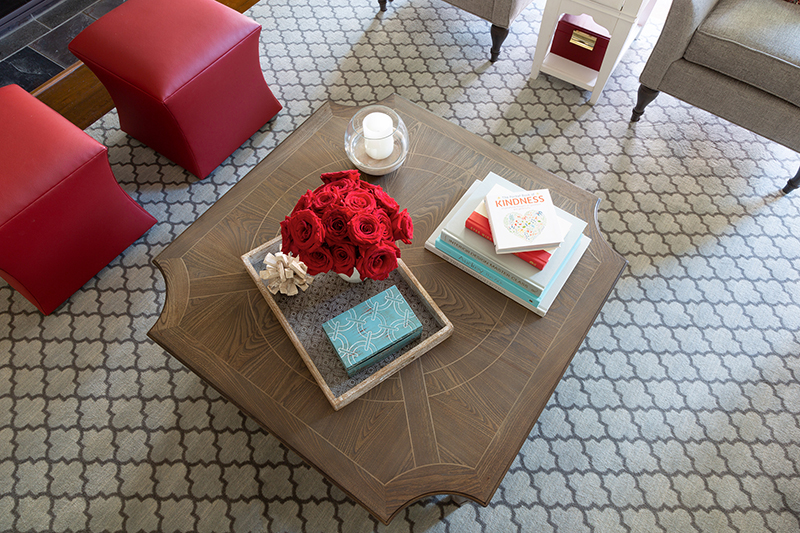 With Drapes for the large door, I went with a very simple softly flanked on either end and used a very coordinated fabric that tied in with the rug. Along with pillows artwork and accessories to tie in the reds and blue-greens.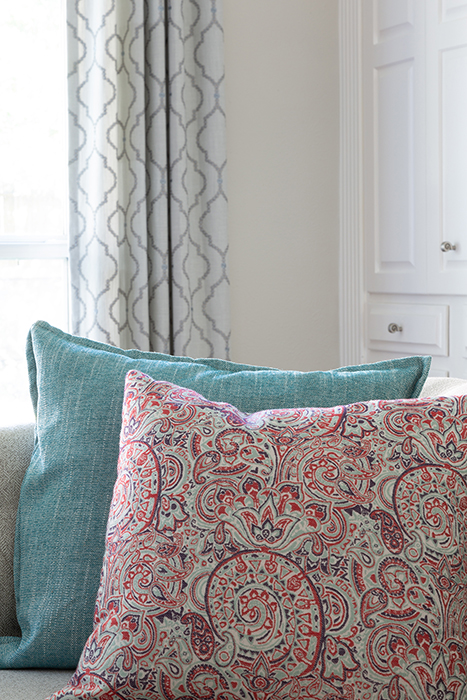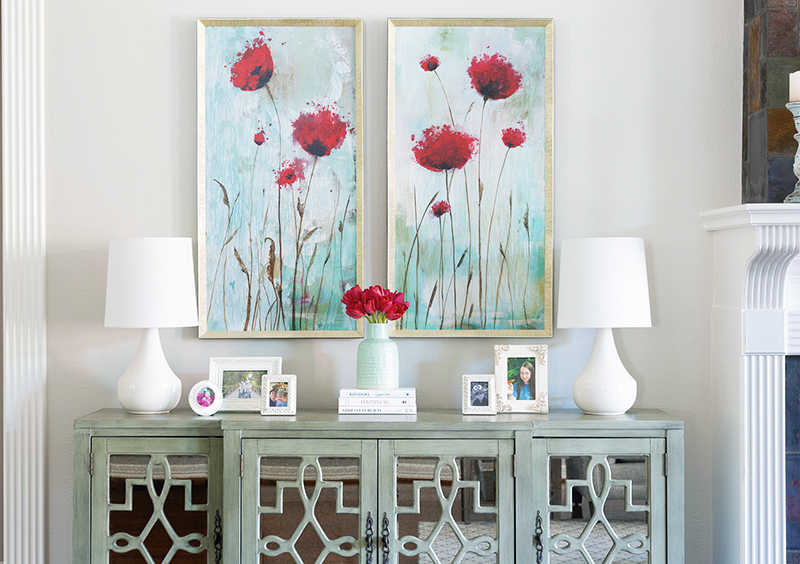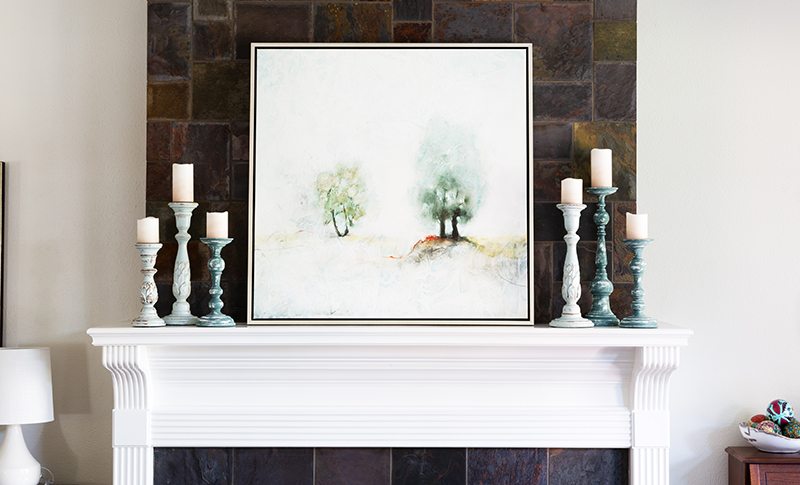 A space just for Mom that she can enjoy even when her kids want to be in there too.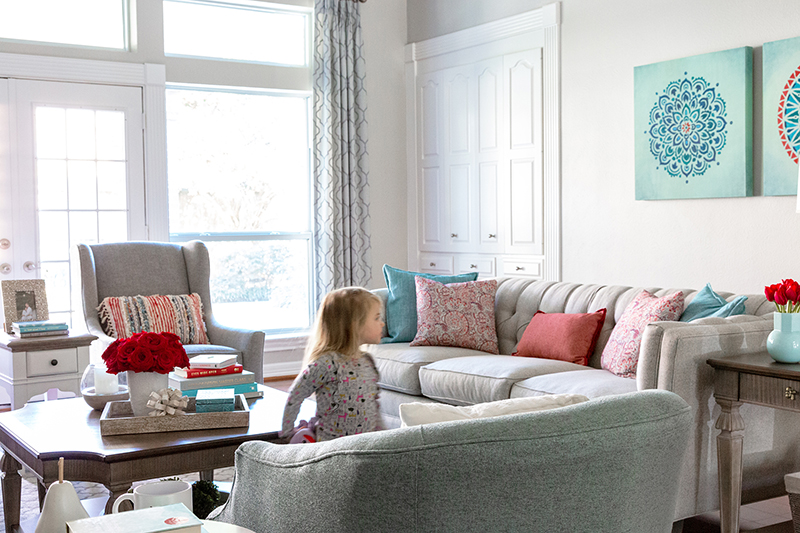 Happy Decorating! Karen
Kind words from my client:
Karen Davis is the perfect mix of professional and personable, organized and artistic, fastidious and friendly. For the duration of our project, she tracked and clearly communicated to us. She listened to our preferences and offered options that are in line with our needs and lifestyle. Although she is truly an artist, I never felt that she was ignoring our needs for the sake of her "vision". The end result is a room that is both beautiful and durable, as we have a large family with small children. Specifically, she was able to offer us family-friendly upholstery options that are tough and can be easily cleaned; also she was very thoughtful about accessory placement so that breakable items were not in high-traffic areas. We had a great experience with Karen and still love our room after 6 months of living in it. And of course, we get many compliments on the room.
Megan | Katy, TX
Get this look...While we don't share the full list of links from our custom design projects (since that is what our clients pay us for and are trade sources, mainly custom made) here is how you can achieve a similar look: Check out our shop for more finds.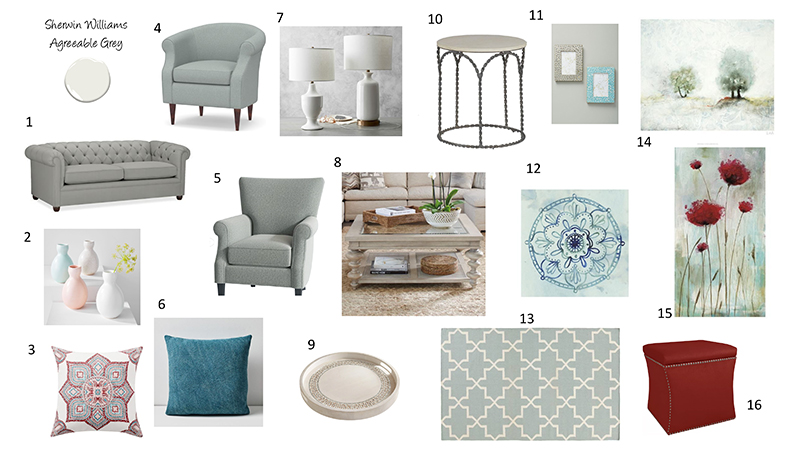 1 Pottery Barn / 2 West Elm / 3 Pottery Barn / 4 Pottery Barn /5 Wayfair
6 West Elm / 7 Pottery Barn / 8 Wayfair / 9 Pier 1 /10 Wayfair
11 Anthropologie / 12 Art.com /13 Rugs USA /14 Art.com
………………………………………………………………………………………………………
If you need help with creating a family home you absolutely love, check out our services. We offer both in-home services here in Houston and virtual services for out of area clients.
…………………………………………………………………………………………………………….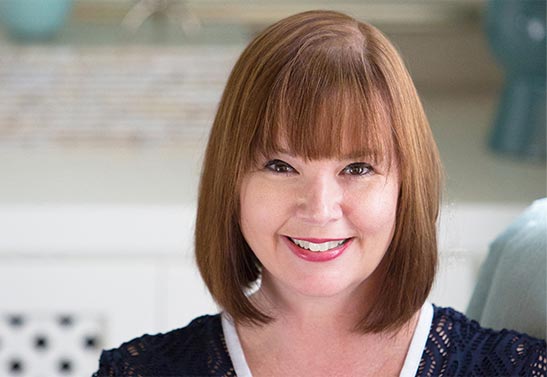 Meet Karen
Imagine walking into your living room to find your two-year-old covered in marker along with your beautiful ottoman! I learned that lesson the hard way and
redesigned our home around the family's lifestyle. I am committed to bringing you the very best of what I'm living and learning, as well as making it fun.
Our Best Resources for Your Family's Home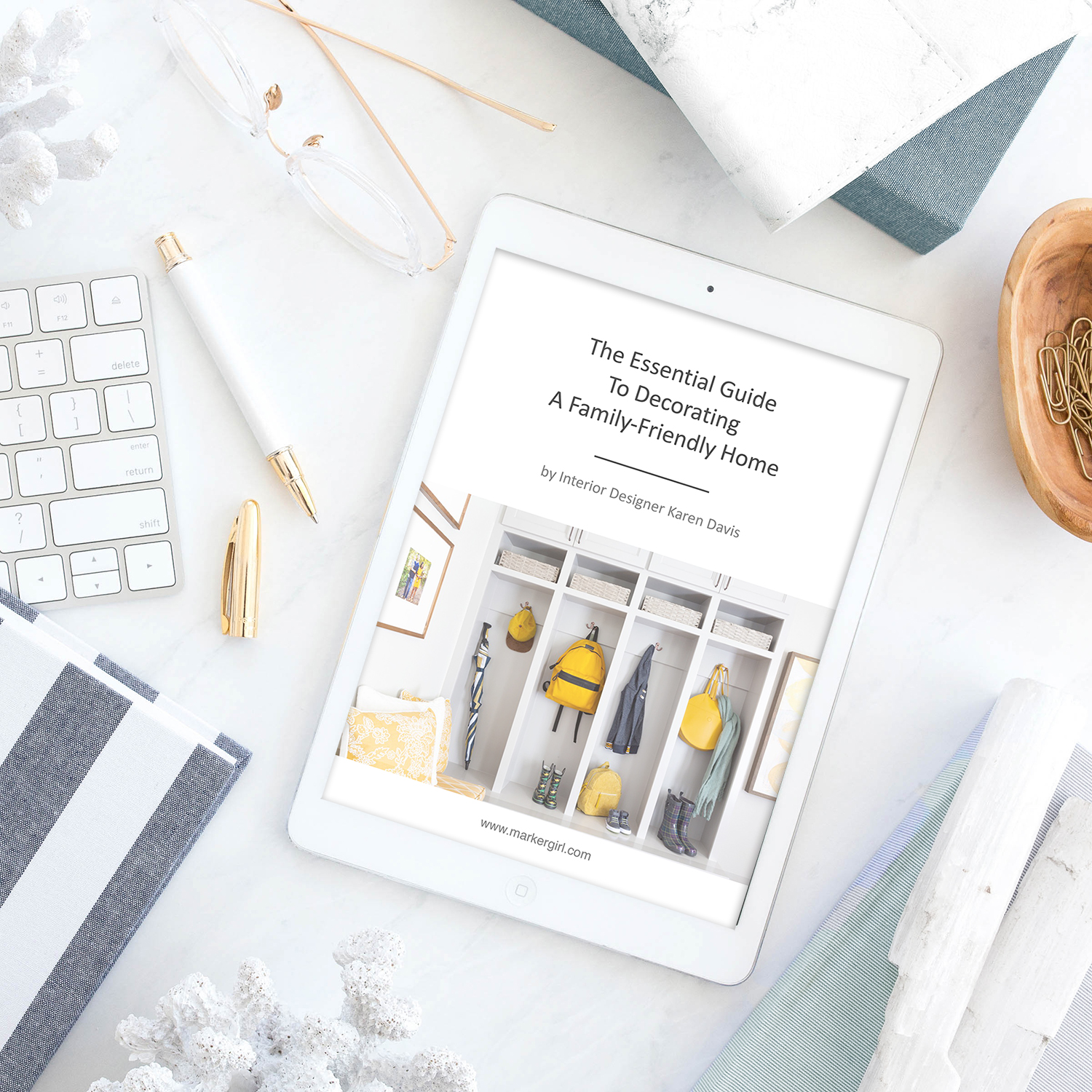 Get Your Free Essential Guide To Decorating A  Family-Friendly Home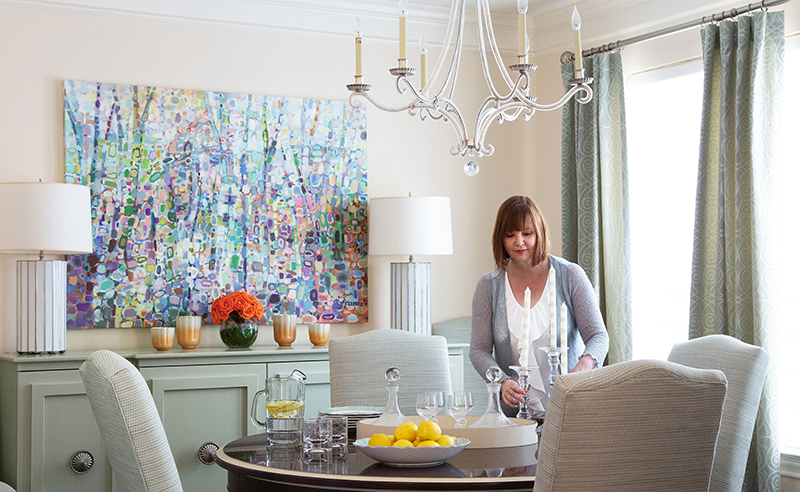 Our interior design services cater to your family's
real-life living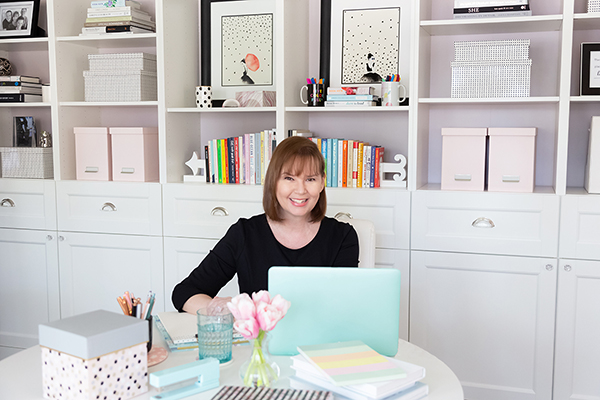 Make Your Mark University
Are you an Interior Designer ready to "Make Your Mark" in your business? With 15 years of experience running her own firm, Karen will teach you how to grow a standout business that attracts ideal clients!