Quick Guide To Best Family-Friendly Upholstery Options
In the early years of my business over a decade ago I struggled to find kid-friendly options. They were microfiber options only which was a nightmare with handprints, butt prints any kind of prints showing.
My only other options were to go with outdoor fabrics and contract fabrics that are used in commercial spaces for really good stain-resistant choices; the challenge was they were not soft and lack nice patterns that looked residential. Treatments could be sprayed on but didn't really last the lifetime of the pieces and had to be reapplied.
Then came performance fabrics, my go-to for any home I am working on. There are so many now I wanted to give a quick guide to help you better understand why I like them, what to look for when buying upholstery and how to clean them.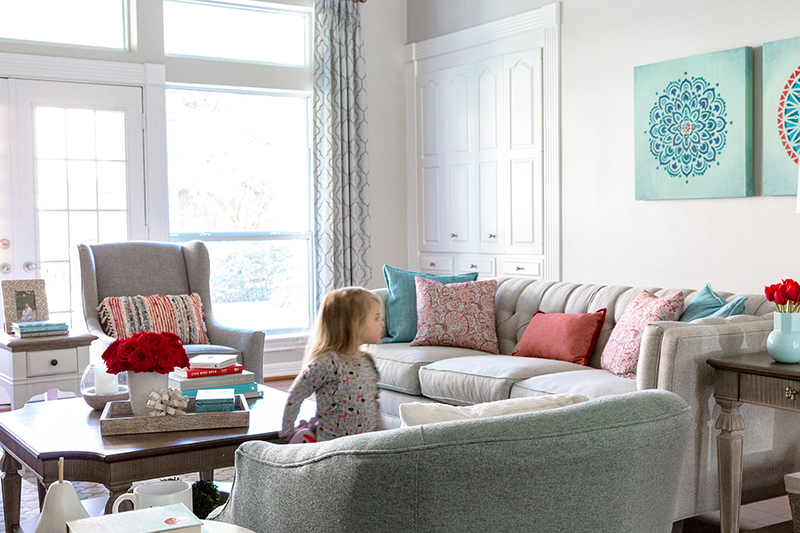 Why I Like Performance Fabrics
 A "performance fabric" refers to any type of fabric that is designed to clean easily and handle high traffic use. The key here is finding fabrics that are saying they are stain-resistant, soil or stain repellent, fiber guard protection, or may just simply state they are a performance fabric.
The best is stain and soil repellent. These actually wick away liquids and don't absorb into the fabric.
These hi-tech fabrics don't draw in stains and spills like a regular woven would and that makes them simpler to clean, and they hold-up longer.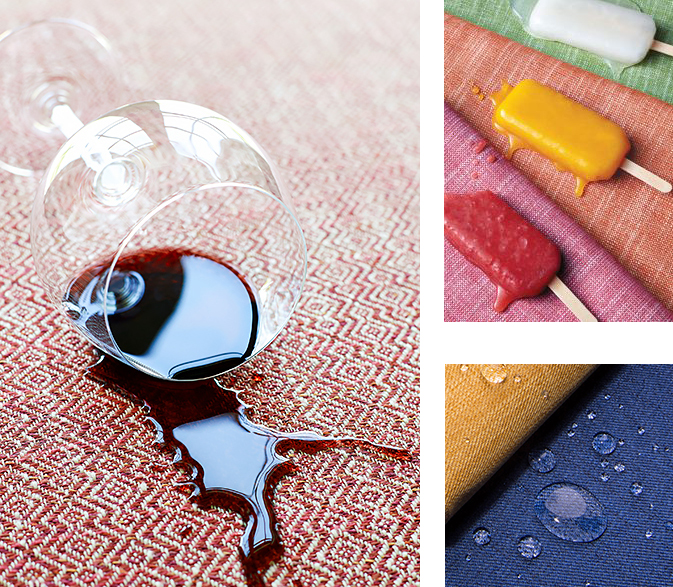 Favorite Performance Fabrics Brands
These all are Greenguard Gold Certified – Important to look for with health and safety standards.
Crypton fabric is a naturally resistant fabric. There are Crypton fabrics that are made from several different kinds of materials like cotton, polyester, and rayon. It resists stains, beads liquids, rejects odors, and bacteria.  They sell their own cleaning products. 
Revolution fabrics are woven from Olefin yarn and are naturally stain-resistant. These fabrics are durable, easy to clean, and fade-resistant. As an added bonus, they're soft and come in any number of colors and textures.
Inside-Out fabrics use polyester yarn as opposed to acrylic yarn, which has a much softer feel. The result is a great option for upholstered indoor pieces that need to be comfortable as well as stain-resistant and fade-resistant.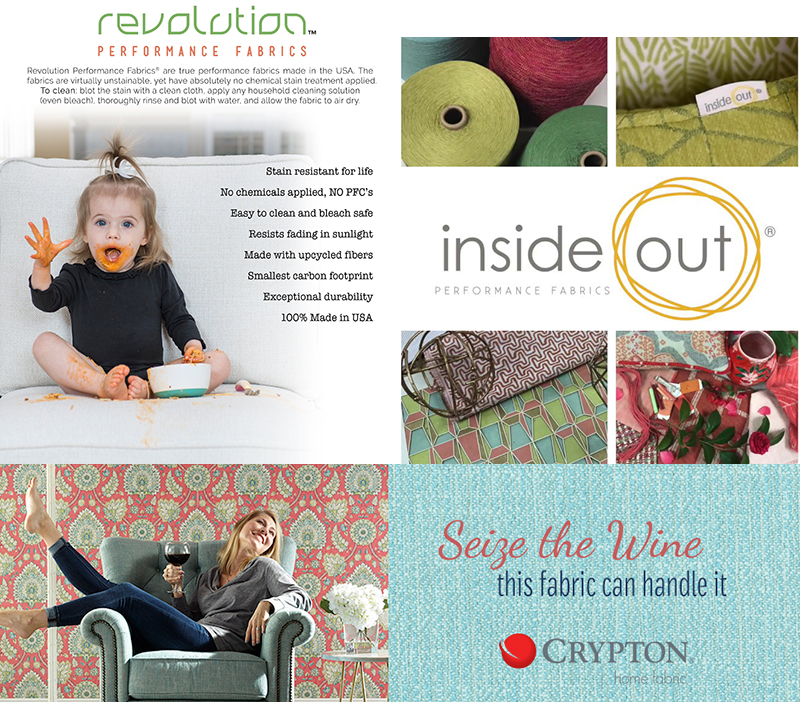 How To Clean Performance Fabrics
First, you always want to follow the manufacturer's guidelines. But here are my tips I give all of my clients when cleaning performance fabrics.
When accidents do happen, you should try to clean up and treat them immediately. For more permanent stains like dyes, you may want to consult with an upholstery cleaner. Ask your local carpet cleaner if they offer this service or have a referral.
As a general rule, spot cleaning a large stain is not recommended,  as it can cause fading. It's best to professionally clean the entire piece to ensure the color remains uniform. If this just a cushion or chair seat you can use your own wet vac spot cleaner. You will need to clean the entire cushion to prevent water stains, and just use the handheld part to clean. Follow the instructions from the device given.
How to clean when a spill or stain occurs:
Step 1 – Dry, wipe or mop up the spill with a dry, clean white cloth or towel. Avoid rubbing as much as possible, instead gently blot at the spill. (Always start with the least invasive tactic first!)
Step 2 – If this doesn't remove the stain, add some lukewarm water with a little dish soap to the towel and gently blot the fabric. Gentle rubbing may be ok if blotting doesn't work.
Step 3 – Let the area dry to see if the stain is removed. If the stain persists, you can repeat step 2 again. 
Step 4 – Difficult stains may require more aggressive treatment, that is when it is best to consult an upholstery cleaner in these cases.
*Never remove cushion covers for separate dry cleaning or washing in washing machines and do not use bleach, any tumble method cleaning as this may destroy the backing of the fabric, shrink, or otherwise damage the upholstery fabric.
 Most Performance Fabrics will have a cleaning code of W or WS.
With the Cleaning Code of W – Professional dry cleaning is recommended. Clean with water-based cleaning agents, or water-based foam. Most household cleaning agents are detrimental to fabric's color and life. It is recommended to periodically lightly brush or vacuum fabric to remove dust particle buildup.
With the  Cleaning Code of WS –  Clean water-based stains with water-based cleaning agents. (Do not use solvents on water-based stains.) For oil-based stains, you use a solvent cleaner but check the manufacturer's instructions for what types of fabrics it can be used on.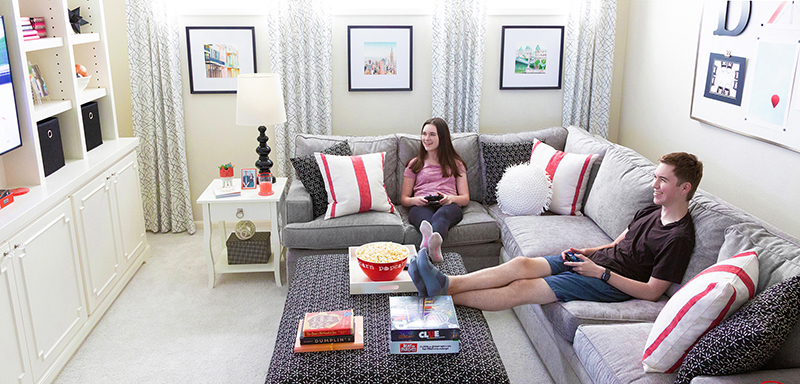 So there you have it my quick guide to why I love performance fabrics.
Happy Decorating,
Karen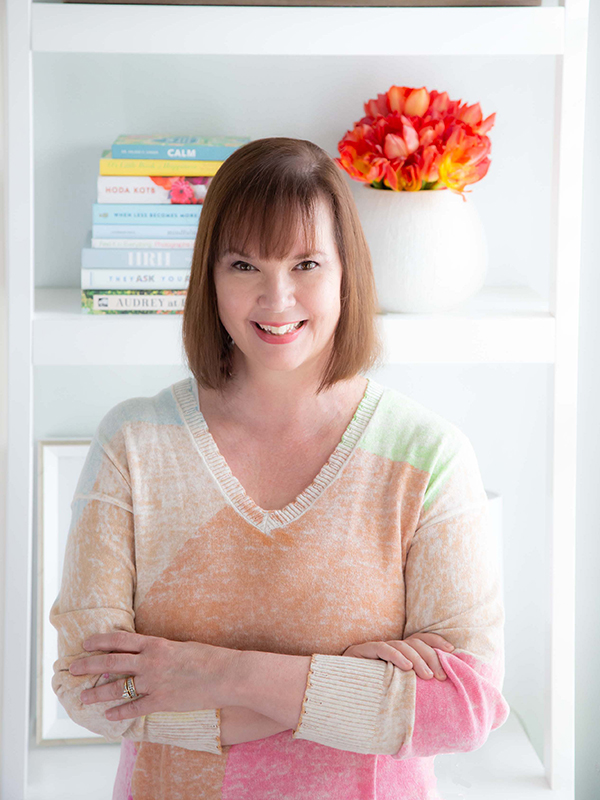 Imagine walking into your living room to find your two-year-old covered in marker along with your beautiful ottoman! I learned that lesson the hard way and redesigned our home around the family's lifestyle. I am committed to bringing you the very best of what I'm living and learning, as well as making it fun.
Our interior design services cater to your family's real-life living.
Get your guide to decorating a family-friendly home!
Karen shares with you her best design advice on how she creates beautiful family-friendly spaces with her clients.