I hope you have enjoyed the reboot of my six-week challenge. Here is the final post…
Click this link to see the past 5 weeks. Over the summer last year this was the big project I wanted to complete. Saving the best for last. Talking about my Gameroom makeover.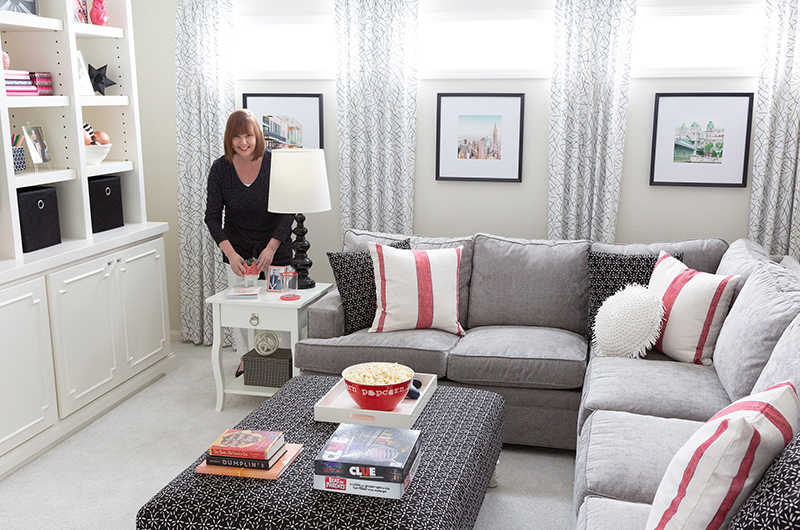 My daughter now a teenager has the game room to herself most of the time now that my son is off to college. We promise my son we would not make it too girly.
The Evolution of my Game Room from Kid-Friendly to Teen-Friendly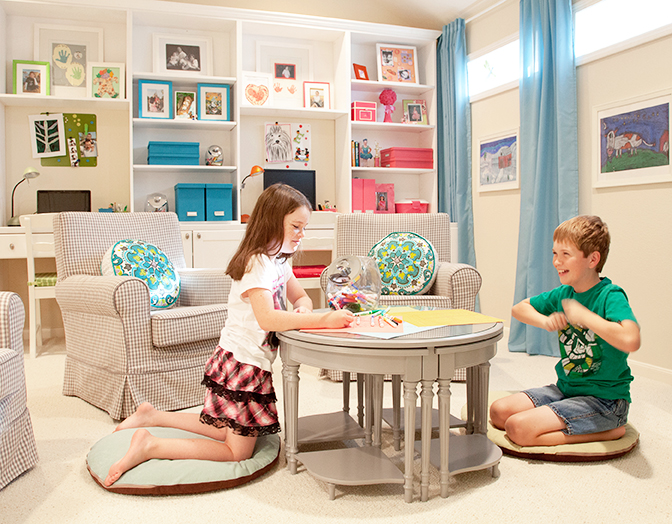 Before it was meant for little ones when their computers had to stay in the room and not in their bedrooms. I had to divide this very long narrow space into two areas. Computer and TV watching. I tried many options with furniture layouts and ended up with just a group of 4 simple slipcover chairs and refinished an old table I got from a Paris flea market many years ago that I found wasn't worth much. So much for my big find in Paris. Habit for Humanity now has it, hopefully, someone who needs it is getting use out of it now.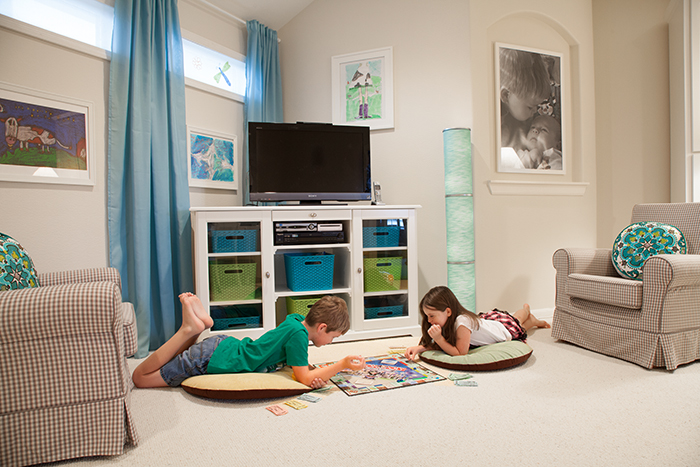 A simple console angled in the corner so  TV watching and video games could be played. We had this awkward space with an opened window looking downstairs I closed that in pretty soon after we moved in didn't want any superhero attempts when the kids were little.  And to the right (not pictured), I place a custom cabinet in the awkward space to store toys and game items in. The layout at that time was meant to be moved around since the kids really played with toys and friends back then.  So having floorspace was wonderful and very easily adaptable.
Then mobile laptops, phones, and i-pads start being used and the desk wasn't. Also, the kids were outgrowing toys too. A few years ago I started working on my big plan, but it started becoming the little project that couldn't get done. Why because my son had very particular wants and my daughter too, but completely opposite. No one could agree and I was busy working on other client projects as well. He is about video games, she is the TV movie watcher with friends over a lot. (the most difficult clients ever).
My Teen-Friendly Game Room Makeover
Now that he was going off to college. I firmly told them both this was going to be my design with them making final decisions only since I couldn't get those two to agree for over 2 years.  So viola a room I love and they do to now. My daughter is so happy to have a room she can sit in and just watch her favorite show or have her annual Tony award party in too. And of course, hang out with her brother who she misses lots!

It all started with the new custom wall unit that houses the TV and gave us bookcases to put photos, her books and a few fun things my son liked too. Under cabinets store, a wireless printer on one side and the other side my daughter's storage for things like paper and other items for school projects! The center is for a video game device that has now left for college and in place of it my daughter's favorite old school Wii that she and her friends love to play.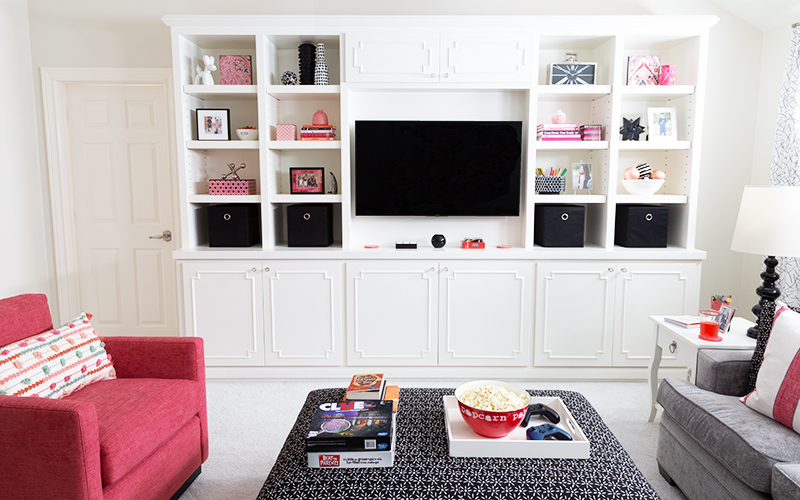 Next was what to do with the odd area the builder decided was a good idea for a TV, oh yes this is where TV cable outlet was put (ugghh). I had it closed in and made into a closet with a custom made barn door for easy opening and closing. All of the games, art and crafts, gift wrap and holiday upstairs items are stored here for easy access but out of sight most of the time.  All organized for me using the Container Store's Elfa System. I love it so much.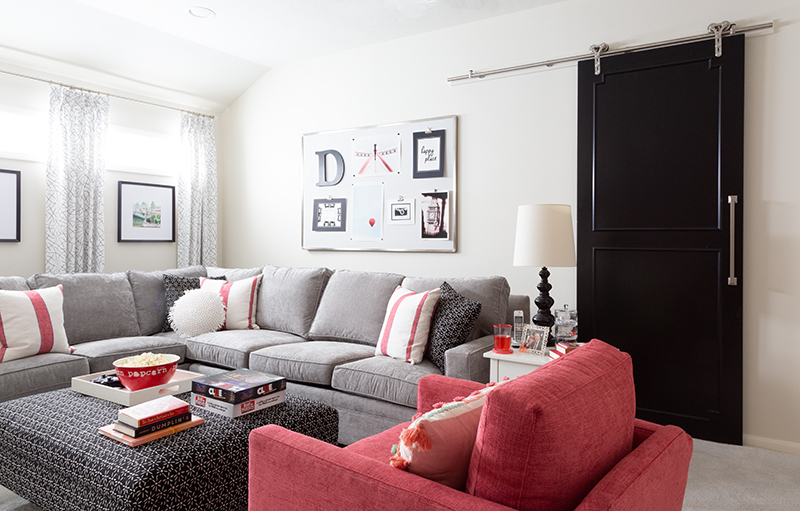 Now with a closed wall, I designed custom furniture for the room, a nice sectional that kids always wanted but never fit quite right do to the open space we had behind it before. And could even fit a swivel chair. I had this ottoman custom made with a fun graphic black and white fabric. Use a persimmon red as my bold accent.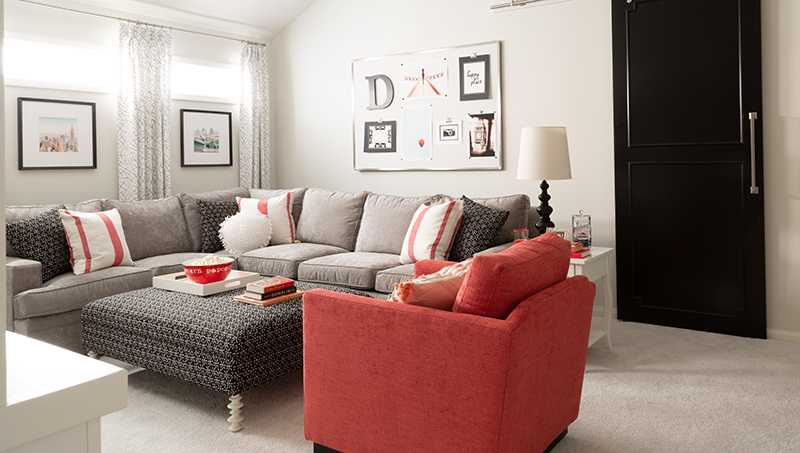 Custom made drape panels with a modern touch that flank each side of our Texas basement windows (due to the elevation here in Houston, our basements are always upstairs).
My husband's photography with my photoshopping is now the artwork in the room. The pictures on the back wall are favorite places, mine New Orleans, my daughter New York, my husband Paris.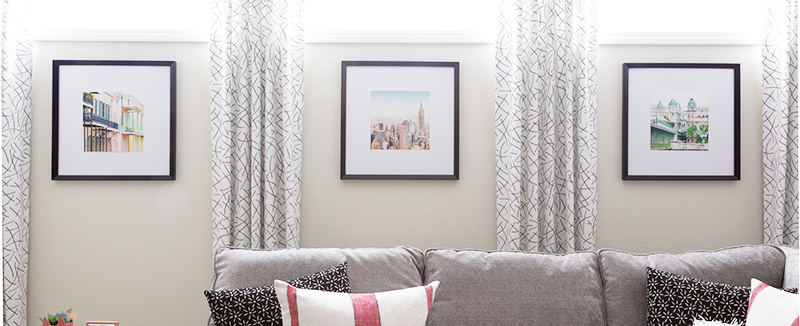 My son loves the London Eye and riding in the taxies in the UK where my husband is from. I opted to put a memo board to add those in, along with a few more fun photos of our family shoes and to showcase this is our happy place.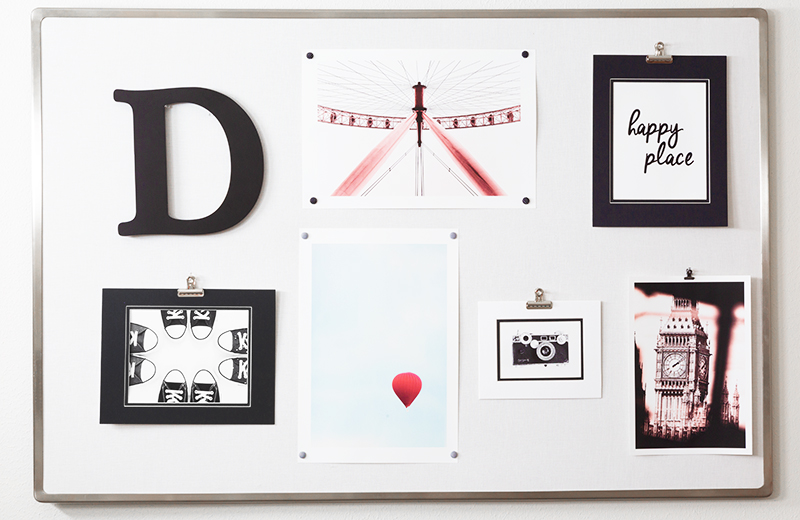 I opted to update my office which will be featured at the end of this year, so I recycled some of the accessories from my office up to the Gameroom and found a few more.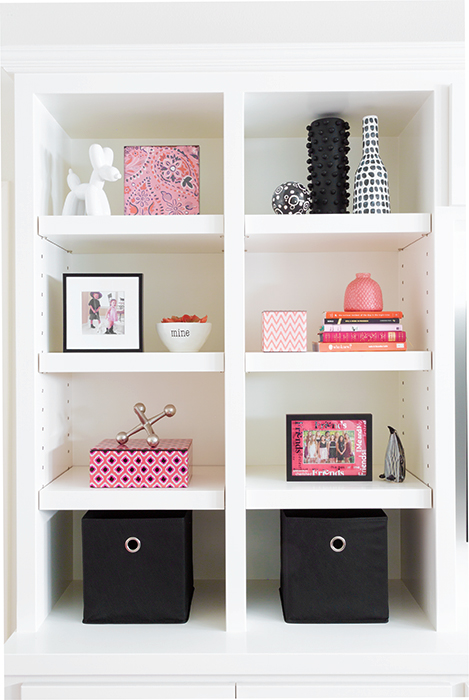 Just a few little fun accessories on the tables. I made this one from a bathroom jar and put jacks, dice, and dominos in for fun.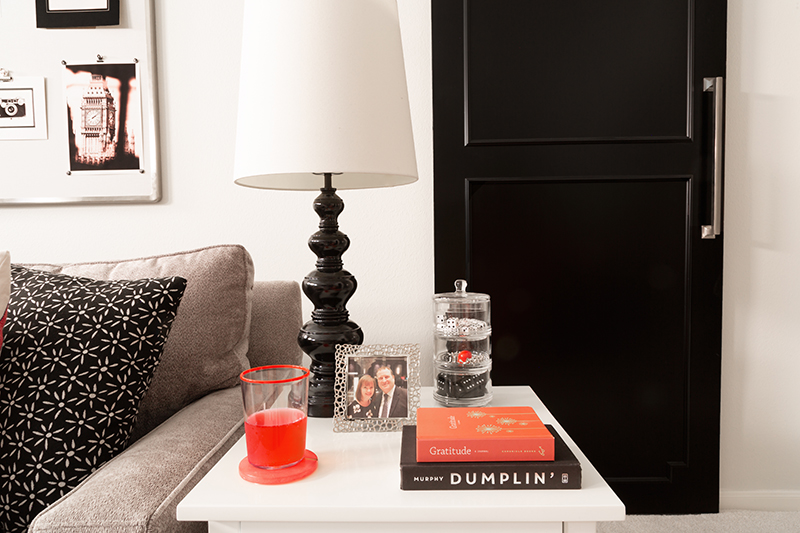 This truly was a fun project that I am proud of and hope you got some great ideas for your family space too!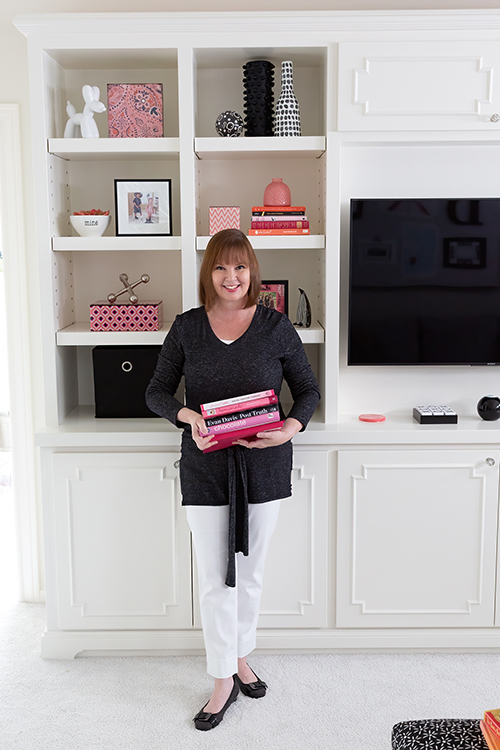 All of the photography you see hanging on the walls are for sale if you are interested in purchasing one or more please email us at info@markergirl.com.
Happy Decorating!
Karen
………………………………………………………………………………………………………
If you need help with creating a family home you absolutely love, check out our services. We offer both in-home services here in Houston and virtual services for out of area clients.
…………………………………………………………………………………………………………….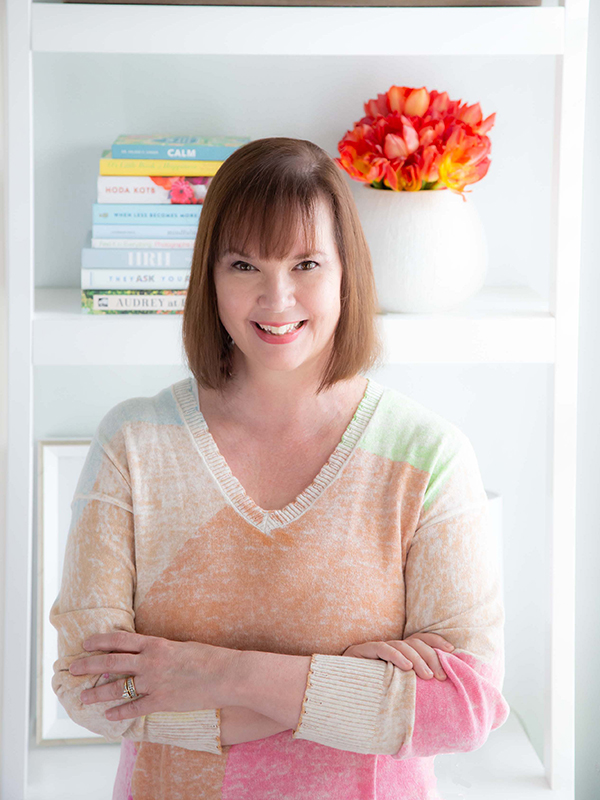 Imagine walking into your living room to find your two-year-old covered in marker along with your beautiful ottoman! I learned that lesson the hard way and redesigned our home around the family's lifestyle. I am committed to bringing you the very best of what I'm living and learning, as well as making it fun.
Our interior design services cater to your family's real-life living.
Make Your Mark University
Are you an Interior Designer ready to "Make Your Mark" in your business? With 15 years of experience running my own firm, I will teach you how to grow a standout business that attracts ideal clients!