A Kitchen Remodel – Before and After
I just completed a  remodel for a family that moved from Alaska to the Katy – Houston area. It was just featured in the Houston Chronicle. They wanted to find a home in the area that they could lightly remodel to their style. This home is intended to be an investment home since they do relocate from time to time.
The Kitchen
Before – the Kitchen was very outdated with wood everywhere. In the kitchen, there was a pass-thru to the sunroom and the island was oddly shaped in the room not allowing for counter seating or extra storage.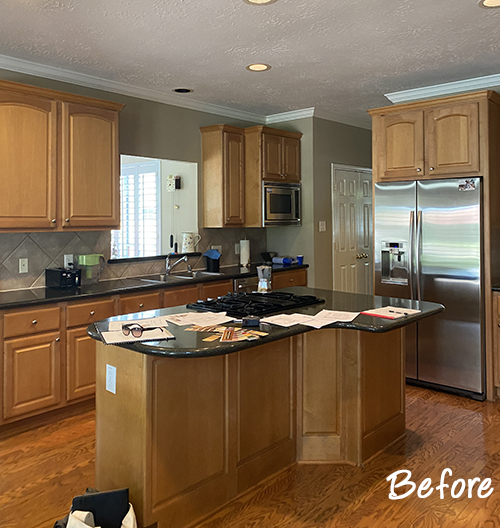 They wanted to keep the kitchen layout and cabinetry. Lightly remodeling it by painting the existing cabinetry and extending the island.  New Pendants. After really discussing more things we could do, we opted to close in the pass-through and add wood shelving to give it an updated feel and in keeping with their casual style. All designed with their family in mind.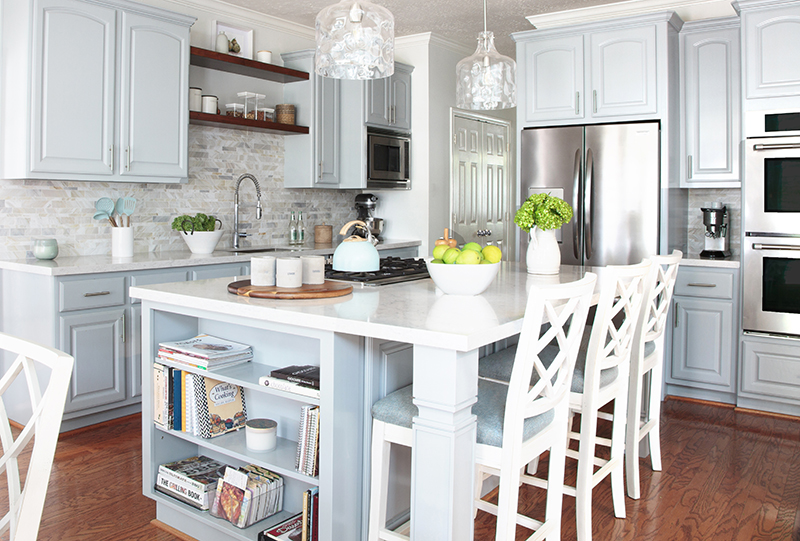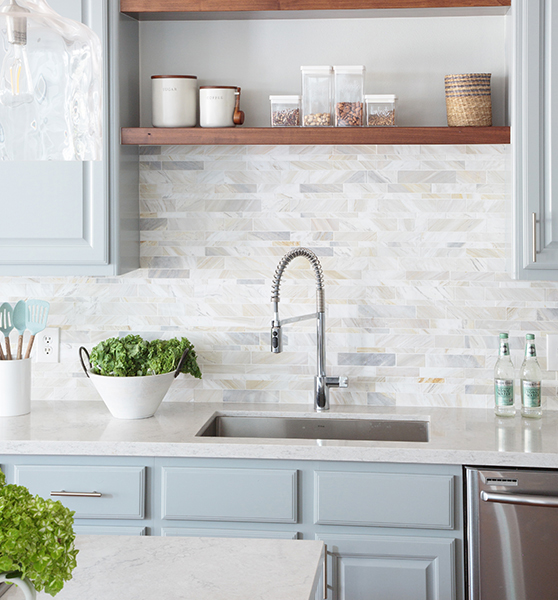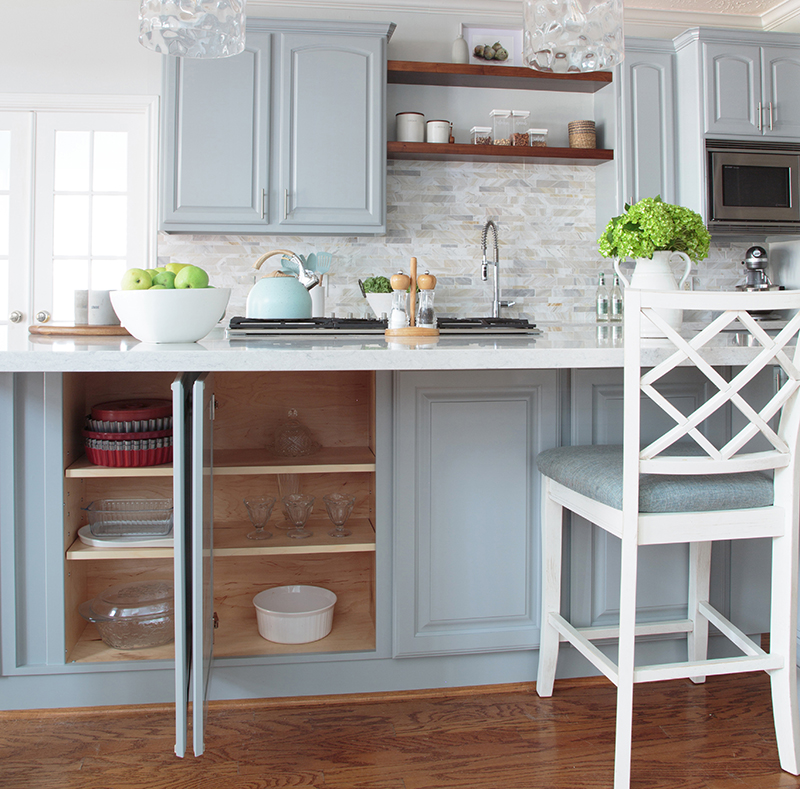 The Cabinetry is all painted in a soft blue/grey (Sherwin Williams Mineral Deposit 7652 ) and the walls are painted in (Sherwin Williams Frosty White 6196) The island was custom made to function for them. They requested lots of storage so we designed storage in the front of the island as well and the left side was open shelved for cookbooks.  Counters are quartz from LG. I love using Quartz for a more durable option keeping it family-friendly. We opted for a nice stone mosaic from Daltile – Sublimity Namaste. I felt it was a perfect way to tie in the wood tones of the floor and blue/grey cabinetry.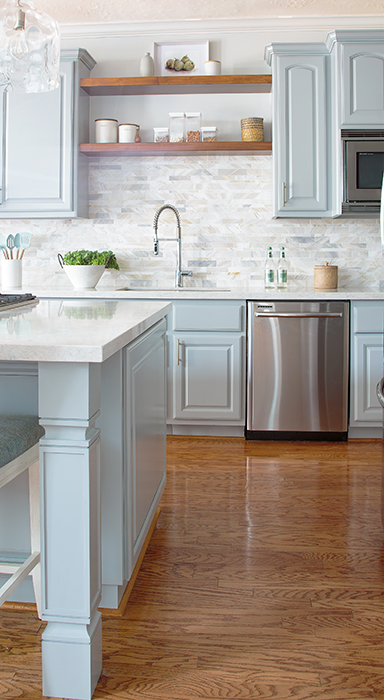 The Breakfast Room
Before – The Breakfast room is part of the kitchen.  I felt this section needed to lose the upper cabinets it was too heavy and crowded.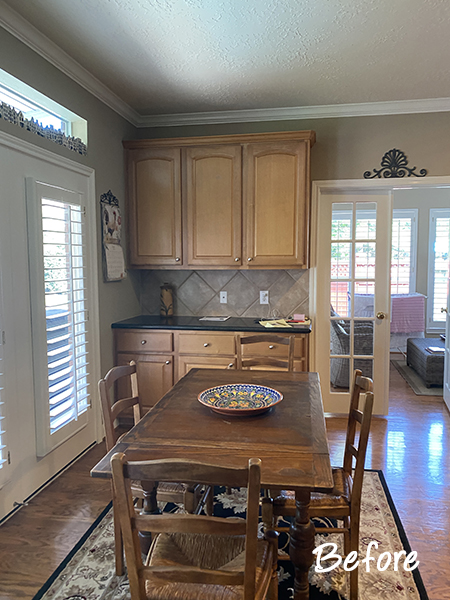 I opted to tear down the upper cabinets and added shelves to match the kitchen.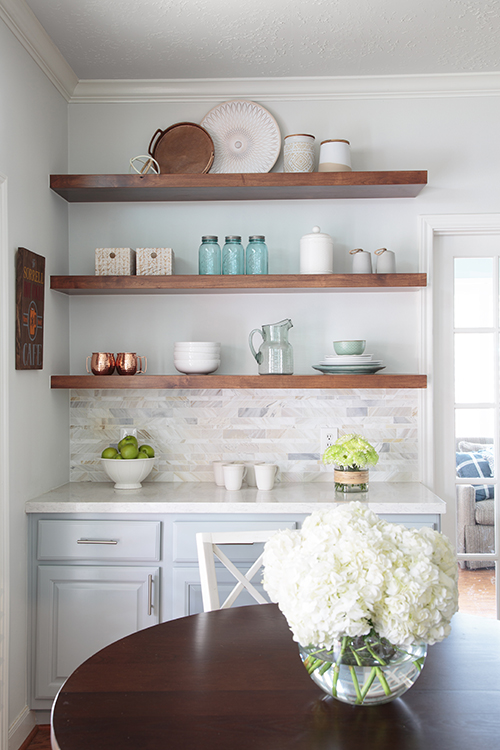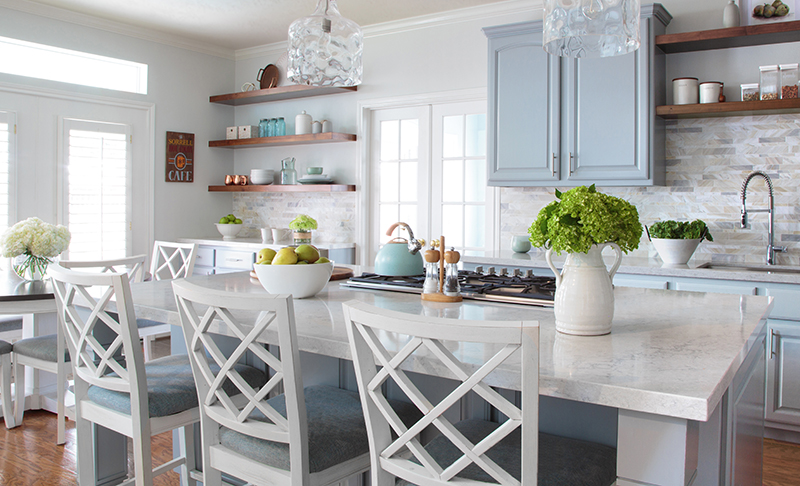 The door swings into the breakfast room, so we opted for a table with a leaf so that when her daughter comes home from college, it can seat up to six people.  Without the leaf, the door can still swing into the room, so the dogs can be let out when needed.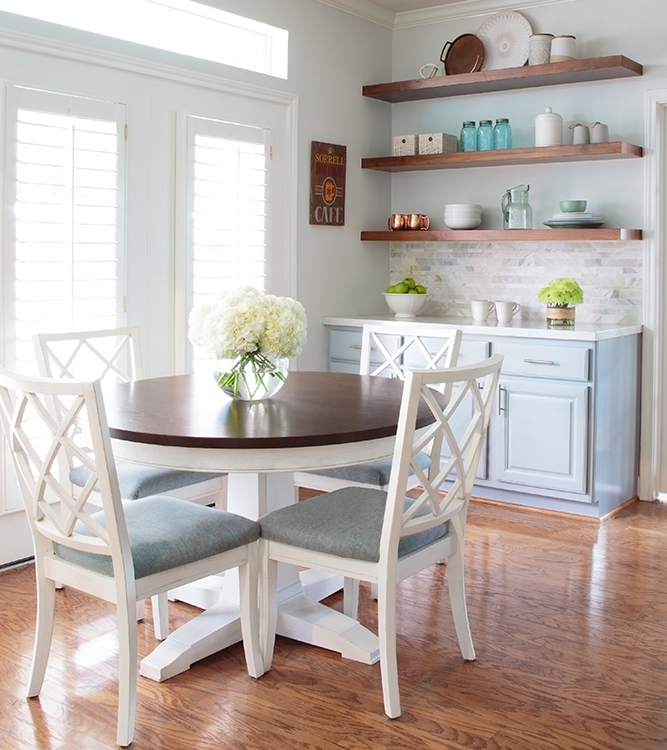 Family Fireplace and Bookcase
Before – One other area I designed was the Family Room. I felt the fireplace and bookcase needed an update.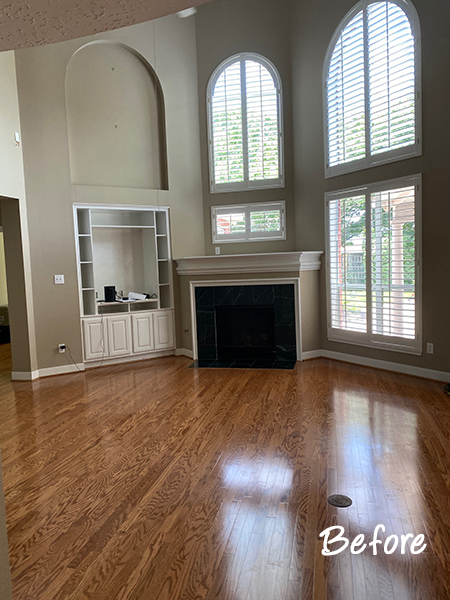 Starting with the fireplace we retiled it with Marble Tile – Hasia Blue Honed from Arizona Tile. I also decided to move their TV to the main wall in the room which is so much more functional for this space. We then added new shelving where the TV panel was built-in next to the fireplace.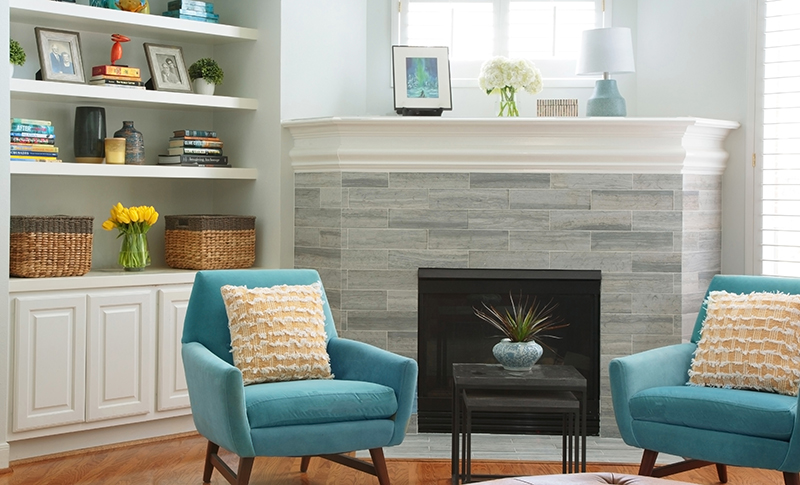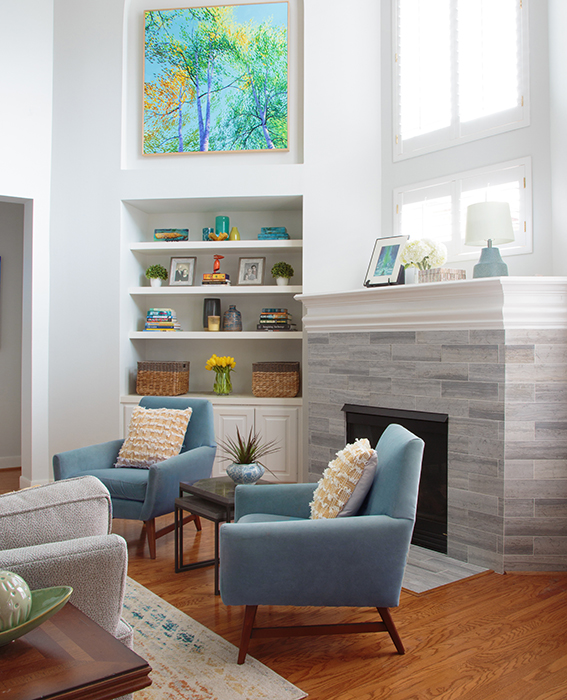 Since this space requires you to walk through to get to the Master Bedroom, a sofa was added with a swivel chair to watch TV to left of the room. My clients wanted to keep their chairs those were placed by the fireplace off the rug so you can walkthrough.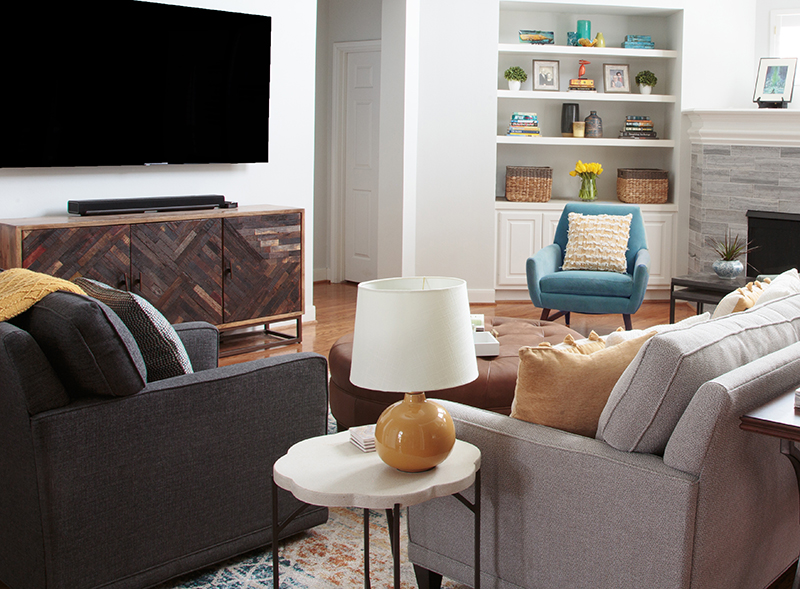 What I loved about this design it shows you how simple changes can be made without tearing it completely down, and you still have a wow effect from paint and surface changes. A big thank you to my clients the Sorrell's for allowing me to work with them on this wonderful transformation. And a big shout out to Bjork remodeling who help me with the remodel, I couldn't have done it without them.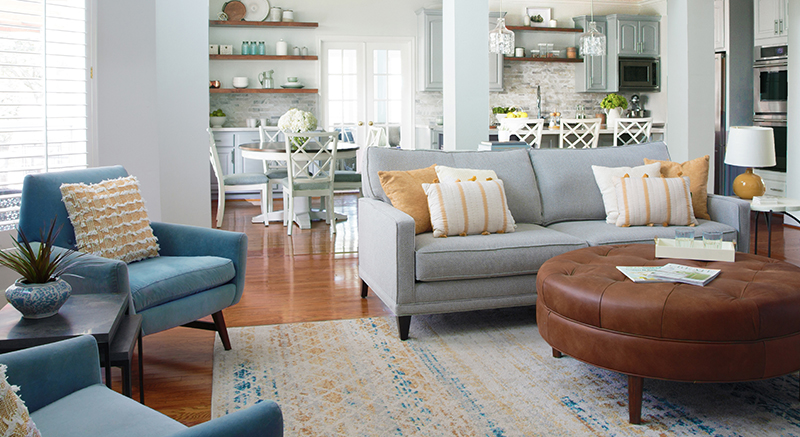 Happy Decorating!
Karen
………………………………………………………………………………………………………
If you need help with creating a family home you absolutely love, check out our services.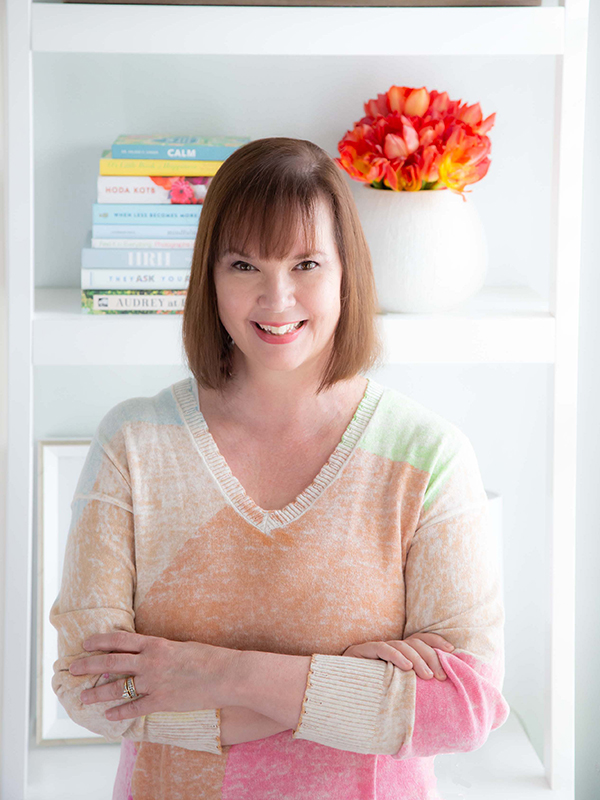 Imagine walking into your living room to find your two-year-old covered in marker along with your beautiful ottoman! I learned that lesson the hard way and redesigned our home around the family's lifestyle. I am committed to bringing you the very best of what I'm living and learning, as well as making it fun.
Our interior design services cater to your family's real-life living.
Get your guide to decorating a family-friendly home!
Karen shares with you her best design advice on how she creates beautiful family-friendly spaces with her clients.