My Kitchen Pantry Makeover
It is week 4 of my back to school challenge reboot. Thought it would be a great time to reshare with all of us settling more into our homes now more than ever.
We are getting near to the end of my 6-week challenge.  This week we are featuring my pantry makeover. My pantry was the biggest problem area in my home, and I was determined this summer to get it organized and liven it up… This one is my favorite space in my home now!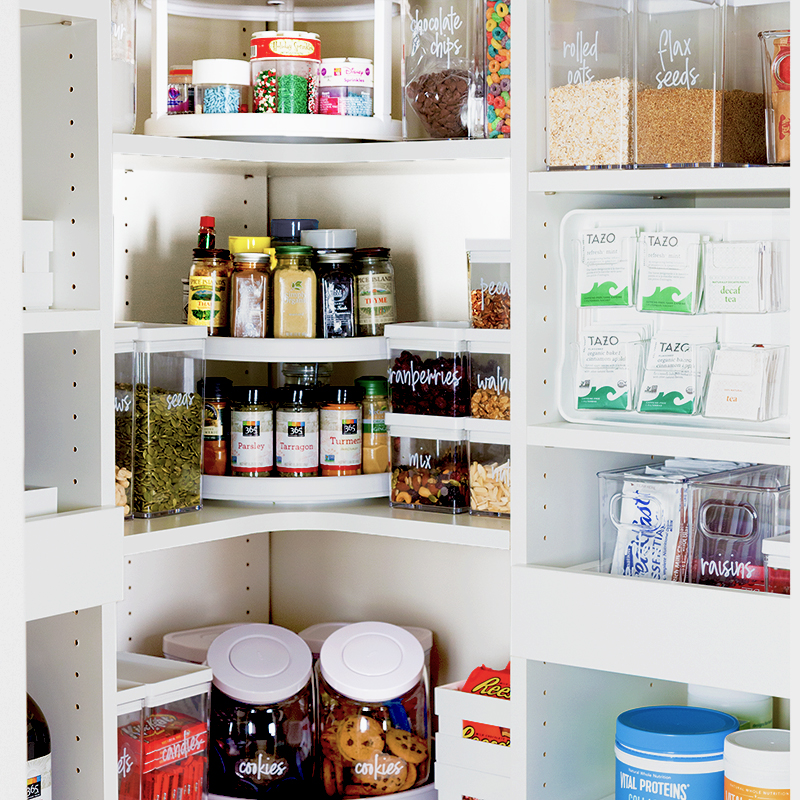 Facing The Ugly Truth
So here it is the before, the ugly truth, the reason I feel we have been quite unhealthy as a family and not really budgeting well for meals. I wanted to show it at its worse because we all have been there with a closet, drawer or a room. I don't even know why I let it get this way I am a pretty organized person. It can be to me a sign of where there may be struggles at home. This was ours bad eating habits and wasting money on food that wasn't needed.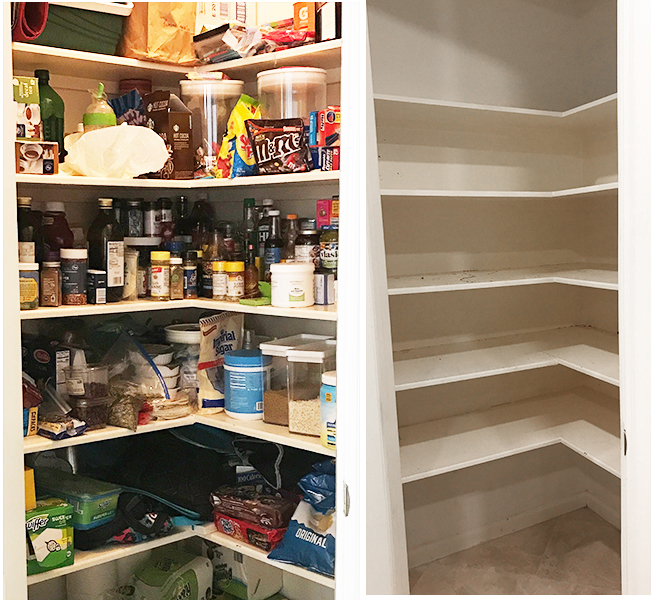 I preach this all of the time for all the rooms in a home. But the pantry has been my enemy for years, I realized I was too designer for this task so I enlisted the help of the closet company I used Space Manager and their wonderful organizer Jara. I will admit I am the most difficult client to work with, my designer creativity really gets in the way. So I let her come up with the first design for me and showed her what I  dreamed of having. Of course, what I dream of having isn't going to happen in a 4 x 5 space that is at an awkward angle. So here is what we came up with, in addition to this final rendering, I opted to add more pull out shelves on the bottom left and right. We also added a stationary shelf in the middle to give a finished look.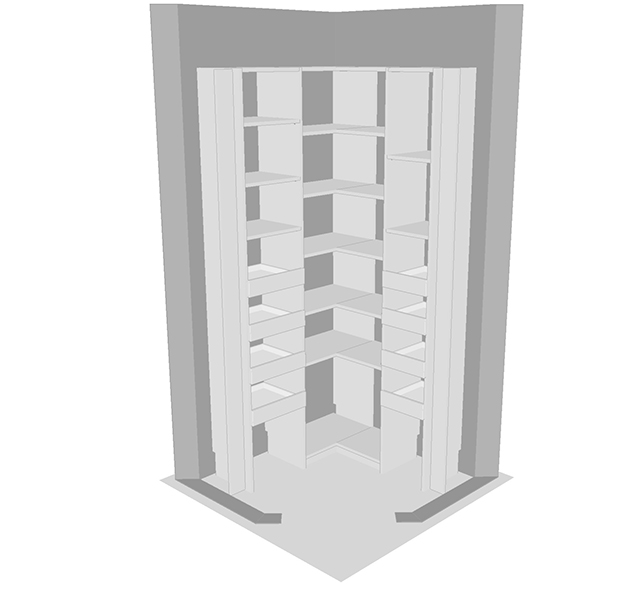 My Unrealistic Dream Pantry
.
The Home Edit
I didn't get this size of space with my house, so you can't quite be as perfectly organized. Do use inspiration photo's but don't expect your home to magically change shape and size. Embrace what you have and enhance it. So I made my little one try to be just as nice. Tee Hee, I love it!
My Pantry Makeover
What we designed was my need for clean storage that didn't look cluttered or hot mess like before. My family wanted easy access and in the order of how they need things, that was their only request. So here is what we did, used a simple white overall to give it that clean look. It is a laminate material, not just painted wood that had before which did not hold up well at all.  A modern LED Light to really light it up.
Here is the result of my pantry makeover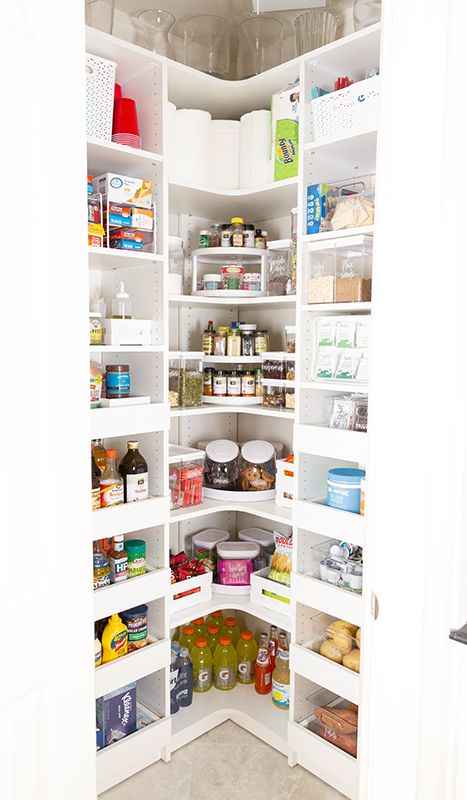 Center – Lazy susans singles with pop lock containers were used for the corner shelving since corner shelving can be awkward and cause such a mess when trying to reach for items behind. They store treats mixed with healthy snacks and chips stored here as well. Especially after school for my daughter and after work for me.
I also used the lazy susans tiered for easy access for spices and place sweet sprinkles, sugar, chocolate chips up higher for those rare times my daughter likes to bake. Paper towels placed on the top shelf since we don't need them so often. The bottom is for extra beverages. We have an attached garage that houses more things bought in bulk that can handle the heat, so we don't clutter up the small pantry. I was left with an open area on the very top, those are vases that I use mainly for my design photos with flowers.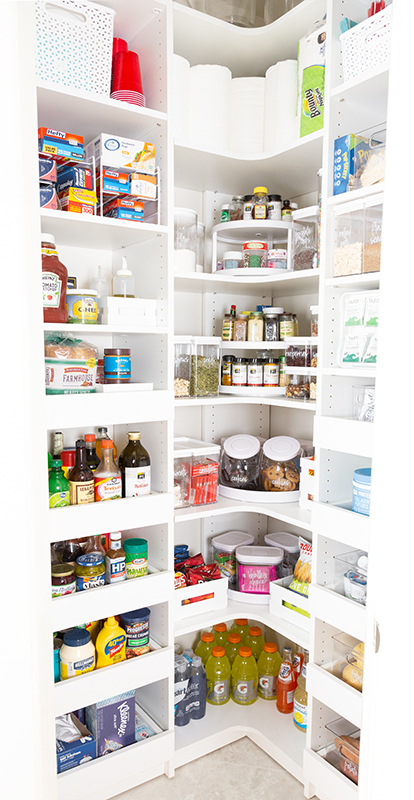 Left side – Added drawers on the bottom for bottles and jars, they are stacked by the way we use them now. A sandwich-making drawer was a must. The higher reach shelf is paper plates put in a bin with paper cups stacked on the side. I found stacking racks for foil, cling wrap, and zip locks.  Trash bags are on the bottom since we access them daily.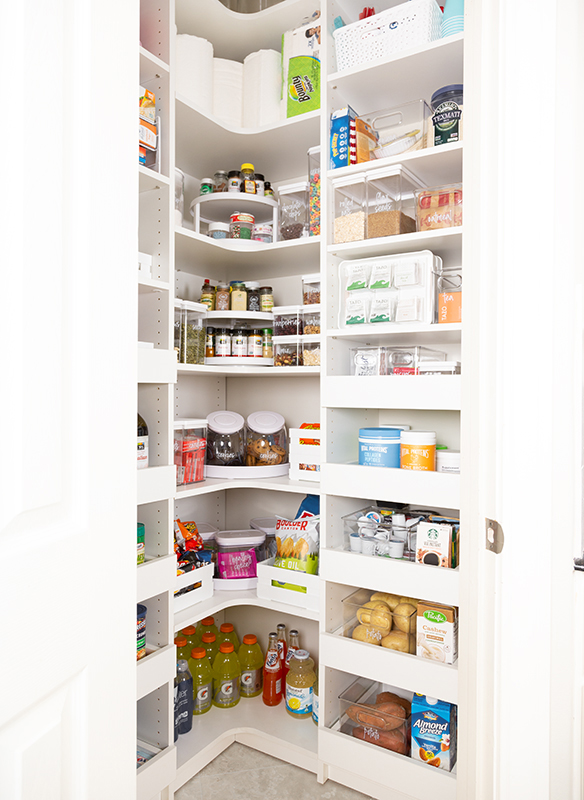 Right Side – Rice and grains higher up. Then a cereal area and next are teas, coffee, protein powders, and some storage at the bottom for potatoes and nut milk. I love labels on the containers, my favorite little finishing touch to my pantry.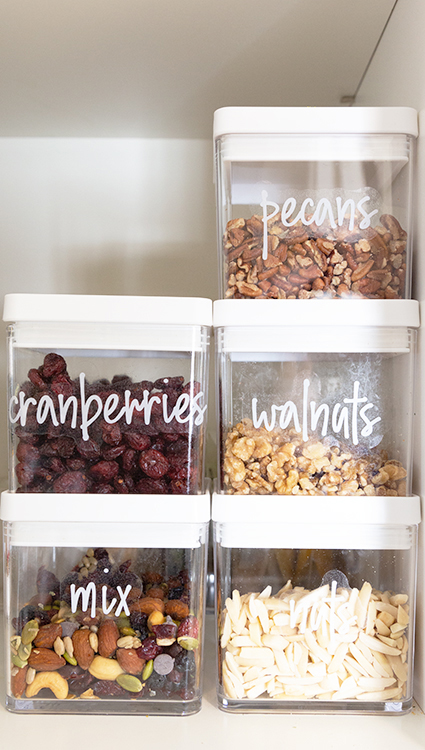 I really love the way it turned out and it so amazing how much it is has changed for us in trying to make healthier choices and saving money by not making wasted purchases. I believe it is more than organizing that really good design can be so motivating too! Every time I open the door, I fall in love all over again. Just give this girl a nice pantry and she is happy!
Here are all the links to my pantry makeover
1. Container Store / 2. Container Store /  3. Container Store / 4. Container Store /
5. Container Store  / 6. Container Store/ 7. Target / 8. Container Store / 9. Container Store
10. Container Store/ 11. Target / 12. Container Store /
I have also created a pinboard just for pantries – check it out (happy pinning)
Happy Decorating! Karen
These links are affiliate links. This means if you click a link and purchase something, I may get a small commission from it at no cost to you.  I only refer things that I would use myself and recommend to clients!
………………………………………………………………………………………………………
If you need help with creating a family home you absolutely love, check out our services. We offer both in-home services here in Houston and virtual services for out of area clients.
…………………………………………………………………………………………………………….
Happy Decorating!
Karen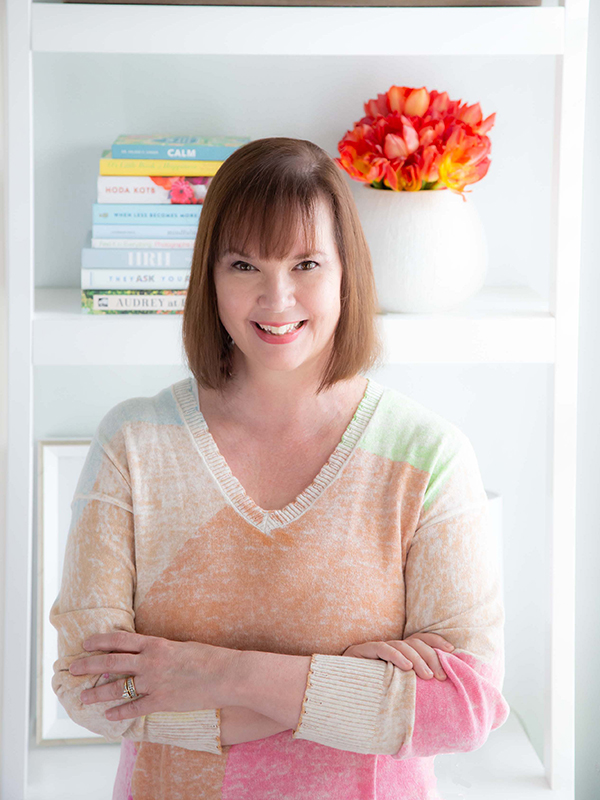 Imagine walking into your living room to find your two-year-old covered in marker along with your beautiful ottoman! I learned that lesson the hard way and redesigned our home around the family's lifestyle. I am committed to bringing you the very best of what I'm living and learning, as well as making it fun.
Our interior design services cater to your family's real-life living.
Get your guide to decorating a family-friendly home!
Karen shares with you her best design advice on how she creates beautiful family-friendly spaces with her clients.