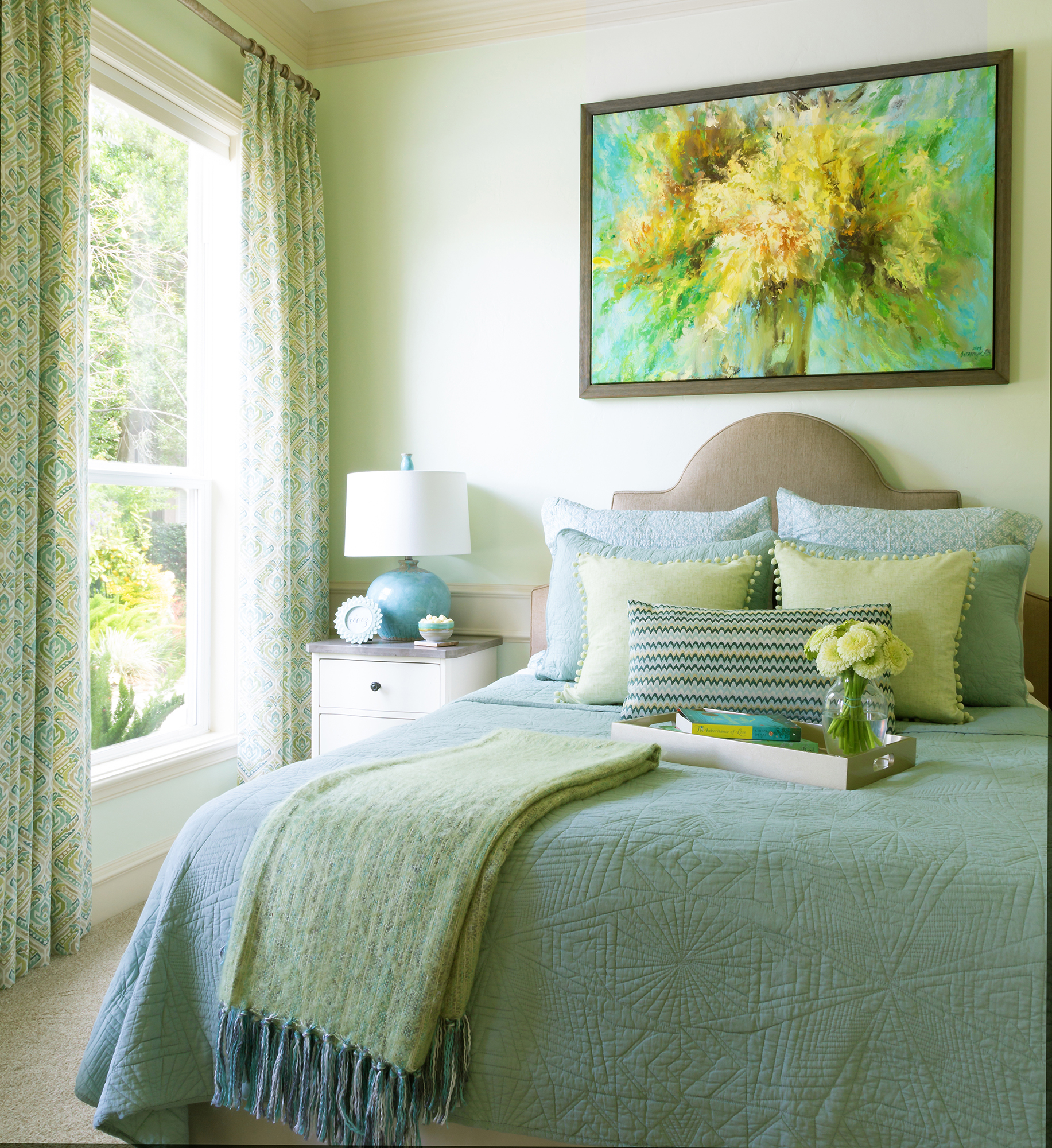 Back with more from our Collected Home Design! Last week, we showed you the redesign of the Family and Living Room spaces, and today it's all about Her Master Retreat, His Study and a Guest Bedroom that brings the outdoors in!
 With this home, I worked with a couple that are empty nesters and world travelers. She is an artist who loves to collect art and his hobby is gardening.  They have a beautiful back garden that looks through each window of the home. And her love of art is a real focal point of their home.  With these next three spaces, I wanted to make sure to keep the art the focal point and add in color and patterns to compliment his garden.
Her Master Bedroom Retreat
The furniture in the space is overcrowded and outdated. She wanted a more refreshing clean look but still, keep traditional features.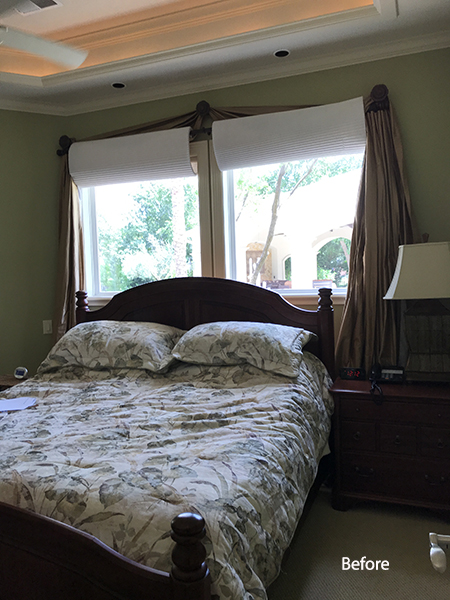 So I added an upholstered bed with a straight clean line to compliment the window detail. The two nightstands that are added fit the very small space, the two tall slender lamps were added to give it height. A softly shaped cornice to cover the half windows along with remote controlled shades tucked underneath during the daytime. The bedding and fabric on the cornice were selected to match and to bring in more color. All of these details are opening this space up and not overcrowding it.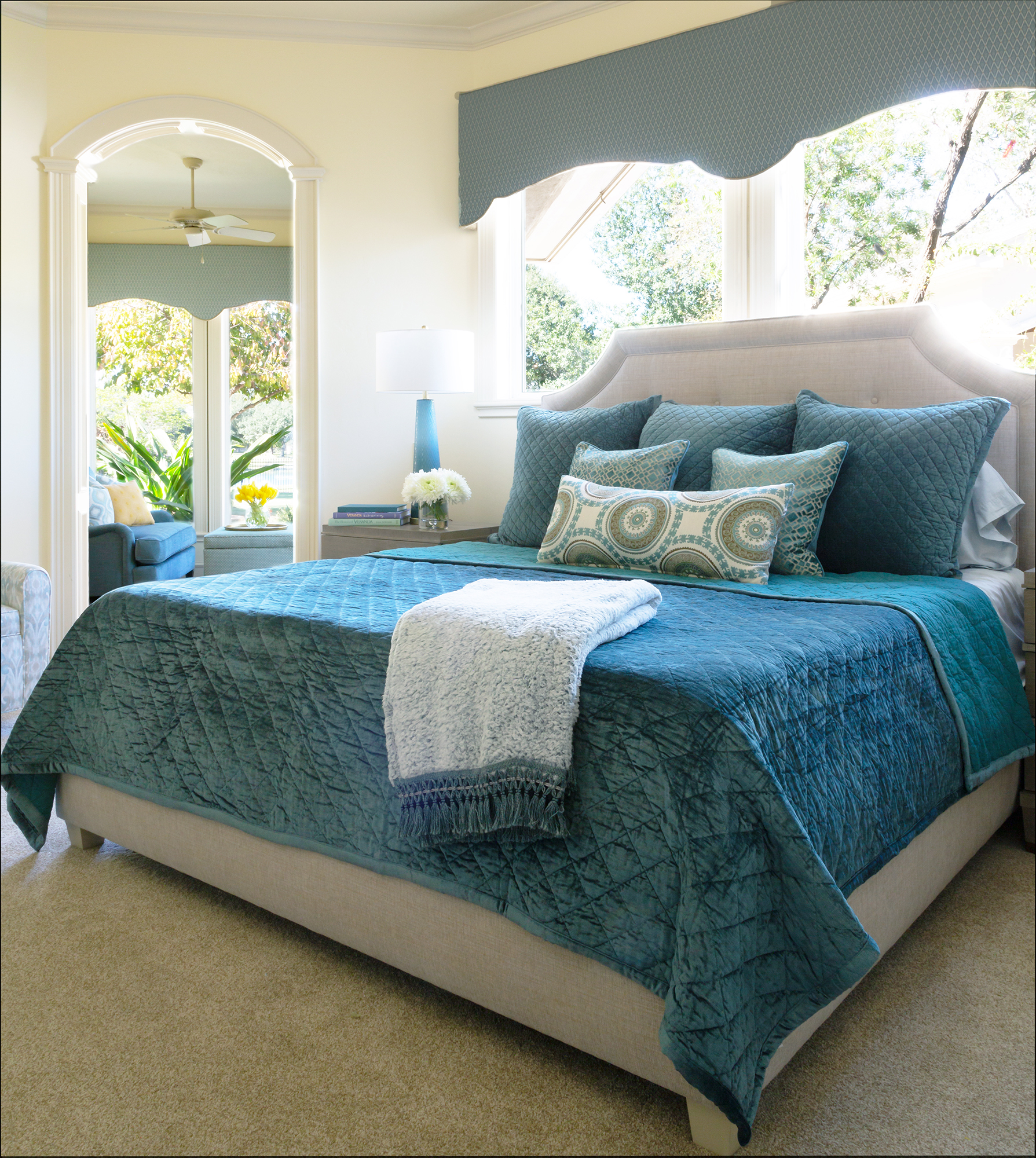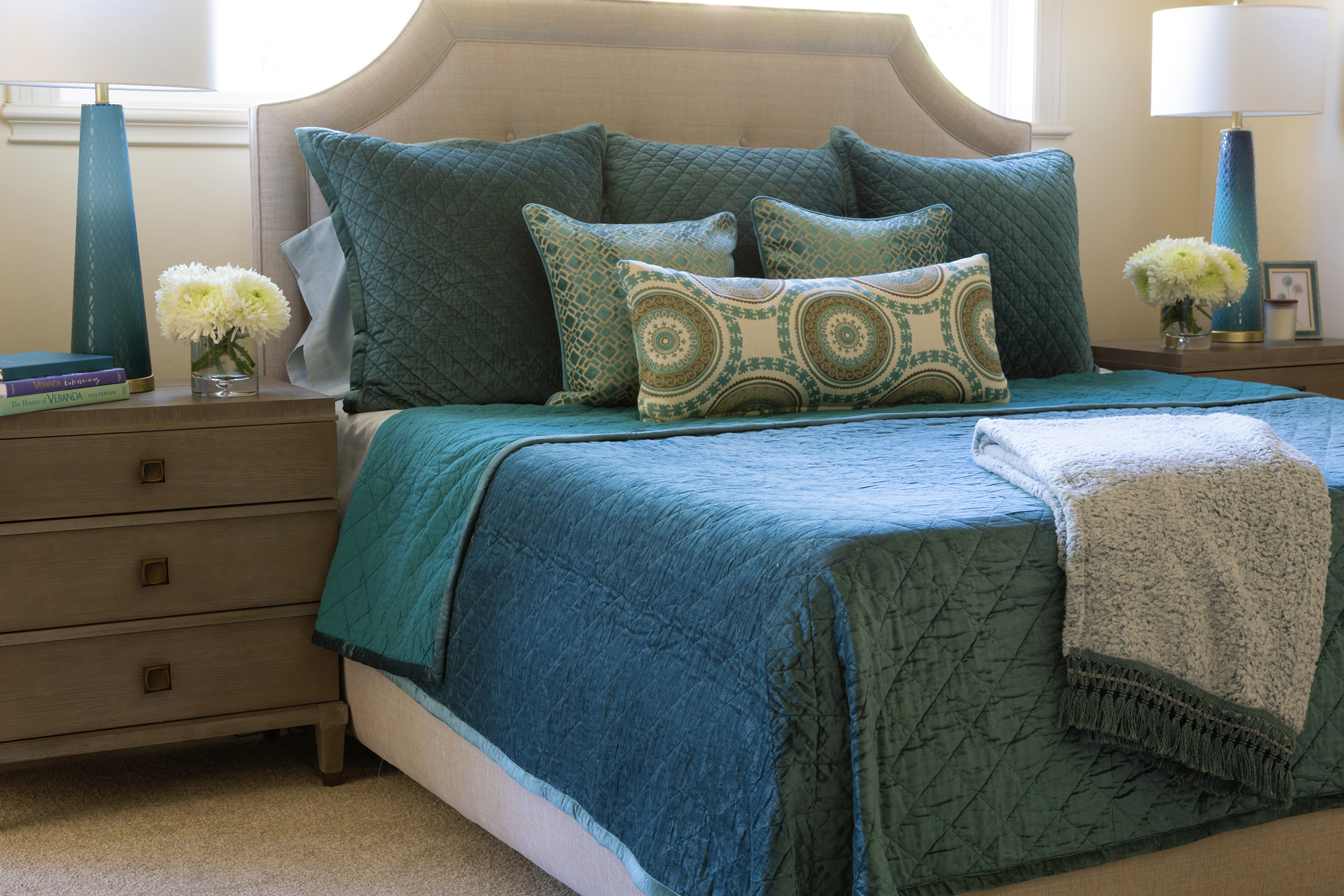 With the sidewall, she wanted a storage bench so I had one custom made to fit the space just right.  She had a custom painting made to fit the space colors and patterns we chose. I added a few decorative pillows to fill in the wall space and keep the pattern very simple to blend in with the color palette. Allowing for the artwork to be the main focal point in the room. Painted in Sherwin William 7623 Buff to lighten up the rooms.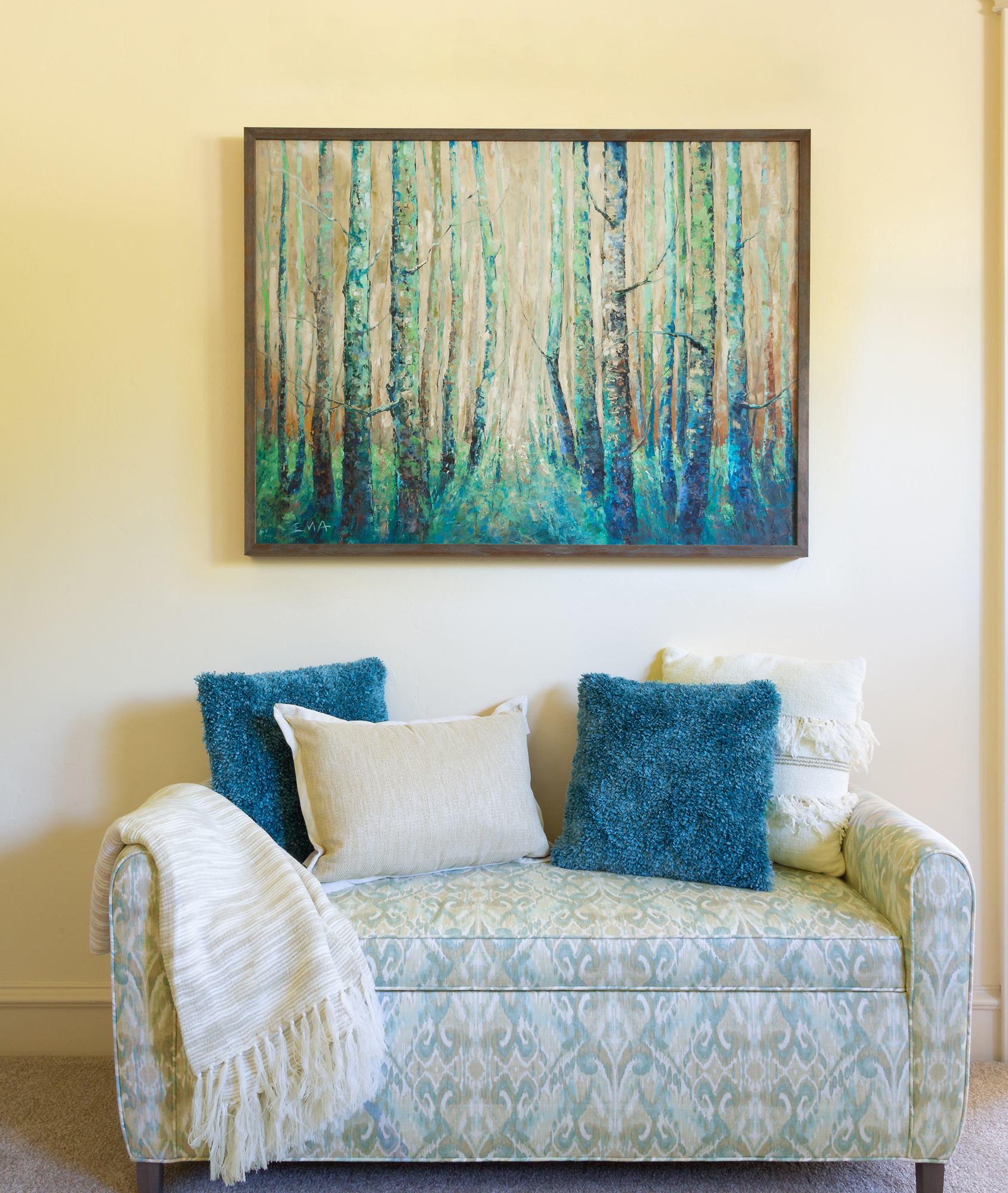 The sitting area is separate and narrow she wanted seating to sit in and relax to look at the lovely views of the garden. So I added a settee and storage ottoman both custom made with a side table and blue jar shaped lamp all complimenting the beautiful color palette in the garden.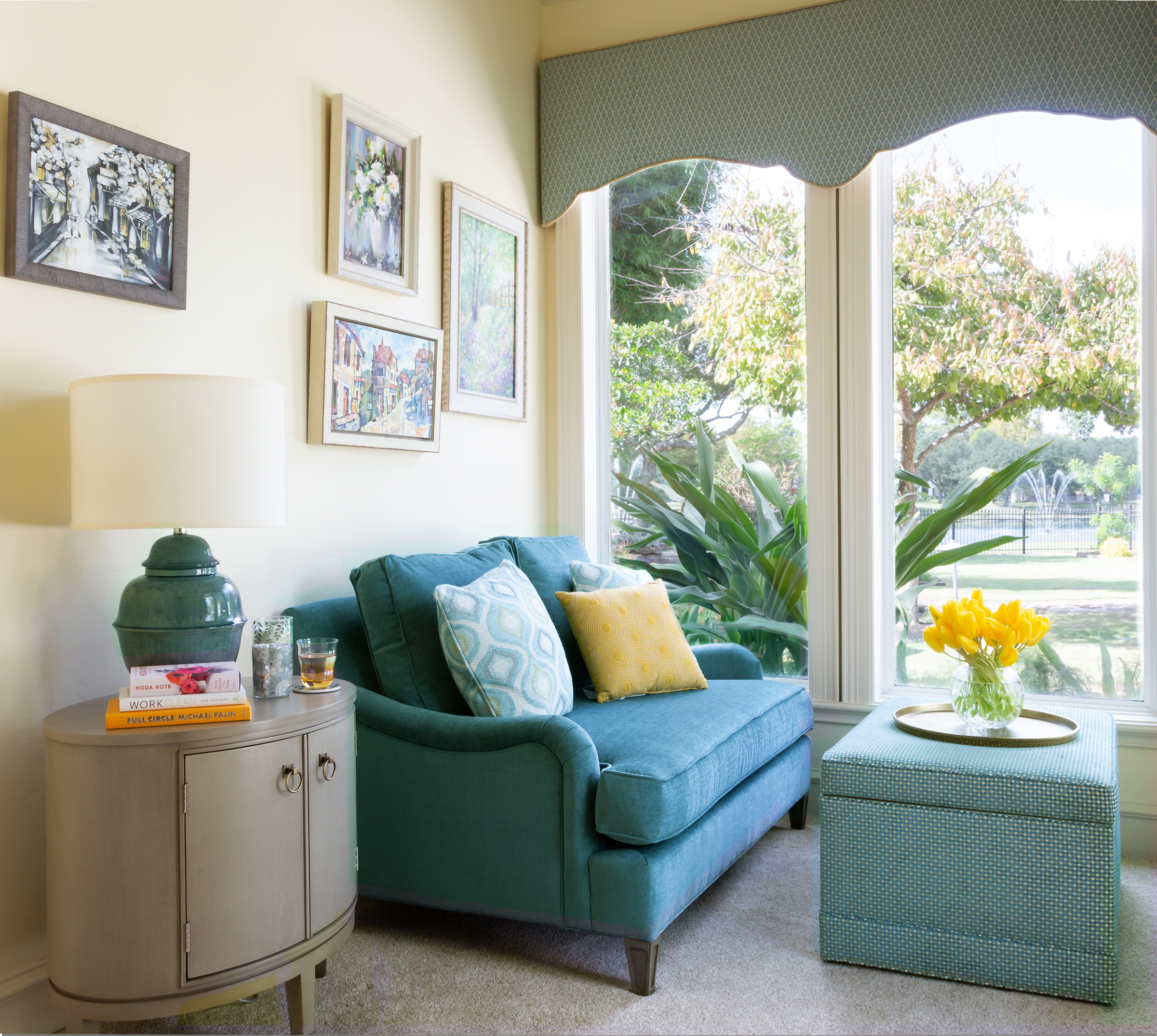 His Study
This was a simple redecorating of the space. Before the sitting area was not working and not really reflecting what you see outside.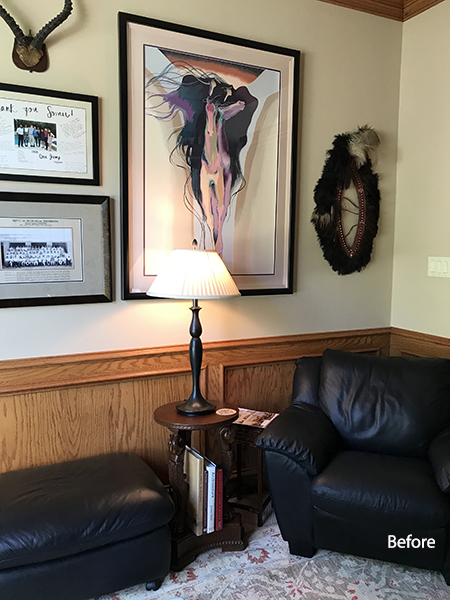 He likes his built-ins but wanted a comfortable sitting area and few more colorful additions to the space. We opted to have another painting made to bring the color in and added a few new accessories. The Power recliner is where he can relax to see his beautiful garden view. A patterned carpet was added in place of a rug since the study really didn't fit the previous rug well. He at times has a business meeting with a client so we added a small chair and table by the window. Painted in Sherwin Williams 7051 Analytical Gray to give it a lighter modern feel.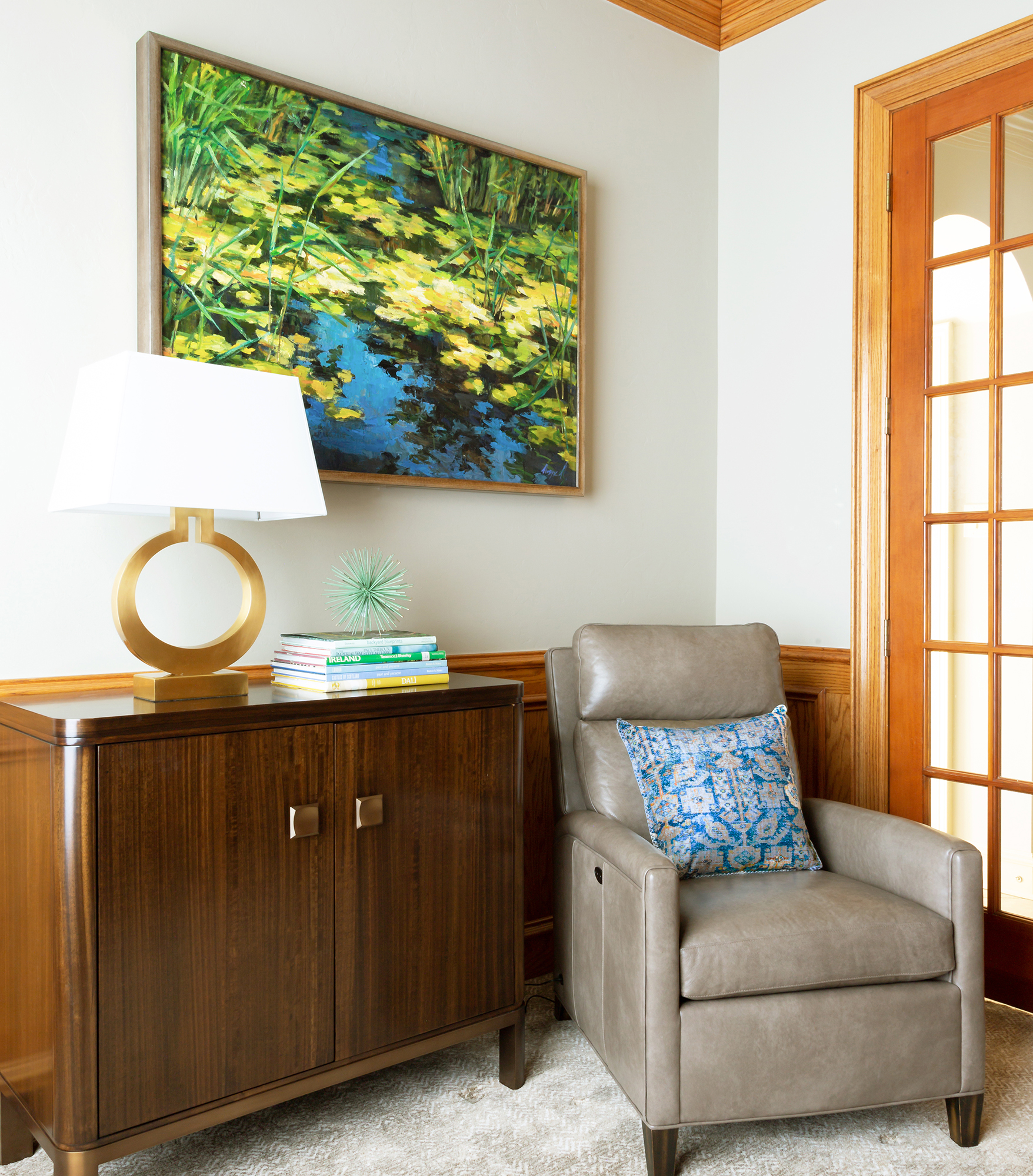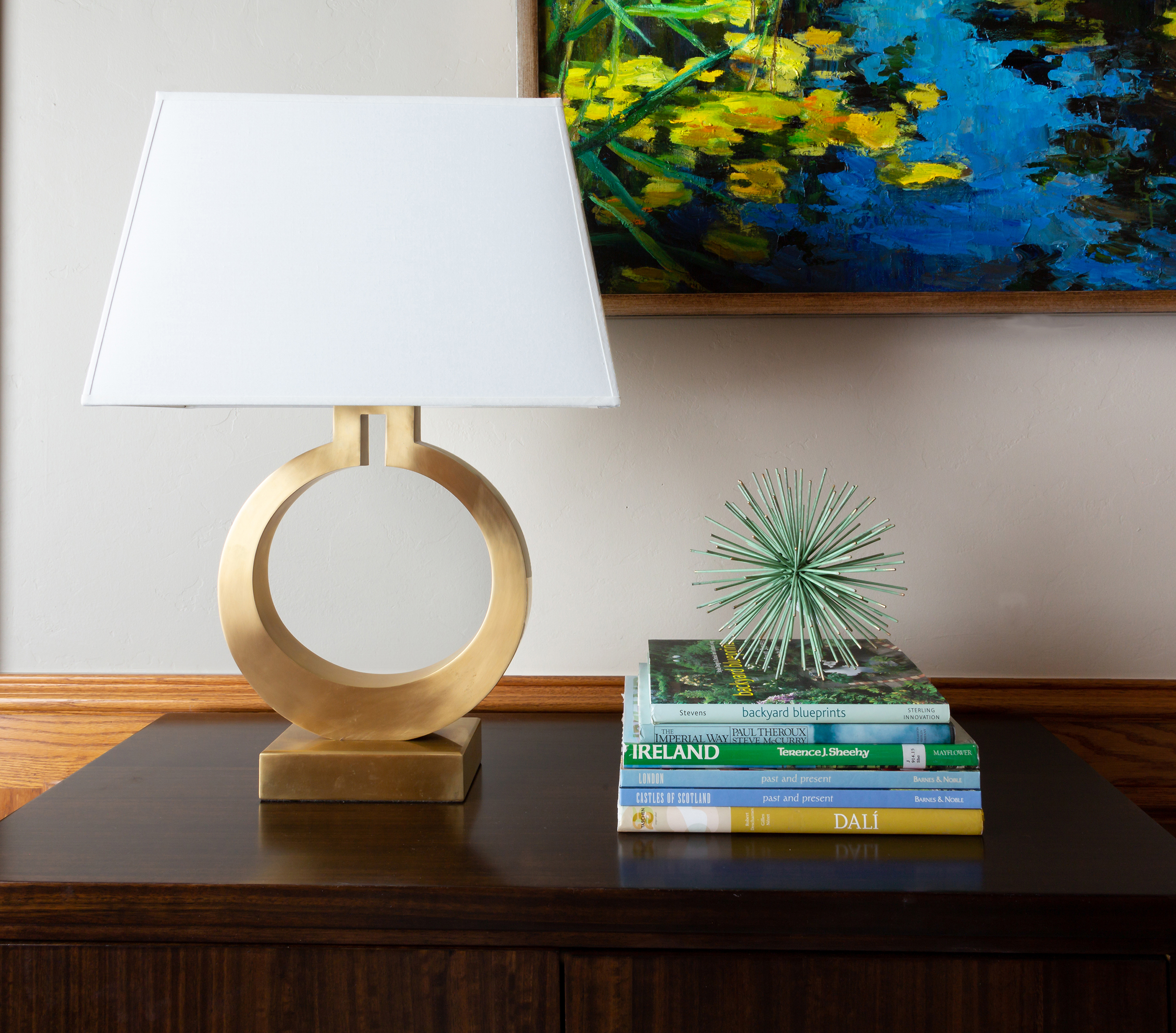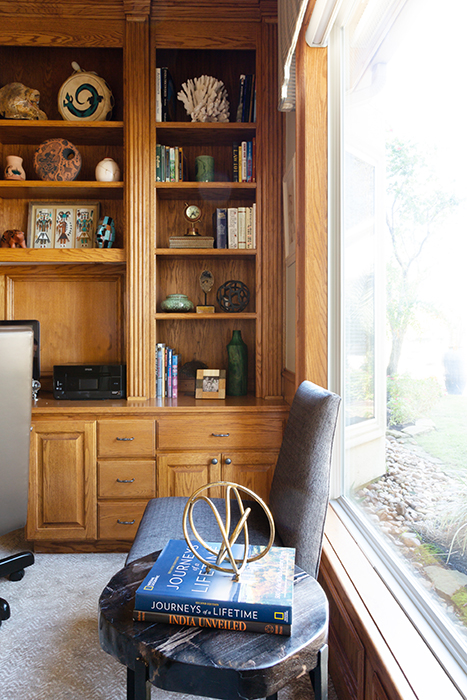 The Guest Bedroom
This Guest Bedroom is a very small space and was crowded with dark furniture and bedding along with oversized drapery.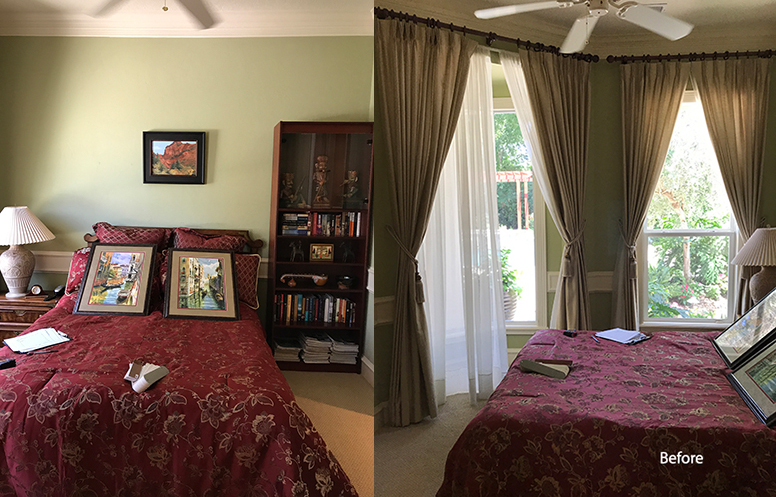 This is where we really brought the outdoors in with fabric pattern drapes much simpler and cleaner than what was previously there. Remote-controlled shades were added for privacy like the rest of the home so no more oversized drapes to open and close.
An upholstered headboard and pillows added to bring in more colors along with a beautiful custom painting designed for the room. To give a little storage for this very small guest bedroom I added small simple nightstands on each side and found a corner bookcase that was the right color and fit.  The walls were painted in Sherwin Williams 6427 Sprout to soften but still keep in the garden colors from outside.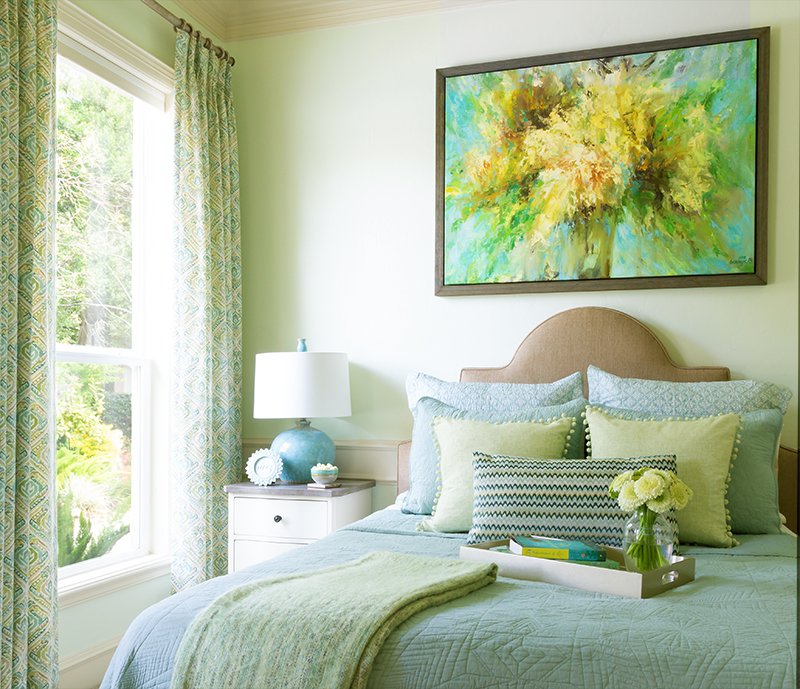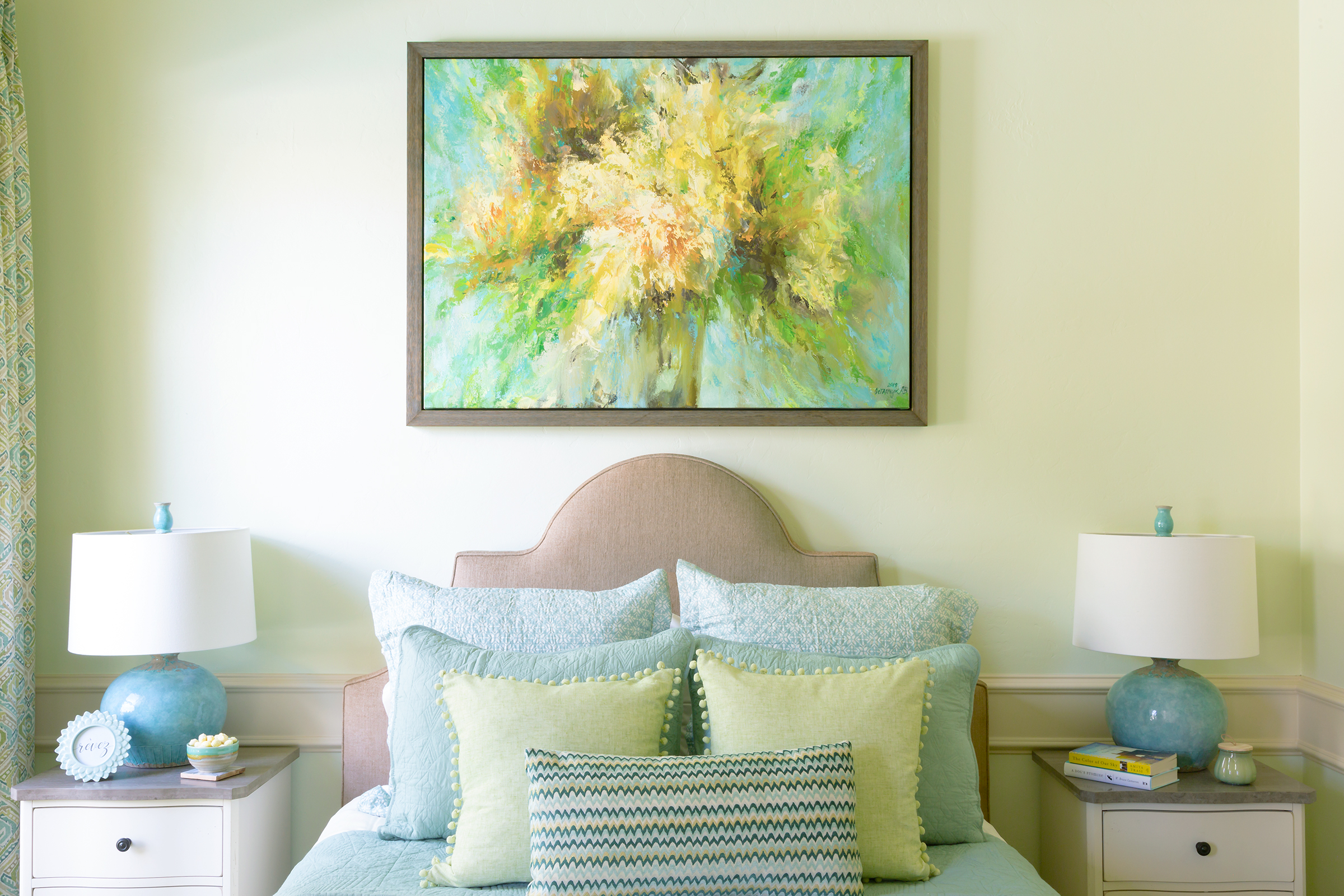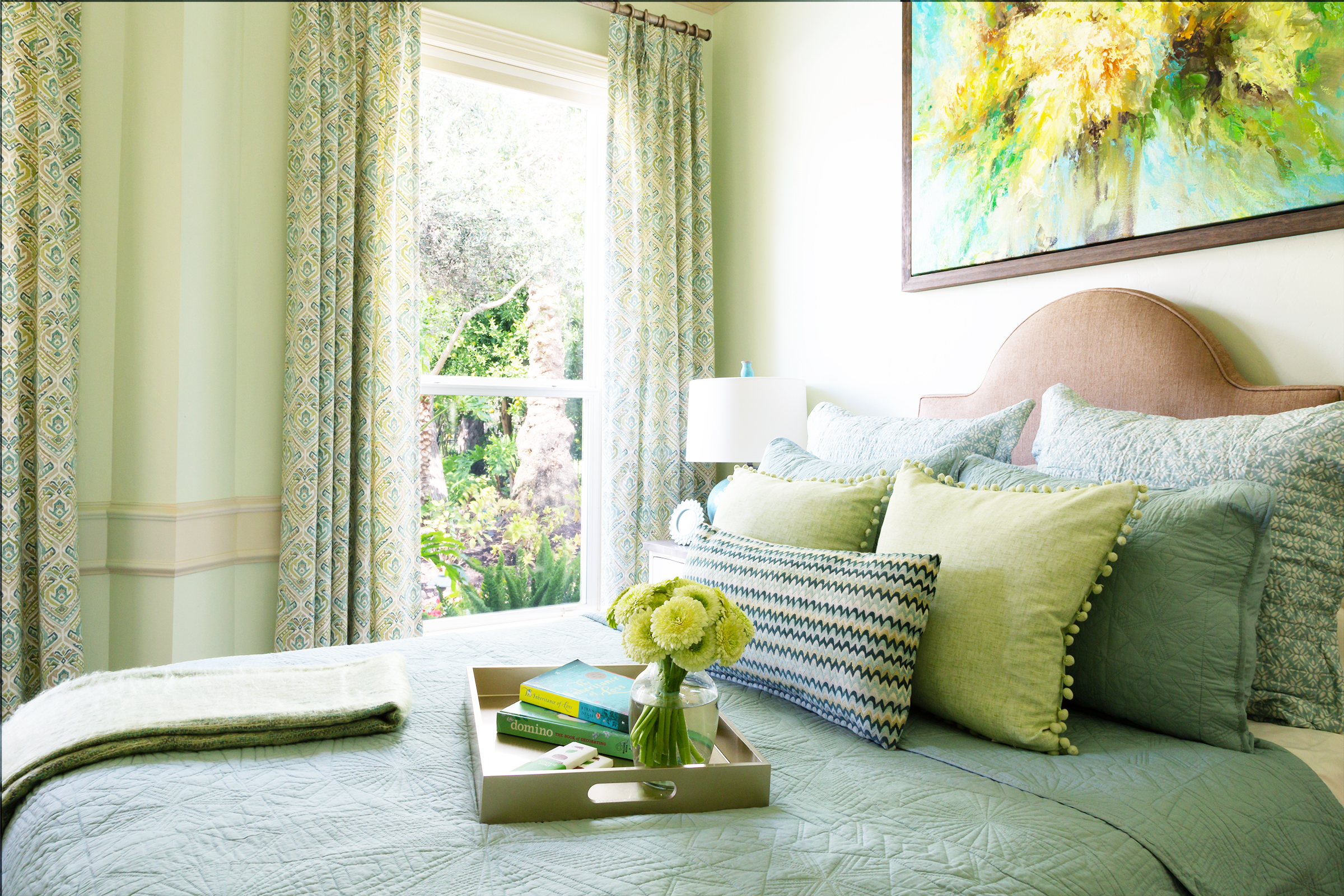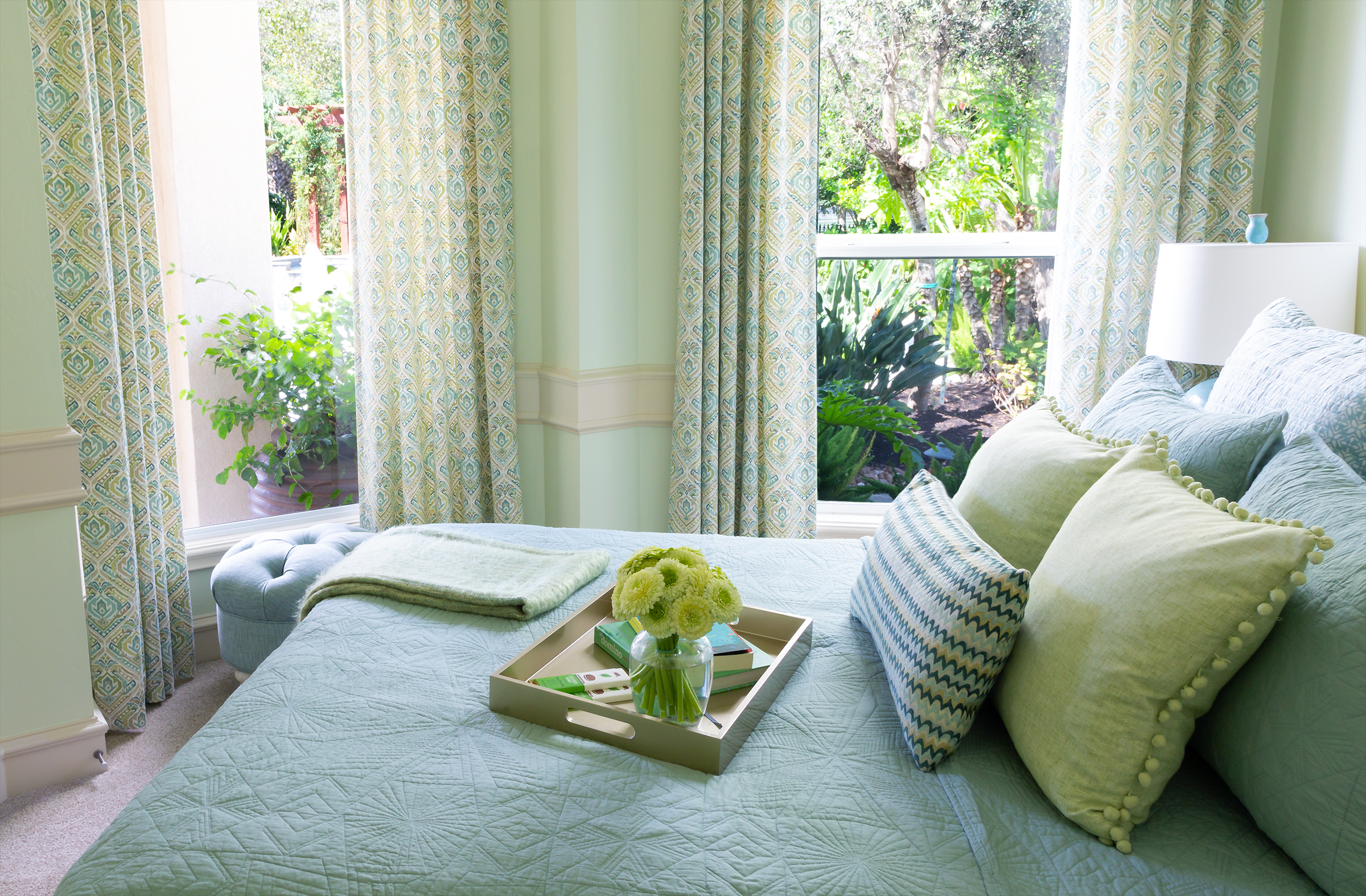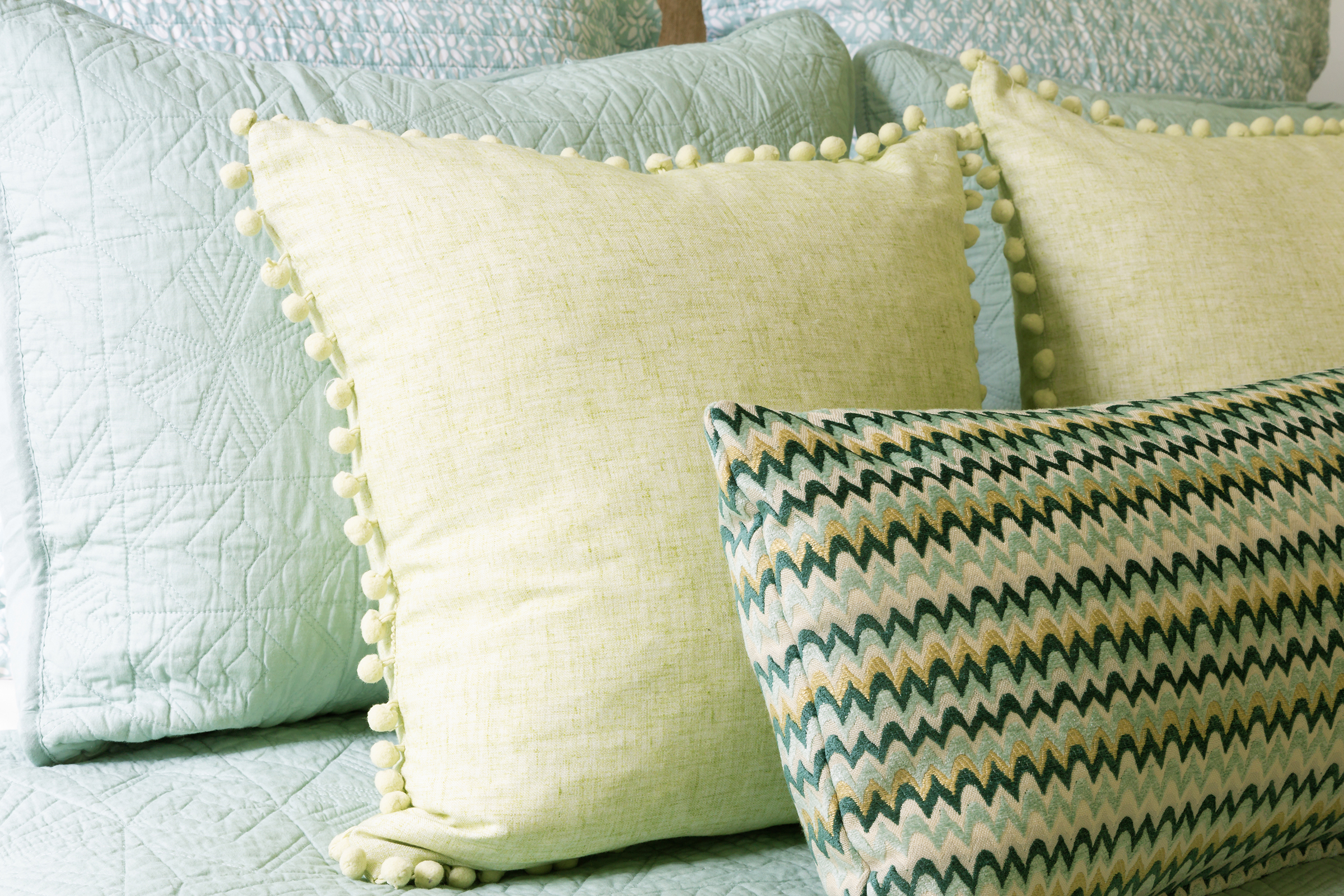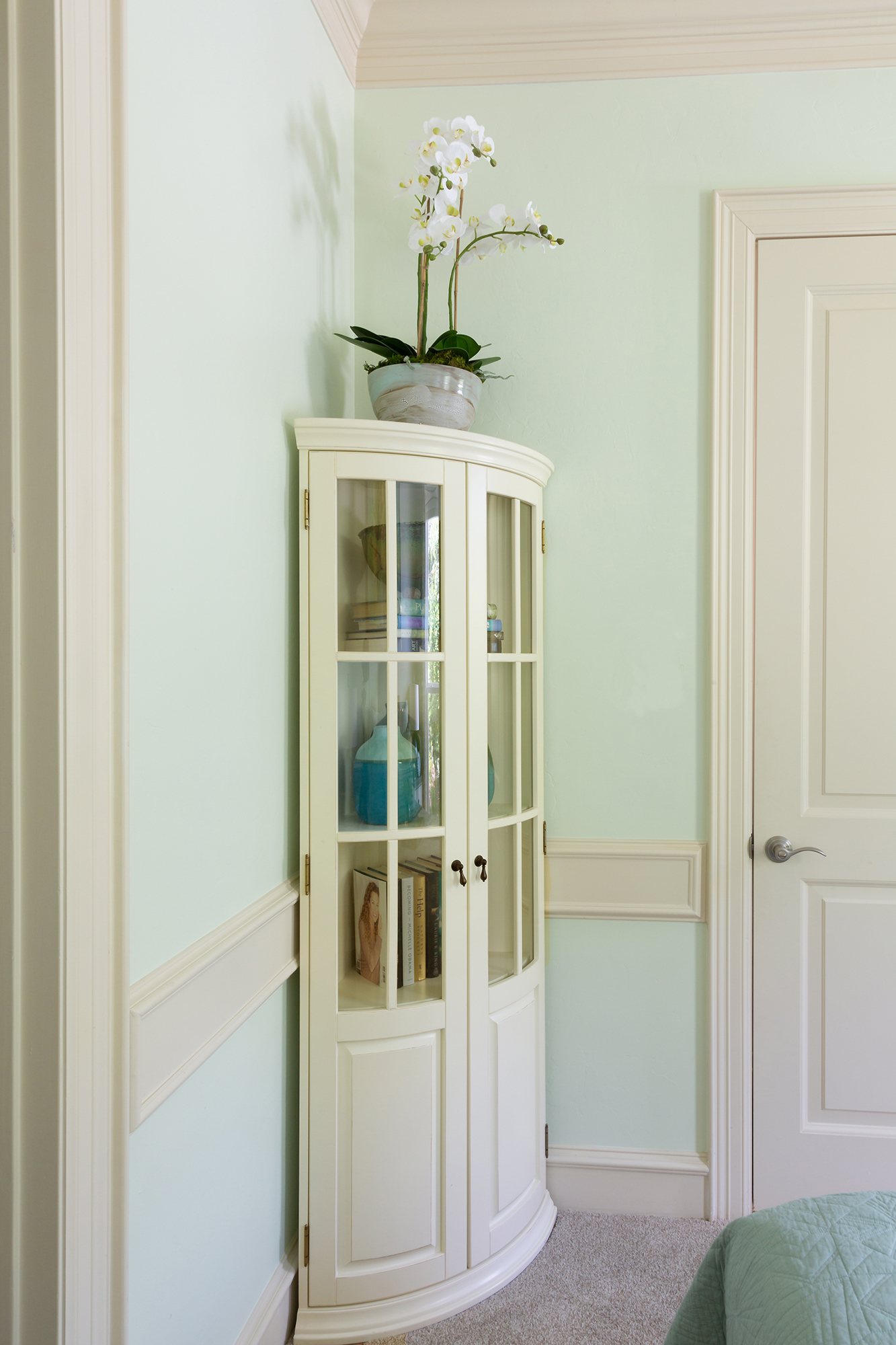 Sometimes it is a matter of scale and the right color palette that a room needs. This home is now so refreshing, functioning much better and the views now match the interiors.
Happy Decorating! Karen
Kind words from my client:
"We really enjoyed working with you and are extremely happy with the new updated look and our boys will get to enjoy it when they are home visiting. Your experience and vision shows in how you have transformed our home to make it more updated and put together. We have learned a lot from watching you work and have enjoyed the process of working with you and look forward to tackling some other rooms in our home in the near future."
Shibani and Somir | Tomball, TX
………………………………………………………………………………………………………
If you need help with creating a family home you absolutely love, check out our services. We offer both in-home services here in Houston and virtual services for out of area clients.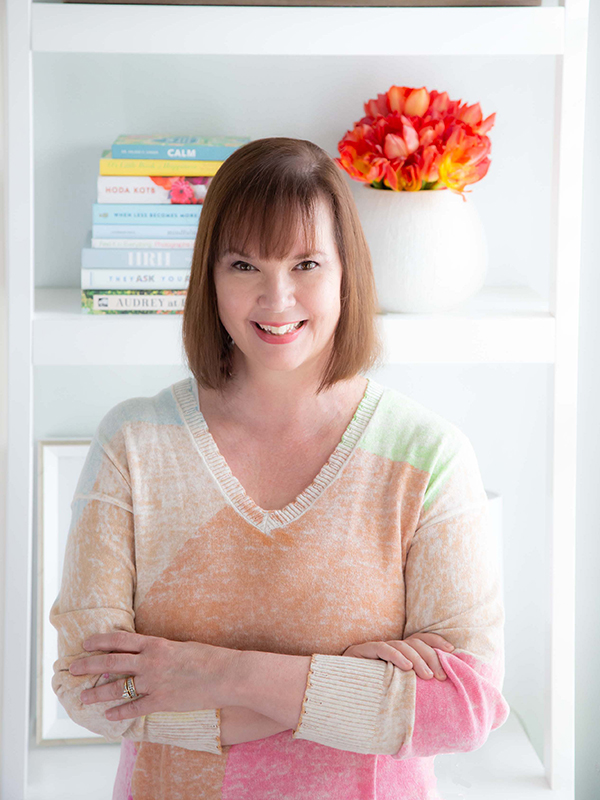 Imagine walking into your living room to find your two-year-old covered in marker along with your beautiful ottoman! I learned that lesson the hard way and redesigned our home around the family's lifestyle. I am committed to bringing you the very best of what I'm living and learning, as well as making it fun.
Our interior design services cater to your family's real-life living.
Get your guide to decorating a family-friendly home!
Karen shares with you her best design advice on how she creates beautiful family-friendly spaces with her clients.