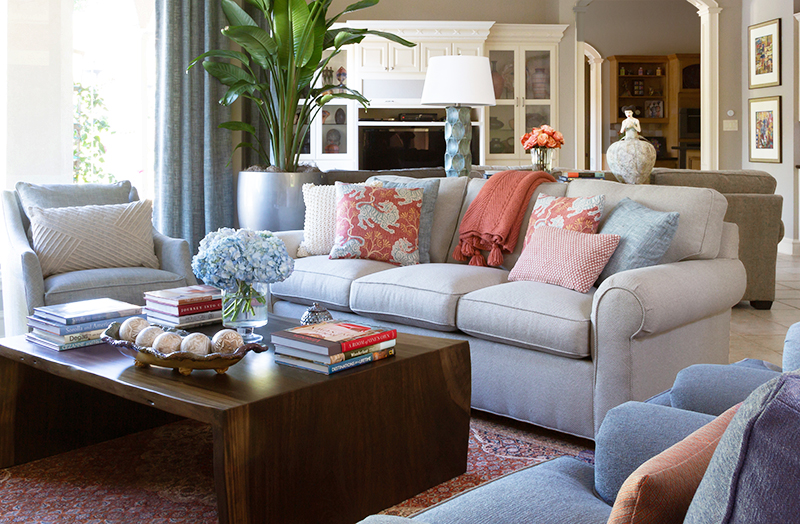 I am so happy to share with you a home I worked on last year. The couple I worked with on this home are empty nesters and world travelers, who have a collection of art they wanted to keep and add more too. The challenge was redecorating the overall look of a few rooms in their home to feel more updated and current but keeping their art and accessories that are very important to them.
First, we focused on the Family/Living Room where the old furniture was oversized and pretty worn out. In this room, they wanted to keep the rug, sculptures, and pottery. What they wanted was new furniture, drapery and to have an artist they knew paint a custom piece for the room.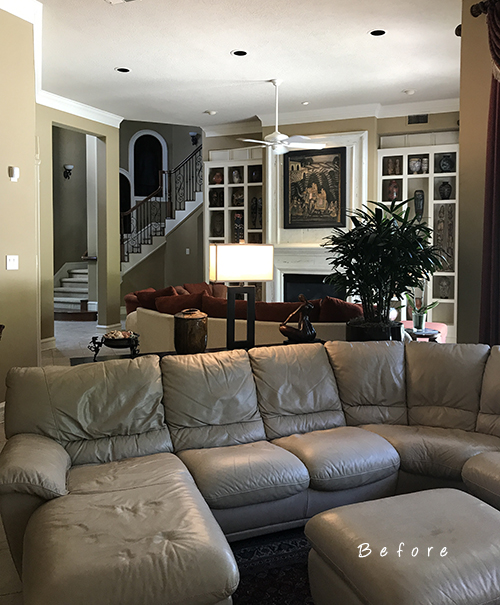 What I modeled the design around was the beautiful landscaping that was the focal point looking out of each room.  The most important detail for them was planning the furniture layout floorplan to fit the maximum seating they could have since they entertain quite often. And their love of art by including their collection in the design. Here is what I created for them.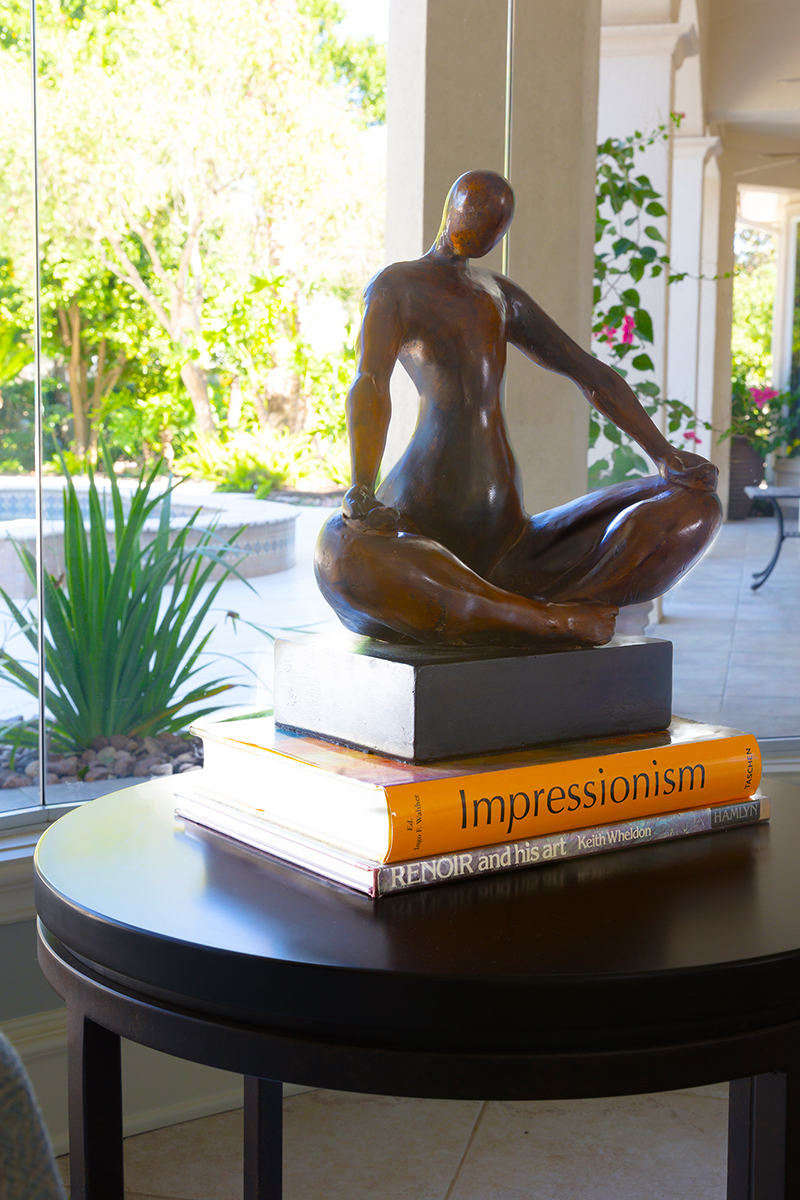 Living Room
Sofa with chairs on either side and coffee table that had a natural feel. Using the rug, sculpture/pottery and the garden colors as my guide is how I chose my color palette. I soften with soft blues, tans, greys, and punches of a persimmon red. The walls are painted with Sherwin Williams 7051 Analytical Gray.  They commissioned an artist they knew to paint a picture of a cityscape (reminding them of their travels) with colors really tying in all of the details in their collection of sculpture and pottery surrounding it. I added some fun patterned pillows to go their global theme and opted to place them in more mixed order to feel less formal. Books that represent their love of art and travel were used to add a decorative touch to the room.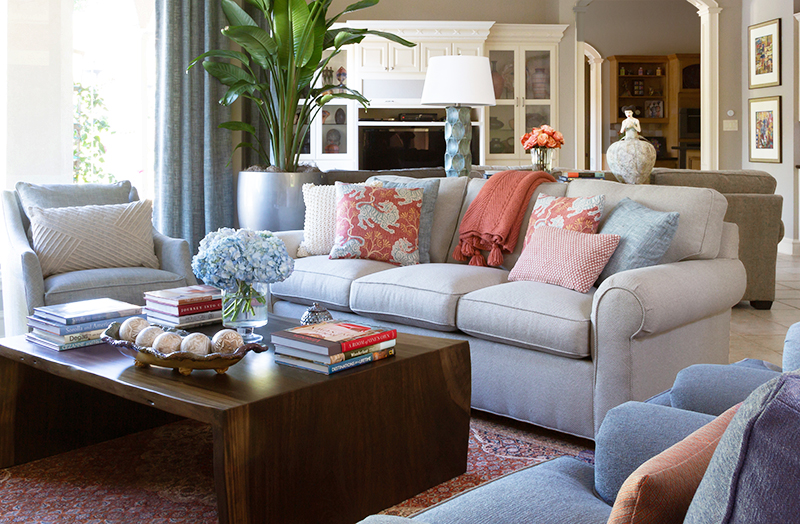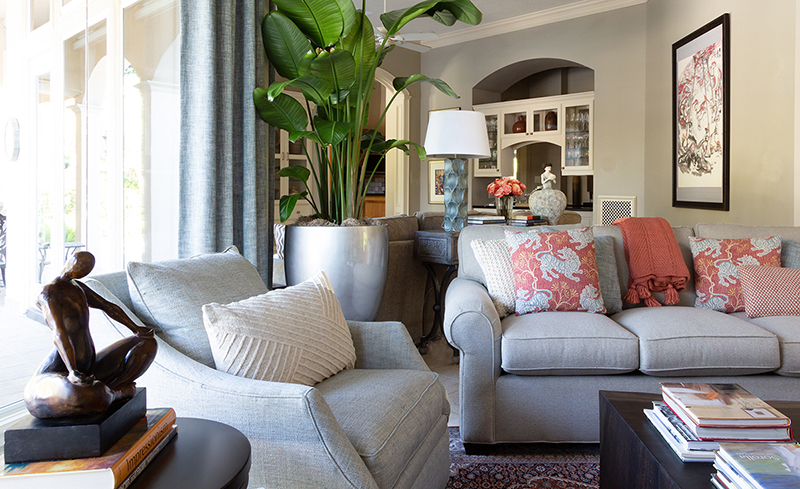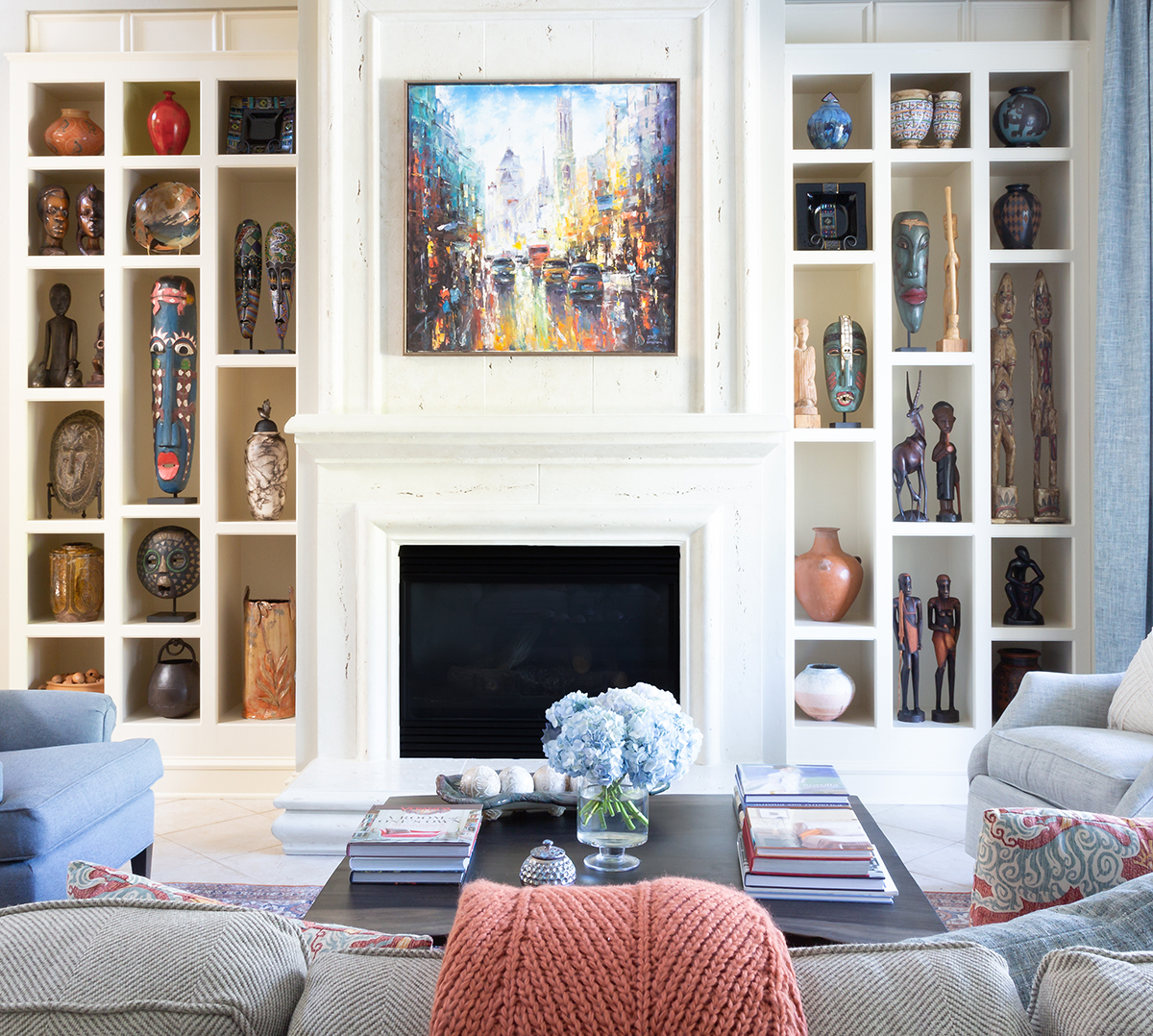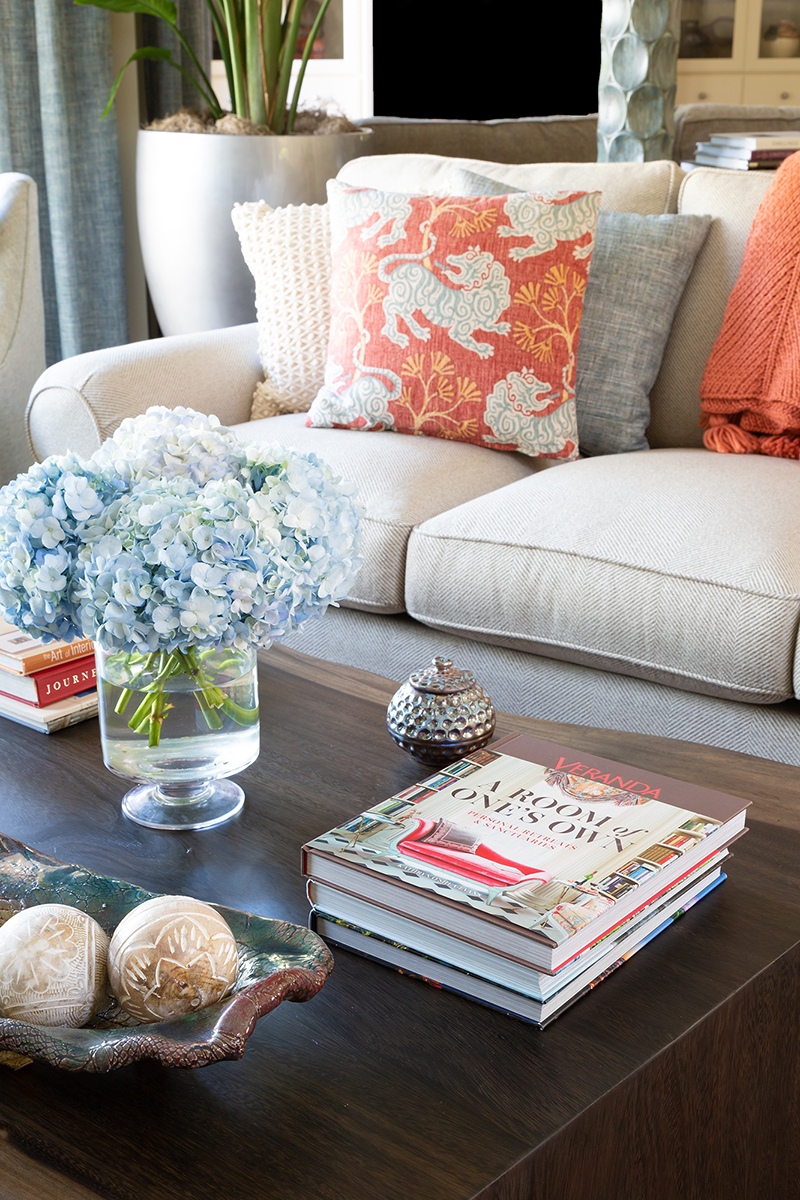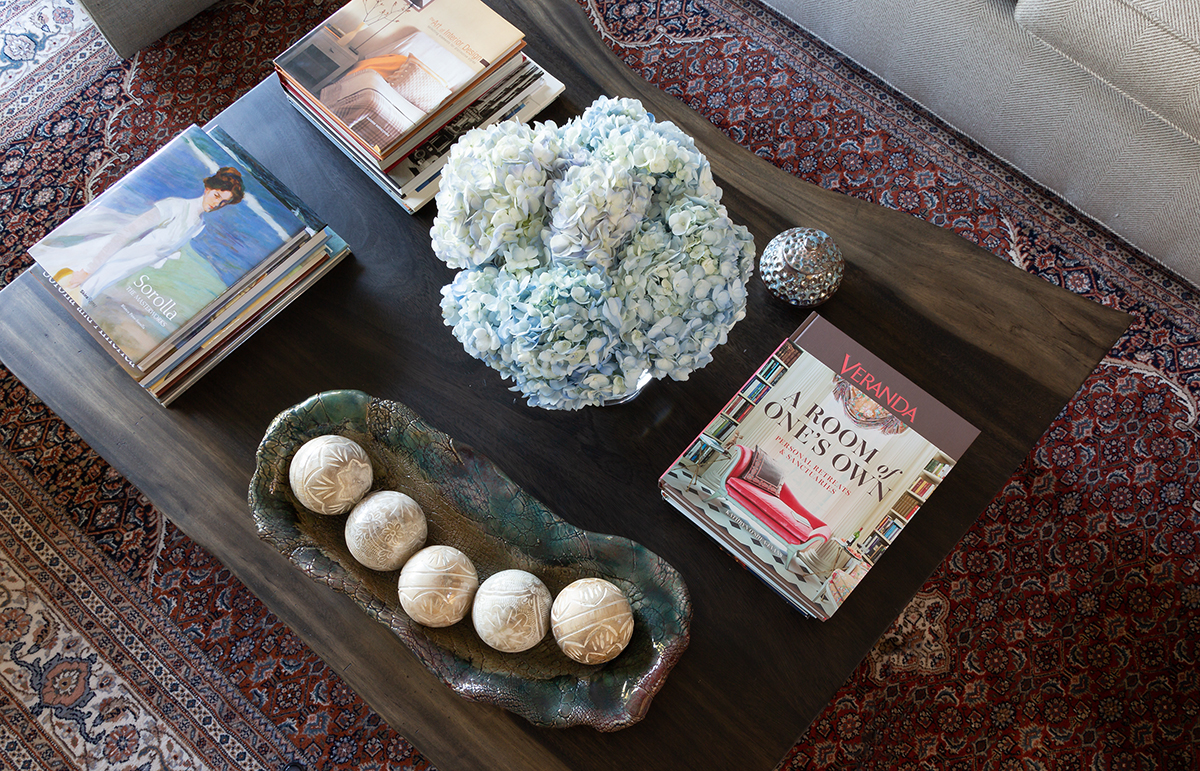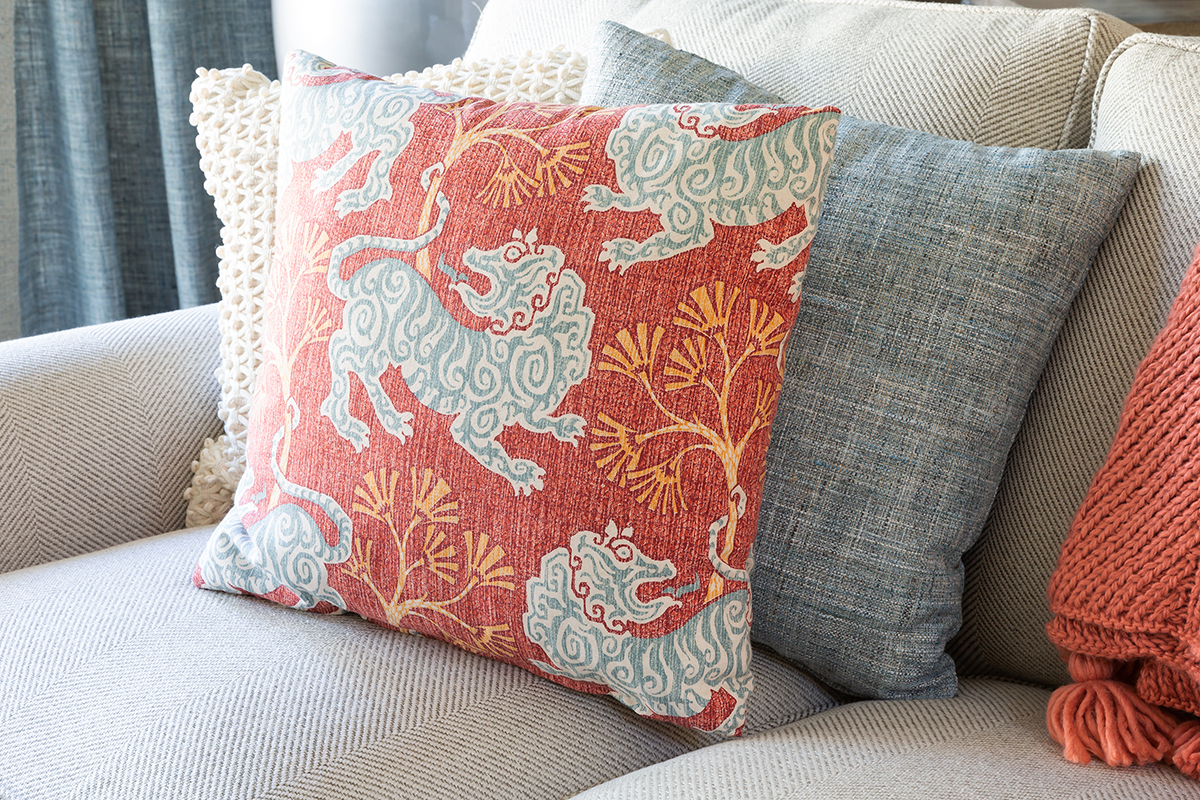 I divided the odd-shaped space with a console table that had the feel of the pottery and sculpture in the space. It really helped divide the room into two areas.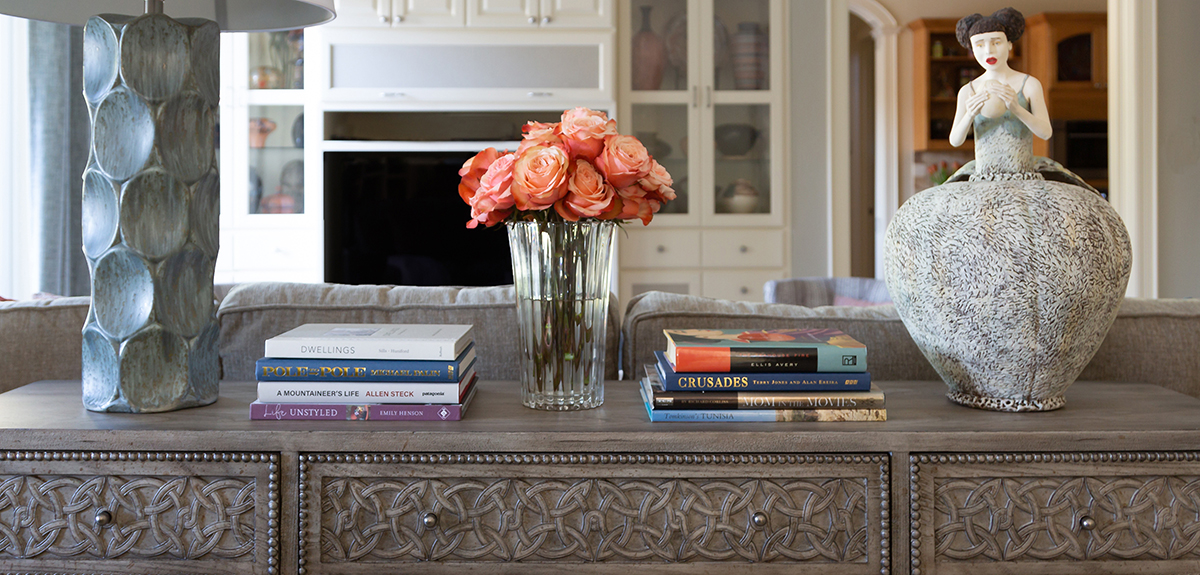 The Family Room is more for TV watching, so we did a double chaise sofa for him and her. Their dog gets the middle. I added an upholstered ottoman for the center seating to have a place to put up their feet. Two small chairs were placed in front of the TV for when they have a  lot of guests to entertain.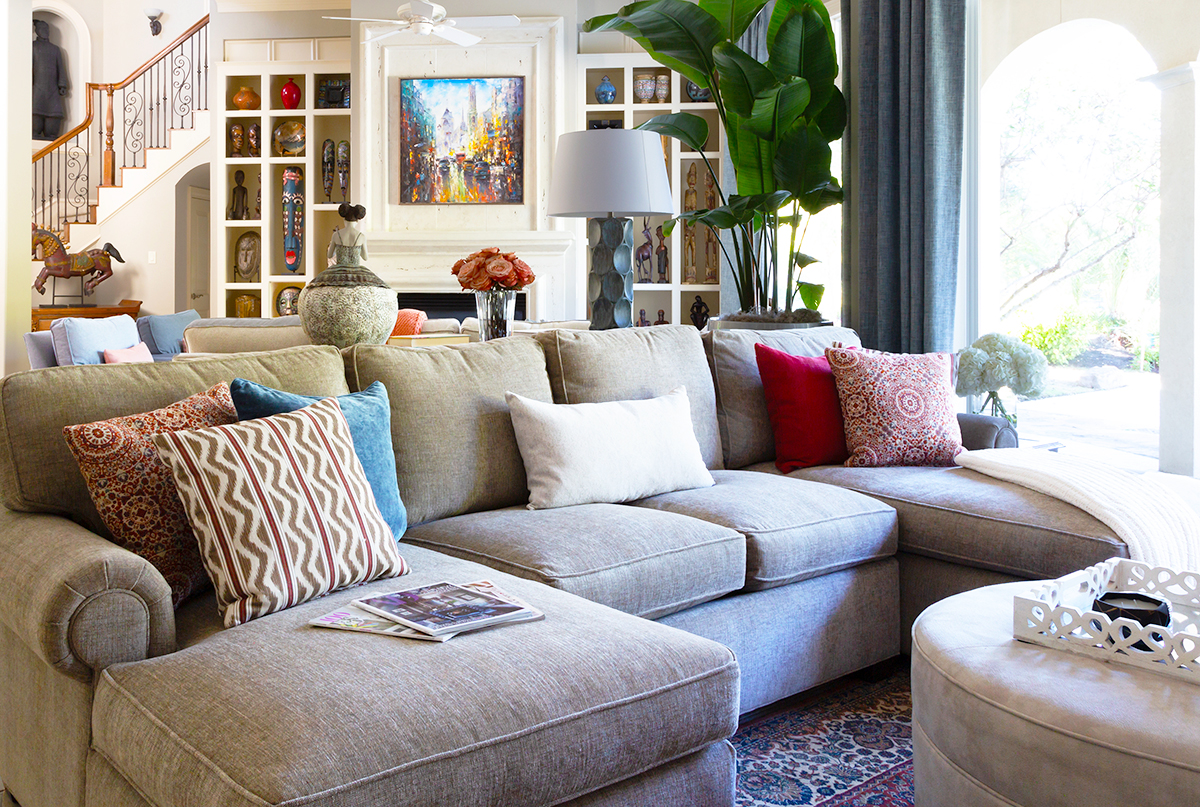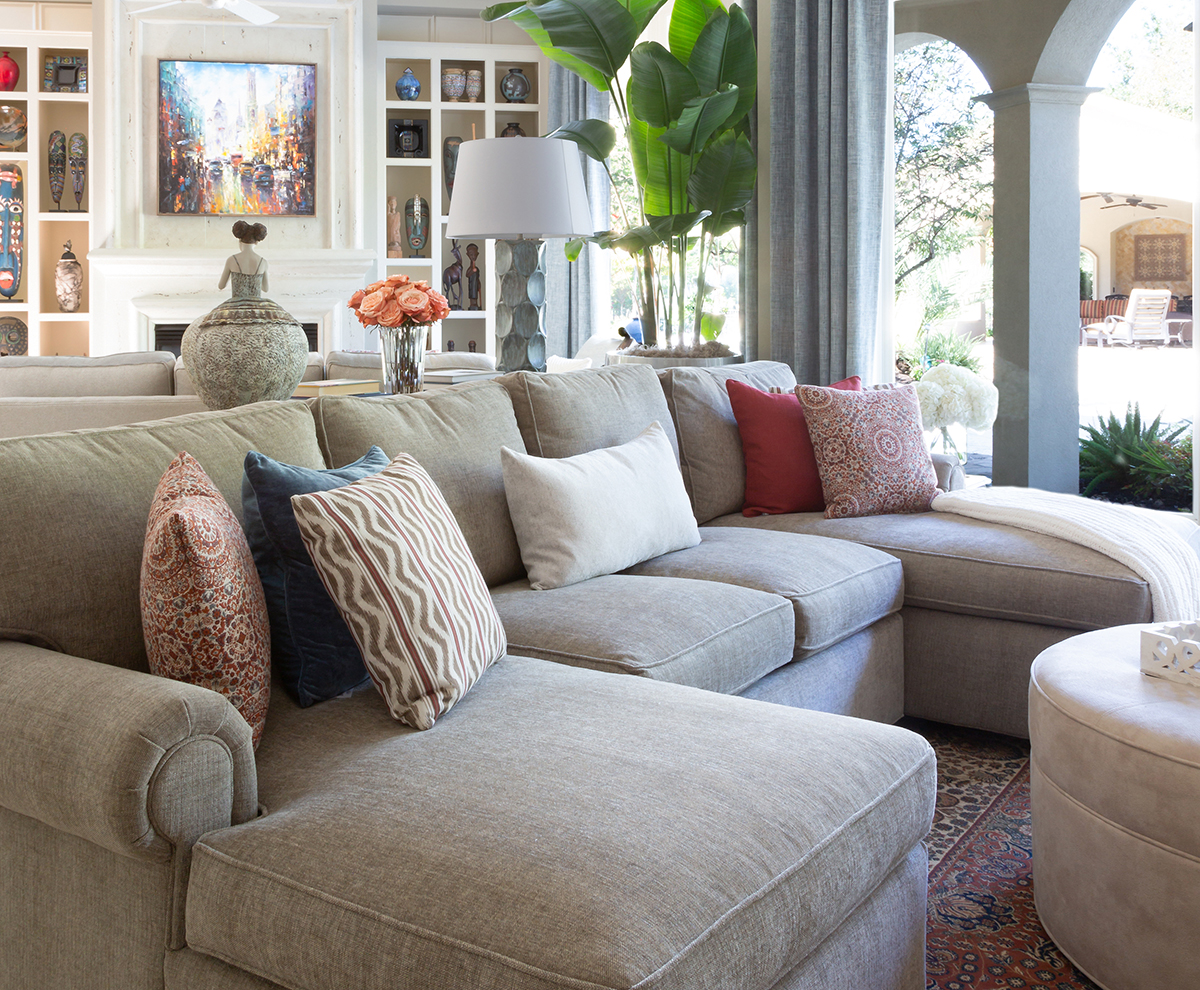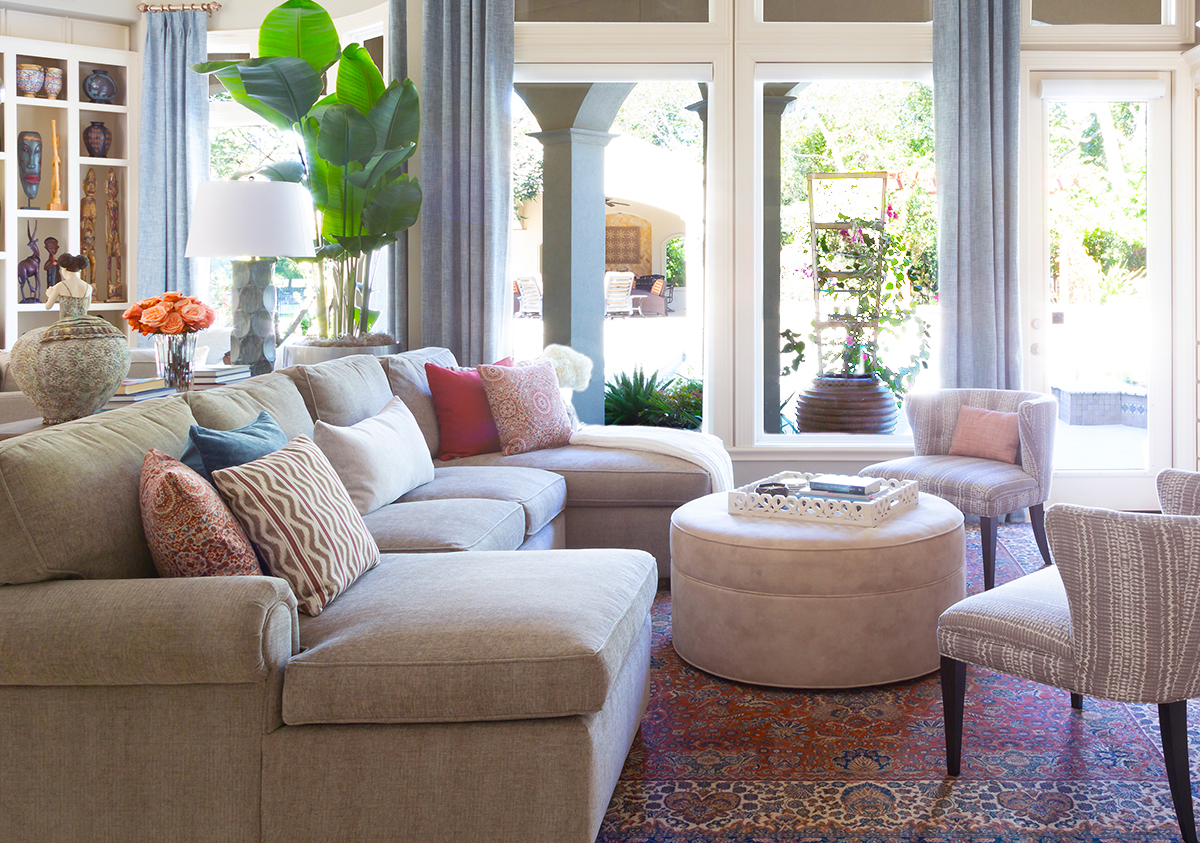 Sharing Here Part 2-  Her Master Retreat, His Study Update and the Guest Room that brings the outdoors in.
Happy Decorating!
Karen
Kind words from my client:
"We really enjoyed working with you and are extremely happy with the new updated look and our boys will get to enjoy it when they are home visiting. Your experience and vision shows in how you have transformed our home to make it more updated and put together. We have learned a lot from watching you work and have enjoyed the process of working with you and look forward to tackling some other rooms in our home in the near future."
Shibani and Somir | Tomball, TX
………………………………………………………………………………………………………
If you need help with creating a family home you absolutely love, check out our services. We offer both in-home services here in Houston and virtual services for out of area clients.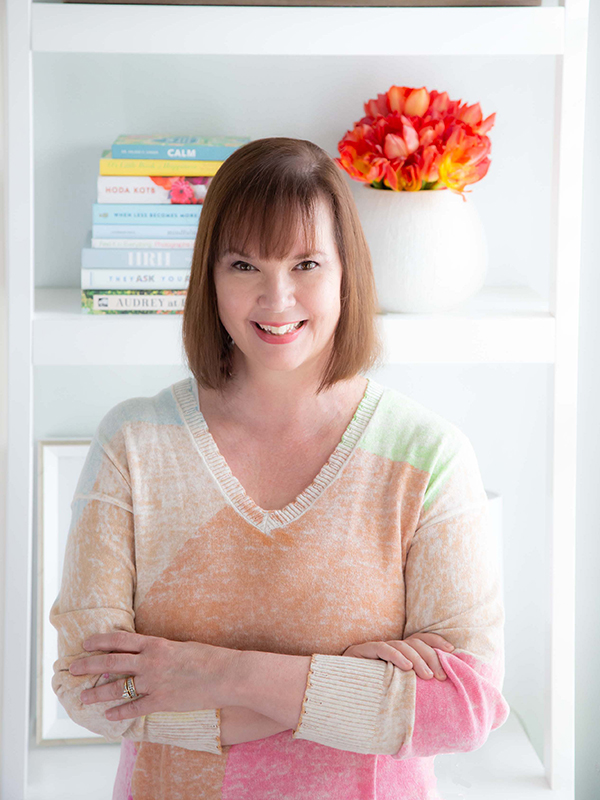 Imagine walking into your living room to find your two-year-old covered in marker along with your beautiful ottoman! I learned that lesson the hard way and redesigned our home around the family's lifestyle. I am committed to bringing you the very best of what I'm living and learning, as well as making it fun.
Our interior design services cater to your family's real-life living.
Get your guide to decorating a family-friendly home!
Karen shares with you her best design advice on how she creates beautiful family-friendly spaces with her clients.