KID FRIENDLY HOME – BEAUTIFUL AND PRACTICALLY CHILD PROOF PT 2
Here is the second installment of the very Kid-Friendly Home I designed for a family with two little ones. This week we are focusing on the secondary family areas in the house.
Starting with the Music Room. The client's oldest son, who is 7 years old, is a very talented pianist and my client wanted a place where he could play and everyone could gather including his younger preschool brother.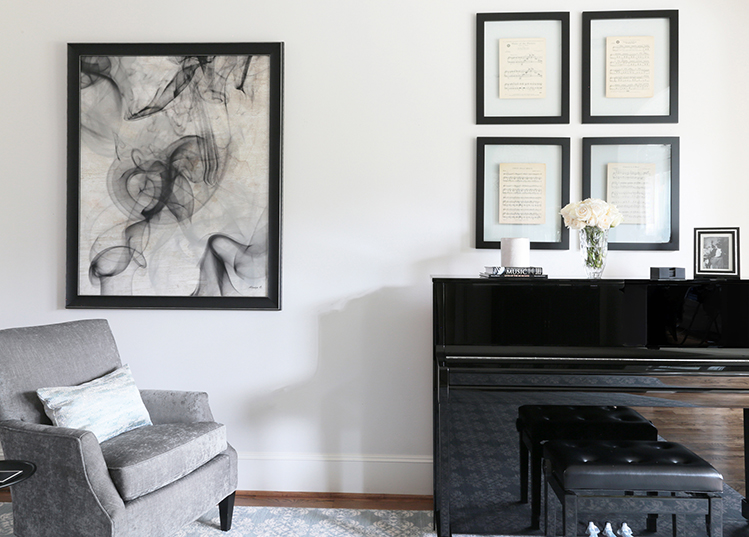 We started with the layout and how to place the piano since the space is a walkthrough area to the client's Master Bedroom. I opted to add an upright piano so she could have chairs and ottomans for everyone to sit on.
The chairs are in a Teflon treated fabric. I choose a dark grey to go with the black and white scheme of the room. With the piano being black and the wrought iron from the stairs being black we opted for this color scheme. The small ottomans were custom made in a vinyl that has a platinum metallic feel. The rug is a stain master carpet, custom sized and bound bringing in the blue from the family room on the other side of the dual fireplace wall.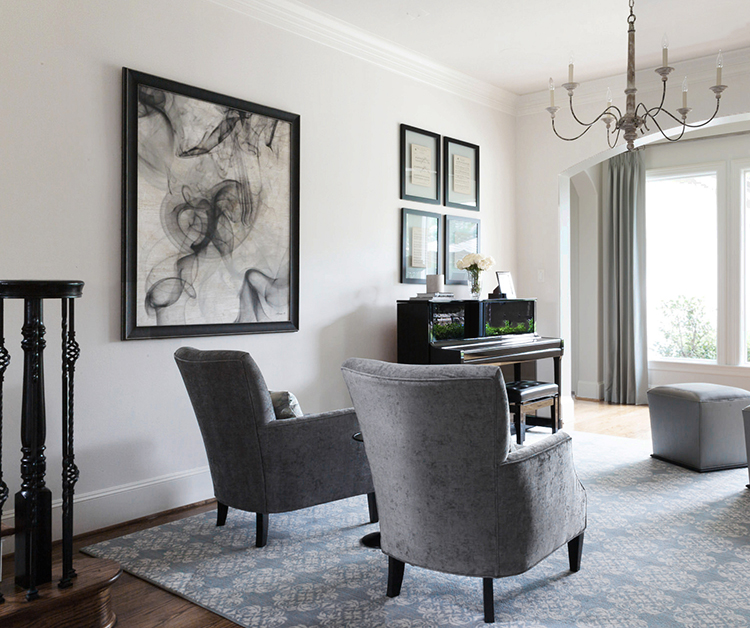 Drapery was needed for the windows that sit on the back wall away from the space since they are seen with the Music Room in front. We went with a color that blended with Family and breakfast room drapery.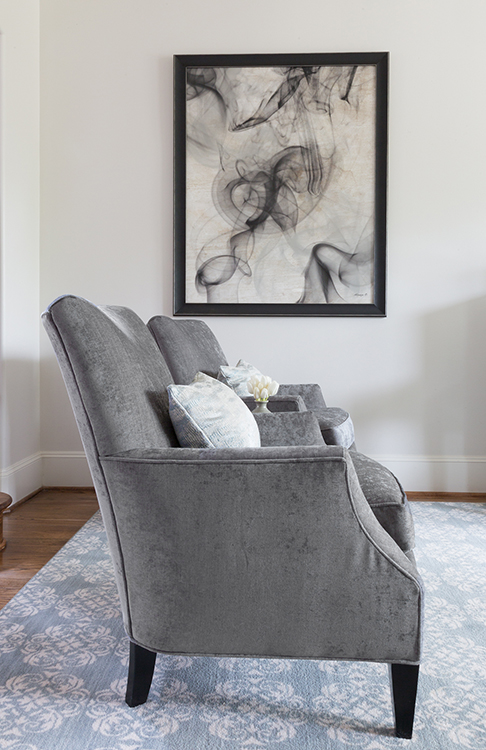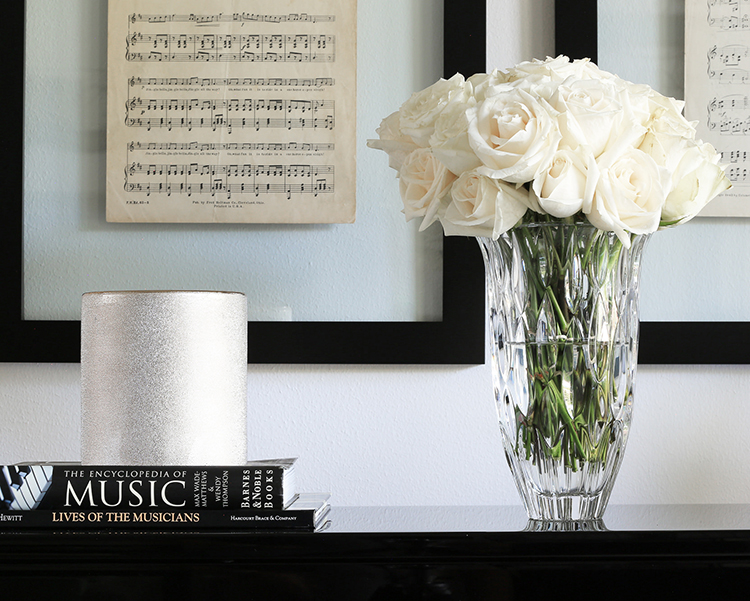 Art was a major focal point. We found this fun piece of art called 'smoke' at my art trade source in town. It really draws your eye into the room. I gave my client a homework assignment to find music sheets they would like, the sheets were placed in floating frames and are hung above the piano. I love this room and what joy it brings to the family.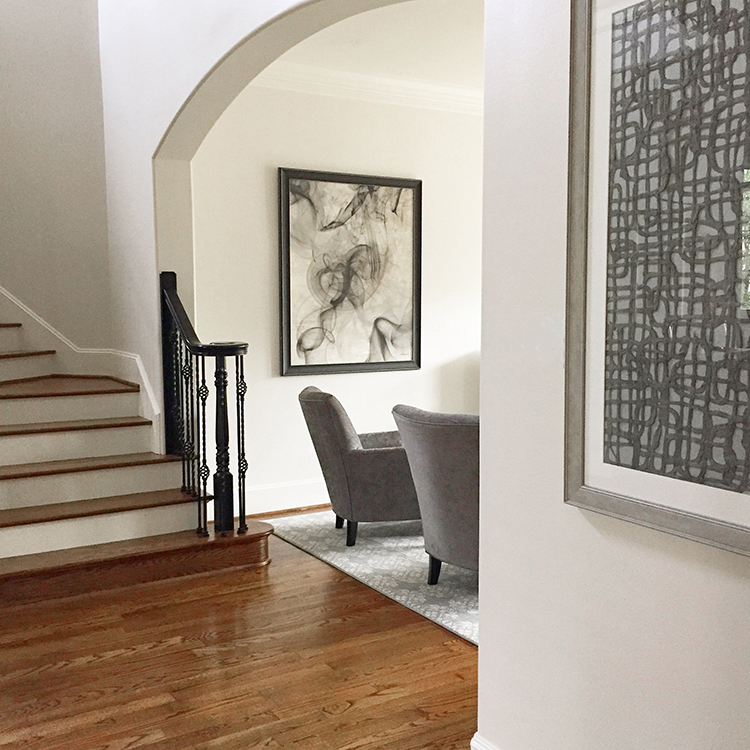 We had one wall right outside of the Music Room where I opted to do a paper art piece and found fabric to back it. This is to help tie into to all the rooms surrounding the entry and this is not another painting.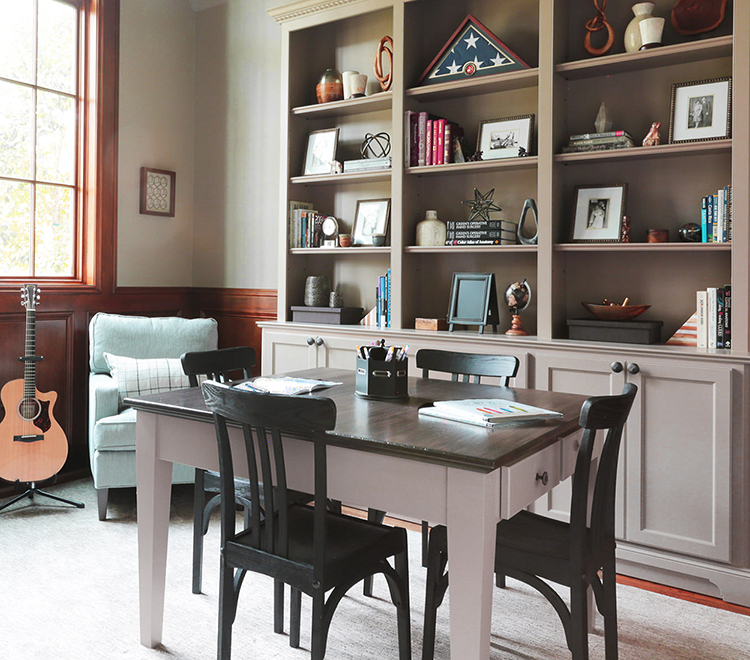 The next room is more of Dad's space. When he is working the boys want to be around Dad so my client requested a play table to be built. I designed a custom one that was built by my cabinet maker that would fit in the study along with custom bookcases to store books and puzzles. My client's late father was in the military so his flag was a very important item to display. I made the flag the feature in the bookcases and the thought it would be nice to show the generations before them from their family throughout the bookcase, including his father. There is a commercial grade carpet bound for a rug. Then I added a nice soft chair in the corner to give Mom a comfy space to sit and relax.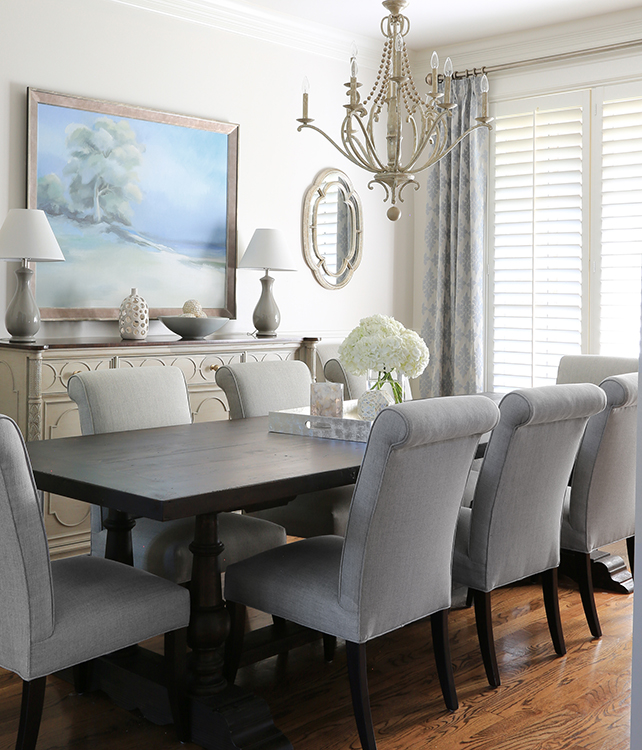 The other request I had for this project was the Dining Room. The previous homeowner had a custom table built to fit the space and slipcover chairs that my client bought from her. We updated the chairs with a very durable commercial grade fabric in a grey color. Then went with a little more formal drape in grey and blue. I found a wonderful buffet that has a dark wood top to tie into the table. The artwork selected gives it a slight coastal feel and a chandelier with mirrors in a gold leaf finish gives it a more formal look.
Click here to read about Part 1 of this series
Click here to read our final post of this series, one that was made just for Mom – a Master Bedroom Retreat.
Happy Everything! Karen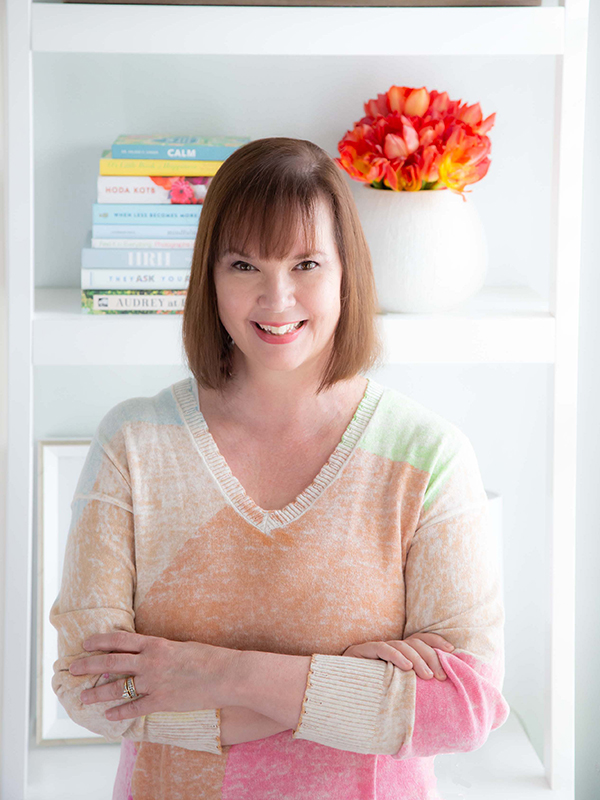 Imagine walking into your living room to find your two-year-old covered in marker along with your beautiful ottoman! I learned that lesson the hard way and redesigned our home around the family's lifestyle. I am committed to bringing you the very best of what I'm living and learning, as well as making it fun.
Our interior design services cater to your family's real-life living.
Make Your Mark University
Are you an Interior Designer ready to "Make Your Mark" in your business? With 15 years of experience running my own firm, I will teach you how to grow a standout business that attracts ideal clients!