Kid Friendly Home – Beautiful And Practically Child Proof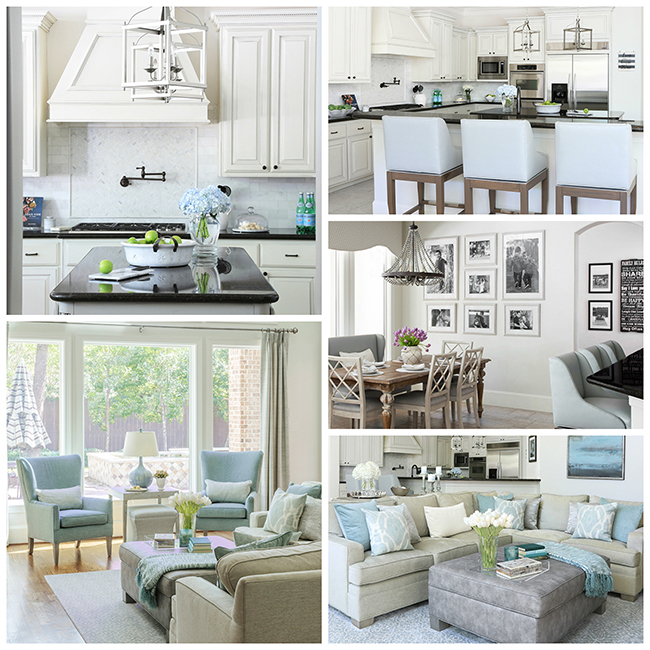 It has been a long month, getting back to work after the storm. I am now focusing back on designing. I wanted to share with you this very kid-friendly home that is practically child-proof. I was privileged to work on this home and my design was featured last week in the Houston Chronicle.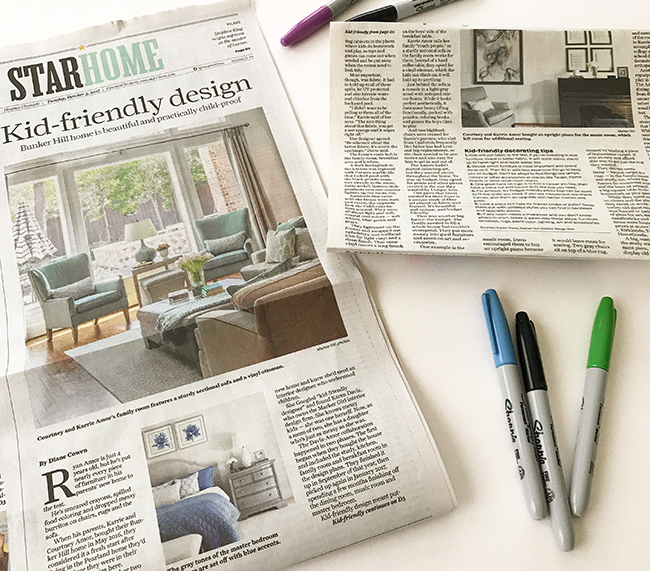 We worked on several rooms, so over the next few weeks I will be featuring different parts of the home. This is so I can give you more details and hopefully give you some great ideas on how to create a kid-friendly home, one that truly is made for real-life living.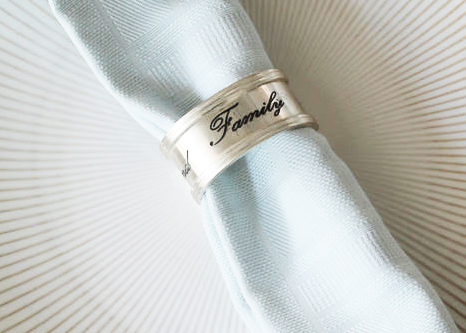 I created this home for a busy family of four with two very young boys. The main requests were that it needed to be kid-friendly and not stress-out Mom worrying about breaking things and having upholstery ruined or getting it professionally cleaned each time her son spilled something. Another request was to reflect their love of the California Coast where they are from. Here is how we achieved it…
Kitchen
My client bought this pre-owned home and liked a lot of the details of the Kitchen that had been previously remodeled, but wasn't happy with the some of the details and asked for my help with a mini makeover. This included a more updated backsplash and new lights. By adding a Carrara marble backsplash and softer lighter fixtures was all it really needed to help lighten up the Kitchen and keep the details she liked about it. It made a big difference.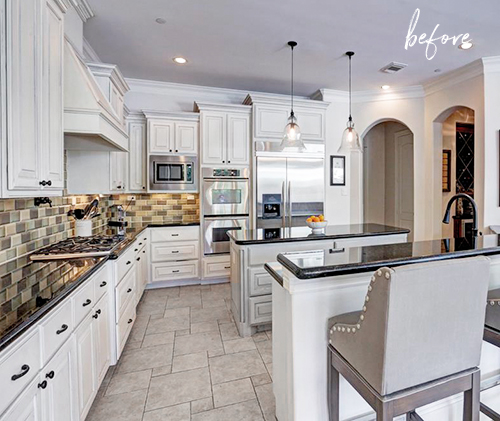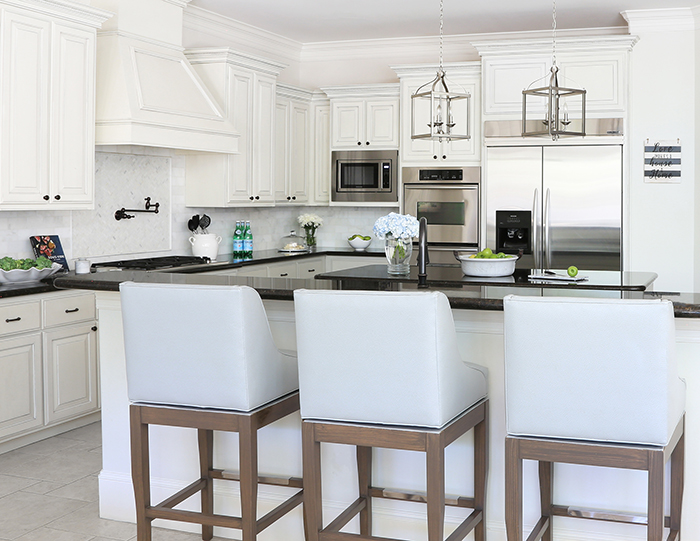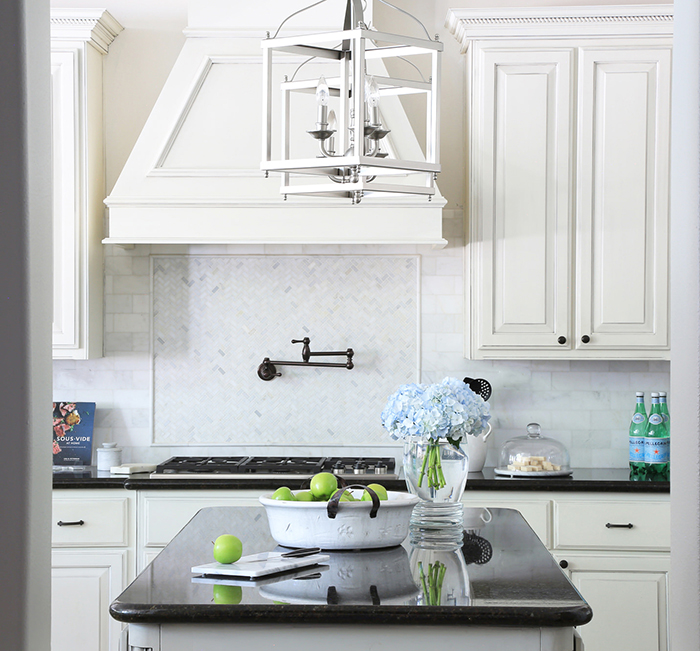 Breakfast Room
The Breakfast Room came next – finding a table and chair set that could take the toughest stains. I chose a table from Hooker Furniture but felt the fabric on the chairs wouldn't hold up to the stains that could happen. So, we opted to recover them in an outdoor fabric from Kravet's Waterworks collection. Then I had a banquette built for the boys and covered it in a very durable blue/grey vinyl. I used the same vinyl to recover the barstools my client inherited from the previous homeowner.
For finishing touches, I designed a beautifully curved cornice covered in a simple diamond pattern fabric. The light fixture I chose as a way to tie in the hardware already in the kitchen with the fun beaded effect giving it that coastal feel. Art was important but not as important as the family wall gallery my client wanted. I opted to go big and soft with black and white photos. As you look in-between the kitchen and breakfast room there is a blank wall in the back entry. We added a typography art piece my client had with a couple more family photos to blend the spaces together.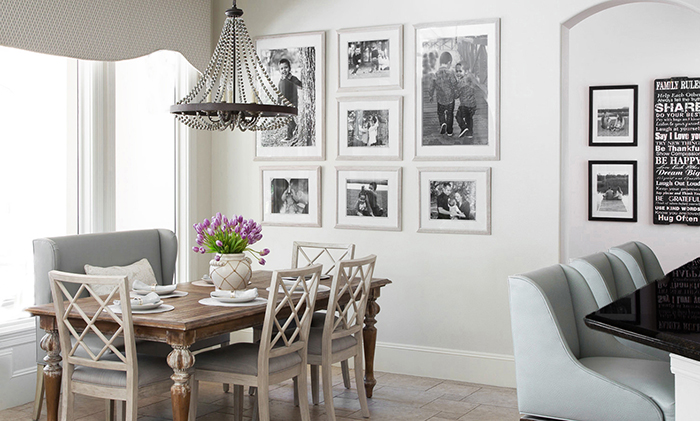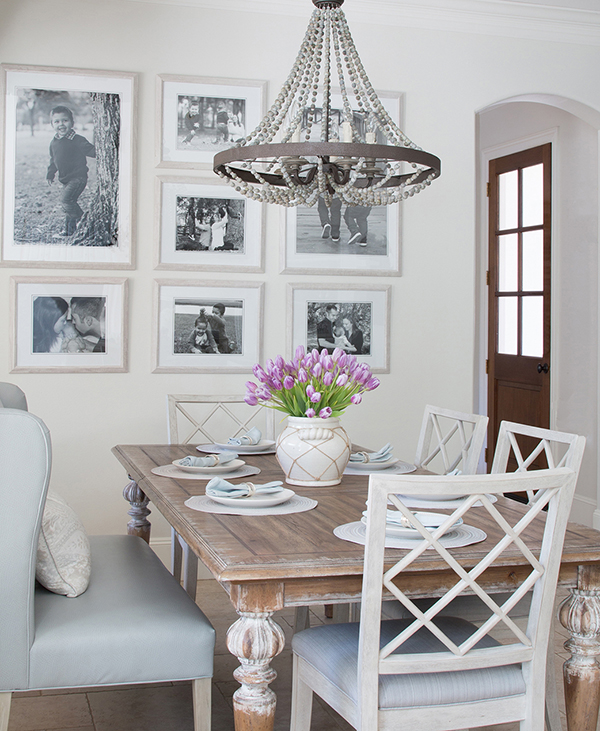 Family Room
My client really wanted a sectional so we found the perfect one at Duralee and used the most durable fabric out on the market to upholster it, Crypton. This is my absolute favorite. I chose a sand color to bring in the coastal feel. The ottoman was custom made by an upholster in grey vinyl to tie in the greys from the breakfast room which is open to the family room. This ottoman is one that can be used to prop your feet up on and creates a great family area to sit and watch TV.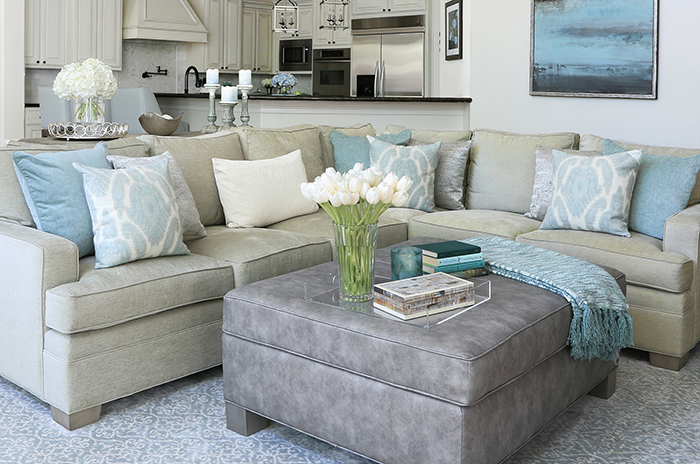 Behind the sofa, we placed a console in a light-gray wood that blends with our coastal feel. This is a great functional piece that is packed with puzzles and games the boys likes to play. A nice modern canvas was placed on the wall behind the sectional to give a coastal feel.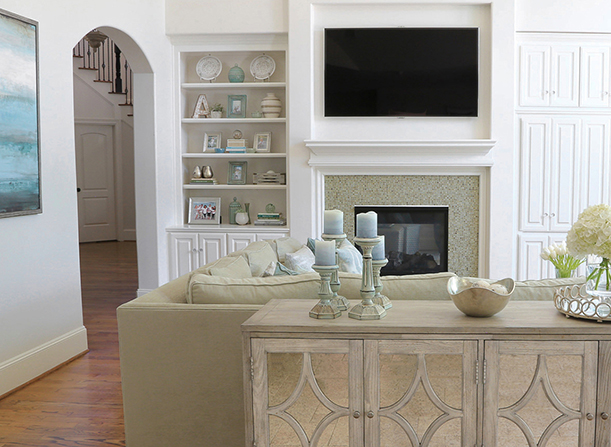 Then came my client's next request, two high back chairs. These were purchased for her parents, who visit from California frequently. Her father has a bad back, so the chair needed to be comfortable for him. I had him give me measurements of his favorite chair back home and found one that best matched it in seat height, width and back height.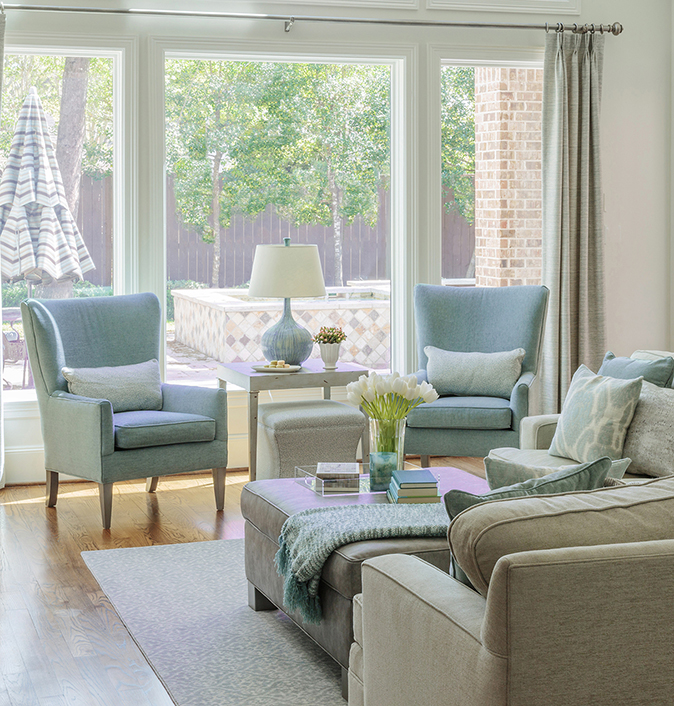 Finishing touches are the drapes in the soft gray that is being used throughout the home. The drapes are simply placed on each side of the window. I had the table between the two chairs custom made so it houses the ottoman her father needs to prop his feet up on. All the items are made with durable, Teflon-treated fabrics while the table was antiqued to hide any marks that might be made by two little ones. The lamp isn't so kid-friendly so it is placed right up against the wall so it can't be knocked down.
The rug was the final item we selected to tie it all in together along with pillows pulling in the turquoise accents. The rug is a stain master carpet custom sized and bound from Stark Carpet.
I love the way it turned out and the fact that it is super durable. So far it has withstood burrito stains, green food coloring and a few other messes, including an incident with the cat. With the simple use of a Bissel Spot Bot and good fabrics, all is well.
Click here to read Part 2 of this series
Happy Everything!
Karen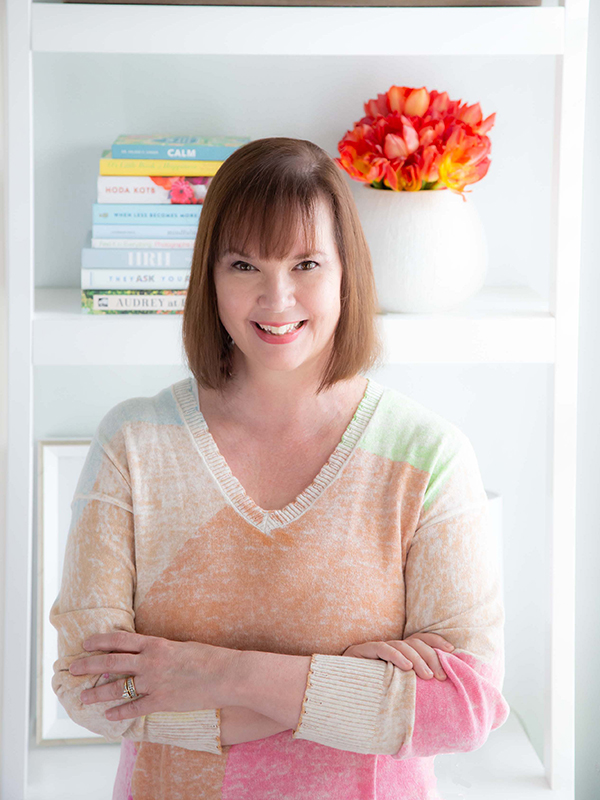 Imagine walking into your living room to find your two-year-old covered in marker along with your beautiful ottoman! I learned that lesson the hard way and redesigned our home around the family's lifestyle. I am committed to bringing you the very best of what I'm living and learning, as well as making it fun.
Our interior design services cater to your family's real-life living.
Make Your Mark University
Are you an Interior Designer ready to "Make Your Mark" in your business? With 15 years of experience running my own firm, I will teach you how to grow a standout business that attracts ideal clients!