Ask Marker Girl – How To Create A Color Scheme

Dear Marker Girl,
Help! I am struggling on how to pull a color scheme together for my Family Room.  I want use a bold blue but not sure how much to do in blue and how many other colors should I have in the room? Taylor  from Illinois
I get asked this question a lot. So I thought today I would explain a simple method that is used and taught about how pull a color scheme together. You may have heard of it..
THE 60 – 30 -10 RULE
This rule is a great way to achieve a balance with color. It is only to be used as a guide and not so literally, so do not over think it. I find that when I explain this method to clients, it helps with their overall design, especially with accessorizing.
The first portion of the formula is that 60% of the room's color is used for the main color. Some experts say to make it the wall color but I see it as the main color you want to feature, so you if you really love blue go with it for your sofa, bedding etc. or paint it. Keep repeating it with other furnishings. You would want to paint your room another color that is more neutral if you not going to make it the main color. This isn't an exact science, so just make sure it is shown in a focal point and repeated in the room in at least three different ways: furniture, drapery, rugs, accessories, and so forth. The 30% is your secondary color and can be shown more within the patterns and accessories in the room, and added to the 60% color throughout. The accent color is 10% so it would be used slightly throughout the space.
Your secondary color is generally one that is complementary (a good contrast) or part of the color. Your color can also be a neutral color like black, brown, or white. It is a marriage of sorts with color when you are pulling it together, so always give your color item a mate. If you are not into numbers, and a bit more of a rule breaker, consider it this way… Main Color, Secondary Color and Accent Color/s. The main color is always in the space more than the others. Secondary is just that little more than your accent colors. This is the way I really approach it.
Here are a few examples..
Green is 60% Black is 30% and Blue is 10%. The main color is green note how I did not have as much of it in the artwork.. With The TV being black I opted for chairs to have black fabric, framed art too and patterns have black throughout. So here I used blue and green since blue is in green. Black was a great bold contrast and neutral a great balance with bold green and blue I used.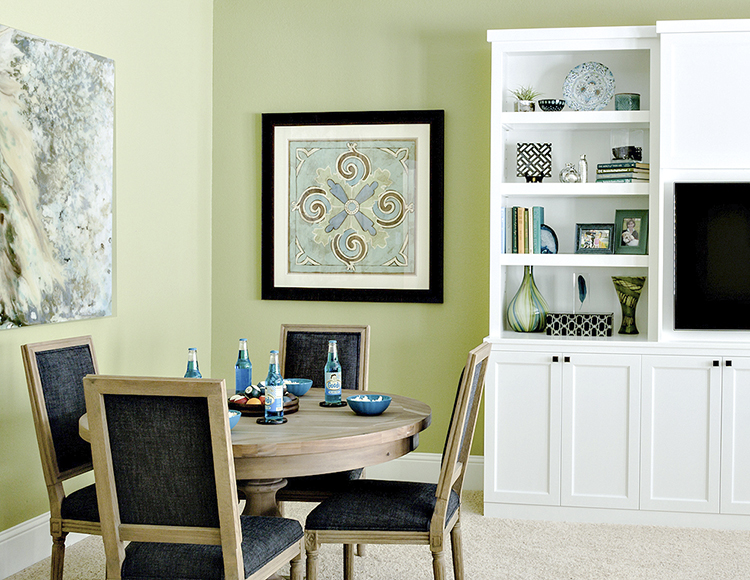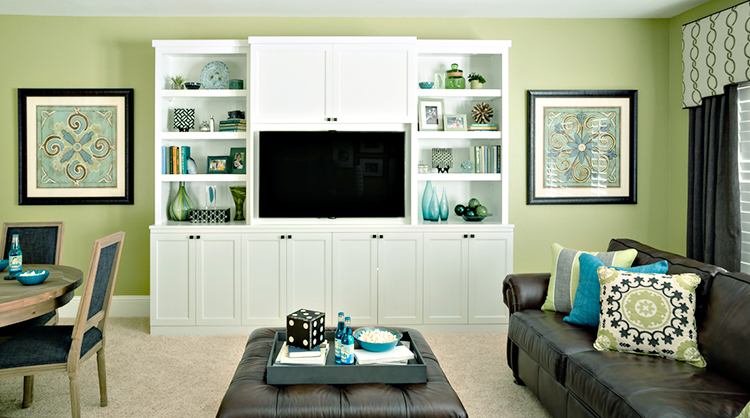 Here is another option. With this room Blue is painted in the bookcases and main furniture piece and mixed with art and accessories (considering it 60%), the brown is more of the secondary color with wood mixes and brown printed ottoman along with accessories  (30%), and then accented with two colors orange and green (10%).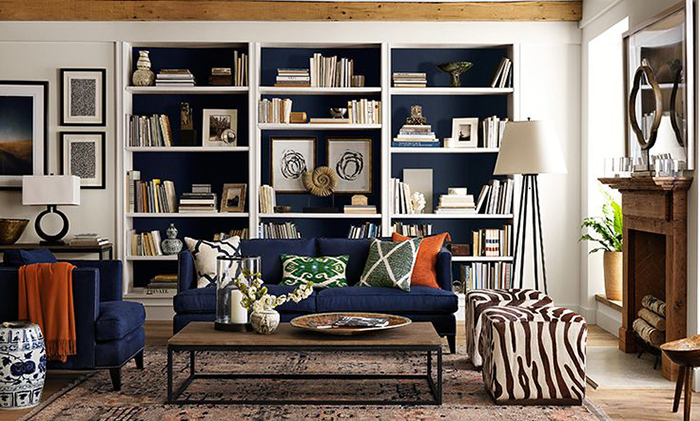 WS Home
In this example the green is main color, stone secondary and then the pink with a little hint of the navy blue as an accent.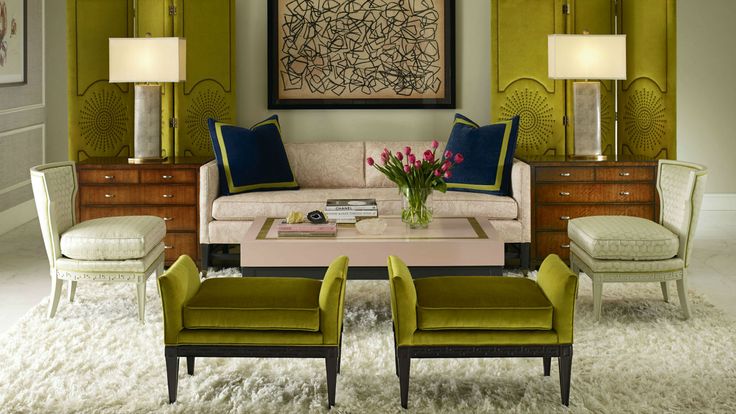 Tobi Fairley – CR Laine
Like I said this does not have to be exact but if you feel your color scheme is missing something, see if you may need to add or replace a color. Accessories are the best way to start including throw pillows, if that still isn't working look at artwork too. It is a great guide especially if you want to add colors in a more balanced way in your space.
I hope that helps!
Happy Everything! Karen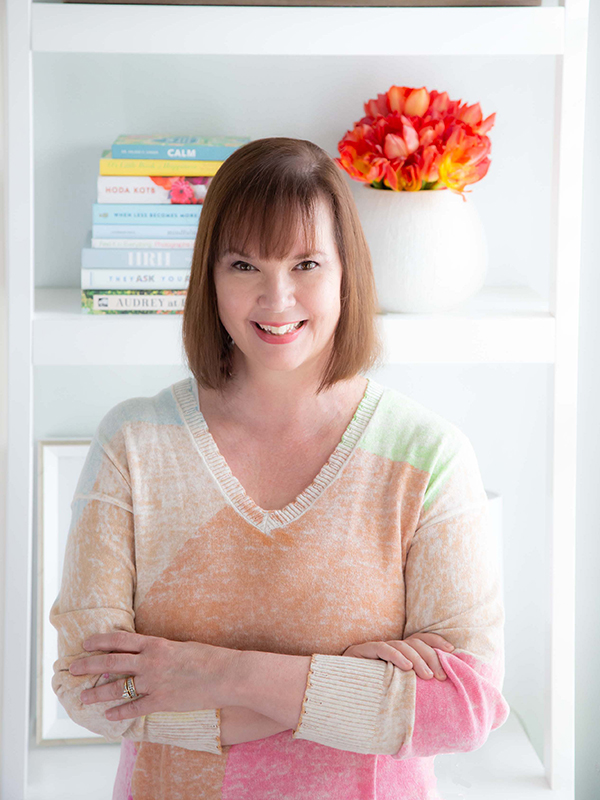 Imagine walking into your living room to find your two-year-old covered in marker along with your beautiful ottoman! I learned that lesson the hard way and redesigned our home around the family's lifestyle. I am committed to bringing you the very best of what I'm living and learning, as well as making it fun.
Our interior design services cater to your family's real-life living.
Make Your Mark University
Are you an Interior Designer ready to "Make Your Mark" in your business? With 15 years of experience running my own firm, I will teach you how to grow a standout business that attracts ideal clients!