Resharing our popular blog post series "14 Day Back to School Plan!"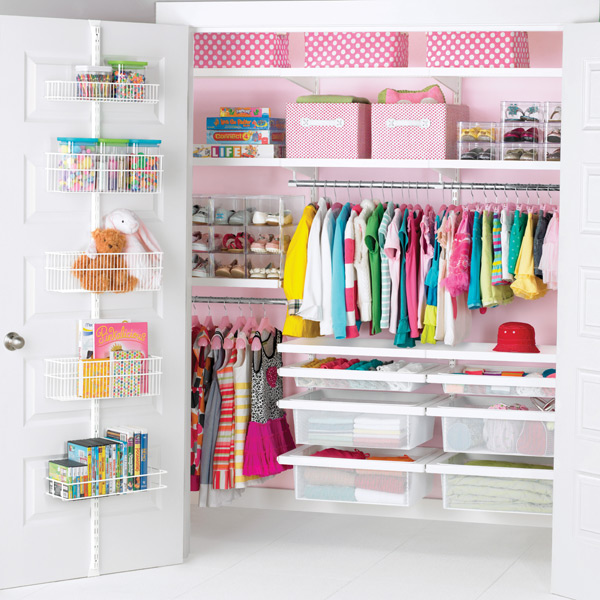 Container Store
So excited to share with you my 14 day plan for back to school. My kids start back in 14 days getting back into the routine is always challenging hope my ideas help you get back into the routine of things too!
Day 1: A closet plan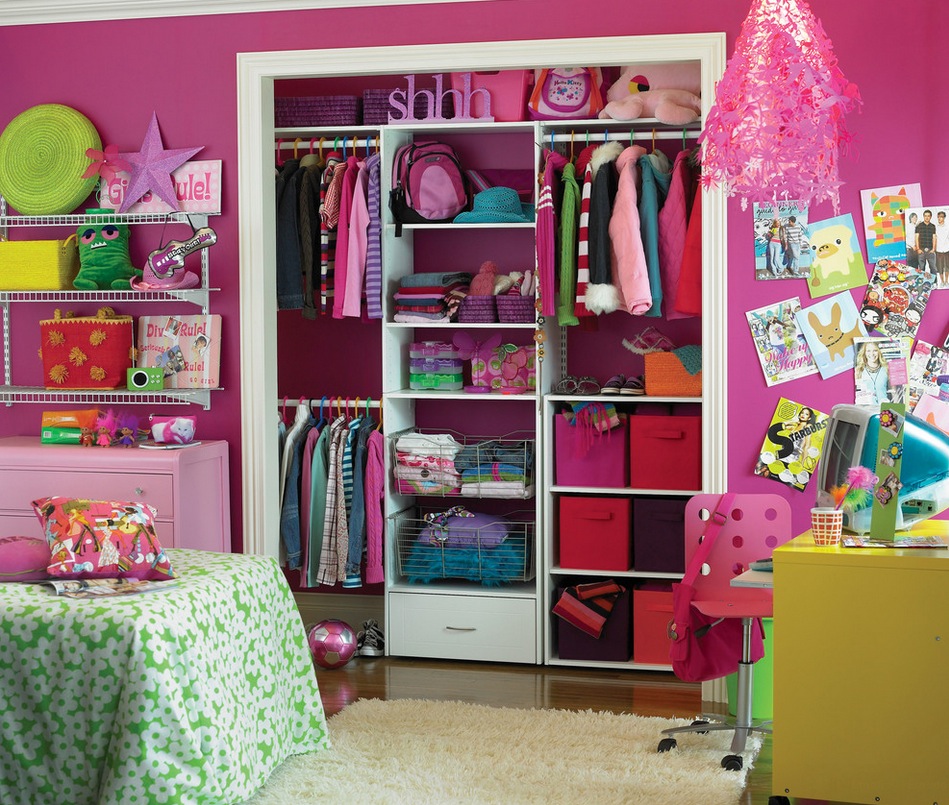 FresHome
For some reason by the end of summer my kid's closets are at their worst. I had their closets designed efficiently, but why does everything still end up on the floor of the closet if I don't keep up with them? A quick way to say I cleaned my room I am guessing. Using my old trick (LOL)
We are just back from vacation so a lot of laundry done and need to put it all away first. Every year the two weeks before school, I go through their clothes figure out what to keep and donate. Have a fashion show by them of what they have and like also what they don't want anymore or just doesn't fit. Kids grow so fast so keeping up is challenging but there are a few times a year I do purge the closets… back to school, winter around November and then spring break too!
So now that I did my first day closet plan I have realized my daughter has grown so much so that her closet needs some rearranging. My son and daughter both need more bins for organization too. So I created closet style boards for today to share with you my ideas on redoing them.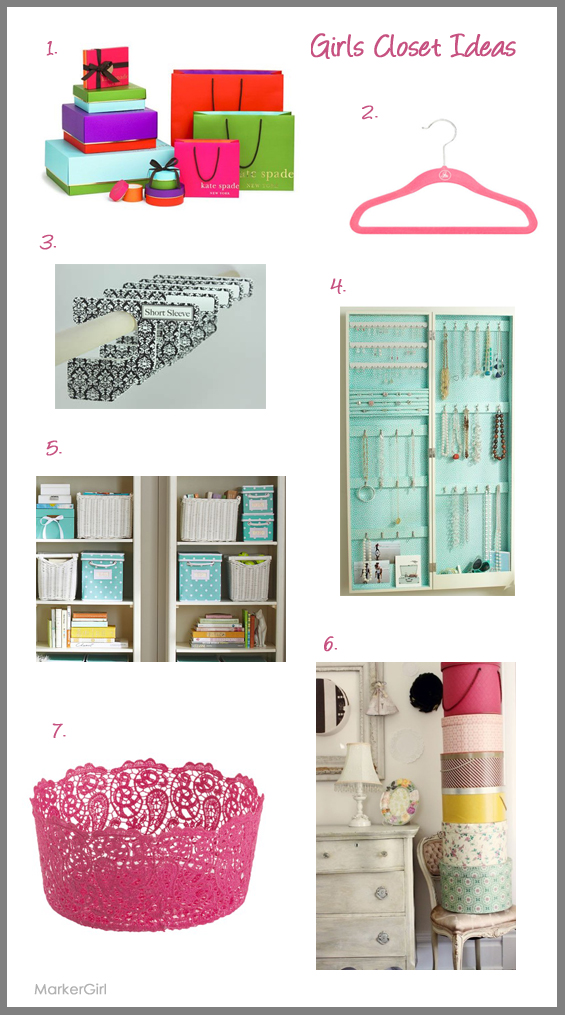 My daughter is a girly girl…
1. Shopping bags using them for items that are taken out on a rare occasions and placed up high. Girls love feeling like their Mom, better start saving my favorites (Kate Spade)
2. Love grip hangers, finding the plastic ones are not holding up her clothes as she gets bigger (Container Store)
3. Closet dividers found how to make your own on Journey Chic
4. Like the idea of a jewelry cabinet with mirror for her wall mirror (pbteen)
5. Storage bins there are so many to choose from (pbteen)
6. I have found decorative hat boxes and different sizes at Crafts Stores (brit-heart)
7. Open containers are great for dress up items and doll clothes since they are pulled out a lot (target)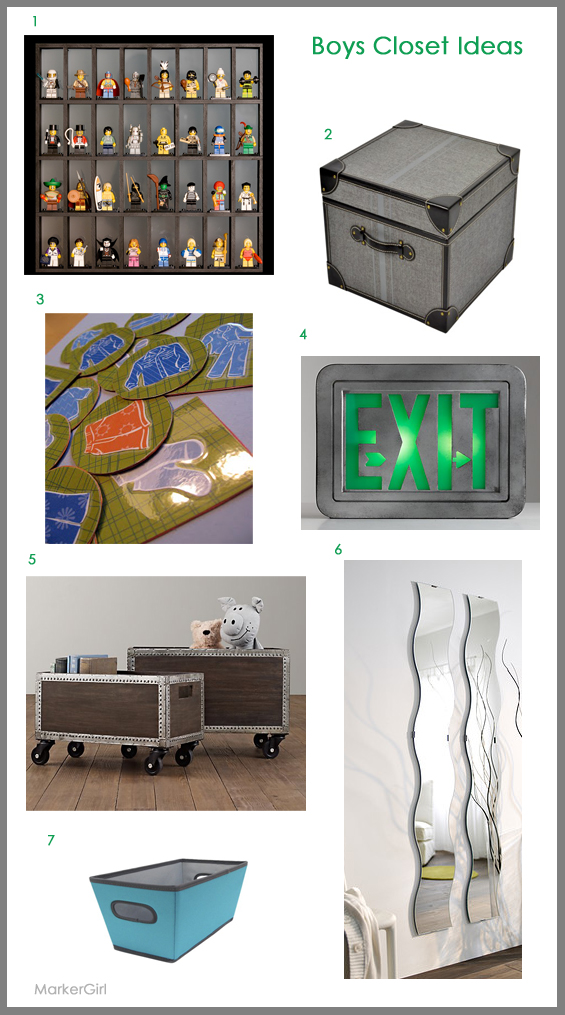 This closet is being design for a preteen boy… Here are my ideas…
1. Curio cabinet for his legos.. I don't what it is about them but he still loves them. Saw this picture on Google and found one similar on Restoration Hardware
2. Closed storage for some of his items, Target's threshold collection has these flannel boxes
3. Even preteens need to be reminded of where to put things away found these great DIY labels using clipart from iHeart Organizing
4. Exit sign for some fun Restoration Hardware
5. Wheeled Storage for items moved back and forth a lot in his closet Restoration Hardware
6. Got to have a crazy mirror to check yourself out in Ikea
7. A few colored storage bins for the little things that don't have a place Target
Also if you are looking for closets organization tips check out "11 Essential tips for kids closets" from California Closets
Happy Everything!
Karen
………………………………………………………………………………………………………
Have you signed up for our free guide the 7 Easy Steps to Decorating any Room? Just enter your name and email to the right of this post.. To get your Free Guide!
If you live in the Houston area and need help with creating a home you absolutely love, go to www.markergirlhome.com to find out more about our design services.
…………………………………………………………………………………………………………….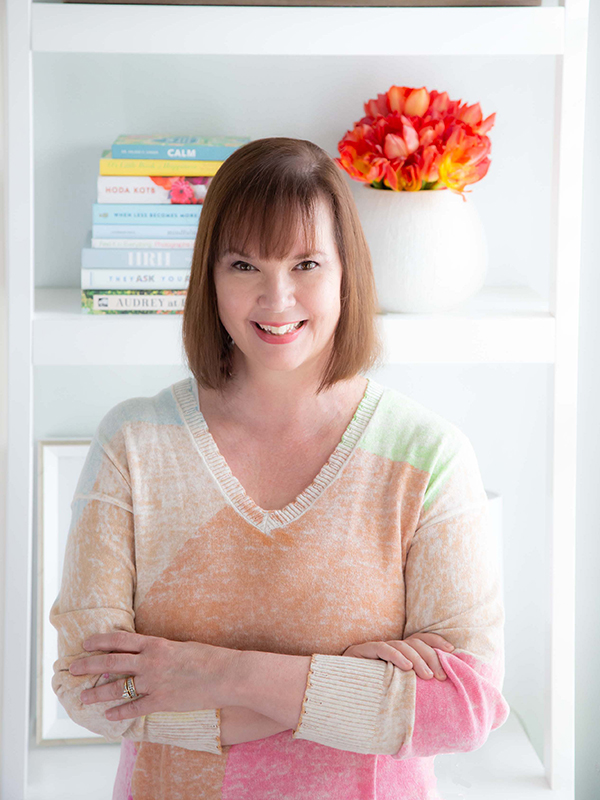 Imagine walking into your living room to find your two-year-old covered in marker along with your beautiful ottoman! I learned that lesson the hard way and redesigned our home around the family's lifestyle. I am committed to bringing you the very best of what I'm living and learning, as well as making it fun.
Our interior design services cater to your family's real-life living.
Get your guide to decorating a family-friendly home!
Karen shares with you her best design advice on how she creates beautiful family-friendly spaces with her clients.