Marker Girl Makeover – Moen Faucet Powder Bathroom
A Marker Girl Makeover with Moen –
I am getting ready to redo my powder bathroom and thanks to Moen and Traditional Home Magazine you get to choose my faucet.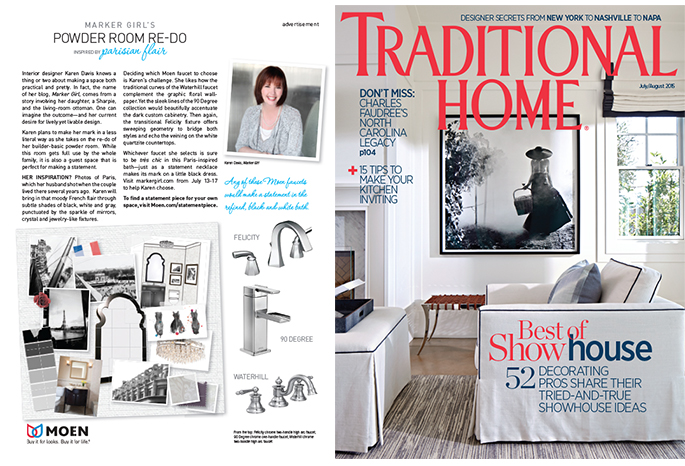 I have a great history with Moen. While studying Interior Design in Paris several years ago, I entered a faucet design contest they were hosting for Design students. I was one of the winners of that contest! So it's only fitting that I would use one of their faucets for this Paris inspired design.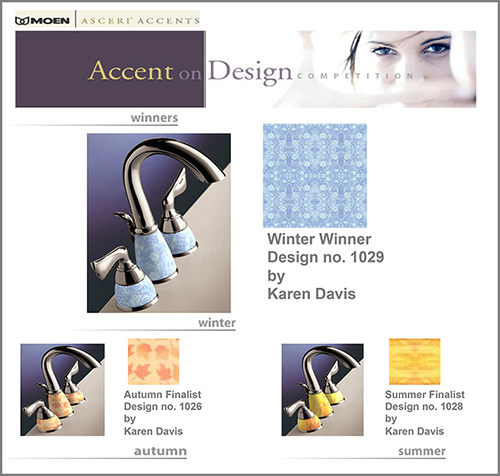 My inspiration comes from photographs that my husband took while we lived in Paris. These are some of my favorites of his and I am creating a black and white theme around them.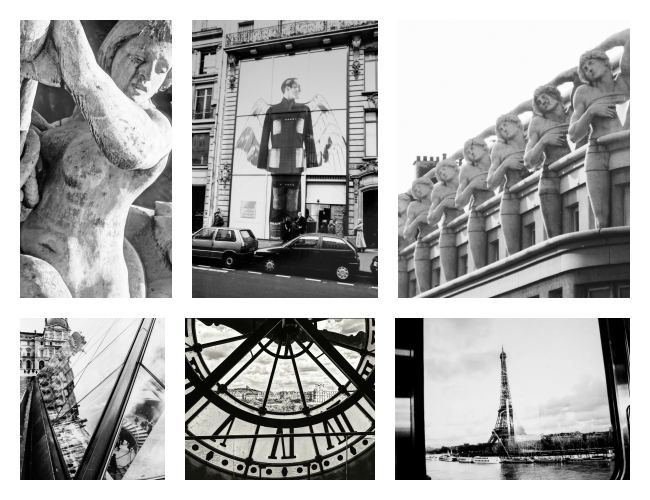 Here is a rendering to give you the overall idea.
Before photo boring builder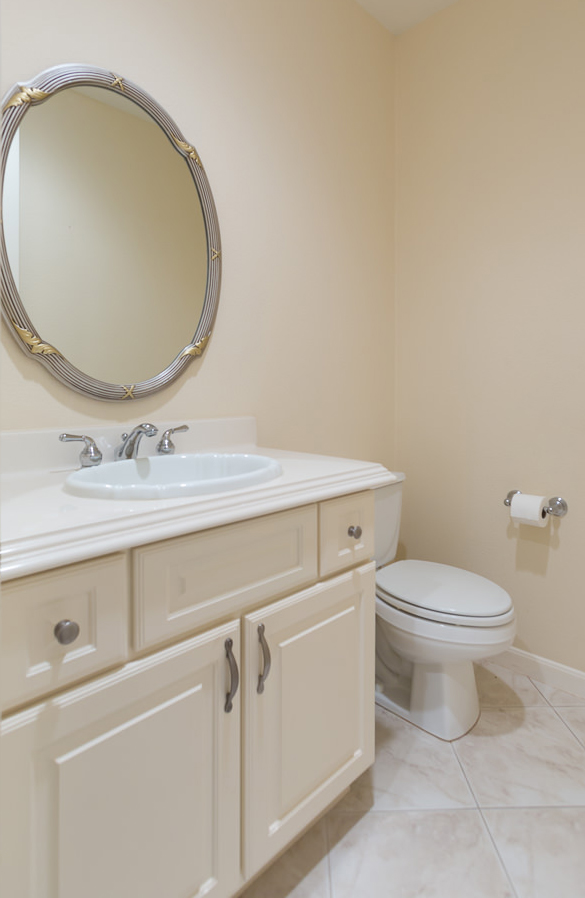 To a bit of glamour Paris inspired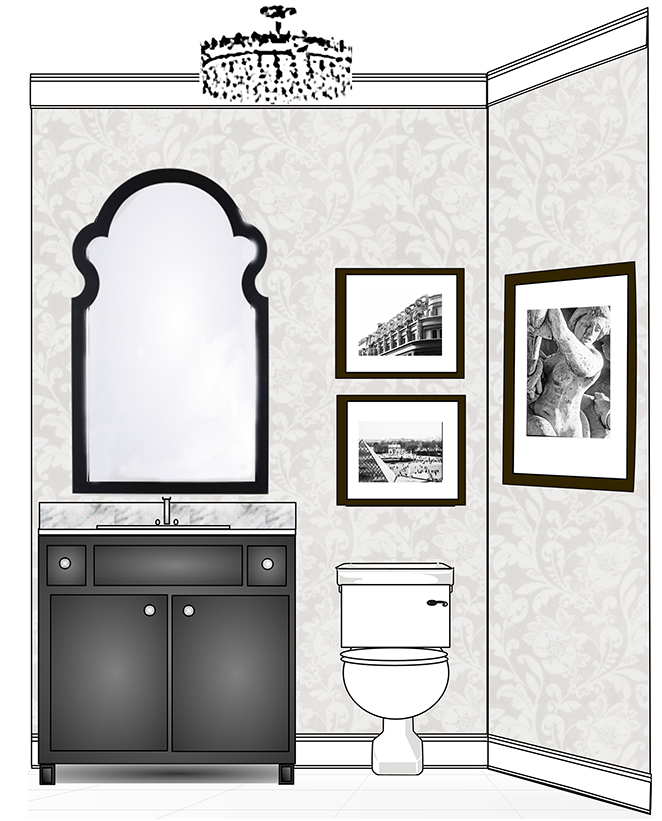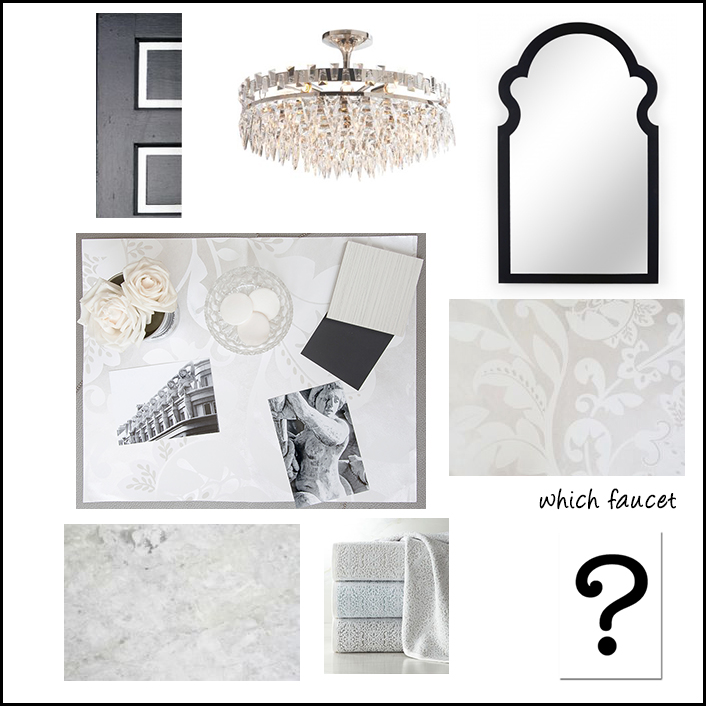 I found a wonderful mirror from Chelsea House Jagger in Black. It reminds of the deco period that I really love from France.
I'm going with a white porcelain vertical grain tile for the floor. Porcelain is kid-friendly.
For the walls, a washable wallcovering in shades of white pattern Liverotte – Pearl from Thibaut's Anne French Collection.
To add glamour, this cut glass trillion semi flush pendant from Circa lighting.
A black cabinet with white striping is being custom made for the bathroom as well to give the room a more dramatic feel.
Quartzite counter will provide a more durable surface but give the feel of marble.
More of the inspiration on pinterest…
So which one would you choose?
Here are the three fabulous faucets by Moen. I can't decide which to use and I need your help.
I like how the traditional curves of the Waterhill faucet complement the graphic floral wallpaper.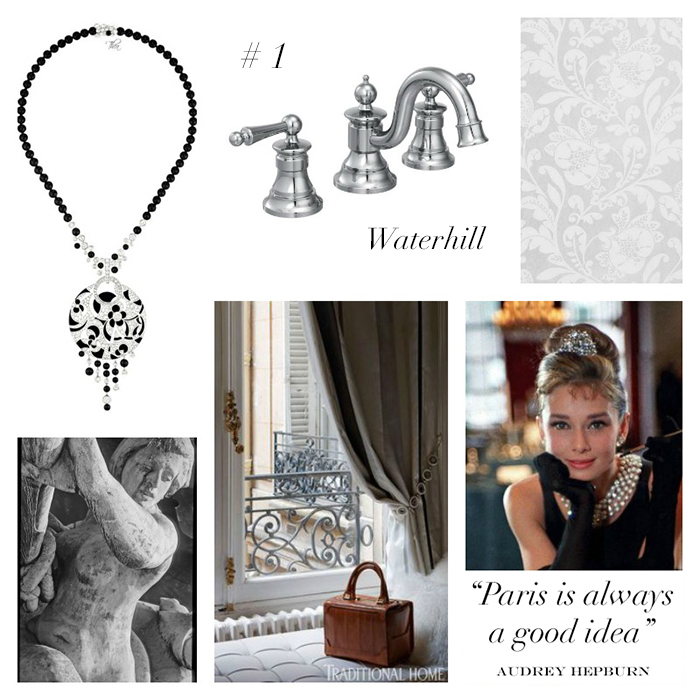 photo credits – Chanel | Traditional Home | Audrey Hepburn
Yet the sleek lines of the 90 Degree collection would beautifully accentuate the dark custom cabinetry and veined tile.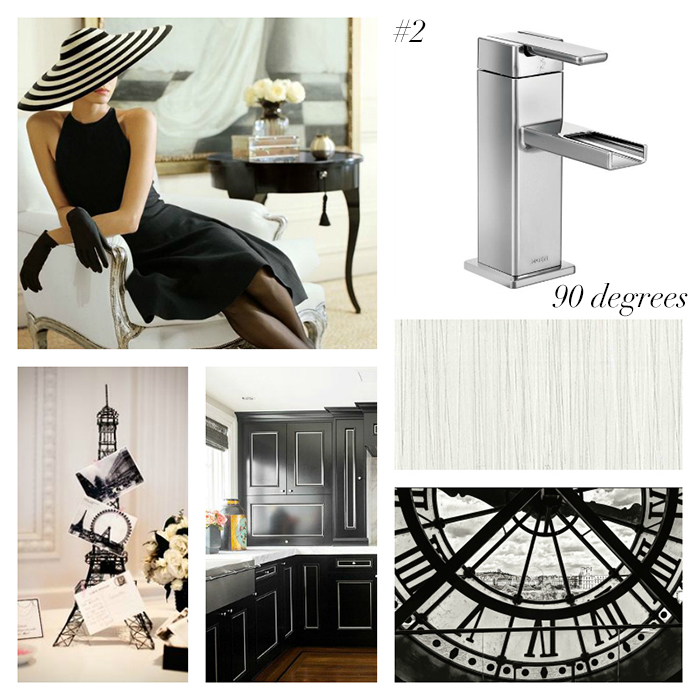 photo credits – Ralph Lauren | Everything Fab | Traditional Home
Then again, the transitional Felicity fixture offers sweeping geometry to bridge both styles and echo the prism lighting and curved mirror.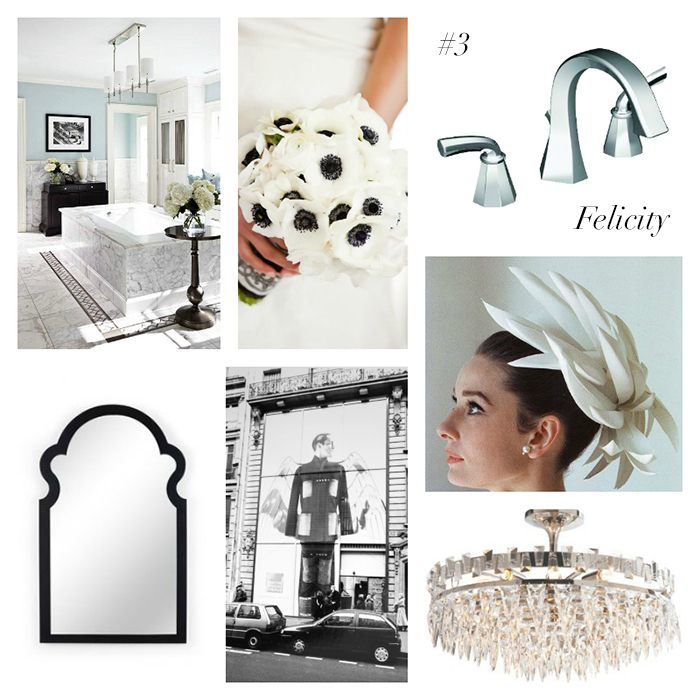 photo credits – Traditional Home | Weddings Unveiled | Audrey Hepburn
Voting closed at the end of the day on July 17th
The winning Moen faucet is
Waterhill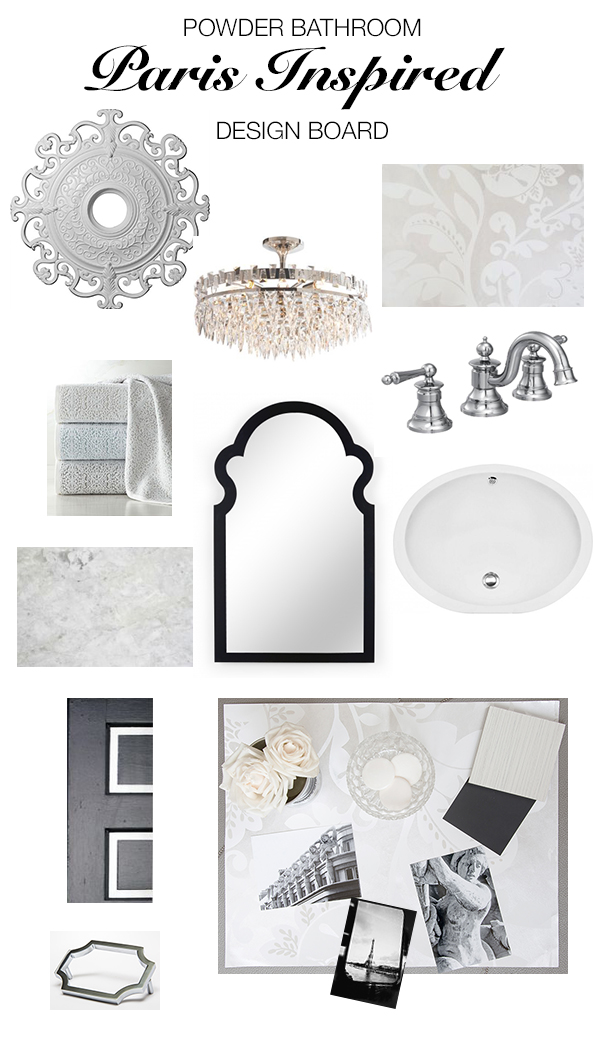 As part of my 10 giveaways for 10 years of business this year one lucky winner who enters their name and email will get their choice of two of my husband's prints for themselves.
To see the winning post and who our lucky winner was click on this link!
Check out the complete bathroom makeover by clicking here… 
Look forward to seeing what you choose!
Happy Everything! Karen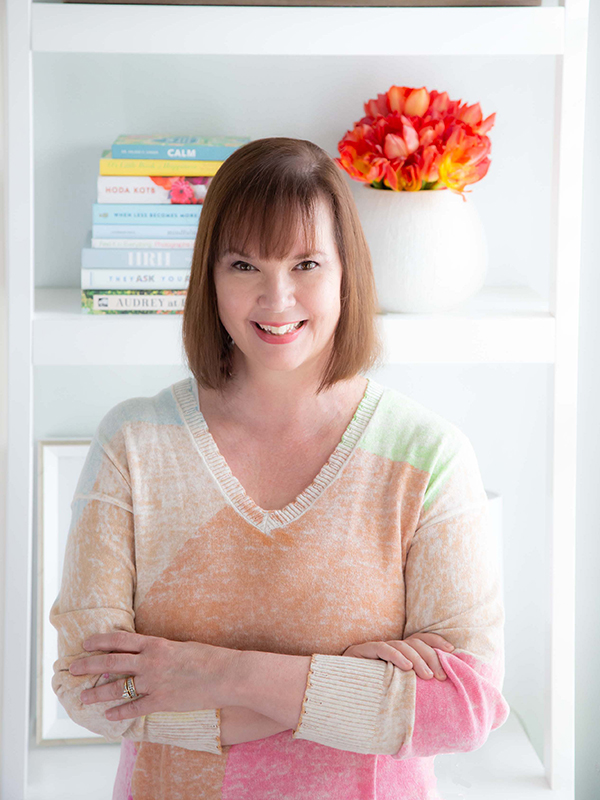 Imagine walking into your living room to find your two-year-old covered in marker along with your beautiful ottoman! I learned that lesson the hard way and redesigned our home around the family's lifestyle. I am committed to bringing you the very best of what I'm living and learning, as well as making it fun.
Our interior design services cater to your family's real-life living.
Make Your Mark University
Are you an Interior Designer ready to "Make Your Mark" in your business? With 15 years of experience running my own firm, I will teach you how to grow a standout business that attracts ideal clients!