Marker Girl Makeover – Bathroom Retreat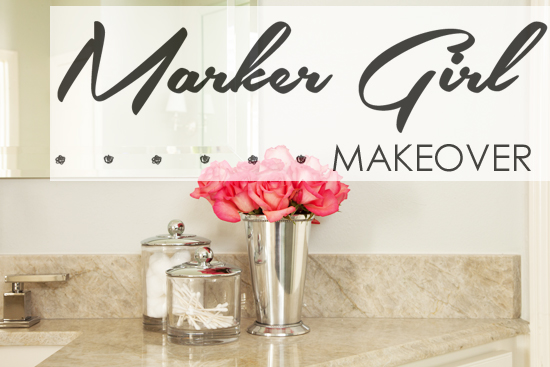 Concept
This Dramatic Bathroom makeover was for a Mom who wanted a big change from the original wallpaper that came with the house, to a new modern retreat she can relax in before and after work.
As you can see a real update was needed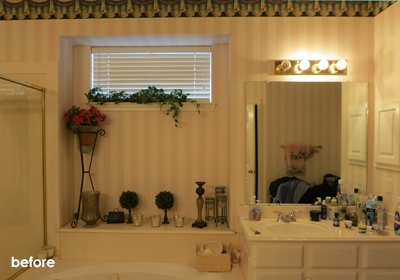 Storage
Starting with His Vanity – storage was his only request so we opted for drawers and used the vanity to full capacity. They are both very tall so long mirrors were added.
Tub
We added a larger tub and shorten the shower space a little. We put a curved shaped cornice inside the window to camouflage the odd placement. It was built that way to give them privacy but still lets daylight in. So we added artwork underneath to give some color and break up the large space between and not too low since it is a wet area. Molding was added to the tub surround to give it a finished look.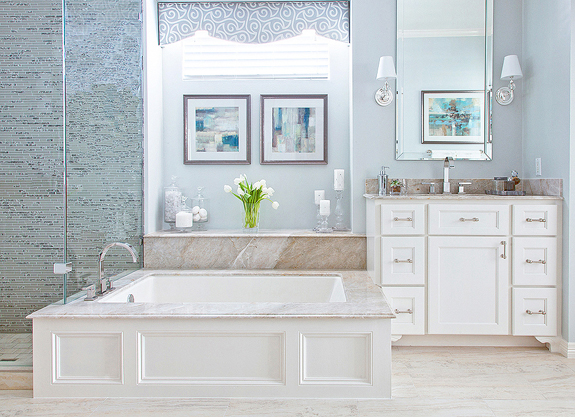 Shower
To save a little on budget we went with a mosaic on one wall only in the shower and then took the floor tile all the up the other side. Mosaic can be expensive. But with the layout it really turned out well creating a nice break with neutral porcelain vein cut tile and quartzite surfaces. Frameless glass was added to open up the room.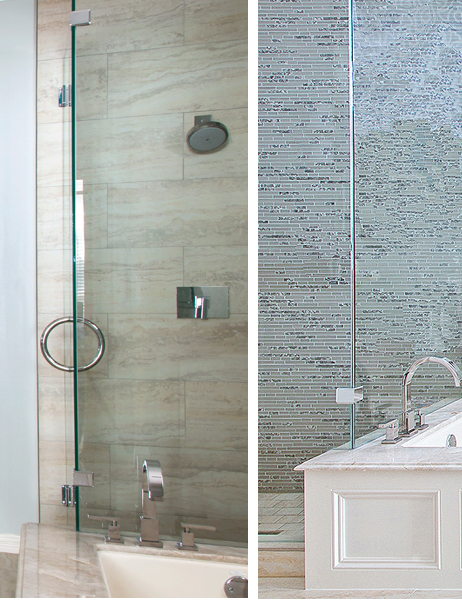 Her Vanity Before
She also had storage issues with her vanity area and wanted the same shape|style vanity stool and of course no carpet, again came with the house.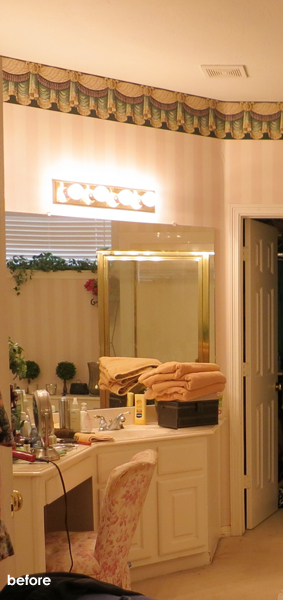 Her Vanity After
The sink side of the vanity is now built in with extra storage, we opened the cabinets a bit to also give more room for storage. The original sink area was too low. She is very tall so we raised the height of the sink and then stepped down the vanity. She wanted a makeup mirror to put on makeup while sitting, so the mirror not being lower wasn't a problem. Her vanity stool was reupolstered in a durable fabric, working better for a bathroom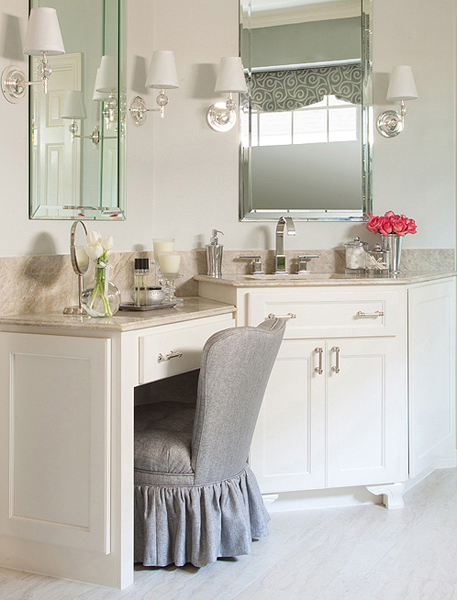 Not only was this made to be a retreat but it was custom made to function for her and her husband. Bathrooms are one those spaces I feel first you should really look at the function, then let it be about the style with beautiful tile and cabinetry.
Happy Everything!
Karen
………………………………………………………………………………………………………
Have you signed up for our free guide the 7 Easy Steps to Decorating Any Room? Just enter your name and email to the right of this post.. To get your Free Guide!
If you need help with creating a home you absolutely love, go to www.markergirlhome.com to find out more about our design services.
…………………………………………………………………………………………………………….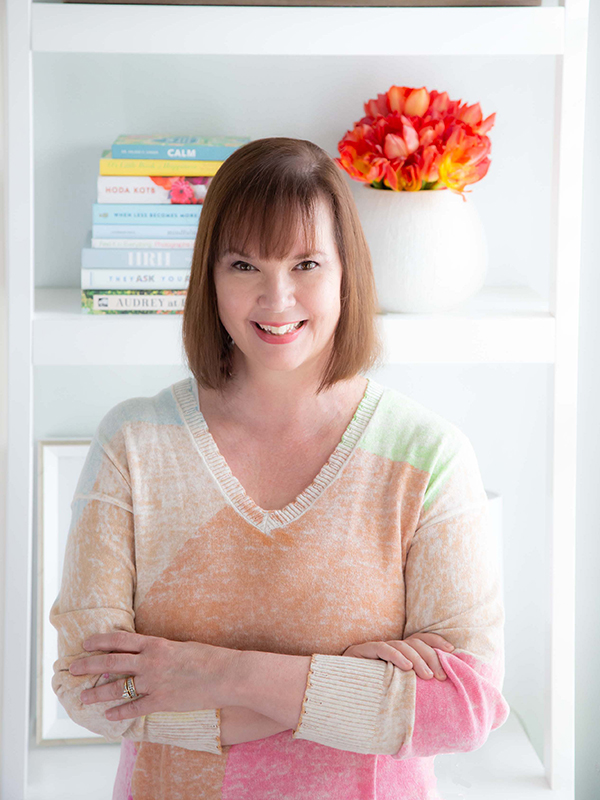 Imagine walking into your living room to find your two-year-old covered in marker along with your beautiful ottoman! I learned that lesson the hard way and redesigned our home around the family's lifestyle. I am committed to bringing you the very best of what I'm living and learning, as well as making it fun.
Our interior design services cater to your family's real-life living.
Get your guide to decorating a family-friendly home!
Karen shares with you her best design advice on how she creates beautiful family-friendly spaces with her clients.