Mixing Traditional Furniture and Modern Décor – A Townhome Makeover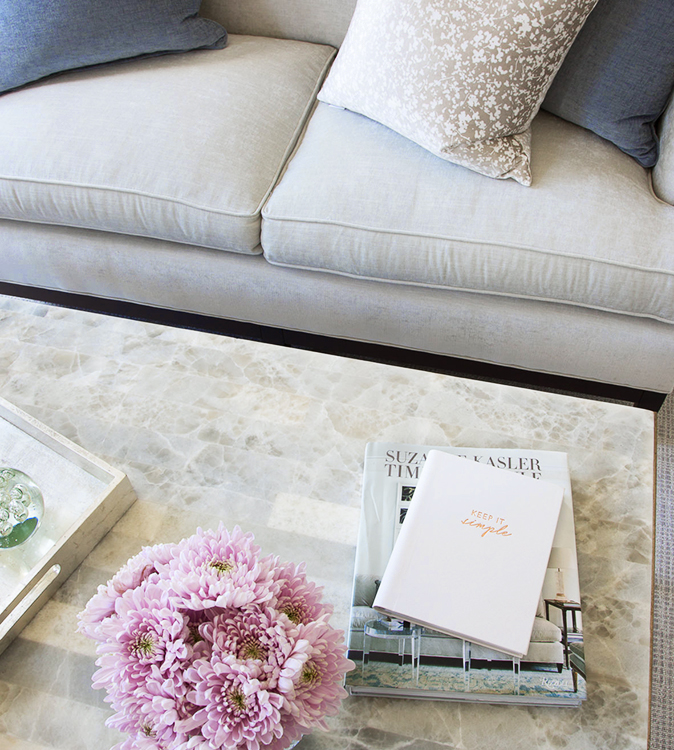 A common problem I find when working with married couples is their preference for different styles. This home was just that, he loves modern, and she loves her collections of antique pieces and art. Being a newly married couple they were struggling finding their style together. I was hired to work on 2 areas – the Living Room and Master Bedroom. Here is how I created their style.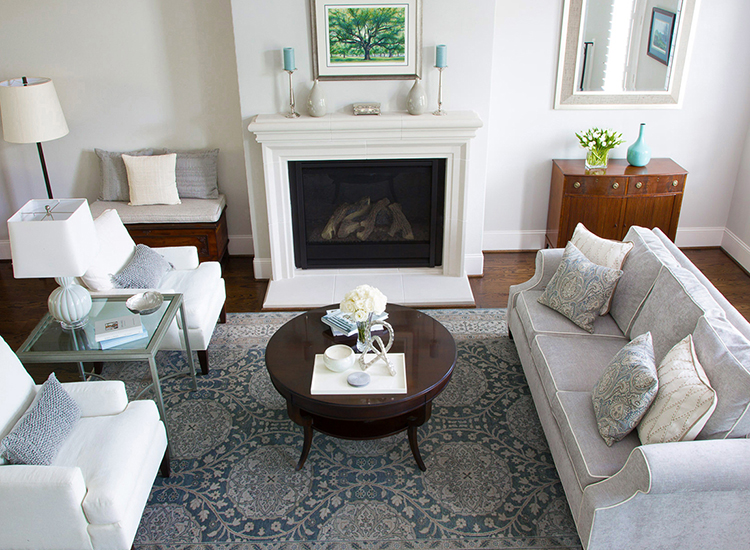 Living Room
She wanted to use a couple of family antique pieces along with her current artwork. He wanted modern furniture to create the sitting area. We went with cleaner lines in custom upholstery and a more traditional custom rug and pillows to tie into the traditional look from the antiques including a round coffee table from Sherrill Furniture. Then I added a modern side table from Vanguard Furniture to give the Living Room a New Traditional style.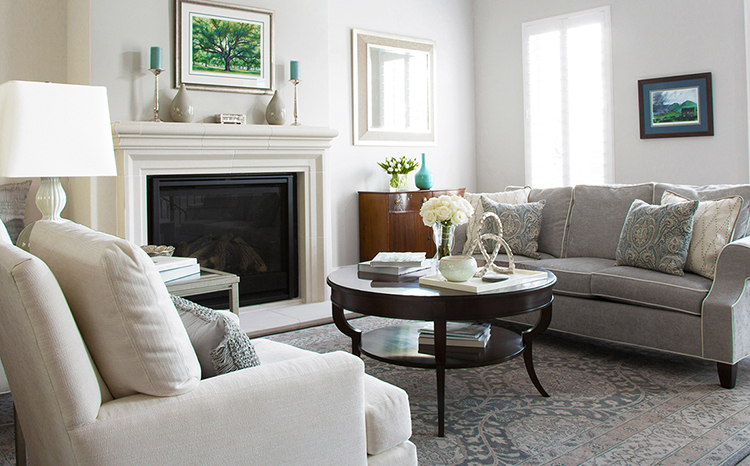 With her art collections being mostly small scale pieces, yet the walls being a bit taller, I opted to add a very large-scale mirror to give more balance and open up the narrow space.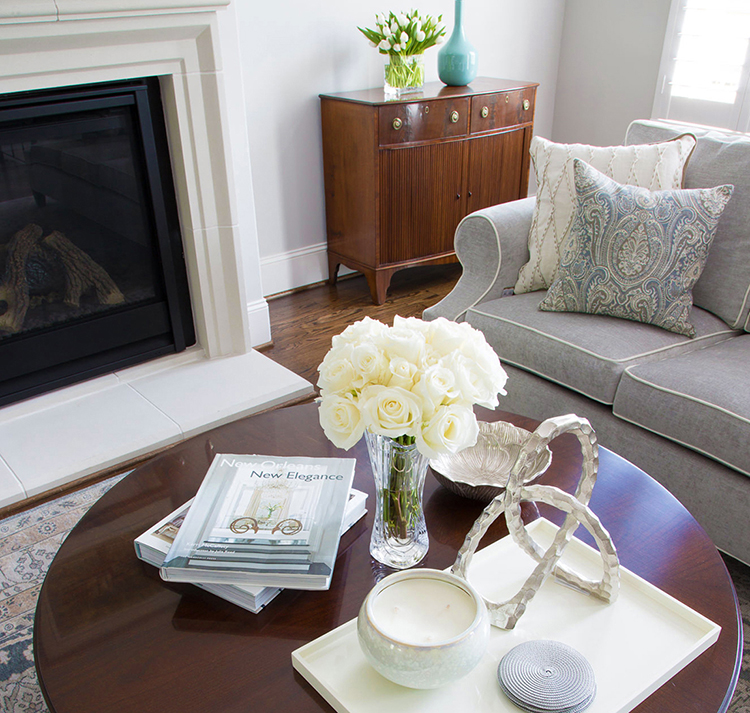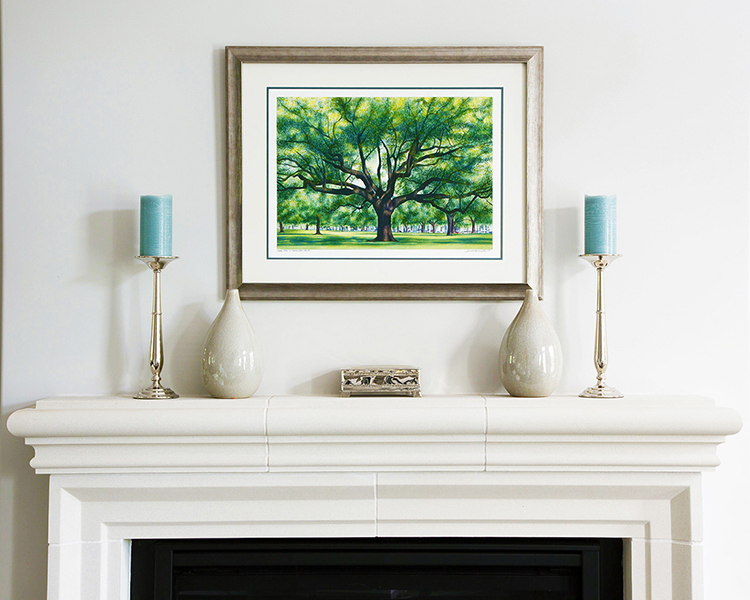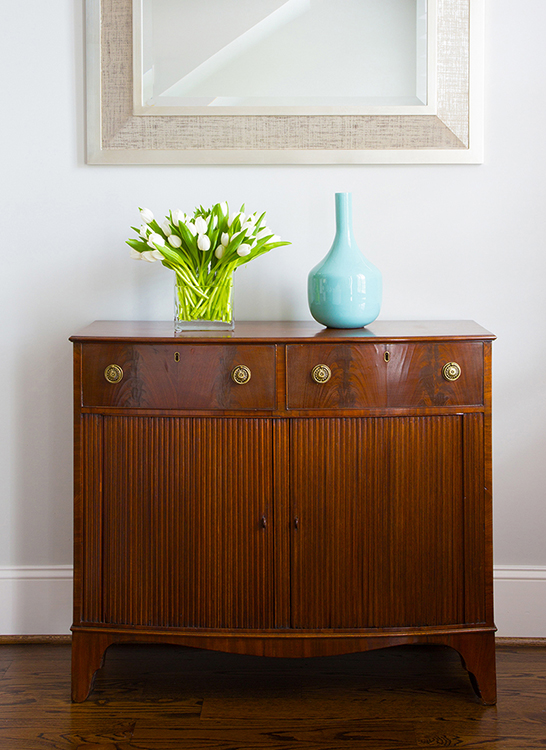 When working with the accessories, I added more modern pieces to give the space an updated look.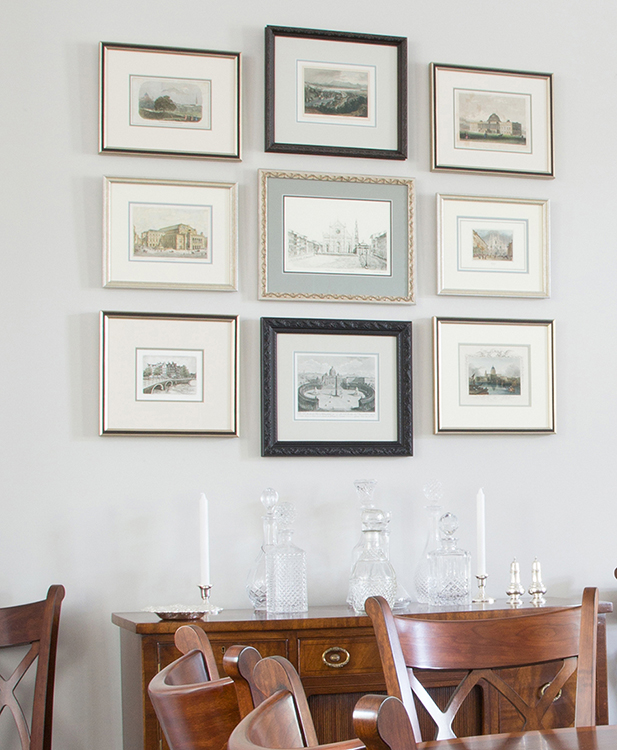 The Dining Room is right next to the Living Room and they opted to keep her old dining table and buffet and bought new chairs to go with it. I worked on a wall gallery of only landscape drawings, these are what she has collected from places she has traveled to. I opted to give the frames a more modern and cohesive look by reframing and re-matting most of them. She wants to add on to it as they travel to more places together.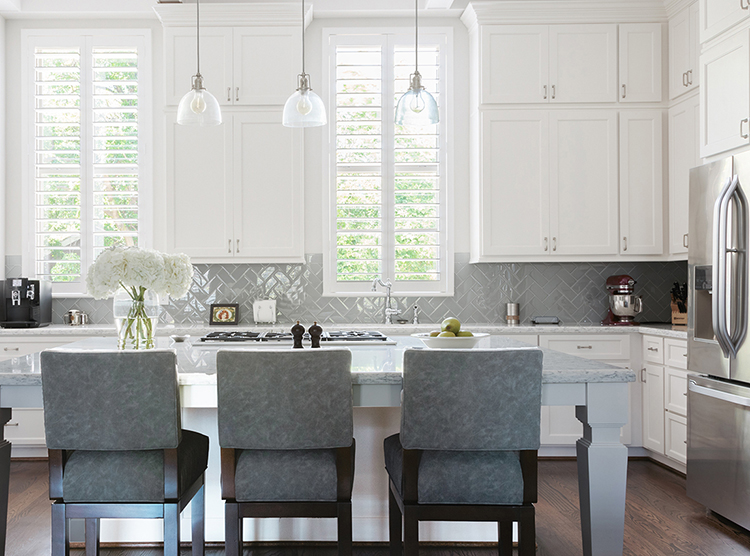 I also added more transitional styled barstools to the Kitchen area which is at the end of this level of the townhome from the Living Room/Dining Room. They opted to have the builder create a modern feel with tile and simple white cabinets. I felt they should add light fixtures that were not too modern yet simple to help maintain the style of the overall area.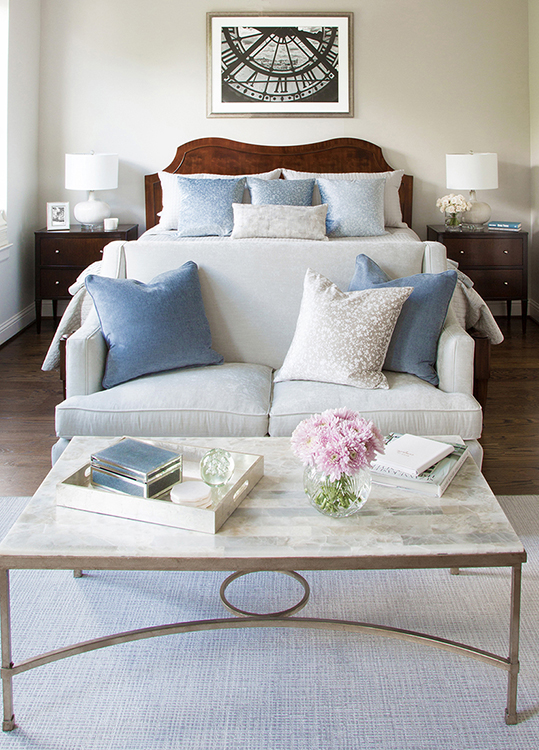 Master Bedroom
The next floor is the Master Suite. She wanted new wood pieces that felt similar to her antiques. This bed by Harden and nightstands by Woodbridge furniture fit in just right. I added a small custom loveseat for her to sit in and relax to watch TV or just read. Then I added a more modern onyx top coffee table from Sherrill Furniture to bring his style into the room with contemporary simple bedding. I had carpet bound with a modern texture to put under the custom loveseat. She actually has asthma so drapes and rug under the bed were not really an option.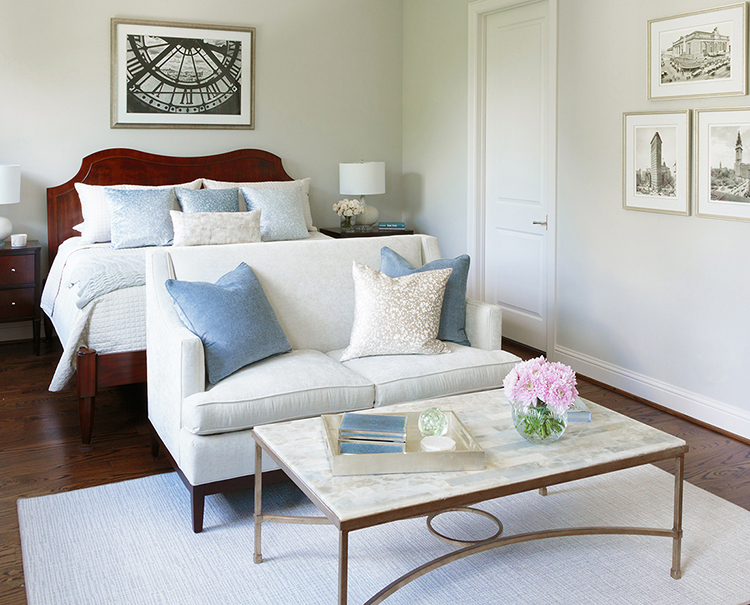 With their love of travel, they bought this print of the clock in the Musee d'Orsay from my husband's photo collection, a favorite place they visit. I added in prints from the husband's collection of New York City sketches where he previously lived. I love showcasing items that really remind homeowners of happy times.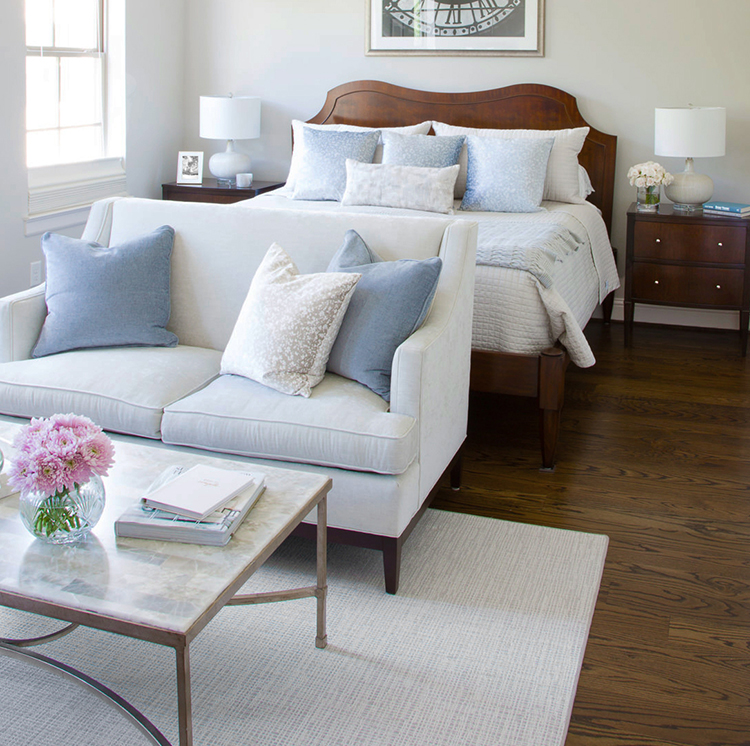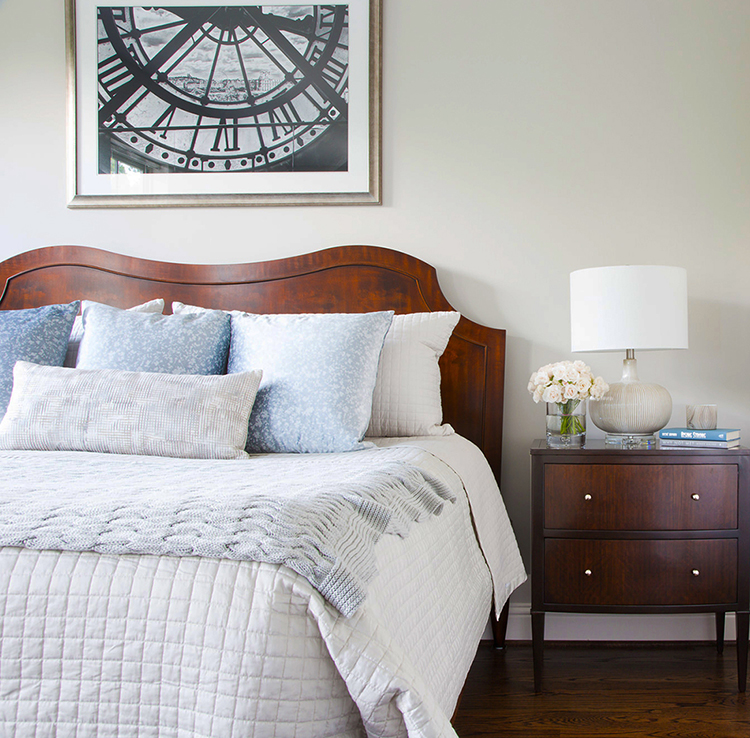 I used simple small lamps and a few accessories, including pillows to finish off the space. What a great home I enjoyed working on – to create a style that my clients can enjoy. And what great clients to work with too!
The entire townhome was painted in Sherwin Williams Repose Gray
Happy Everything! Karen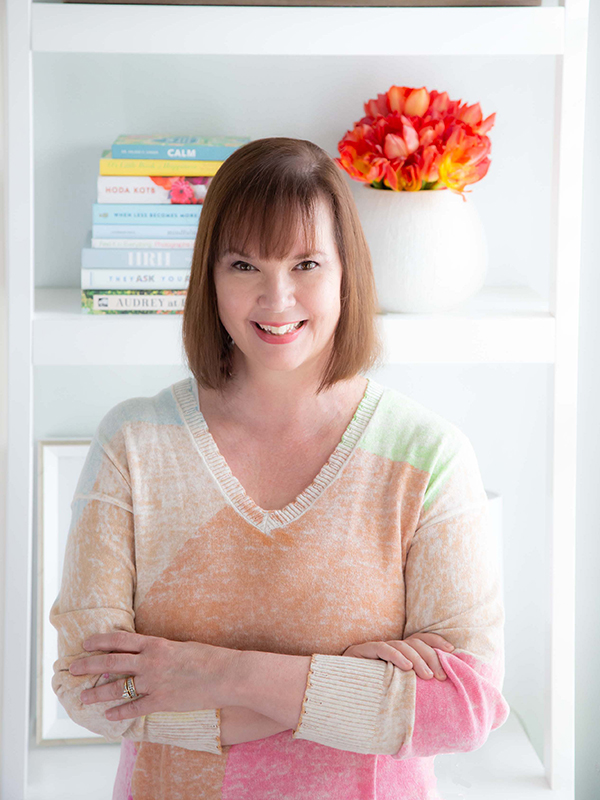 Imagine walking into your living room to find your two-year-old covered in marker along with your beautiful ottoman! I learned that lesson the hard way and redesigned our home around the family's lifestyle. I am committed to bringing you the very best of what I'm living and learning, as well as making it fun.
Our interior design services cater to your family's real-life living.
Make Your Mark University
Are you an Interior Designer ready to "Make Your Mark" in your business? With 15 years of experience running my own firm, I will teach you how to grow a standout business that attracts ideal clients!