How to Decorate with Photos
I am in the process of hanging photos around my home. You see my husband Richard loves photography call it a hobby but I consider it his passion besides me of course! I feel photos can really tell the story of who you are and can be great to use as art. It is a big thing in my home.
When decorating with photos I do feel people tend to get lost in the choices of how and what to do.. Some tend to feel obligated and use only frames that are given as gifts, or display and hang every picture ever taken of their family. It is the simplicity of how you show photos that is the key to good decorating. Try to keep the frames in the same material like wood or metal and in a similar color or finish. Narrow down your photos or switch them out so that you see and enjoy the photo.
Always layout your photos first on the floor starting from the center. I have several layout ideas on my pinterest board if you are trying to find an idea.. And have few here. My recommendation for spacing is 2-3 inches apart. But it should be what is pleasing to your eye.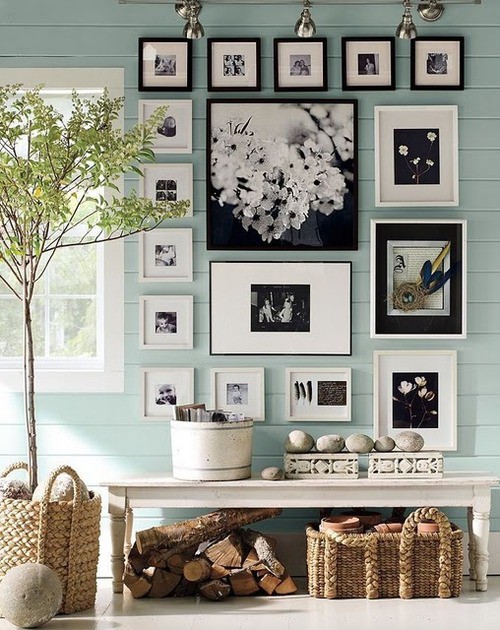 Pottery Barn
Consider furniture under your photos as one way to highlight a photo gallery keep it close to the piece so it feels more balanced.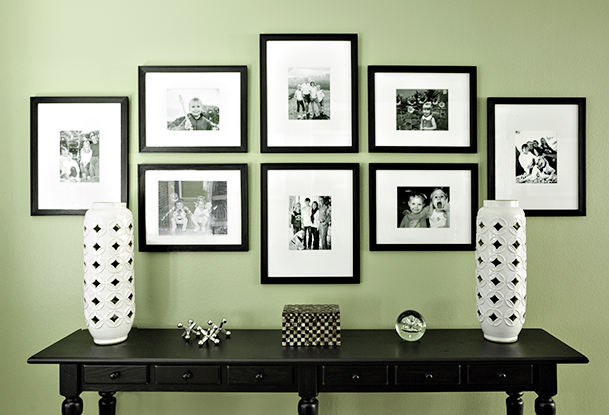 Marker Girl Home
Or use your Instagram photos to make a great wall story…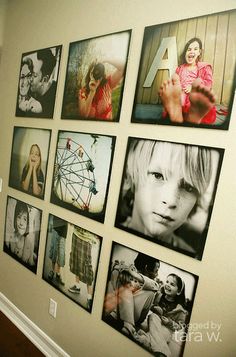 Tara Whitney
Designed Photos are excellent for a more formal look. Finding a color story or theme to make your grouping more interesting-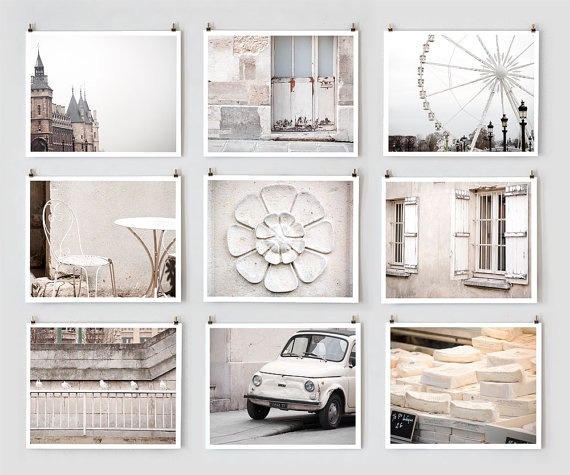 Etsy – The Paris Print Shop
A photo sectioned to create art in a space is also a great way to show it off…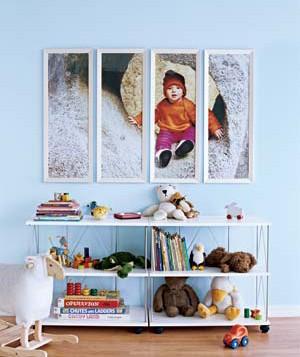 Real Simple
Hanging photos on the wall and leaving a few below on display another great option.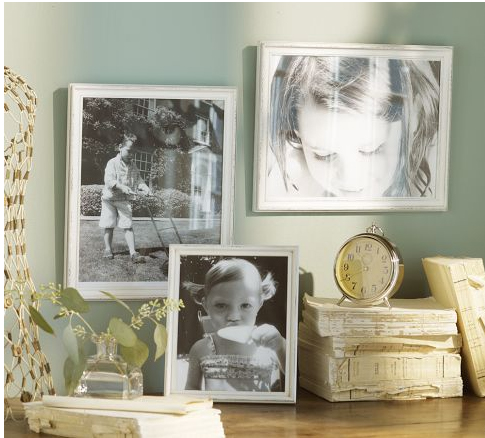 Photo from Pottery Barn
When using a bookcase varying them up on the shelves with other accessories is always best. It really showcases the photos and doesn't look cluttered.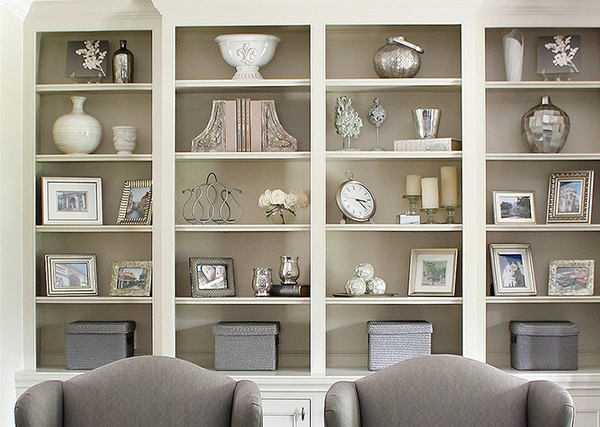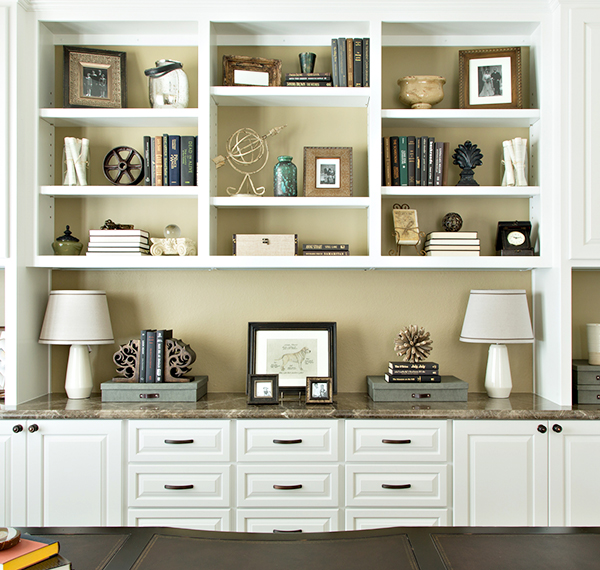 Marker Girl Home
This is also a great reference on how to create a wall gallery with your photos…from BHG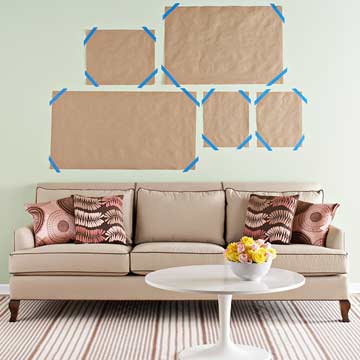 Whatever you decide have fun with it – show who you are with them!
Happy Everything!
Karen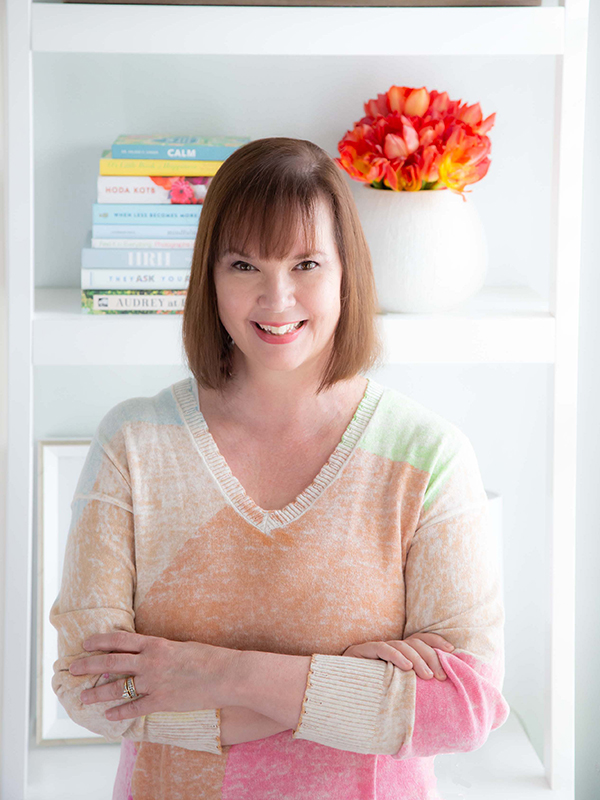 Imagine walking into your living room to find your two-year-old covered in marker along with your beautiful ottoman! I learned that lesson the hard way and redesigned our home around the family's lifestyle. I am committed to bringing you the very best of what I'm living and learning, as well as making it fun.
Our interior design services cater to your family's real-life living.
Make Your Mark University
Are you an Interior Designer ready to "Make Your Mark" in your business? With 15 years of experience running my own firm, I will teach you how to grow a standout business that attracts ideal clients!