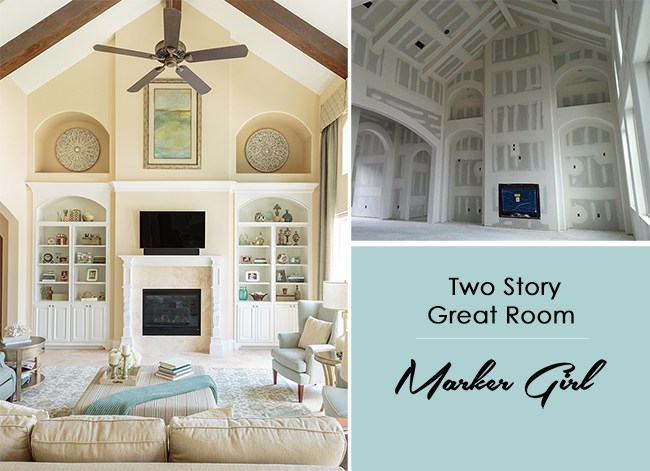 I will be featuring each week parts of a project that I was privileged to be involved with this past year. It was designed for a family of four. A new construction home built by Tommy Bailey Homes for a Mom and Dad on-the-go with two young children. It is a two-story home. In Houston a lot of our family rooms are built to show the height of these grand rooms, but for a designer it can be tricky to work with a wall this big so I thought I would share with you how I tackled that and how I decorated the room.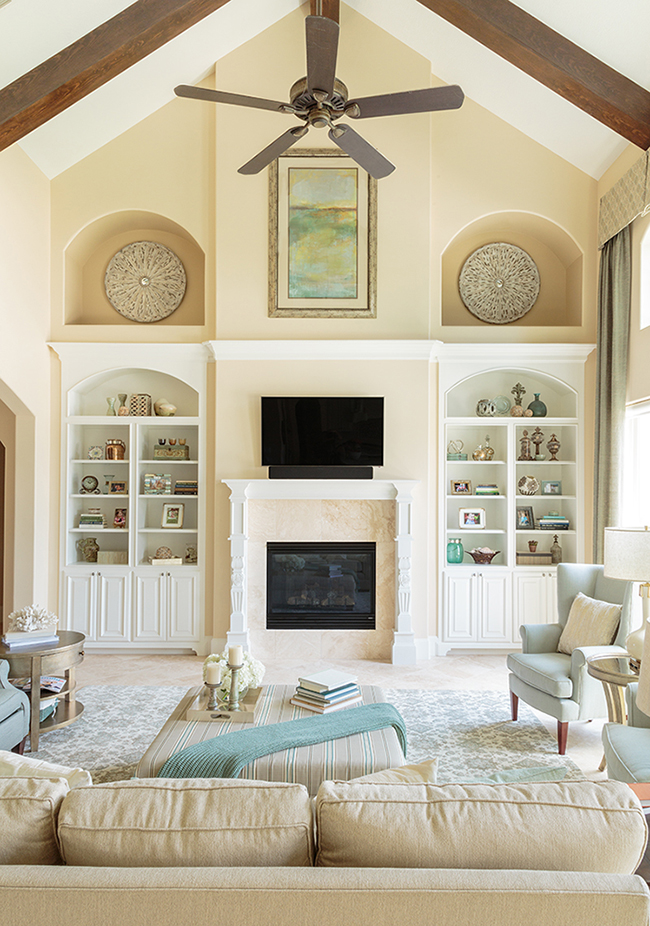 When I arrived and photographed the wall during construction; it took a little time to figure out how to bring the room in but not ignore the grandness of the space. So I proposed to put moldings on all three sections to divide the wall so art could be placed on top and the bookcases on the bottom. The builder already had deep niches, I chose to de-emphasize them and place art plaques inside keeping it soft and simple. I had an art print custom printed to a larger size to fit the wall creating a focal point. I added a gold frame with bronze highlights to balance in with the wood beams and some of the gold finishes in the space.  I went with slightly smaller accessories and displayed family photos throughout the bookcases. I opted for smaller to let the art up top be the main focus when you walk into the family room from the kitchen area. (This allows the TV to just be there but not the main focus when it is not on)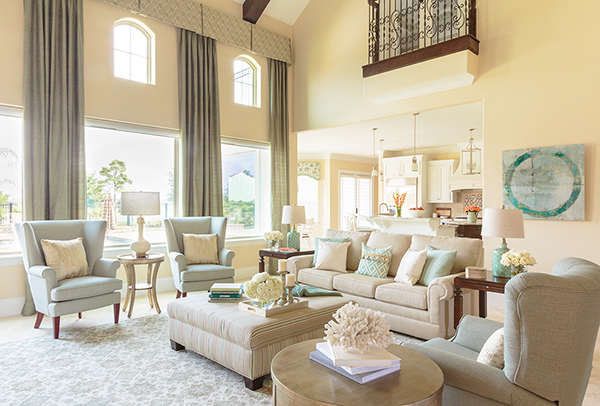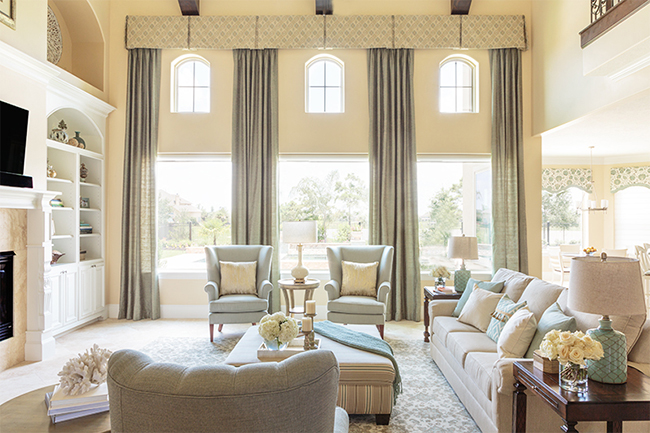 The sofa is from Kincaid and chairs are from CR Laine. The ottoman was custom made to fit the space. The rug is a patterned carpet that is bound to fit the seating area and is a stain master carpet by Masland. The drapery softens the walls but doesn't hide the view of the pool and lake area. I kept it soft and relaxing with the colors and textures. The walls are a soft cream.. Sherwin Williams Irish Cream 7537.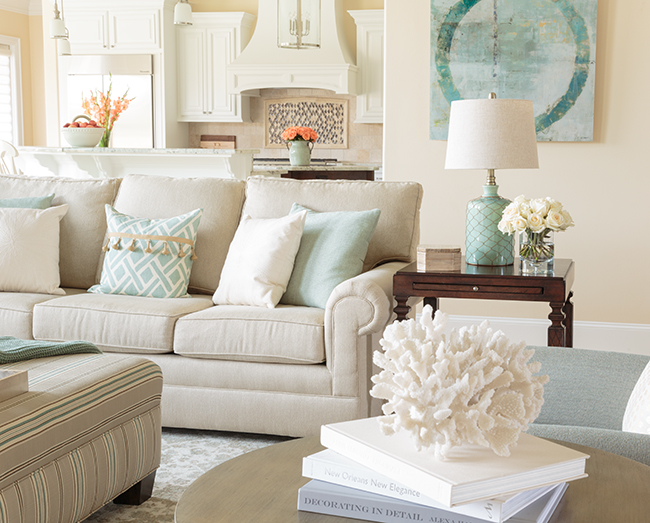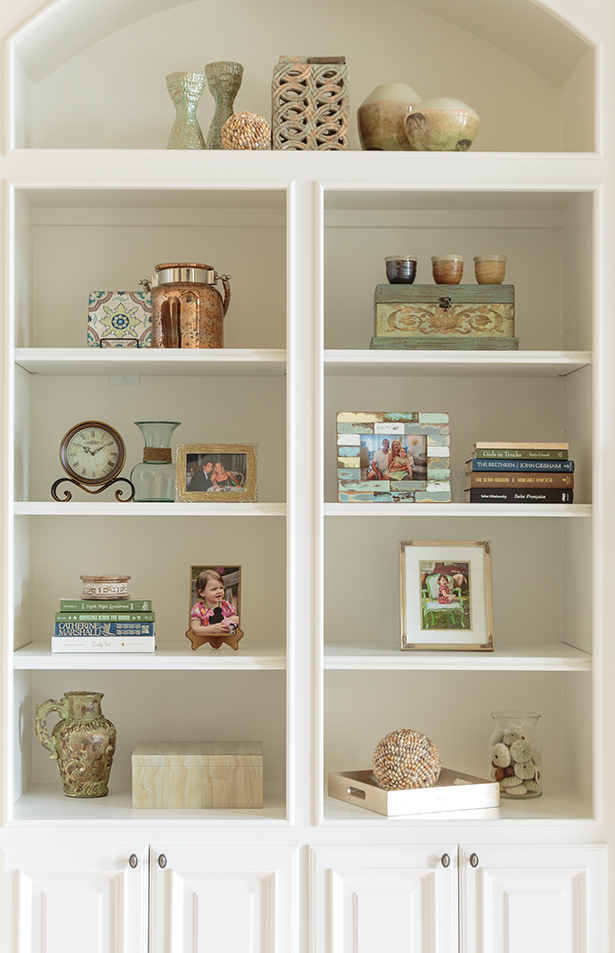 They love the beach so I incorporated colors and few accessories to bring it in throughout the space.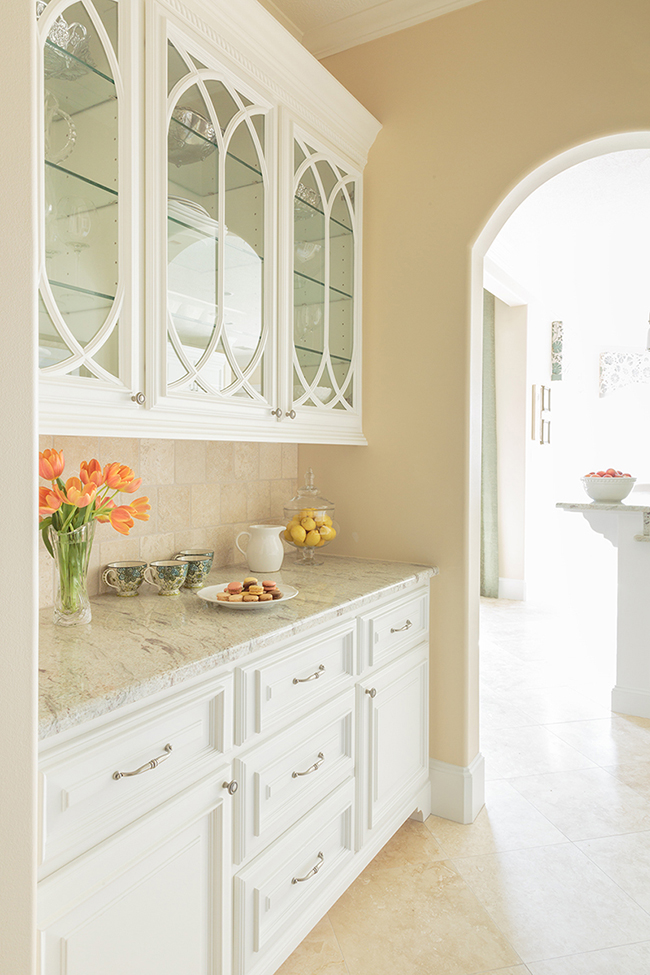 Behind the wall in the family room is a beautiful butler's pantry where custom cabinetry was built and a granite counter. I really like the simple clean look of it.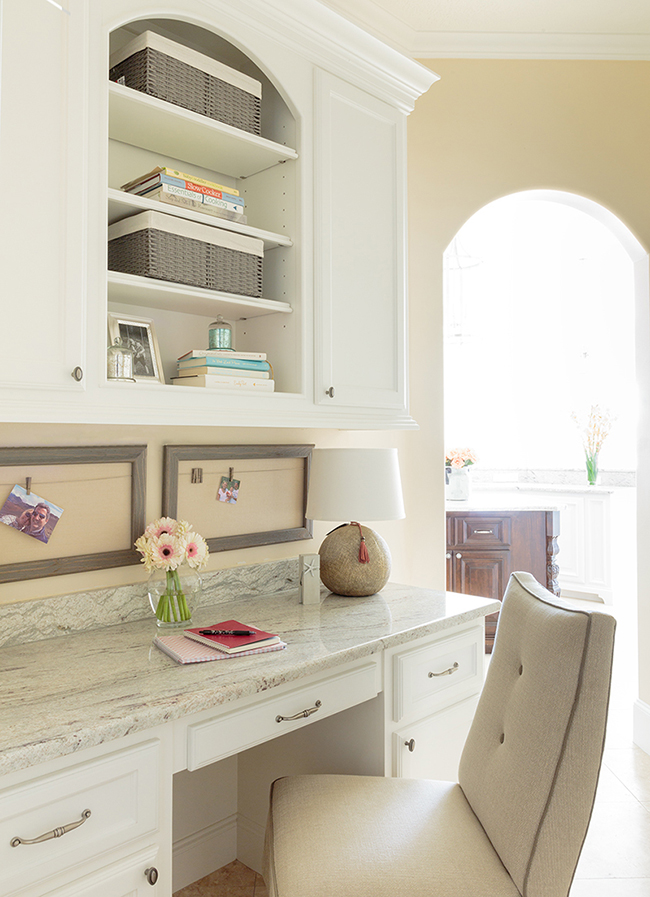 Then we had to have an area that I call "Mom Central". Every mom needs a place where she can sit and get things done while trying keep up with dinner and the kids.
Stayed Tuned next week will be featuring Mom's Retreat the Master Bath and Bedroom.
Happy Everything!
Karen