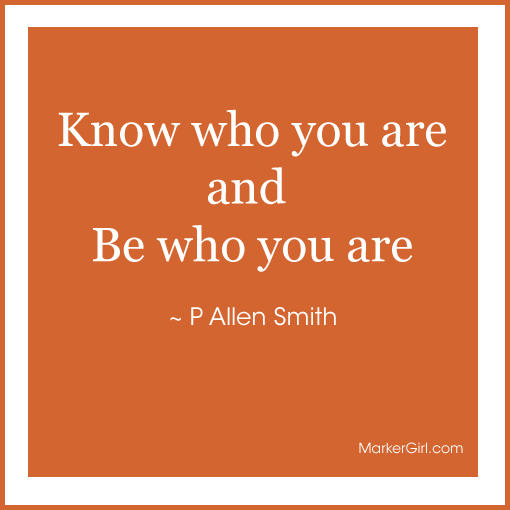 I had a wonderful time in Arkansas at Tobi Fairley's Mastermind. I am in her fabulous Deluxe program and for our lunch break we got to take a long lunch break at P. Allen Smith's Moss Mountain Farm. Just have to share with you some of my favorite photos from the day.. And the quote above is something he said to us at lunch that so resonates with me right now as I am working on things for myself and business.
Just a little background on P. Allen Smith – P. Allen Smith is an award-winning designer, gardening and lifestyle expert. He is the host of two public television programs, P. Allen Smith's Garden Home, P. Allen Smith's Garden to Table and the syndicated 30-minute show P. Allen Smith Gardens. Smith is one of America's most recognized and respected garden and design experts.
P. Allen Smith's Garden Home Retreat overlooks the Arkansas River Valley, the Garden Home Retreat encompasses more than 500 acres of a farm dating back to 1840. The centerpiece is the cottage, built in the American Greek Revival style. Directly behind the cottage is the croquet lawn, which is framed by a summer kitchen and art studio.  Beyond the flower gardens are orchards filled with heritage apple trees, stone fruit and blueberries, acre vegetable gardens, a bluebird trail, wildflower fields and a daffodil hill, which overflows with more than 275,000 daffodils blooming each spring. Various outbuildings, from barns to mobile chicken homes, are located throughout the grounds and surrounding pastures.
We were also given a fabulous tour of his home such a great mix of fine antiques and new custom furnishings. It is set up for entertaining lots of people and a great showcase of all he has collected, each piece has a story behind it and is truly a reflection of who he is gracious and fun.  Here is just a little of what I saw from my time there.
Front view of the main house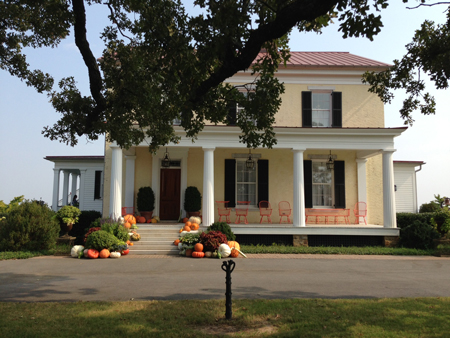 Front Living Room – he decorates seasonally with slipcovers, art and accessories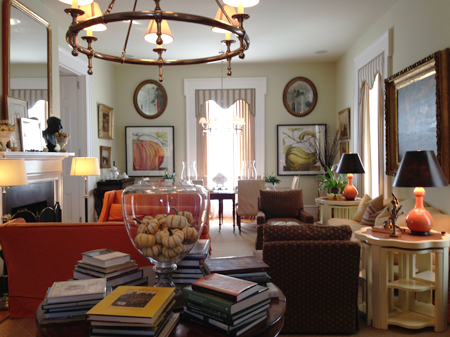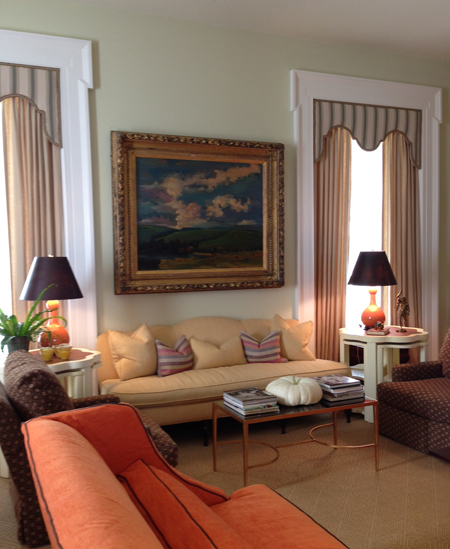 I love the story behind the cow picture to the right. Was just a post card he loved so he had it blown up to larger sized and framed it.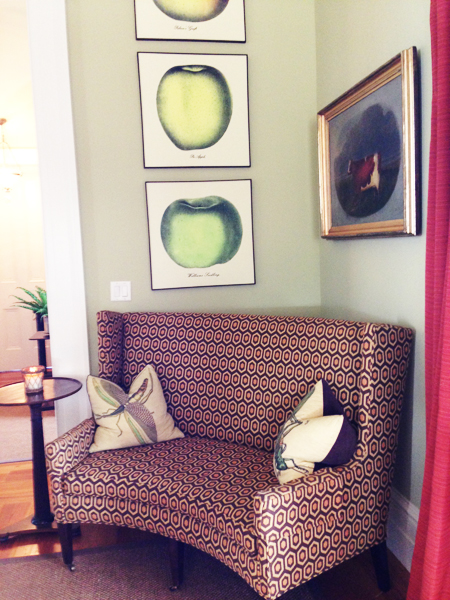 Right at the front door sits this chair which is just a ordinary desk chair that P Allen liked the shape of so he had a slipcover made to cover it, giving it a fresh new look.
Great idea with lighting in his Kitchen not having  the recessed cans most people use instead using fixtures.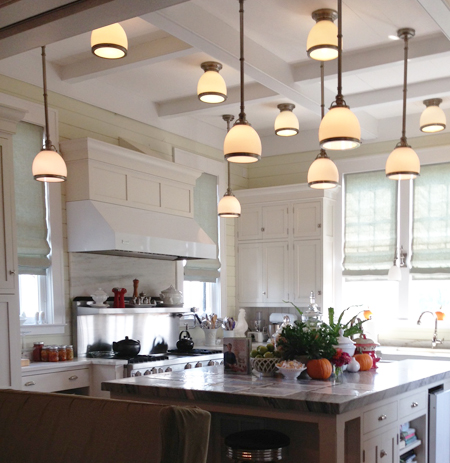 His back porch love the black details. Reminds me of my grandmother's old home such fun I had playing on…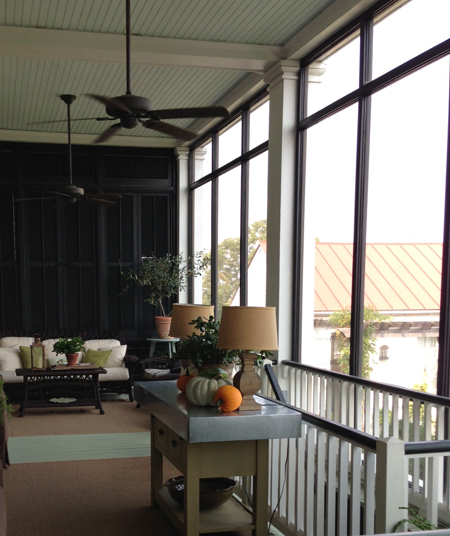 The view is just gorgeous…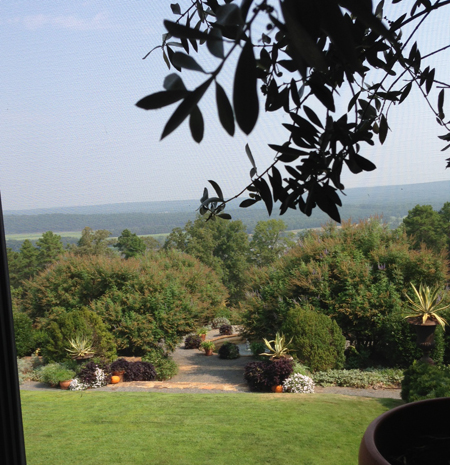 Upstairs was next a great large landing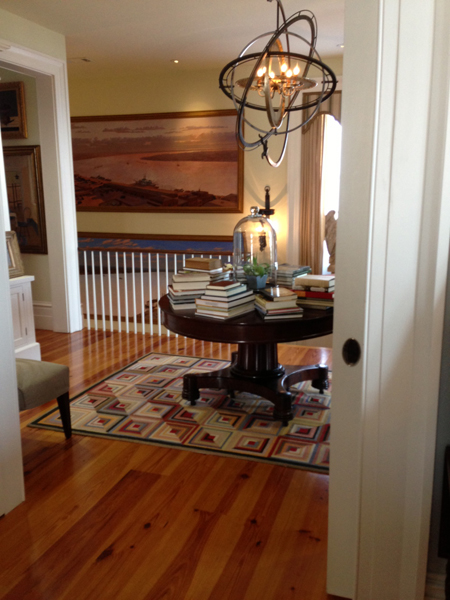 Guest Room done in shades of purple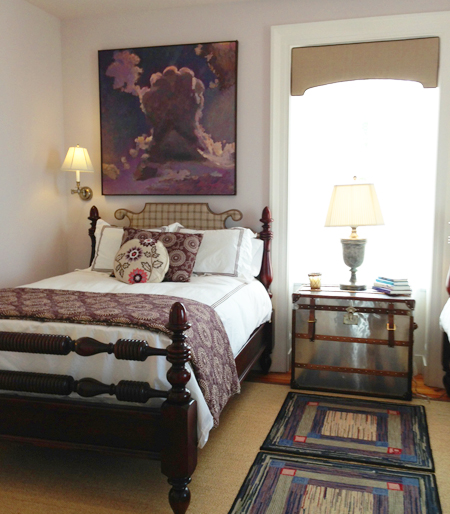 Right upstairs is an attic room intended for kids with fun details
This is where we all wanted to sleep, the second level back porch area converted in sleeping quarters with that beautiful view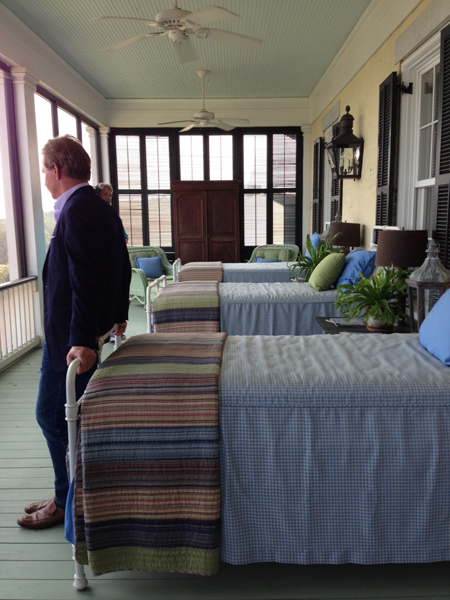 He gave us a tour of the garden around the house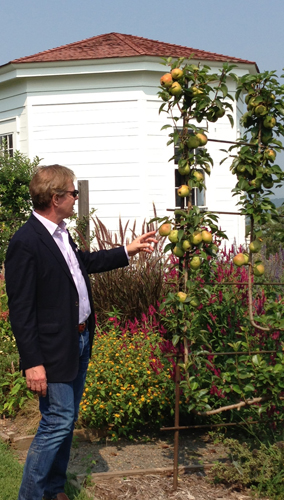 And then had a wonderful lunch fresh from the garden of course… And lucky me got to sit right across from him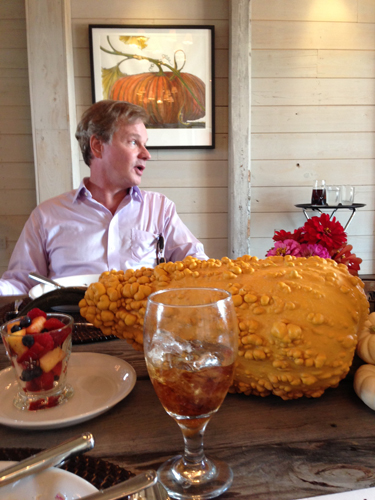 I can't thank P Allen Smith enough for taking time out for us to show his beautiful home and share a bit of business insight with us too. And of course as always a great mastermind week with Tobi Fairley.
Happy Everything!
Karen