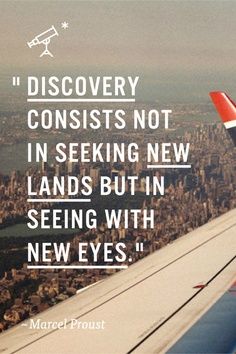 Just back from visiting my husband's family in England. Every year we try to mix it up a bit this year we wanted to take the kids to Paris where my husband and I lived for two years when we were first married. They are just at the right age to enjoy it now. I was tourist for the first time a very different way to see Paris for me after living there. Sharing with you a quick peek of what we saw.. My postcards to you all. Will share my England half tomorrow.
When we first arrived we were picked up by Jean Marie Ceccaldi. Our driver from when we lived there. We didn't have a car back then, no need for one with the great public transportation, but Jean Marie was ours when we needed rides to the airport or a day trip in France. He is so much fun and the kids had an adventure driving around the arc de triomphe… That is like being on a ride in Disneyland!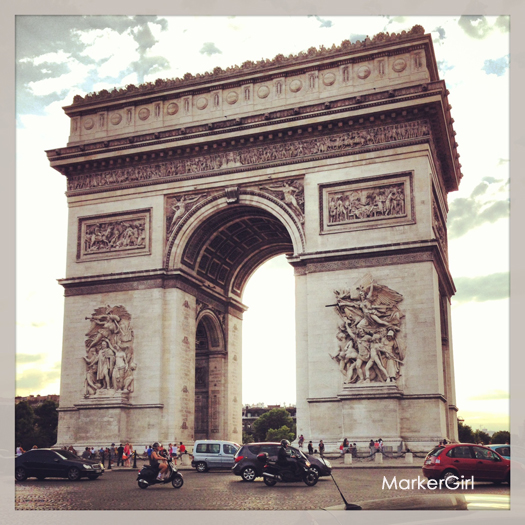 We stayed at the Hotel d'Orsay… Just two blocks from the Museum. I love this part of the city. We had a family suite you have to take stairs after the elevator to get to it. But it is worth it. Has a master bed with small children's area with a twin bed and cot. Not an easy find in Paris very few Hotels have rooms that fit more than 2 to 3. It has a 3 small balconies with fun views of the roof tops..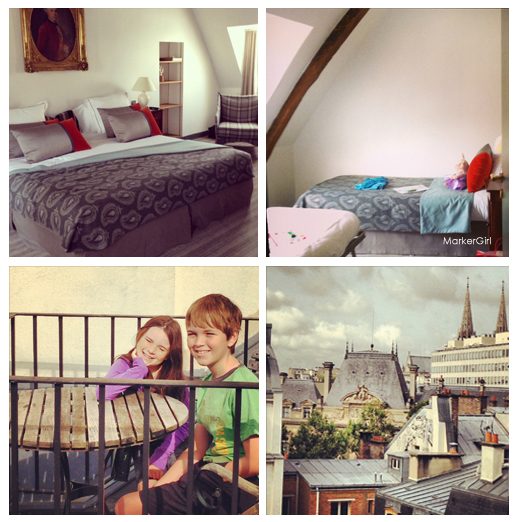 Also there are several antique and home stores around the corner in the 7th Arrondissement on Rue De Universite. The streets are beautiful and quiet around there as well.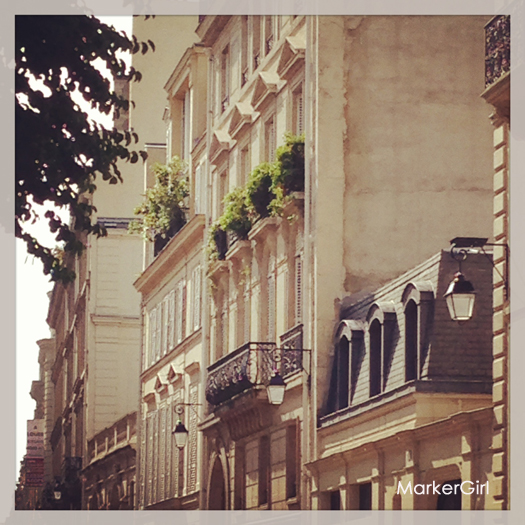 We started off seeing the Eiffel Tower and decided to give the kids a fun view from the little island that lies in the middle of the Siene where the Paris Statue of Liberty is.. The kids loved it. It is a great way to get a shot of it without all of the tourists, love the view with the metro line running in front of it…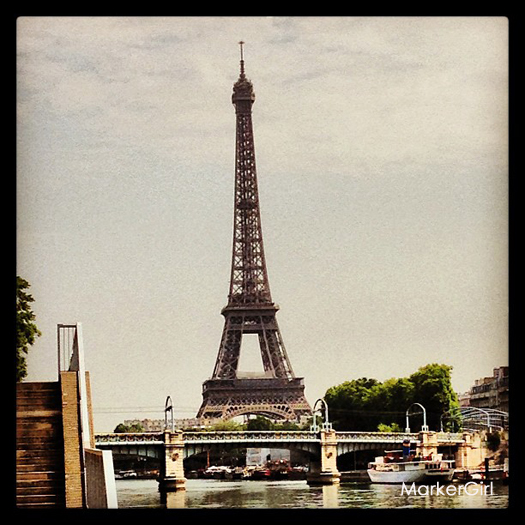 We then took them to the apartment where we use to live and had a little adventure with that, first while trying to photograph it we were stopped by a plain clothes policeman sitting in his car in front of the apartment. He is protecting supposedly France Telecom which is the building across from it. He found our story sweet that we were showing the kids the apartment. We then went into the Parc Andre Citroen where my old apartment sits it front of.. That area use to be the factory where they built the Citroen cars and they converted it into livable spaces. The second adventure was a balloon ride… They have had a hot air balloon for years there it is tethered and just goes up a bit, has a cage so the kids and my husband decided to go up. I opted to just watch.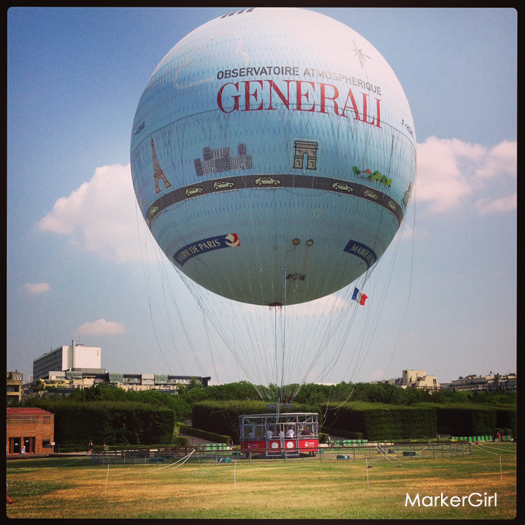 Next on our list was to see Notre Dame, here is my tip – see it at sunset, so beautiful – there is a viewing stand there and not as many people.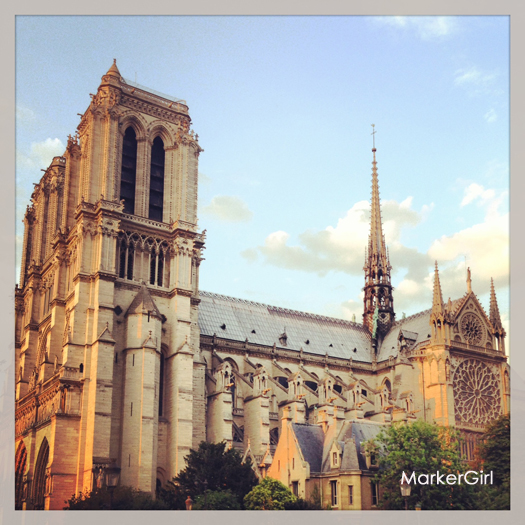 While walking around this area you will see locks on the bridges. Courting couples lock their love together for eternity by attaching it to the wrought-iron railings and throw the key in the Seine.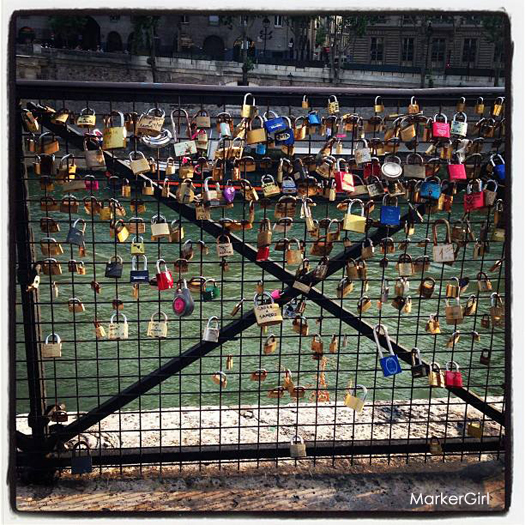 Museums were another check on the kids want to see list. They had to see the Mona Lisa and they were disappointed by the crowd and the lack of crowd control  (it is little and behind plexi glass) once they saw the little painting, they wanted to go. Like me they like the Musee d'Orsay much better and really like the pyramid in the Louvre!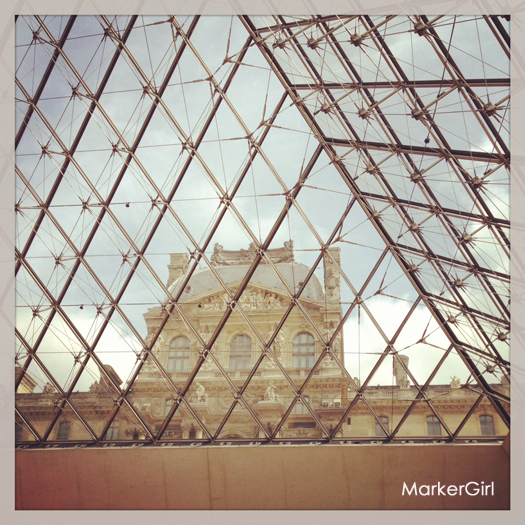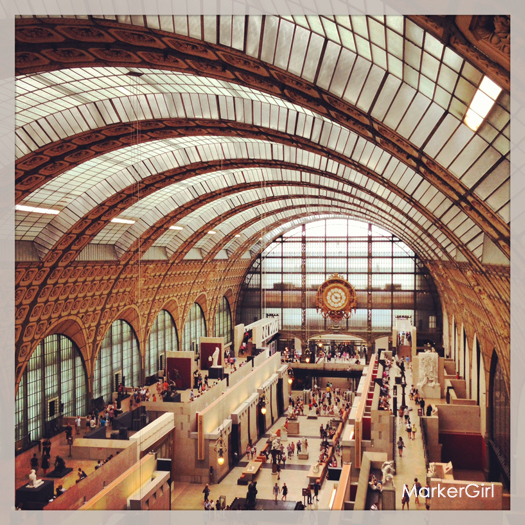 Then the final stop was for Me! Galleries Lafayette the Department Store so beautiful and a girls got to shop. There is also a great viewing area all the way at the top of the city.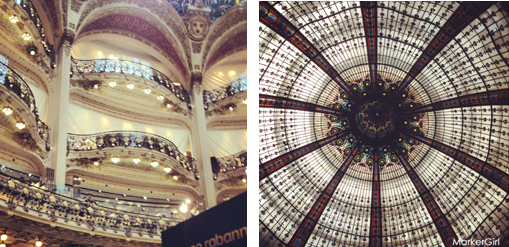 A few more recommendations for a Family Friendly Paris.
Purchase a Paris Visite pass at one of the stations ask your hotel for assistance if you do not speak French. It will allow you a week's worth of riding on metros and buses. I love the bus since it lets you see the city but the metro is quick and fast to get around. There is one metro line 6 that rides outside and goes across the Seine a real treat for the kids.
Get a book  and  plan (map) it is very helpful – here is one of my recommendations Cadogan Paris city guide gives you great walking tours you can do yourself. Here is a link the plan de paris.. You can purchase maps in Paris to help you getting around with the public transportation. And I know you want to look so great in Paris but your feet will thank me when I tell you wear sneakers or comfortable shoes. In the summer knit dresses and skirts are great. Flats will kill your feet with all of the concrete steps. No one cares and everyone knows you are an american no matter how hard you try to fit in. White sneakers are not the best look, go neutral or real colorful ones. Lots of cute options out there.  Most Parisians wear comfortable shoes saw lots of bright color nikes. There are those few you will see in heels and cute shoes they are not really going very far in them unlike you who is trying to see the city in just days.
Eating for kids – There are a few McDonalds but not many… We stick with Margarita Pizza's (cheese pizza)  for the kids and they have Fries (Frites) just about everywhere.. Champs Elysees is the best place for choices when your kids are picky like mine. Don't forget all of the pastries on every block. There are plenty of healthier options too.
One small thing  be very careful of pickpockets – there is one popular scam a young girl looks like she is picking up a ring off the ground and ask if it is yours. Just ignore them and walk away. Small Backpacks not a great thing they can cut the bottom of them and grab your stuff. Find a bag the goes across your shoulder and keep it in front.  Don't give you phone to a stranger to take a picture either…
Sticking to more tourist areas is always best if you do not speak the language when you go to areas that aren't, you will find there are not many English speakers to assist.
Hotels – always check for things like Air Conditioning, Irons and Hair Dryers before booking they don't always have them. Don't expect a valet to bring your bags up in most hotels and few have mini bars.
If you want to shop the Marche aux puces (the paris flea markets) they are only opened Saturdays, Sundays and Mondays. We were there from Tuesday to Friday. I have been many times, great to see. This trip was mostly for my kids so opted not to stay over that Saturday. My husband and kids very happy I opted not to!
Most of all relax, just have fun and enjoy it all!
Happy Everything! Karen