Just finished a guest bath remodel for my client in time for the holidays, I thought I would show you what we did.
In the before picture as you can see this bathroom was out-dated. Not sure what the previous owners thought by having saloon doors for the toilet. Just got to love the dated brass fixtures and the placement of the lighting.
Before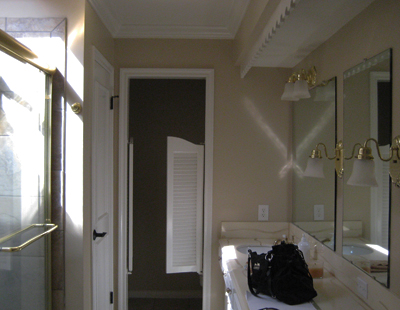 After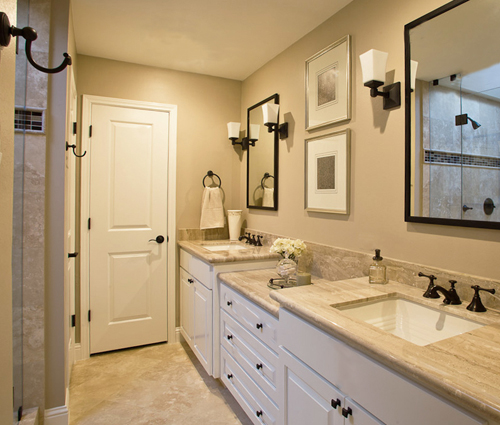 The key to the bathroom was to make the space feel opened as opposed to narrow and confining. We used frameless glass for the shower and brought the tile to the ceiling. Removing the fir down, turning the light fixtures up and hanging the mirrors higher help accentuate the height and detract from the width. Two very simple pictures with brushed silver frames were added in the middle to break up the length of the room as well.
Beautiful marble counters and under mounted sinks with a fun lined detail were added for a more transitional look. Since she wanted to use bronze hardware, I went light everywhere else, to keep the space feeling opened and light. We used a dark mosaic brick style border to break up the soft tones of the travertine in the shower and added a tumbled stone liner to highlight it.
My client is very happy and had a guest right after the installation just in time for the holidays!
Happy  Decorating!
Karen