This past year I had the chance to work with wonderful clients Rhonda and Brad Kerby. They hired Artisan Brothers  a custom residential builder in the Houston area to completely renovate their home and asked me to help with selections and decoration of several rooms. I loved every minute of it. They made the decision to stay at their current home because of the lake views.
This subdivision has a lake running through it. All of the back yards face the lake. It was my inspiration on creating the overall design look for the home. They gave some color preferences. Most important to them was to not distract from the views out of their windows. I made the decision not to go with too much color. I just looked outside and found my palette.
My favorite room and fun challenge was their pool room or as they like to call it their party room. You see Brad's restored an old Pepsi machine and wanted it in the room. My whole concept was to create an organic look to their home and work with more natural colors. So how did I tie in the bold blue and red machine with a room that was going to have a natural palette? Rhonda found some vintage Pepsi crates at Pottery Barn and thought it would be a great way to tie in the Pepsi machine. I chose the red color from the Pepsi logo and let blue stand alone. We added pillows with soft olive greens and bright red accents with a lot of tans and dark browns for contrast with the travertine floor.
We asked a local faux painter, Karen Sabrsula, to create panels for the large wall that was opposite the pool area to coordinate with the room. We took the motif from the pillows for inspiration with designing the panels and made sure to add the red to tie it all in.
The whole room is really an outdoor room that is built inside the home. So we were able to create a real reflection of both Rhonda and Brad and tie in the great views you see outside.
Here are some photos to give you an idea of what we did…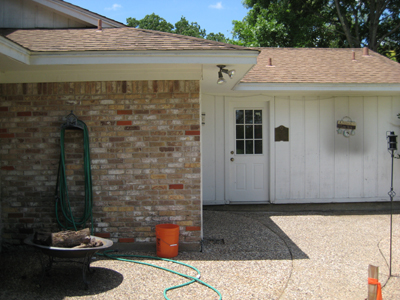 This is the area pre-construction where the pool room would be added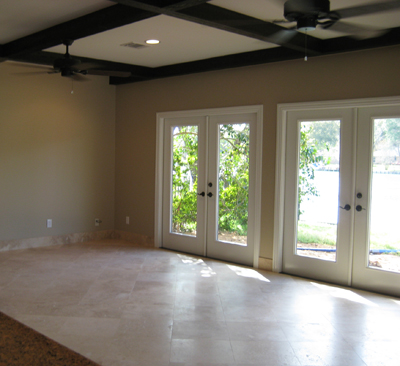 Here is the room after it was built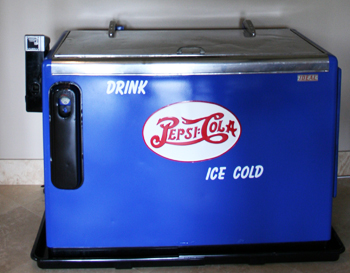 The Pepsi Machine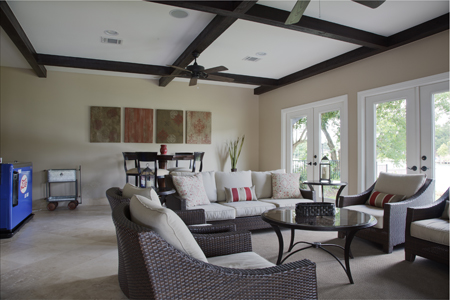 After we decorated it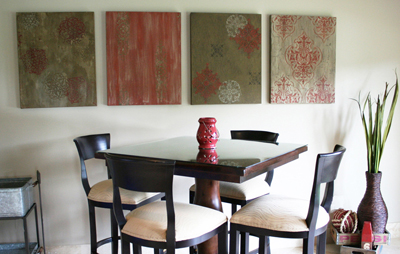 Close up of panels and crates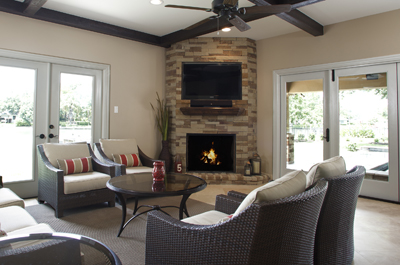 Other side view
To see the entire portfolio check it out on Houzz!
Happy Decorating!
Karen